Features
•
latest news
•
best of news
•
syndication
•
commentary

Feature Categories



KILLRADIO
printable version - js reader version - view hidden posts - tags and related articles

by Mark Gabrish Conlan/Zenger's Newsmagazine Monday, Aug. 02, 2010 at 5:34 PM
mgconlan@earthlink.net (619) 688-1886 P. O. Box 50134, San Diego, CA 92165
The July 16 San Diego Lesbian, Gay, Bisexual, Transgender pride rally, which opened the city's weekend of Pride events, revealed the deep-seated divisions within the Queer community over President Obama and the proper way of organizing. Stuart Milk, nephew of Queer martyr Harvey Milk, said he'd attended a meeting at the White House at which Obama endorsed virtually the entire agenda of the Queer rights movement — but Fresno-based activist Robin McGehee said that doesn't matter. McGehee and San Diego Transgender activist Autumn Sandeen, who joined together for a direct-action campaign against the White House over Obama's failure to seek repeal of the "don't ask, don't tell" policy that keeps openly Queer people from serving in the U.S. military, said that the Queer community should use nonviolent civil disobedience to confront Obama, House Speaker Nancy Pelosi, Senate majority leader Harry Reid and other Democratic politicians who aren't delivering on their promises to the Queer community.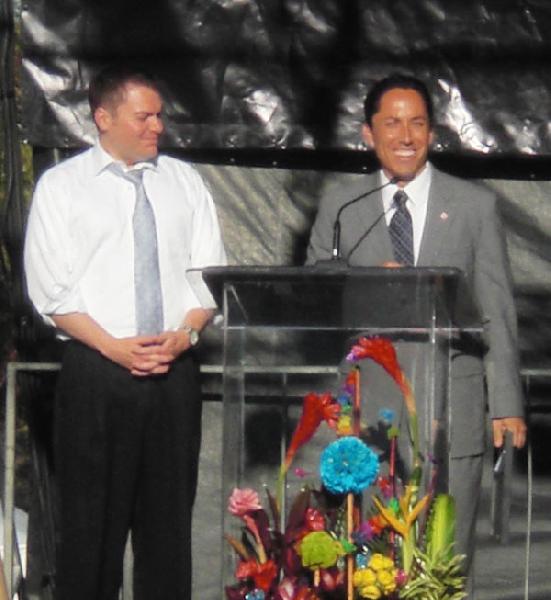 demaio___gloria.a.jpg, image/jpeg, 600x653

Pride Rally Reveals Queer Community's Divisions Over Obama

by MARK GABRISH CONLAN

Copyright © 2010 by Mark Gabrish Conlan for Zenger's Newsmagazine • All rights reserved

PHOTOS, top to bottom: City Councilmembers Carl DeMaio and Todd Gloria, Stuart Milk, Robin McGehee (with her two children), Autumn Sandeen, Joseph Rocha

San Diego's Lesbian, Gay, Bisexual, Transgender (LGBT) Pride Festival officially began on the evening of Friday, July 16 with the so-called "Spirit of Stonewall" pride rally on the site of the festival near Sixth and Juniper in Balboa Park. Most cities' Pride committees have regarded the rally as a stepchild, an embarrassing remnant of Pride's radical political origins to be dismissed as obsolete and quaint in the highly corporatist business-fests Pride weekends have become. But when San Diego's Pride organization quietly eliminated the rally in 2009 after a disappointing event in 2008 that drew only 50 people — despite an internationally known headliner, British Queer rights organizer Peter Tatchell — veteran local Pride volunteers and political activists listed that as one of the things they wanted changed about Pride when the remaining members of Pride's board resigned in early 2010.

So a rally was once again held this year, drawing about 100 people — double the attendance in 2008 but still a fraction of the people who went to the parade and festival the next two days — to hear a program that, almost as if it were planned that way, started with the most conservative elements in Queer politics and worked its way up to the most radical ones. The rally was introduced by San Diego's two openly Gay male City Councilmembers, Republican Carl DeMaio from District 5 and Democrat Todd Gloria from District 3. DeMaio, a controversial figure opposed by liberal and progressive San Diego Queers for his fights to downsize city government, outsource city workers' jobs to private companies and weaken the power of public employee unions, began the rally with a short statement that said, "There's something uniquely San Diegan about the tranquility in our diversity."

Gloria, who along with DeMaio was there to present the City Council's resolution declaring the week before the events "San Diego LGBT Pride Week," said, "This year is special. Many times, those who hate us try to stop this resolution from happening, and year after year you come out for us. This year we had not one speaker against us." Bob Leyh, board member of both San Diego LGBT Pride and the San Diego Democratic Club, then took over as MC of the event, which became a weird mixture of presentations of Pride's service awards and speeches that became more intense and farther Left as the evening wore on — and as more and more people left the rally site to sample the night life of Hillcrest or go home to rest up for the parade and festival the next day.

Milk Comes to Praise Obama …

The first major speaker was Stuart Milk, nephew of openly Gay San Francisco Supervisor Harvey Milk, who along with the city's mayor was killed in November 1978 by a fellow Supervisor, an ex-police officer who got a notoriously light sentence for the double murder. Stuart Milk, who in recent years has come out as Gay himself and has worked for international human rights, began his speech by recalling that when his uncle was stationed with the Navy in San Diego he wrote home to his mother calling San Diego "a beautiful city with beautiful boys." Stuart Milk congratulated the California state legislature for passing a bill to make May 22, Harvey Milk's birthday, a state holiday, and Governor Arnold Schwarzenegger for signing it into law.

Stuart Milk said that his uncle would be "amazed" at how many openly Queer elected officials there are in the U.S. today (when Harvey Milk won his seat in 1977 there were only two others, Minnesota state legislators Elaine Noble and Allan Spear) and hailed openly Gay teacher Kevin Beiser's candidacy for the San Diego Unified School District board of trustees. "You also have examples of authenticity among our youth, including Lisa Sanders," Stuart Milk said — referring to San Diego Mayor Jerry Sanders' openly Lesbian daughter, whose example influenced him to reverse his position on same-sex marriage equality and allow San Diego to join California's other major cities in support of the unsuccessful attempt to overturn Proposition 8, California's voter-approved ban on same-sex marriage, in the courts.

"Harvey knew he was going to be killed," Stuart Milk recalled. "He had stacks of death threats. He willingly gave up his life not just for his nephew but for all of us. When Harvey first ran for office [in 1971], homosexuality was still listed as a mental disease. … Harvey's message was, 'Come out," and every time one of us comes out, that takes courage. I'm an openly Gay man and a Gay relative of a famous Gay man, and every time I'm asked, 'Where's your wife?," I say, 'You should ask, "Where's your husband?"' — even though I don't have one. I've spoken in Istanbul and Damascus, and other places that are very dark for our community."

Reporting on a meeting he'd been in between President Obama and prominent Queer political activists, Stuart Milk reported, "Obama said last fall, 'It's not for me to tell you to be patient, any more than it was up to others to counsel patience to African-Americans. There is no difference.' Obama said we will see an administration that will fight until all people have human rights. An African-American President speaking those words sends a huge message, and in all my travels overseas it's being heard. Harvey said history has shown laws have been enacted full equality and it's been taken away" — a reference to how quickly Queers in Germany lost the equality they'd had under the Weimar Republic when Adolf Hitler came to power in 1933, started persecuting them and ultimately sent them to death camps in the Holocaust along with Jews, Gypsies, Communists and people with disabilities.

"We have to realize that we are all at risk of being discriminated against," Stuart Milk warned. "As much as we've got a long way to go, please thank the President for speaking up for me and you." Stuart Milk also thanked another president, Cristina Fernandez Kirchner of Argentina, who had just signed into law the world's most recent bill allowing same-sex couples to marry, for saying "it's a distortion of democracy to allow the majority to vote down the rights of the minority." He acknowledged that "more than three decades after my uncle stood on a streetcorner in San Francisco, we still do not have federal protection against discrimination in employment and housing. We are second-class citizens paying first-class rates, and that has to stop. We cannot live on hope alone. Too many of us have lost hope. We are reminded of the false promises and unfulfilled commitments. We need to make tomorrow the day that we have our rights."

… McGehee to Challenge Him

But the evening's final speaker, Fresno-based Queer activist Robin McGehee, said that one of the reasons the Queer community has endured so many false promises and unfulfilled commitments is that they have failed to hold the Democratic party accountable for making those promises and then welching on them. She bade her audience to stop listening to Obama's fine words in support of Queer equality and instead look at his administration's pathetic record on our issues. Obama has done virtually nothing to push the Employment Non-Discrimination Act (ENDA) through Congress, nor has he been a leader on repealing the "don't ask, don't tell" policy that prevents Queer Americans from serving openly in this country's military, McGehee argued — and, she added, that's not going to change until Queers are willing to engage in nonviolent civil disobedience actions targeting Obama, House Speaker Nancy Pelosi, Senate majority leader Harry Reid and other Democratic politicians who talk a good game on Queer rights but do little or nothing for us.

"When will we be dissatisfied enough to fight back and deliver the message that we are no longer willing to settle for anything less than full federal equality?" McGehee said. "I toured the country with Cleve Jones (former aide to Harvey Milk and founder of the NAMES Project AIDS memorial quilt, and principal organizer of the 2009 March on Washington) to say it is no longer O.K. to address our issues one by one, but that we must fight for full recognition under the Fourteenth Amendment that guarantees all Americans equal protection under the law. … Our fight for equality will only be enhanced with the luxury of two feet, one cell phone and one laptop. Many have classified me as an 'angry Lesbian activist.' I'm a fed-up mother who will continue fighting until my family is equal to anybody else's."

McGehee urged people to register for her Web site, www.getequal.org, "to empower the LGBT community and its allies to use direct action. Why direct action, and why now? Why not now? I am tired of our community being bullied. No longer should we settle for piecemeal processes that do not protect us all. Every day our children are being harassed, we should look at apathy as criminally negligent. Many of us have suffered, and if we do not act we are denying the suffering of others. … We continue to target Harry Reid, Nancy Pelosi and other officials who are not making our fight for equality their priority. We hope to empower others to take the fights into their own hands. We must create iconic actions that demonstrate employment discrimination, military discrimination and religious inequality. We will take our lead to target people to promise to be our friends."

According to McGehee, when she's made similar speeches she's been accused of being "anti-Democrat" and "anti-Obama." Noting that she's a registered Democrat who took her son to the voting booth in November 2008 when she voted for Obama, she said, "Not holding our friends to account is a sign of a dysfunctional relationship. The rights of a minority were taken away in November 2008 [when California voters passed Proposition 8] and in May 2009 [when the California Supreme Court upheld Proposition 8] and Obama did nothing. I thought of that as I stood looking at the White House that I shouldn't have to do that. What happened to their campaign message? I did not ask Obama to give us a speech with a Cliff's Notes summary of our rights. I asked him to follow through on legislation. I will not fall in love as easily in 2012 as I did in 2008, and I hope you don't either. I want Obama to show the courage to deliver the change he promised. I hope I did not vote for someone who proclaimed himself a 'fierce advocate,' and then was not afraid to run from us. I still have hope, but it's fading."

What's going to revive McGehee's hope, if anything can, is not Obama but ourselves: a raging tide of ordinary Queers and allies signing on to www.getequal.org and being willing to put themselves on the line and get arrested to show the Democrats that they can no longer put us off with fine rhetoric and no action. "When we realize we are fighting for equality, we get equal faster when we all take our quest for equality into our own hands," McGehee said. "Our brothers and sisters are dying because we are not holding our so-called 'friends' accountable." Though she positioned herself well to the Left of Stuart Milk, she closed her speech with a similar admonition to his and his famous uncle's that the more of us come out, the faster the struggle for Queer equality will triumph. "It is a lot harder to discriminate against the people we know than the people we think we know," she said.

Autumn on the Front Lines

"Freedom must be demanded, and at this point I'm in a pretty demanding mood," said San Diego Transgender activist and 20-year Navy veteran Autumn Sandeen. She answered McGehee's call for direct action in Washington, D.C. on April 20, when she and five other Queer U.S. veterans handcuffed themselves to the White House gates to demand that Obama and Congress repeal "don't ask, don't tell" this year. Though all six participants were arrested, the police singled out Sandeen for especially vicious treatment. "They called me an impersonator, an 'it,' a 'shim,'" Sandeen recalled. "It was law enforcement officers who called me that."

Sandeen said she took part in the action — a followup to one in March in which two of the same participants, Lt. Dan Choi and Cap't. Jim Pietrangelo II, and McGehee had been arrested — "not because it would impact Transgender people, but because Lesbian, Gay and Bisexual people need to be able to serve in the U.S. military as proud, open members. If an issue is one for even a small subgroup of our community, it's an issue for me. I sacrifice for other communities in a way I hope others would do for Trans people. I do it because this is about us."

According to Sandeen, when she started presenting as a woman in 2003 after years of living as a male, "the [California] Fair Employment and Housing Act did not protect Trans people. By 2004 we had legal protection for Transgender Californians. … What rights and freedom we have were fought for by activists. I work for the freedom, equality and justice for those who will come after me. I am somebody, we are somebody, we deserve equal rights. … We have a choice. We can end injustice, not just in our backyard but all over America. I personally choose to act to further justice. I've marched, I've engaged in direct actions, and I want the justice that will really make us free Americans."

Rocha: "Don't Ask, Don't Tell" in Practice

Before Sandeen spoke, another military veteran, Joseph Rocha, had given the audience a grim picture of how "don't ask, don't tell" actually works — or doesn't — in practice. His ordeal began when, as an 18-year-old newly recruited to the Navy, he was stationed in the Persian Gulf nation of Bahrain. He knew he was Gay but he believed that if he followed "don't ask, don't tell" and kept his sexual orientation a secret, he'd still be allowed to serve his country. He was wrong.

As he reported in an article in the Washington Post on October 11, 2009, Rocha was harassed almost immediately by his fellow servicemembers. "Shop talk in the unit revolved around sex, either the prostitute-filled parties of days past or the escapades my comrades looked forward to," Rocha wrote in the Post. "They interpreted my silence and total lack of interest as an admission of homosexuality. My higher-ups seemed to think that gave them the right to bind me to chairs, ridicule me, hose me down and lock me in a feces-filled dog kennel." The dogs, Rocha explained, were there because the business of the unit he was training for was to detect explosives — and the way they did that was with bomb-sniffing dogs.

Rocha's worst experience was the "all-day event" he was put through by a superior officer, Chief Petty Officer Michael Toussaint, in a classroom at the American school in Bahrain. "In one corner of the classroom was a long sofa, turned away from the door," Rocha recalled in his Post article. "When you walked into the room, it appeared that one man was sitting on it, alone. But I was there too — the chief had decided that I would be down on my hands and knees, simulating oral sex. A kennel support staff member and I were supposed to pretend that we were in our bedroom and that the dogs were catching us having sex. Over and over, with each of the 32 dogs, I was forced to enact this scenario."

Knowing better than to tell any of his story to his superiors — "I feared that reporting the abuse would lead to an investigation into my sexuality," he explained — Rocha suffered in silence until a female sailor witnessed it six months after it had started. "She reported the incident and, from what I understand, this prompted an internal investigation into hazing in my unit," Rocha wrote in the Post. "The Navy confirmed 93 incidents of misconduct, including hazing, abuse, physical assault, solicitation of prostitutes and misuse of government property and funds, but the case was closed."

What's more, the Navy chose to make Petty Officer First Class Jennifer Valdivia, who'd actually been supportive of Rocha, their scapegoat, charging her with having failed to stop the abuse — while Michael Toussaint, Rocha's chief tormentor, was promoted. When Valdivia learned of the charges against her, she committed suicide. Just two days before she killed herself, Valdivia told Rocha he'd been accepted to the Naval Academy prep school in Annapolis, and he actually accepted — then, "mentally and emotionally depleted … after more than two years of abuse," Rocha decided to come out as Gay and resign from the Navy.

Rocha told his audience at the Pride rally that what kept him going was his sense of a debt to "the men who would never come home. I decided that, in order to justify that I was alive, I had to dedicate my life to honor them and justify their sacrifices. I realized that through technology we could get this demand for justice to the country through newspapers, rallies and TV. We no longer have to wait for a straight politician to take up our case. We can be our own champions. All of you are challenging old stereotypes in jobs, schools and churches, and this can be as important as anything activists do. … Please don't ever — and I tell you this from my own experience — don't let anyone make you feel less proud than you do this weekend."

Community Service Awards

Earlier in the rally, former San Diego Democratic Club president Andrea Villa gave a Stonewall Service Award to reverend canon Allison Thomas of St. Paul's Episcopal Cathedral — located just a few blocks from where the rally was happening — for the overall Queer-friendly policies of her church (Villa called it "a beacon of openness and equality") and her involvement in recruiting religious leaders to oppose Proposition 8, the ban on same-sex marriage in California. Later in the program another Queer-friendly religious leader, Rabbi Laurie Coskey, received a "Friend of Pride" award for contributions from a person who doesn't identify as Queer but nonetheless supports the Queer community. The citation mentioned that Coskey has been challenging both religious and secular orthodoxy about Queers since 1987, when she gave a sermon about the myths then current about AIDS. More recently she's been involved in interfaith movements of Queer-friendly people of faith and in United for a Hate-Free San Diego and the anti-8 campaign.

After Villa announced the award to Thomas, Leyh himself gave an award to Ann Garwood and Nancy Moors, the couple in charge of the Hillcrest History Guild, "an online museum that captures the history of Hillcrest, including photos and stories charting the evolution of a Zip code." He then introduced two prestigious officeholders, State Senator Christine Kehoe (who's held public office continuously since her 1993 election to the San Diego City Council, the first open Queer to hold office anywhere in San Diego County) and Assemblymember Lori Saldaña.

"Happy Pride to every single person in San Diego, straight or Gay," said Kehoe, who recalled her role — along with her successors in the District 3 City Council seat, Toni Atkins and Todd Gloria, in forcing out a three-person Pride board widely seen as dysfunctional and replacing it with a group of veteran community activists, including former Pride board members, that shepherded the process of producing this year's events. She thanked the current Pride board, staff and volunteers "for making this event happen. The board stepped in at a critical time and is working for transparency and accountability." Kehoe also boasted that the state legislature recently passed a resolution urging the U.S. Congress to end the "don't ask, don't tell" policy.

Saldaña joked, "I've been in the parade with Frontrunners and the Sierra Club, and after 20 years walking they've let me ride in a car." A third elected official, Congressmember Susan Davis, made a walk-on appearance but didn't speak. Afterwards Leyh introduced other officials and candidates in the crowd — including the major-party nominees for the 76th District California State Assembly seat, Democrat Toni Atkins and Republican Ralph Denney. It's a race that marks another milestone in San Diego politics: the first time a Queer Democrat and a Queer Republican have run against each other as major-party nominees, ensuring that a Queer person will almost certainly fill that seat no matter who wins.

Other candidates Leyh introduced included Stephen Whitburn, openly Gay challenger to County Supervisor Ron Roberts; and Kevin Beiser, openly Gay candidate for the San Diego Unified School District board. He also mentioned that Pride had received congratulatory letters from at least two local Republican officeholders, San Diego Mayor Jerry Sanders and County Supervisor Greg Cox (though, oddly, not from Cox's wife Cheryl, the mayor of Chula Vista), as well as Democrats including U.S. Senator Dianne Feinstein, Congressmember Bob Filner, and California attorney general (and candidate for governor) Jerry Brown.

Community service awards went to Cheryl Houk, executive director and 17-year veteran of Stepping Stone, and Queer businesswoman Dr. Joyce Merrick. Another award recipient was actor and playwright Patricia Lowry, who won for her original script Dear Harvey for Diversionary Theatre. Drawn entirely from letters by and to Harvey Milk and interviews with people who knew and worked with him, Dear Harvey has been performed throughout the country since its premiere at Diversionary in San Diego. Actor James Vasquez reproduced one of Harvey Milk's speeches as presented in Lowry's play, and this provided a natural segue into Pride board co-chair Larry Raney's introduction of Stuart Milk.

Report this post as:


by Mark Gabrish Conlan/Zenger's Newsmagazine Monday, Aug. 02, 2010 at 5:34 PM
mgconlan@earthlink.net (619) 688-1886 P. O. Box 50134, San Diego, CA 92165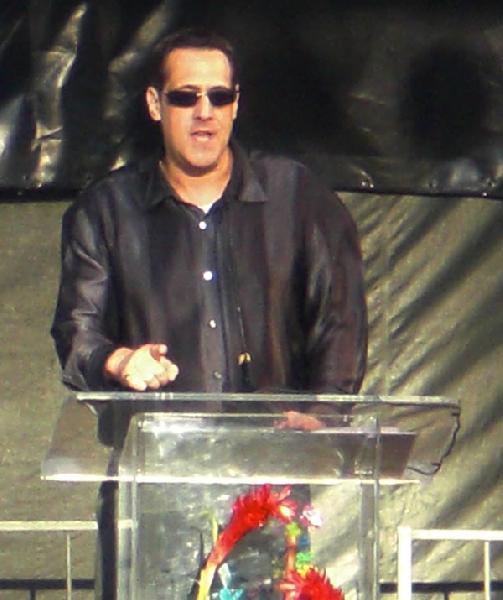 milk__s._.a.jpg, image/jpeg, 600x715

error

Report this post as:


by Mark Gabrish Conlan/Zenger's Newsmagazine Monday, Aug. 02, 2010 at 5:34 PM
mgconlan@earthlink.net (619) 688-1886 P. O. Box 50134, San Diego, CA 92165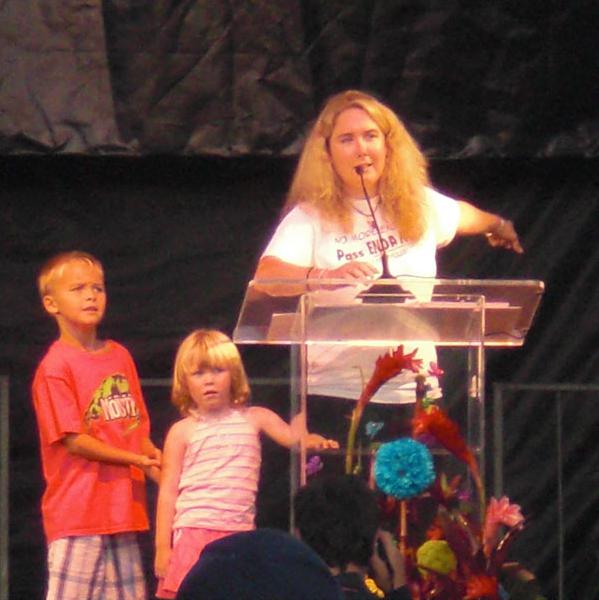 mcgehee_2.a.jpg, image/jpeg, 600x601

error

Report this post as:


by Mark Gabrish Conlan/Zenger's Newsmagazine Monday, Aug. 02, 2010 at 5:34 PM
mgconlan@earthlink.net (619) 688-1886 P. O. Box 50134, San Diego, CA 92165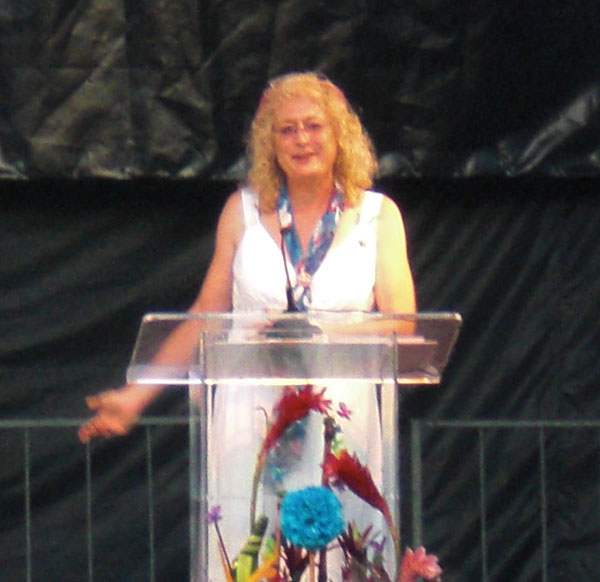 sandeen.a.jpg, image/jpeg, 600x582

error

Report this post as:


by Mark Gabrish Conlan/Zenger's Newsmagazine Monday, Aug. 02, 2010 at 5:34 PM
mgconlan@earthlink.net (619) 688-1886 P. O. Box 50134, San Diego, CA 92165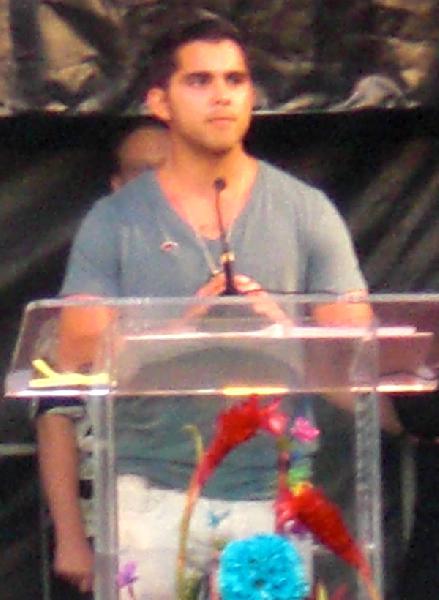 rocha_2.a.jpg, image/jpeg, 600x820
error
Report this post as:
LATEST COMMENTS ABOUT THIS ARTICLE
Listed below are the 10 latest comments of 3 posted about this article.
These comments are anonymously submitted by the website visitors.