Features
•
latest news
•
best of news
•
syndication
•
commentary

Feature Categories



KILLRADIO
printable version - js reader version - view hidden posts - tags and related articles

by Mark Gabrish Conlan/Zenger's Newsmagazine Saturday, Jan. 16, 2010 at 2:38 PM
mgconlan@earthlink.net (619) 688-1886 P.O. Box 50134, San Diego, CA 92165
San Diego's annual Lesbian/Gay/Bisexual/Transgender Pride celebrations have been jeopardized by a community controversy over a $5,000 payment authorized by the board to its chair, Dr. Philip Princetta. The board fired Pride's executive director, Ron deHarte, on January 5, one day after he wrote a letter calling the payment "self-dealing" and questioning its legality. Two other Pride staff members resigned in support, and on Sunday, January 10 members of San Diego's Queer and Queer-allied communities had a chance to weigh in on the controversy. With none of the current board members there to hear the community speakers or express their own version of the events, the meeting turned into a series of condemnations of the board members and a vote to ask that deHarte be reinstated — but many people there were frustrated that the structure of the board doesn't give the community any recourse that doesn't also hurt the Pride events themselves.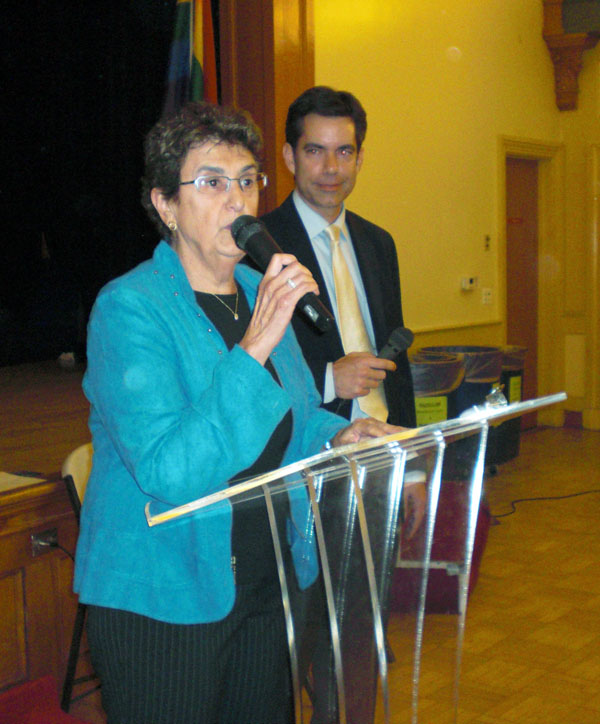 pride_town_hall_marleb_whitburn.a.jpg, image/jpeg, 600x724

Town-Hall Meeting Bitterly Critical of Pride Board

by MARK GABRISH CONLAN

Copyright © 2010 by Mark Gabrish Conlan for Zenger's Newsmagazine • All rights reserved

PHOTOS, top to bottom: Joyce Marleb and Stephen Whitburn; Ken St. Jacques; Ben Cartwright; Pride volunteers at the meeting; attendees taking a vote on whether to ask the Pride board to reinstate the former staff members

"I know all of you are concerned about Pride and the community," former Greater San Diego Business Association (GSDBA) chief executive officer Joyce Marleb said at the start of a contentious and highly emotional town-hall meeting Sunday, January 10 about the future of San Diego's Lesbian/Gay/Bisexual/Transgender (LGBT) pride events. Called by veteran community activist and former Pride board member Nicole Murray Ramirez, who booked the big room at the LGBT Center but allowed Marleb and former San Diego Democratic Club president Stephen Whitburn to MC instead of doing so himself, the meeting was full of slashing criticisms of the current board members of San Diego LGBT Pride for their decision to fire executive director Ron deHarte.

The public meeting followed two private ones on Friday, January 8, one with former board members of Pride and one with volunteers and so-called "ambassadors" — fundraisers — for Pride. DeHarte, who sent a letter saying he had been "advised" not to attend the meeting (he didn't say by whom) but wanted to be there in spirit, claimed that the Pride board had fired him on January 5 because the previous day he had written an open letter condemning the board's decision to award a $5,000 bonus to its chair, Dr. Philip Princetta. Two other top staff members of Pride, Jeff Redondo and development director Ken St. Jacques, resigned in protest after deHarte was fired, and both appeared at the January 10 meeting to explain their positions.

"Last Monday [January 4], Ron deHarte brought the staff together for a meeting and told us about the issue," St. Jacques told the 300-person audience January 10. "On Tuesday, the three board members were at the office and terminated Ron, and the staff reassembled with the board members, who told us their side of the story." St. Jacques said the staff members then conferred with each other and he and Redondo decided "we cannot work for an organization that rewards board members with money in this unethical fashion." St. Jacques said he would personally find it impossible to ask people to contribute money to Pride — the job of a development director — when it might be spent to reward board members personally for their services.

"We had a tough decision to make," Redondo added. "We sat down and it was a struggle for all of us, and there were two [other] staff members who were unable to make that decision [to resign]."

Diametrically Opposed Versions

Though Whitburn and Marleb made it clear at the start of the meeting that they were open to hearing from supporters of the Pride board's decision to fire deHarte, no one offered public comment supporting the board. None of the board members attended the meeting themselves, and their only public statement on the issue has been an open letter published on the Pride Web site and in the January 7 Gay & Lesbian Times. That letter and deHarte's January 4 letter to the board, which was read on January 10 and also passed out in written form at the meeting, tell almost diametrically opposed versions of the board's decision to award Princetta the $5,000 "stipend" and deHarte's role in it.

"The board has violated their fiduciary duties," deHarte wrote, "by (1) after receiving advice from the Executive Director [deHarte] on December 17, 2009 that paying $5,000 to the Chair is a self-dealing transaction, the board refused to reverse their action; (2) reaffirming their decision on December 29, 2009 by retaining Philip Princetta as a board member and Chair, and not requiring repayment of the $5,000; (3) knowingly conducting private meetings unannounced to the Executive Director or the public, from April to October 2009, giving an impression of secret back-room dealings; (4) excluding executive director input, not seeking advice of the organization's attorney or accountant prior to paying the board Chair $5,000 for service to the organization dating back to 2002; (5) violating the organizaiton's bylaws which require that no director be compensated; (6) violating the articles of incorporation of San Diego Pride under the principal [sic] that it was not organized for the private gain of any person; (7) violating the long-standing tradition of volunteer service as a board member of San Diego Pride and offering an unprecedented payment for services; and by (8) placing the organization in a position to be investigated by the Attorney General for engaging in self-dealing."

The board's open letter — bearing only a corporate signature and not attributed to any specific individuals — acknowledged that the $5,000 payment to Princetta was an "indiscretion" and said Princetta had already returned the money to Pride. But the letter also said the stipend "was given of pure intention, lack of malfeasance and just plain ordinary love for an individual who has donated literally thousands of hours of his time and energy at the expense of his own business and personal life to this organization and the community it serves." The board's letter claimed that deHarte, far from opposing the payment to Princetta, had actively offered suggestions on how to cover it up which the board members felt were unethical.

"On December 17, 2009, over two months after the check for $5,000 was drawn, two board members were approached by the Executive Director with a plan that he said could make this entire issue 'go away,'" the board's letter said. "That plan was for Philip Princetta to resign prior to December 31, 2009. By doing so, he would not be listed on the IRS 990 form and as such the stipend to our board chair would never have to be disclosed. From a legal standpoint, Dr. Princetta and the Board knew this idea was inappropriate and certainly not transparent. One can only imagine our dismay that the Executive Director of this outstanding organization would devise such a plan."

The board members also released information that Ron deHarte had received a $5,000 payment from the organization in addition to his salary as Pride director, and that other Pride staff members had received a bonuses totaling $7.000. A number of people at the January 10 meeting were under the impression that the board had released that information to discredit deHarte and make it seem like he was part of the problem, ignoring the legal difference between paying extra money to a salaried staff member and giving a stipend to a member of a presumably volunteer board. Leann Marchesi, herself an executive director of a 501 ( c ) (3) organization — Elder Help — said she read deHarte's bonus quite differently from the impression the Pride board was trying to give: as a vote of confidence from the board to deHarte that helped convince her that their later decision to fire him was purely revenge for his having publicly blown the whistle on the $5,000 stipend to Princetta.

Community Service Concerns

But for many of the people who took advantage of the community comment section of the January 10 meeting to speak out, the $5,000 payment to Dr. Princetta was only the last straw in a series of decisions by the Pride board which they felt has taken the organization away from its community-service roots. Alex Sachs, legislative director for the San Diego Democratic Club, said that the $5,000 payment to Princetta was "a symptom of a greater lack of transparency" on the part of the board members. "They purchased a building without community input, and reduced the disbursement of funds [from Pride] to community organizations without explanation," Sachs said. "Pride is ours, and we need a Pride that's transparent and responsible."

San Diego Democratic Party chair and former San Diego Democratic Club president Jess Durfee said, "I was concerned when Pride redefined itself as an organization, from just organizing the annual parade and festival to attempting to compete with the Center. I'll take blame for not speaking out sooner, but when they bought a building without community input, that was a violation of trust. When it radically cut back the contributions to community organizations, that was another violation of our trust. We are seeing the outcome of a long struggle. It's good we're retooling it, but it's going to cost us a lot of pain and embarrassment."

Larry Baza, current president of the San Diego Democratic Club and one of the former Pride board members who attended the January 8 meeting and signed a consensus statement read at the Center on January 10, recalled that he had served eight years on the Pride board. "I was brought on by Christine Kehoe in the late 1970's after one group failed and another came in," Baza recalled. "We had one goal in mind: to make Pride successful, safe and have it pay for itself. We succeeded in doing that. I feel the same guilt for staying silent when Pride began to fundraise for itself a year ago and competed with women's health, AIDS and the Center." Baza also said the purchase of Pride's building should be investigated to see if that, too, was a self-dealing transaction.

Mike Passante, who worked for Pride as a volunteer in the 1980's and joked, "Rumors of my death have been greatly exaggerated," compared the problems facing Pride to the financial disasters that brought down AIDS Foundation San Diego in the 1990's. He criticized the current board for jacking up the costs of the festival, both the ticket price and the cost to rent a booth. "It's supposed to be for the people," Passante said. "Make it more affordable for youth and make the booths more representative of our community by offering space to community organizations at a price they can afford."

Veteran community activist John Laird had another criticism of the Pride board: in 2009, without any warning or explanation, they stopped letting active-duty military personnel into the Festival for free.

Wendy Sue Biegeleisen, a former Pride board member who has volunteered for the events continuously since the 1980's, pointed out another clause in the Pride bylaws that the current board has either set aside or consistently ignored. According to the bylaws, Biegeleisen said, "40 percent of the board members must be women and 40 percent must be people of color. That has been waived for a number of years. Disregarding the Pride bylaws is huge because it doesn't respect what Pride is. The one token woman on the board is a big problem. Ron deHarte had the responsibility to whistle-blow long before this issue. It was his responsibility as executive director to point out to the community that these commitments were not being respected."

Self-Perpetuating Board

Many community speakers voiced their frustration at the legal position they are in because the current Pride corporation is structured as a self-perpetuating entity with the board members unaccountable to anyone but themselves. Towards the beginning of the meeting, co-chair Whitburn had read excerpts from Pride's 16-page bylaws, including Article V, "Membership," which states that Pride has no community members and all power to run the organization is vested in its board. The following article, "Directors," stated that the board shall elect new members and set its own size, but it cannot have less than four members nor more than 20. Several speakers seized on the last clause and said that at the moment Pride cannot legally operate because it has only three board members currently serving. Representatives of the Sisters of Perpetual Indulgence argued that Ron deHarte is still legally the executive director, on the ground that the board doesn't have the authority to fire him because there aren't enough board members for the group to do anything.

The fact that Pride is a legally incorporated nonprofit under Internal Revenue Code section 501 ( c ) (3) and the bylaws give the board total legal authority over its operation left a lot of the community members feeling frustrated. Though virtually everyone who addressed the question called on the present board members to resign and allow new members to take over and give the organization a fresh start, they also realized that their only alternatives if the current board members refuse to step down are to boycott the Pride events altogether or to seek legal recourse either from the California Attorney General, the San Diego County district attorney or the courts. The frustration came from the sense that such actions will only jeopardize the Pride events and the cause for which many of these people have given money or worked as volunteers, and could lead to a cancellation or a dramatic scaling-back of the Pride parade and festival.

"The volunteers are the workforce and the backbone of the organization," said Ben Cartwright, activist with several community organizations and the designated representative of the Pride volunteers and "ambassadors" who met January 8. "A lot of volunteers have said they would step down if the current board remains and the executive director [deHarte] is not reinstated. We want to see the three-person board resign and an interim board appointed. We want a more open community meeting process and an end to secret meetings. … We made Pride what it is, and we can't work for an organization that does this with its resources. We can't do fundraisers and ask people for money."

"The trust of the community in the board has been shattered," said former development director St. Jacques. "It's a shame that all the trust of our community in Pride has been shattered by three people."

"I'm less interested tonight in the question about the stipend to one board member," said Pride technical director Seth McCloskey. "The question is whether the current board members can continue to serve. I believe they cannot. We should thank them and move on because they can no longer be effective in that capacity."

"The board not only violated their fiscal responsibilities but the trust of the community," said community business owner Nick Meade. "In the last year we donated $10,000 to Pride. As long as the current board members remain, I will not donate anything — and a lot of other business owners feel the same way."

"What can we do if the current board refuses to resign?" said Frank Jones. "Do we simply boycott Pride?" With those questions, Jones summed up the dilemma facing a lot of the people at the January 10 meeting: they're convinced that the current board members have forfeited the community's trust and are jeopardizing Pride — but boycotts and calls for investigations, the only things they can do about it legally, also jeopardize Pride.

"I see a specific problem with the structure of the board, in that it is self-appointing," said Virgil Bowen, president of the California Cyclemen's Motorcycle Club (CCMC), one of the oldest 501 ( c ) (3) corporations in the Queer community. (In the 1970's the state of California would not incorporate an organization with the words "Gay" or "Lesbian" in its name; thus, the original Pride committee had to incorporate as "San Diego Lambda Pride" and the first Gay Center as the "Center for Social Services.") Bowen said not only does the current Pride board have to go, but the new board should "consider putting together an outside group" from the community that would have the power to hold board members accountable.

Volunteer Chris Bellagio-O'Keefe, who lives in both San Diego and New Orleans and formerly served on the Pride board in Tampa Bay, Florida, said that for the last three years Tampa Bay has not had any Pride events at all because of a struggle similar to the one brewing in San Diego. "That could happen here if you do not heed this," he warned.

Not only has the current Pride board shown no signs of retreat — in their January 5 open letter they said, "The Board … has no intention of resigning. Instead we are going to apologize to the community and ask them to open their hearts to forgiveness" — but there's clearly no legal authority that can make them go if they don't want to. What's more, as one speaker on January 10 pointed out, legally they can't resign because of a clause in the Pride bylaws that says that once the board is below four members, no one can quit until enough replacements are brought on to take the board back to full strength.

Questions and Votes

Though there was a pretty broad-based consensus in the room on January 10 that the current Pride board members should go for the good of the community and the events, no one quite knew how to implement the last item on the meeting's agenda; "Based on the community comment … discuss whether the assembled community wishes to identify and articulate any areas of community consensus." Co-chair Whitburn interpreted that to mean that the people in the room should vote on whether the Pride board members should resign and whether deHarte, Redondo and St. Jacques should return to their jobs. Despite the uncertainty of some people in the room as to whether the meeting should be voting on those questions at all, the votes took place anyway.

The call for the current board members to resign passed so overwhelmingly Whitburn declared it approved by voice vote. Only one person definitively opposed it, and there were about 10 abstentions. The call for the reinstatement of deHarte and the other two staff members was more controversial, and was hampered by the inability of the two people counting the votes to agree on the totals for each side. Between 69 and 74 people voted to demand deHarte's reinstatement, with 28 opposed and 21 abstentions, while the motion to demand St. Jacques' and Redondo's return passed with 64 to 66 votes in favor, 18 to 22 against and 23 to 24 abstentions: a messy procedural result that took place as some people were already leaving and those who remained felt frustrated at their inability to bring down the current Pride board without also hurting Pride itself.

Asked by Bob Leyh — who served as treasurer of the San Diego Democratic Club while Whitburn was its president — what the word "consensus" meant in the call to the meeting and whether that meant a simple majority of those present (in most organizations that use the term, "consensus" implies unanimity), Whitburn said, "We will not categorize the vote. We will be specific about the numeric count. Everything in this room will be out in five seconds flat anyway. We will put that in the form of a letter and send it to the appropriate recipients."

Report this post as:


by Mark Gabrish Conlan/Zenger's Newsmagazine Saturday, Jan. 16, 2010 at 2:38 PM
mgconlan@earthlink.net (619) 688-1886 P.O. Box 50134, San Diego, CA 92165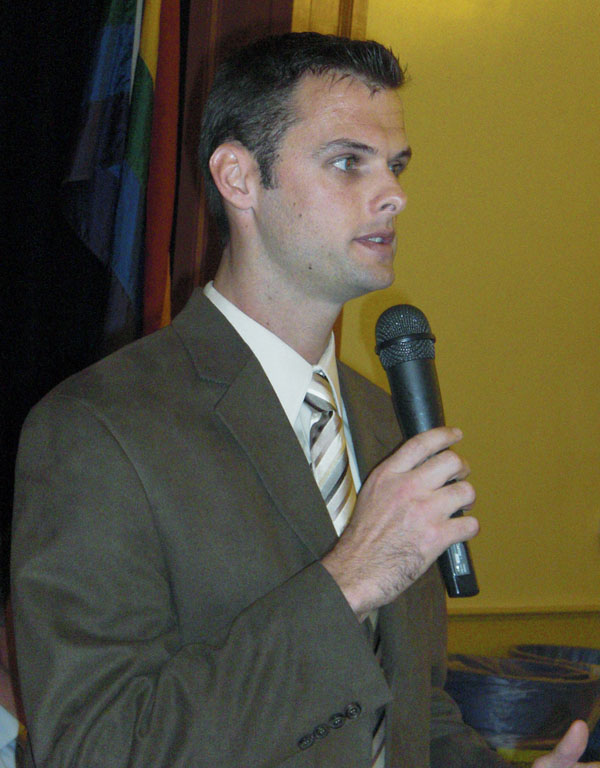 pride_town_hall_st._jacques.a.jpg, image/jpeg, 600x768

error

Report this post as:


by Mark Gabrish Conlan/Zenger's Newsmagazine Saturday, Jan. 16, 2010 at 2:38 PM
mgconlan@earthlink.net (619) 688-1886 P.O. Box 50134, San Diego, CA 92165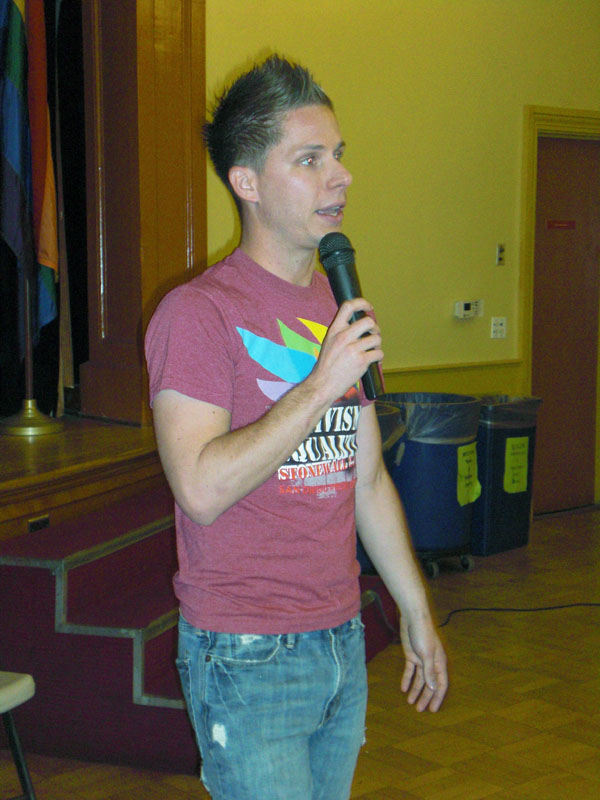 pride_town_hall_cartwright.a.jpg, image/jpeg, 600x800

error

Report this post as:


by Mark Gabrish Conlan/Zenger's Newsmagazine Saturday, Jan. 16, 2010 at 2:38 PM
mgconlan@earthlink.net (619) 688-1886 P.O. Box 50134, San Diego, CA 92165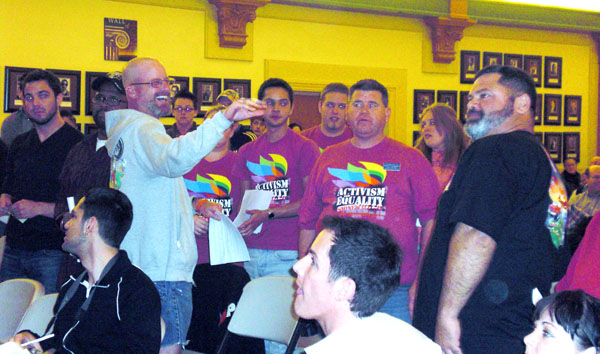 pride_town_hall_volunteers.a.jpg, image/jpeg, 600x354

error

Report this post as:


by Mark Gabrish Conlan/Zenger's Newsmagazine Saturday, Jan. 16, 2010 at 2:38 PM
mgconlan@earthlink.net (619) 688-1886 P.O. Box 50134, San Diego, CA 92165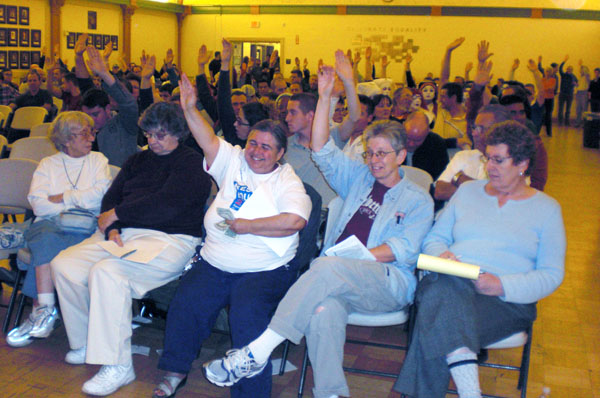 pride_town_hall_voting.a.jpg, image/jpeg, 600x398
error
Report this post as:
Local News

Change Links September 2018 posted S02 10:22PM

More Scandals Rock Southern California Nuke Plant San Onofre A30 11:09PM

Site Outage Friday A30 3:49PM

Change Links August 2018 A14 1:56AM

Setback for Developer of SC Farm Land A12 11:09PM

More problems at Shutdown San Onofre Nuke J29 10:40PM

Change Links 2018 July posted J09 8:27PM

More Pix: "Families Belong Together," Pasadena J02 7:16PM

"Families Belong Together" March, Pasadena J02 7:08PM

Short Report on the Families Belong Together Protest in Los Angeles J30 11:26PM

Summer 2018 National Immigrant Solidarity Network News Alert! J11 6:58AM

Watch the Debate: Excluded Candidates for Governor of California M31 5:20AM

Change Links June 2018 posted M28 7:41AM

The Montrose Peace Vigil at 12 Years M22 8:01PM

Unity Archive Project M21 9:42AM

Dianne Feinstein's Promotion of War, Secret Animal Abuse, Military Profiteering, Censorshi M17 10:22PM

CA Senate Bill 1303 would require an independent coroner rather than being part of police M10 9:08PM

Three years after OC snitch scandal, no charges filed against sheriffs deputies M10 8:57PM

California police agencies violate Brown Act (open meetings) M02 8:31PM

Insane Company Wants To Send Nuke Plant Waste To New Mexico A29 11:47PM

Change Links May 2018 A27 8:40AM

Worker-Owned Car Wash on Vermont Closed A27 5:37AM

GUIDE TO REBEL CITY LOS ANGELES AVAILABLE A13 12:39AM

lausd whistle blower A11 6:58AM
More Local News...
Other/Breaking News

test O06 10:01AM

test O06 9:59AM

test O06 9:59AM

100 Ways GOP Have Stolen Elections Since 1876 O06 12:03AM

Proximospective de l'univocité réifiée O05 6:27AM

"Kava-no!!!" O04 6:42PM

Trump & Palestine vs. Genesis, Rashi & The Land of Israel O03 6:29PM

The Criminality of the Elites O03 11:35AM

Business de l'inhumanitaire O03 7:51AM

Marriage Rape/Date Rape Highest Rapes O02 2:59PM

Women I Know Get Raped - Too Many Times To Count! O02 2:55PM

Women In USA Have Stockholm Syndrom O02 2:50PM

Shooting Drill's Are Political Actual Shootings O02 2:47PM

Dr. Ford's Father Works With CIA O02 2:44PM

Weaponizing Frequencies O02 2:41PM

Google Abuses: Worldwide Spying, Censorship, War Promotion, Spying On Children, Etc O02 11:08AM

Paraphysique de l'administration O02 8:34AM

Paraphysique O02 8:31AM

Affordable Rents? A State of Emergency Intensifies O01 11:36AM

A Few Of Many Impeachable Acts by Trump Sessions And Others O01 4:41AM

Désengrammation, l'éloge de la suite S30 7:01AM

someone Should Work In Hollywood - Good Acting! S28 2:55PM

Ford Gives Psych Drugs To Lower Class To Shut Them Up? S28 2:51PM

Hilllary Calls Ford Trailer Trash? S28 2:47PM

Most Rapes Are In Marriages S28 2:43PM

Nice Boys Dirty Deeds S28 2:41PM

Minnesota 2nd Largest Rape State S28 2:39PM

Paraphysique de la plus-value S28 7:18AM
More Breaking News...