Features
•
latest news
•
best of news
•
syndication
•
commentary

Feature Categories



KILLRADIO
printable version - js reader version - view hidden posts - tags and related articles

by Philippines Cultural Studies Center Thursday, Dec. 31, 2009 at 11:24 AM

The case of Prof. Sarah Raymundo's firing at the University of the Philippines betokens the sharpening political contradictions and hegemonic crisis occurring in what William Blum calls the oldest longest-held colony of the US, currently ruled by the corrupt and brutal Arroyo regime praised by Barack Obama.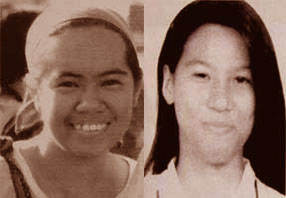 karensherlyn.jpg, image/jpeg, 286x198
POLITICAL PERSECUTION AT THE UNIVERSITY OF THE PHILIPPINES, QUEZON CITY, PHILIPPINES: The "Strange" Case of Professor Sarah Raymundo

By E. SAN JUAN, Jr.




In the global North, the plight of academics being fired or denied tenure scarcely merits attention in the media. This is so starkly banal today when teachers' salaries are either drastically frozen or cut back (as at Harvard University, University of California, etc.) while tuition fees are jacked up. Becoming redundant or retrenched has not spared professor-scholars in this unprecedented crisis of global capitalism. Economics has become politicized when Washington rescues failing banks with taxpayers' money; politicians' decisions can no longer be quarantined from the carnage in Wall Street.

During the decades of the Cold War, of course, it was routine for professors to be weeded out for being "commies," Soviet spies, traitors, etc. When I was first hired in 1965 at the University of California, Davis, I had to sign an oath of loyalty to the U.S. government even though I was not a citizen. My former professor at Harvard, Howard Mumford Jones, was famous for refusing to sign that oath as a condition for being hired by the University of Texas then. During the sixties and seventies, radicals such as Bruce Franklin and Barbara Foley--to name only two of many--were purged for their activist stance in protesting the Vietnam War, torture and war crimes in Latin America perpetrated by the "shock doctrine" technocrats of disaster capitalism (to borrow Naomi Klein's terms). Franklin and Foley are brilliant and prolific scholars, respected in their disciplines. But obviously it was not their intellectual worth but their anti-imperialist political commitment that brought down the wrath of the Establishment on their heads. Like all state apparatuses, the university is not a sacred "think-tank for alternative models," but a cog in the machine for reinforcing the oppressive status quo and stifling dissent.

In the Philippines, as in embattled "third world" countries generally, it is difficult if not impossible to disentangle the academic realm from that of everyday political struggles. Everyday life is a mixed affair of politics, economics, and witchcraft. Traditional customs of peasant life based on kinship, religious beliefs, memory, habits, etc. disturb the presumably "neutral" market competition of equal citizens. Ethics is compromised in political skulduggery and business deals carried out by political dynasties, warlords, and corporate hustlers. The reification or commodification of life in industrialized bourgeois society has not materialized enough to fully compartmentalize the public sphere from the private. This is a product of uneven development and the unsynchronized process of imperial subjugation and exploitation.

In a peripheral dependent formation such as the Philippines, the sociohistorical field of power is constituted by the dynamic interplay of economics, politics and ideology. Class struggle, while anchored in production and property, proceeds on various interacting levels. If Filipinos suffer from a "damaged culture," this can be viewed as a logical outcome of the legacy of over three hundred years of Spanish colonial domination and more than a century of being "tutored" by U.S. entrepreneurial democracy and market pluralism. Class and racial differences are supposed to wither away in the course of "free market" modernization. Except for the perennial "maoist" insurgents and recalcitrant Moros, Americanization succeeded in molding the thinking of the intelligentsia, especially the academic gatekeepers at the University of the Philippines, and the self-reproducing hierarchy of civil servants in the judiciary, military-police agencies, and so on.

Missionary Positions

After killing 1.4 million natives, the United States ruled the Philippines from 1898 to 1946 as a direct colony. The fruit of this "civilizing" experiment is nearly a century of severe underdevelopment of the economy and disintegration of the collective psyche whose symptoms are evident today. The colonial power preserved the feudal-oligarchic property system, overlayering it with the trappings of comprador electoral democracy. One result is the authoritarian Marcos regime (1972-1986) whose human-rights violations have now been surpassed by the corrupt Arroyo regime flourishing in the midst of extreme class inequality, nurturing barbaric warlords such as the Ampatuan dynasty responsible for the recent Maguindanao massacre of 57 unarmed civilians. Not that the U.S. ruling class is to blame for everything—indeed, the founding of the local educational system is supposed to be one of the durable contributions of U.S. colonialism to the heroic task of civilizing those "benighted" natives, Nonetheless, a large share of what Filipinos enjoy today can be ascribed to the "benevolent assimilation" policy of the wise suzerain William McKinley and his no doubt well-intentioned successors.

One of the institutions established by the U.S. colonizers is the University of the Philippines (UP). It was designed to produce functionaries to serve the ideological state apparatuses of the colonial state. The U.S. needed trained "little brown brothers" (William Howard Taft's affectionate terms of endearment) to legitimize the particularist motive of capital as one identical with the general interest. Its prestige eventually rested on the nurturance of generations of scholars and a significant number of activist intellectuals since its founding in 1908. Despite what historian Renato Constantino called "the mis-education of Filipinos," that is, the slavish worship of EuroAmerican values and its elite gurus such as Richard Rorty and Benedict Anderson, UP students led mass demonstrations against the Vietnam War in the sixties and ruthless US interventions in Latin America and the Middle East from the seventies up to the present.

Class struggles worldwide could not be kept away from the classroom. Not only has the UP served to train subalterns for the colonial bureaucracy; it has also exposed students (given the internal contradictions of capitalist rule in a semifeudal dependency) to counterhegemonic, revolutionary ideas. During my student days in UP in the fifties, the writings of Frantz Fanon, Malcolm X, Bertrand Russell, Jean Paul Sartre, and later on of George Jackson, Ho Chi Minh, Che Guevara, Mao, and other progressive activists were disseminated among student-faculty discussion circles. From this arose organizations that spearheaded the national-democratic movement which challenged U.S. imperial hegemony and its support for the bloody dictatorship of Ferdinand Marcos and his successors, up to Arroyo. To a limited extent, the UP still serves as an arena of ideological -theoretical debates reflecting the intense conflicts and antagonisms of a nation of over ninety million most of whom live on less than $2 a day, under a brutal regime praised by Barack Obama and credited with over a thousand victims of extra-judicial killings, forced disappearances, and torture.

Subalterns Speak

Now comes the news that within the hallowed halls of "academic freedom," which the oligarchy takes pride in as "the marketplace of ideas," the persecution of a prodigiously talented militant scholar, Sarah Raymundo, is going on without much fanfare. Except for the local demonstrations of sympathizers from student organizations in the campus and, incredibly, the massive support of academics, public intellectuals, and professionals from around the world, her case is scarcely noticed by Manila pundits and commercializing media celebrities. Globalization thus works in contradictory and paradoxical ways.

Raymundo's case may be a minor affair compared to the issues of global warming publicized at Copenhagen or the genocidal wars in Iraq, Afghanistan and Pakistan. Still, with the Philippines labeled a danger zone because of the unrelenting attacks by the Abu Sayyaf, one of the home-grown "terrorist" groups beloved by the U.S. State Department (the other being the Communist-led New People's Army, stigmatized by then State Secretary Colin Powell), we might take the case of Raymundo as an allegory of what's going on in that otherwise obscure tropical archipelago once noted for hosting the largest US military bases during the Korean and IndoChina wars—a nearly anonymous remote group of islands that is still remembered for Bataan and Corregidor and the thousands of Filipino and American dead sacrificed by General Douglas McArthur for the Empire's honor.

Raymundo's plight has been succinctly summarized by Dr. Walden Bello, a tenured sociology professor at the same University and now a representative of the party-list Akbayan in the Philippine Congress (accessible at ). Although trained by the Jesuit-run Ateneo de Manila University, Bello knows the inner workings of the UP academic bureaucracy. The facts are simple: On April 2008, the tenured faculty of the Sociology Dept. in a vote of seven to three recommended granting of tenure to Raymundo on the basis of her substantial academic record. Seven months later, Raymundo was informed that the faculty decided to reverse their decision. What happened?

Wonders can happen, even in bureaucratic chambers, without covert CIA (or local military-police) cues. In the hiatus of seven months, the minority schemed to overthrow the majority by "manipulating the Chancellor for Academic Affairs" (to quote Bello) to demand that the majority who voted for Raymundo justify (again!) their decision. Surprise? This was evidently a ploy since the majority report affirmed that Raymundo exceeded the necessary requirements for tenure. Meanwhile, the college's highest governing body, the College Executive Board (CEB), upheld the majority decision. But without much ado, the Diliman campus Chancellor Sergio Cao dismissed the CEB's decision and refused tenure. In effect, the Chancellor sided with the minority. Why? Not because of Raymundo's lack of academic excellence; everyone concedes that. It is because of Raymundo's ethical stand, political beliefs, and civic conduct as the general-secretary of CONTEND (Congress of Teachers/Educators for Nationalism and Democracy) and active member of ACT (Association of Concerned Teachers) and the All-UP-Academic Employers Union. She is being penalized for those rare virtues.

Raymundo is alleged by her detractors to have been involved with groups in support of victims kidnapped, tortured and killed by the military, in particular Karen Empeno. To such vague and muddled allegations that she hid such involvements, Raymundo has fully responded in a substantial memorandum submitted on Nov. 16 to university president Erlinda Roman. She has never made her activism a secret to anyone. The department allegations are all shoddy innuendoes and insinuations, unworthy of even a C- sociology major. Roman, for her part, played the coy and hedging fox (or is it mealy-mouthed Pontius Pilate?) in her Dec. 14 memorandum to Cao and the current department chair Randolf David as she tendentiously recounted the whole rigmarole.

Admitting that there was no argument about Raymundo's academic qualifications, president Roman seemed obsessed with a conundrum: whether the April vote really showed "consensus." Given the contentious, politically charged milieu of everyday life in the Philippines from which the university is not immune, Roman believed that Raymundo's politics fouled up, or more exactly problematized, consensus. The original vote of 7-3 did not truly express "consensus" if by the term we mean unanimous. It was hard to really determine what the department's consensus was despite or notwithstanding the April vote, Roman thought aloud. In effect, that little word "consensus" became Roman's alibi out of this sorry mess. Alternatively, it was her fortuitous disguise to appear neutral and above board, not least that she was exercising conscientious leadership of a great institution.

No, Roman was not a hypocrite, only a realist. Cognizant that the composition of the department's tenured faculty had meanwhile changed with the dropping-out of Raymundo's supporters, Roman ordered another vote, which this time yielded the right "consensus": 4 for-6 against Raymundo. The latest is the really more authentic "consensus" for Roman. Beholden to her neoliberal patrons in the "old boys' network," Roman knows that she has to safeguard her clientele within the university by upholding departmental cliques, "yahoo" mediocrity, at the expense of a more inclusive, libertarian, democratic, forward-looking vision of higher learning. This is perhaps too much to expect, given the politicized genealogy of UP presidencies. Compounding authoritarian methods and chicanery with fatuous casuistry, this whole exercise has now become a sad comment on the abysmal sinkhole to which this group of UP faculty and administrators have succumbed.

In summing up his brief supporting Raymundo, Dr. Bello pleaded to president Roman to "reverse a terrible miscarriage of justice and reassert UP's commitment to academic excellence." He was appealing to one of the executioners. Of course, operating legalistically within the institutional framework, Bello could not do otherwise—even though the case had already been thoroughly politicized by Raymundo's enemies, those against Raymundo's radical left-wing politics. He had already alienated the "yahoos" of the sociology department, which contaminated alleged progressives such as Randolf David and Cynthia Bautista. Can the Board of Regents, the last resort for the aggrieved, succeed in resisting the proven inertia of institutions and overturn Cao, Roman, and David? Maybe, if the popular-democratic voices prevail. Probably not, given the scandalous shenanigans of the traditional politicians challenging the Arroyo clique.

I want to sketch a parenthetical aside here. A subtext or submerged narrative, threaded with complex nuances that I cannot elaborate here, lurks behind this instructive controversy. Despite Bello's tie-up with the Akbayan party and his record of defending his World-Social-Forum personality against the suspicions of former comrades in the anti-imperialist National Democratic Front-Philippines and in Bayan-Muna party (with which ACT and CONTEND are allied), he seems to have transcended sectarian narrow-mindedness, not to speak of barkada scholasticism. Meanwhile, the media-savvy Randy David, a leading member of BISIG (Bukluran sa Ika-uunlad ng Sosyalistang Isip at Gawa; Association for the Advance of Socialist Words and Deeds), an admirer of Rorty and other Western elite missionaries, finds himself somehow aligned with conservative if not reactionary Neanderthals, or "yahoos" (to quote Bello). In a single stroke, he forfeited his claim to be a nationalist (in the tradition of his distinguished kin, Renato Constantino). Incidentally, BISIG is one of the groups allied with Akbayan; BISIG's former chair, UP President Francisco Nemenzo and other colleagues figured prominently in the 1993 Forum for Philippine Alternatives which rejected the political strategy and tactics of the Sison-led Communist Party of the Philippines and the National Democratic Front-Philippines. Former comrades split, symptomatic of what was then happening in the Philippines during the retrograde administration of the late Corazon Aquino. For many academic leftists in a tributary shark-infested milieu, opportunism and obligatory tithes seem more functional if risky preoccupations in advancing careers than supporting human-rights organizations, or the cause of nationalist democracy. At any rate, this dialectical twist of events, one more proof of Lenin's thesis that reality/practice is richer than theory, may augur a renewal of progressive and radical energies in the UP, despite Raymundo's predicament. This may be a hope, but in a permanently crisis-wracked country like the Philippines, the improbable sometimes becomes realizable.

Lessons for Lilliputians

Our critique of abusive authority and conservative power needs to extend beyond the university precincts. As noted earlier, the neocolonial university is permeated with manifold contradictions symptomatic of the whole moribund system. To be sure, the balance of political forces may suddenly change and affect pedagogical agencies. One more Maguindanao massacre may stir up slumbering "people power." If Raymundo's case is not only flawed with procedural mistakes and ethical misjudgments, but also corrupted by scarcely veiled charges of political activism and humanitarian/social conscience on Raymundo's part, it is shortchanging the victim if we do not put at the center of this whole affair the active complicity of Roman, Cao, Paredes, David, Bautista, Aquino, and others with a bankrupt regime that thrives on flagrant corruption, lies, mendacity, threats, and fascist violence—not least, the symbolic violence that the great sociologist Pierre Bourdieu associates with bureaucratic discourse, authoritarian procedures, and administrative rituals, such as tenure-granting (in which academic capital trumps intellectual capital), that insure the petty privileges of a self-perpetuating, obsequious elite.

What is to be done and undone? The now notorious "culture of impunity" fomented by the shameless Arroyo regime seems to have descended on the Diliman campus and is saturating the hallowed classrooms and libraries of this once esteemed sanctuary of learning. As it did before, once in the McCarthyist-like persecution of a community of pro-people nationalist scholars as communist sympathizers during the Magsaysay-Garcia regimes; this U.S.-styled witchhunt was repeated periodically in the terrible nights of collective suffering and resistance from the time of Marcos to Arroyo.
But lose no hope, friends and partisans in the global commons. While the UP is slowly being commercialized and privatized, students and faculty who are relatively privileged are feeling the pressures of unemployment, anomie, environmental degradation, and ubiquitous military-police violence. While serving the neocolonial state and the predatory merchants of global capital, the UP remains funded by taxpayers and is ultimately answerable to the Filipino people. Resistance to capitalist globalization is gradually rising, as shown by this robust and enthusiastic international support for Raymundo and what she stands for.

In California and elsewhere, students and faculty are rebelling against state terrorism: cutbacks in salaries, privatization, lay-offs, deterioration all around. Many are beginning to grasp that higher public education is a social and human right, no less than health care, food, and adequate shelter. Peoples around the world are mobilizing against the global war of terror launched by the U.S. corporate elite. The Filipino people are crying "No more massacres" by Arroyo and her Ampatuan accomplices. Whatever the final arbitration of her case, Sarah Raymundo's voice cannot be repressed or denied "tenure"—an index of the inexhaustible resources, energy and intelligence of the Filipino people fighting for justice and liberation in solidarity with others beyond the surveillance of the gatekeepers of the University of the Philippines and other public institutions.--###
_______
Dr. E. SAN JUAN, Jr. emeritus professor of English, Comparative Literature, and Ethnic Studies, was a recent fellow of the W.E.B. Du Bois Institute, Harvard University. He recently taught at Leuven University, Belgium, as a Fulbright lecturer in American Studies, and at the University of the Philippines as visiting professor of English and Comparative Literature. He received his A.B., magna cum laude, in English and Philosophy from the University of the Philippines in 1958; and his doctorate from Harvard University. He has taught at the U.P. from 1958-60. 1966-67, 1987-88, and 2008. His recent books are Working through the contradictions (Bucknell U Press), US Imperialism and Revolution in the Philippines (Palgrave), Critique and Social Transformation (The Edwin Mellen Press), and Toward Filipino Self-Determination (SUNY Press).



www.politicalaffairs.net/article/articleview/9209
Report this post as:
Local News

Change Links September 2018 posted S02 10:22PM

More Scandals Rock Southern California Nuke Plant San Onofre A30 11:09PM

Site Outage Friday A30 3:49PM

Change Links August 2018 A14 1:56AM

Setback for Developer of SC Farm Land A12 11:09PM

More problems at Shutdown San Onofre Nuke J29 10:40PM

Change Links 2018 July posted J09 8:27PM

More Pix: "Families Belong Together," Pasadena J02 7:16PM

"Families Belong Together" March, Pasadena J02 7:08PM

Short Report on the Families Belong Together Protest in Los Angeles J30 11:26PM

Summer 2018 National Immigrant Solidarity Network News Alert! J11 6:58AM

Watch the Debate: Excluded Candidates for Governor of California M31 5:20AM

Change Links June 2018 posted M28 7:41AM

The Montrose Peace Vigil at 12 Years M22 8:01PM

Unity Archive Project M21 9:42AM

Dianne Feinstein's Promotion of War, Secret Animal Abuse, Military Profiteering, Censorshi M17 10:22PM

CA Senate Bill 1303 would require an independent coroner rather than being part of police M10 9:08PM

Three years after OC snitch scandal, no charges filed against sheriffs deputies M10 8:57PM

California police agencies violate Brown Act (open meetings) M02 8:31PM

Insane Company Wants To Send Nuke Plant Waste To New Mexico A29 11:47PM

Change Links May 2018 A27 8:40AM

Worker-Owned Car Wash on Vermont Closed A27 5:37AM

GUIDE TO REBEL CITY LOS ANGELES AVAILABLE A13 12:39AM

lausd whistle blower A11 6:58AM
More Local News...
Other/Breaking News

test O06 10:01AM

test O06 9:59AM

test O06 9:59AM

100 Ways GOP Have Stolen Elections Since 1876 O06 12:03AM

Proximospective de l'univocité réifiée O05 6:27AM

"Kava-no!!!" O04 6:42PM

Trump & Palestine vs. Genesis, Rashi & The Land of Israel O03 6:29PM

The Criminality of the Elites O03 11:35AM

Business de l'inhumanitaire O03 7:51AM

Marriage Rape/Date Rape Highest Rapes O02 2:59PM

Women I Know Get Raped - Too Many Times To Count! O02 2:55PM

Women In USA Have Stockholm Syndrom O02 2:50PM

Shooting Drill's Are Political Actual Shootings O02 2:47PM

Dr. Ford's Father Works With CIA O02 2:44PM

Weaponizing Frequencies O02 2:41PM

Google Abuses: Worldwide Spying, Censorship, War Promotion, Spying On Children, Etc O02 11:08AM

Paraphysique de l'administration O02 8:34AM

Paraphysique O02 8:31AM

Affordable Rents? A State of Emergency Intensifies O01 11:36AM

A Few Of Many Impeachable Acts by Trump Sessions And Others O01 4:41AM

Désengrammation, l'éloge de la suite S30 7:01AM

someone Should Work In Hollywood - Good Acting! S28 2:55PM

Ford Gives Psych Drugs To Lower Class To Shut Them Up? S28 2:51PM

Hilllary Calls Ford Trailer Trash? S28 2:47PM

Most Rapes Are In Marriages S28 2:43PM

Nice Boys Dirty Deeds S28 2:41PM

Minnesota 2nd Largest Rape State S28 2:39PM

Paraphysique de la plus-value S28 7:18AM
More Breaking News...