Features
•
latest news
•
best of news
•
syndication
•
commentary

Feature Categories



KILLRADIO
printable version - js reader version - view hidden posts - tags and related articles

by Mark Gabrish Conlan/Zenger's Newsmagazine Wednesday, Nov. 25, 2009 at 1:08 AM
mgconlan@earthlink.net (619) 688-1886 P. O. Box 50134, San Diego, CA 92165
San Diego City Council candidate Steve Hadley is considered an underdog because he doesn't have the party connections, name recognition or donor base of his opponents. But he's got a lot of assets; as the chief of staff for the Councilmember he's running to replace, Donna Frye, he's got her support and that of the community organizers and activists he's worked with as part of her office. He's also got a compelling personal story; he grew up in the Seventh Day Adventist church, pushed the church towards greater acceptance of equality for women and Queers, then left the ministry to study law and work in politics.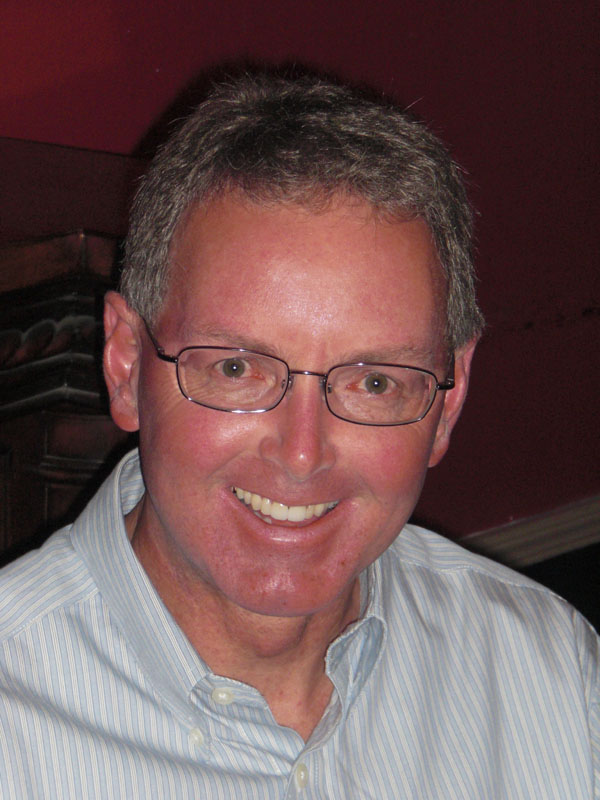 hadley__in_.a.jpg, image/jpeg, 600x800
STEVE HADLEY:

City Council Candidate's Odyssey from Pulpit to Politics

interview by MARK GABRISH CONLAN

Zenger's generally hasn't been sympathetic to the cause of staff members of elected officials running for the same office when their bosses are forced out by term limits. All too often this practice smacks of what Latin Americans called "imposición" — in which the original officeholders continue to rule behind the scenes and their former staff members are little more than surrogates. From Bart Hartman's disastrous tenure as San Diego County Assessor a decade ago (after a campaign in which at the candidates' forums he spoke the name of his predecessor and sponsor, Paul C. Boland, as if he were referring to God) to Jim Madaffer's mediocre stint replacing former boss Judy McCarty as a San Diego City Councilmember, there are plenty of local examples where staff members who win elective office brought most of the weaknesses and few of the strengths of their predecessors and mentors.

Every rule has its exceptions, though. Former San Diego City Councilmember Toni Atkins was one; though she ran as her predecessor Christine Kehoe's staff member and anointed successor, she had a far broader background in community activist than your average office aide — including aggressive defense of women's reproductive choice in her years as director of the Womancare family-planning clinic. In office, she proved to be more progressive than Kehoe on several significant issues, including affordable housing and medical marijuana.

Another staff member running for office as a strong candidate in his own right is Steve Hadley, chief of staff to Sixth District City Councilmember Donna Frye. Though he's facing stiff competition from former Assemblymember Howard Wayne, who's already been endorsed by the San Diego County Democratic Party and the San Diego Democratic Club, Hadley says he expects his association with Frye, his connections with the local community leaders and organizers he's worked with for years, and his ability to reach out to Republicans and independents as well as Democrats in a closely divided district will help him win.

Hadley's unusual background is also an asset. As he recounts below, he grew up in a family of Seventh Day Adventist church leaders and spent years in the ministry before going to law school and then seeking out a career in politics. Though his background is from a culturally and socially conservative faith tradition, he doesn't seem to have had to do much soul searching to come out in favor of equality for women and Queers. In an era in which much of the opposition to Queer rights — including the decisive margins in almost all our marriage equality defeats at the ballot box — is based on religious traditions in general and Christianity in particular, we need more officeholders like Steve Hadley who can speak the message of equality in the language of faith. Zenger's is proud to present Steve Hadley and endorse him for the District 6 seat on the San Diego City Council.

Zenger's: Won't you tell me a little about your background and how you came to be running for City Council?

Steve Hadley: I'm a third-generation Seventh Day Adventist pastor, actually. I had a great-uncle on my mother's side who was, and my father was. My mom was an Adventist educator in the private school system. She actually taught secondary English, for many years and then became a superintendent of the state system for the Adventist schools in Arizona: a couple of high schools and a whole scattering of K-12 schools around the state, where she spent a lot of time doing administrative work out of their state headquarters. My dad was one of the church leaders, too, in the headquarters.

Growing up in that whole milieu of helping people and leading public events — weddings, funerals, worships, that sort of thing -—clicked and connected with my mind. My dad was a kid off the farm, and his family wasn't too thrilled when he left the farm and went to college. They told him he was wasting his time. Later, of course, came to greatly appreciate what he was doing. But he came to college and was told by his professors that he was basically not cut out to do public leadership kinds of stuff. And I don't know what all the reasons were. He was a little bit of a rebel at heart, so he had kind of a hard time getting into the Seventh Day Adventist church ministry. He always identified more with the lay people than the church hierarchy.

Some of my early childhood memories were of him standing up in statewide church meetings and challenging the brethren, usually on process and procedure that would include the laity's voice in some of the decision-making, and certainly in the electing of officials. I grew up thinking that to be a little bit of an activist and a rabble-rouser on behalf of the average voter, the lay person, the common delegate at these meetings, that was the highest calling there was. So as a kid, thinking about what to do, I thought about pastoral work. But my attraction to that was the political side of it: the board meetings, the policy development, the administrative stuff that went with it, rather than prayer chains and and youth groups

I enjoy a certain amount of Biblical scholarship, but if you said, "Hey, let's go out and challenge the brethren in their organization and their processes," I was more inclined to stay up until 3 in the morning drafting a plan to do that than I was putting together an intense exegetical Bible study on some Hebrew prophet, and going and sharing that early in the morning. I got involved in pastoral work, but I eventually thought that I would like to go do law and politics, because they had fascinated me since I was a kid.

Zenger's: Could you tell me a little about what the Seventh Day Adventist church is and what it stands for? I think people look back at its origins as an apocalyptic cult, and then they think of David Koresh, and those are about the only associations most people who aren't Seventh Day Adventists have with it.

Hadley: Adventists came out of the 1840's, that millenarian kind of group looking for Christ to return to earth. They were sorely disappointed, of course, and many of them gave up on religion altogether. Some went back and ate humble pie, and then went back to the denominations that they'd come from: mostly Baptists, Congregationalists, Methodists and Presbyterians. A goodly number of them said, "We're off base here on this whole return of Christ, but for a lot of other things we think we've got a lot of common understanding and appreciation for."

One of them, of course, is their view that it's the seventh day, Saturday, that they ought to be worshiping on. They hold on to that from the Ten Commandments and from other parts of Scripture, but not the rest of the Jewish rules and regulations and rituals per se. It's kind of an odd blend of Protestantism and Judaism in regard to the day of worship. There's also their belief that the dead sleep and don't really go anywhere until Christ returns; and their belief that he will return someday. However, there are probably quite a few who don't think about that a whole lot and may not even actually believe it, and I'm quite sure I've run across a lot of church members who didn't particularly care what happened to the dead anyway.

The original Adventists quickly worked themselves to death as a group of people trying to tell others — share what they believed. As a result, some of them had nervous breakdowns and wound up, in the 1840's and 1850's, seeking some of the new-found sanitariums and really got off on health consciousness. As a result, they have built hospitals around the world, Loma Linda University in southern California being a prime example of their interest in health, well-being and medical care.

Many people get them confused with the Jehovah's Witnesses, the Latter-Day Saints and Christian Science, which also came out at about the same time, but they're different. There's a very traditional strand, like any denomination; and then there's a very all-the-way-across-the-spectrum to very liberal crowd, probably including myself. One of the things I like about the Seventh Day Adventist church: they were so anti-Establishment that they resisted developing any kind of creed or set doctrines for probably the first 17, almost 20 years of their existence as a group. As a result, they had people who were anti-Trinitarian; people who believed in the Trinity; just a gamut of things. It's really hard to drag them all back into the fold under a very narrow doctrine, even to this day, because of the diversity that existed and was actually fostered and protected in those early 20 years.

Zenger's: When you spoke to the San Diego Democratic Club October 22, you talked about your struggles within the church, trying to move it to a more Queer-friendly position and more liberal on a lot of other issues as well. Could you tell me what drew you to that position, and why you felt a call to reform the religion you grew up in, instead of shifting to an already Gay-accepting denomination or starting your own like Troy Perry did with MCC?

Hadley: I think that's literally the roots of what I grew up believing: that you ought to be looking out for the people who weren't being looked out for. Some of it is that; some of it just comes from my sense that there ought to be equality, there ought to be fairness. I think anybody who takes their religion seriously believes in the dignity of humanity, and people tend to forget that as they get lost in a lot of other doctrines in their church or their religion.

But first of all, if your religion doesn't help you appreciate and take care of your fellow human beings, then what is your religion all about? You hear these sermons of inclusiveness, and how the Christian gospel is for everyone, and everyone is equal now, there's no male or female, and some of those Pauline passages, no slave or free, no Gentile and no Jew, we're all one in Christ kind of thing; and if you take these things seriously as a young kid, looking at the world not only with a bent towards ministries but legal studies, it's very obvious how you're supposed to put that into practice.

It means that we actually treat the women as well as we do the men. We pay the women as much as we do the men. We actually let people on the platform who are Gay as well as straight. We actually treat people who are Gay with the same rights and the blessings and support of the church as we do those who are straight. It's just a no-brainer. My mind ran in that direction.

Why didn't I leave? There comes a point where I think we all have some ties to our community, whether you be Catholic or Jewish or Muslim or whatever else, and you still have some things in common — quite a bit in common. So you just don't uproot all of that. I don't know if that's laziness or if that's just simply comfort. When you're changing so much in your life, you tend to hang on to a few things. I've known people who pitched everything overboard, and that wasn't attractive.

I really didn't care to do pastoral work strongly enough that I wanted to go out and start my own new church. I've tended to connect more strongly with individuals than organizations, anyway. I'd rather get out and be a part of a multitude of groups than break out and starting my own church. I never was a charismatic kind of person who people came to church just because they wanted to see me and hear me.

I think I was a very good leader, but I really was repulsed by charismatic, strong, authoritarian people whom congregants came and worshiped, just because, "oh wow, we belong to his church and he's a star," kind of thing. That whole phenomenon really still scares me. That is, people like Koresh and the Jim Jones and some of these other mega-church leaders who get their congregations to do crazy things at times. I just never was one of those, and didn't care to be one of those. And I think you have to have a certain amount of that attitude to get out and start your own congregation.

Zenger's: Yeah, you also mentioned your background as an attorney, and from what I've read about you on the Web it seems like you've bounced back and forth between the church and the law for quite a while. What drew you to that, and how did you finally end up in politics rather than ministry?

Hadley: There wasn't as much bouncing as it may appear. I went straight from pastoral work to law school, after seventeen years and one year in graduate school — so it was about 18 years out in pastoral-related work — straight out of here to law school for two years straight. It's like drinking out of a fire hydrant. And at the end of that two-year law-school experience I sat up and said, "Well, what am I going to do with this?" Because I really didn't care at that point about getting back into pastoral work.

I'd thought about getting out and working within another denomination. I interned with a public defender for one year during law school. It was a wonderful experience, but I really didn't feel like at mid-life I wanted to start doing that every day of my week for another 20 years. So I said, "O.K., so what did you have in mind as a kid when you thought you'd go to law school? My early inclination was to get involved in politics."It was just a case of going out and trying out my childhood interest to see if maybe there was something naturally there that I hadn't articulated, but a strong connection.

I went out and beat the street with my suit and my résumé until I found a job at City Council about five weeks after taking the Bar exam here, and got a job down at City Hall, and have been there ever since except for about 10 months when I left and went to work in North County at a church. We had moved there to put our kid through school, and I had thought maybe I should get back and check that out. After 10 months I was ready to find a more liberal church than the one I was at, and Donna [Frye] called up at the same time and said, "Hey, I've got an opening. I need a chief of staff. Would you be willing to come down here?"

So I thought, "This is God opening windows and closing doors, getting me out of the church and into politics." For those who are always looking for the Providential openings and closings of life, and believe that typically that would take you out of the devil's work of politics and into the church; well, for me, that went backwards.

Zenger's: How did you hook up with Donna?

Hadley: When I first went to work at City Hall, I got with Harry Mathis, who was terming out. He kept me for eight months during his last term. I actually turned down a job with Scott Peters, who succeeded him, because, as I told Scott, I really wanted to work in District 6, where I thought someday I would want to run for office. I was already living in District 6, and thought the District 6 people were my kind of people, and so I stayed on and got a job with Valerie Stallings. She left three weeks after I came to work for her, in that tragic series of events, and I stayed on during the interim.

So after working eight months with Harry and three weeks with Valerie, I went out to a forum there during the special election, and I said to my wife on my way out the door that March evening, "O.K. I'm going to go down there and see which of these 11 people I could identify with — and if I really don't feel comfortable with any of them, don't feel like any of them have a chance of winning, I've got to go out and find myself a real job, because this short-term work of eight months with one and three weeks with another obviously isn't going to bring home any kind of long-term family pay."

I got down to the Pacific Beach library, listened to all of these candidates, and they got up one by one and kind of did the typical political platitudes and clichés. And all of a sudden Donna got up, and it was just a breath of fresh air. She began to talk about how she had been raised in Clairemont during the 1950's, and then there were the 1960's, and then she kind of threw her head back and put her hand on her head and said, "Wow, the 1960's were good, weren't they?" And then she said, "Let's skip the 1970's. We won't talk about them."

She just began to talk about things in a humorous, not self-deprecating but just self-effacing way. The woman had balance. I'd heard she was an environmentalist. I really didn't know her that well. I'd seen her on TV a couple of times while I was in law school. She had a very holistic approach to the environment. She talked about density and she talked about noise, and talked about a lot of things — not just the gnatcatcher and the fairy shrimp. And she seemed to talk about things genuinely. She seemed to know her stuff. So I went up to her after the meeting and I said, "Hey, I want to help you," went out and volunteered with her night and day, and when she won she kept me on and I was very fortunate to make that connection.

It's not very often in politics that you get to work with someone you can identify with ideologically as closely as I can with her. I don't know; when you get to be mid-life, it seems like a lot of people are saying to themselves, "On top of all of this, I need to enjoy what I'm doing." And I've got to say we have certainly had fun with her.

Zenger's: Do you think she's going to be a hard act to follow? As you've acknowledged, you're not a particularly charismatic person. She is Ms. Charisma.

Hadley: Hard in some ways, yes. I think of Thomas Jefferson's statement when he took over from Benjamin Franklin as U.S. ambassador to France, and he was asked, "It is you, Sir, who replace Doctor Franklin?" He would say, "No one can replace him, Sir; I am only his successor." I've lived in the shadow of my folks, who were church leaders, and I was a leader in my own right. I don't think the goal would be so much to be her, as just simply continue her work.

I don't think Donna tries to be charismatic either. She simply is. She leads with her character and her brains and her determination and her courage, and everything else, and it winds up being very attractive. If I could wind up succeeding her in any way, continuing her work, I think I could do that. But I'm not pretending to be her. There's not much hope at this point in my life of growing my hair long and blond. I think part of what she is, and part of what's attractive to me, is to be yourself.

Zenger's: One thing that Donna's had some criticism aimed at her, particularly among the city workers and some people in the Democratic party, for her very tough line on city finances and her willingness to work with Republican Councilmember Carl DeMaio on plans to balance the city's budget, some people say on the backs of city workers. What is Donna's office doing about the city budget, and how would you see yourself as continuing it if you were elected?

Hadley: I'll tell you what I would continue to do. I agree with Carl and Donna when they say you could take six percent this year from city workers' pay, in whatever form you take it, and you can do that this year. You can do it again next year. You can take it to where they have absolutely nothing left to pay the workers, and that simply isn't going to solve the city's problems. I would suggest a couple of things. One is that we go back and live more frugally within City Hall. If we're going actually to cut any pay, I would suggest we do it on a tiered level, so that people who make under ,000 don't take a cut. Those who make ,000 to 0,000 would take maybe one or two percent. Those who make 0,000 to 5,000 — and so you'd scale the thing up so if you're making 0,000 you'd be taking a large percentage of your pay back.

We have a number of people who've come from the private sector, who were not making as much in the private sector, who are making far more now working in the city than they were. Beyond that, we've got nearly billion in contracts. Out of a .8 to billion budget, about a third of that is let out in contracts, and an inordinate amount of that in consulting contracts. Nobody has suggested that we cut the consultants' fees in a range by 6 percent in the last year.

I was talking to Wendy Brick, who was the customer services director for the city and subsequently went out and started her own consulting firm. I said, "Wendy, you go around to these different cities in the county. Do they have a range for consulting fees, or do they just pay you whatever you demand?" She said, "Oh, no, they've got a range, and if you get their job, this is the range you'll get paid in." The city of San Diego just isn't doing quite so well with that.

We just ran across a million contract just the other day for a city department. We called up and we said, "Just what is this consultant contract for?" They said, "Well, we keep this company on retainer in case we need them." "For what?" "Well, just in case we need them." "Well, what are you going to do with it?" They couldn't tell us, and they didn't know. But you take million here, million there, million, million there, and you add it up and there's money that we're losing.

There's just a real struggle to make sure that we operate as efficiently as possible. You've got the police that are bringing in suggestions on how to save money in their department. You've got AFSCME that's brought in just pages and pages of suggestions on how to save money in their departments across the board, where those workers work. And somebody needs to carefully take a look at those things.

When I came back to work with Donna, she was sending out monthly letters to people in the district. Every month she was sending out a different letter, informing them of services that the city provided. It's a good thing to do, to make people more aware of services that the Building Department, or Development Services for building permits, or the Water Department, streets and transportation. If you want a stop sign, here's a pamphlet on how to get one, that kind of thing. We were buying stationery and paying for postage to the tune of ,000 to ,000 per year to send out those letters every month.

I said, "Hey, I don't think we have to do this." She agreed, and we stopped doing it. People can go online. There are all sorts of meetings we go to, all sorts of information we can hand out to people, all sorts of ways we can get that out there besides us spending the money sending out a monthly mailing. O.K. Eight people in our office working for her, ,000 a year we're saving for the last five to six years, 11,000 employees in this city: if you take every eight of them saving ,000 in whatever little section or department they work in, there's .7 million per year that could be saved if you just met that kind of small goal.

Yes, I would look at pensions — not the pay, certainly not the health care. You've got AFSCME that gets no cancer health care these days. To me, that's unconscionable. We've got a group of people working in our buildings, working outside. These are the people who are exposed to hazardous waste, to the elements of the weather, and they're the ones, I think, that are most likely in the years to come to discover that they have cancer of some sort. Not to be giving those people cancer benefits in their health care is wrong. I don't know who negotiated for that, but it's wrong.

I would do a couple of simple things. We've paid out a cost-of-living allowance (COLA) of 2 or 3 percent this last year, while Social Security COLA is zero until we get out of these tough times. Why is the city paying COLA to its retirees? I don't want the retirees to live in poverty, but there are a few things that we ought to be looking at. I know that's not really something that gets me great favor with the city workers. But somebody needs to stand up and say these things before we wind up having a bankruptcy judge determine who's going to get what, and we don't have any say in it at all.

Zenger's: What about privatizing or outsourcing city jobs?

Hadley: I've told the labor unions and I've told the Lincoln Club both that I'm opposed to that. I'm not convinced that we're really going to be saving money. But, more importantly — and I think Blackwater is a great example of this — you lose accountability. You lose control. There are obviously capital improvement projects where we have to go contract out on a one-time kind of deal, or maybe ongoing help for major projects around the city, when it comes to our streets and infrastructure. There are times when our city attorney needs to contract out and get some specialized help. But to take some of our departments, take some of our functions, and privatize them, I'm simply opposed to it.

Zenger's: What about the comment made by one of your opponents that the voter initiative requires the city to privatize?

Hadley: I don't know that it requires it to, as much as it does to go look at it and study it, and that's being done.

Zenger's: Because my understanding is that when you outsource a city service, the only way the private contractor can make a profit is either reducing the pay of workers or lowering the quality of service. And in other cities that have privatized, they usually do both.

Hadley: That's my understanding, too. Logically, how else can they do it? People say that if you outsource, you'll be able to cut your management. No. To do this effectively, you've got to have somebody in there managing these contracts, managing these companies, overseeing them for the city. You've still got to pay for your middle management. So where are the cost savings, actually?

The assumption is they'll always save money in worker benefits, including health care, something. To me, that is so short-sighted, because who in the end is going to pay for that when they don't have the health care they need? It's going to come back on the local economy. It's just another one of those "we're going to kick the can another 10 to 20 years" things, and hope that we don't have to be around when those very people come around needing health care and retirement.

Zenger's: What are your thoughts about the proposal for a new stadium for the Chargers?

Hadley: I want to look at what they're talking about down there at the Wonder Bread site. I really haven't heard enough about it yet, but my suggestion would be if you're going to build one, build one with a lid on it. Build one that you can open the roof off of for game day, but you can close on inclement weather days and you can have conventions going on down there, like you do at the Superdome or the Hoosier Dome, year-round, so you're using it for all the sporting events, and then for the multitude of days during the year when the thing's sitting there not used, why, you can have all sorts of not only exhibits and fairs, but you can have meetings down there as well for people who want to have that big venue.

I would think that by doing that, you could have a broad range of investors help build the thing, because they were going to stand to gain from it, and not just one group, say, a sports team. So if they're really serious about this, I hope they'll look at a multi-use facility that gets multi-funding and shares the wealth with multi-groups and investors. But I don't have any opinion, other than that suggestion, at this point.

Zenger's: There's been a lot of discussion about whether Petco Park was a viable model for this sort of project. There were a handful of people in the local media — mainly Don Bauder in the Union-Tribune and myself — who were warning, "This is going to be a financial disaster. It's going to give away and cost the city way more money than it brings in," and lately Don Bauder has been writing in the Reader, "Hey, guys, I was right." So what are the good things and the bad things about the Petco experience that the city ought to have in mind if they do a deal for a Chargers' stadium?

Hadley: To begin with, be straight up front and truthful about the financing. Don't tell the voters that you're going to build a stadium and it isn't going to cost them anything, when you're actually getting them to pay for debt service. Just flat-out say, "Here's where it's going to come from, every bit of it. Here's what it's going to cost. Here's what we're having to take out, as far as loans or bonds or other funding. Here's where we're going to pay for it, and here's how it's going to affect what the public might or might not have otherwise."

I remember sitting back behind Harry Mathis when they were voting on the ballpark, before he left, and talking about transportation in and out of there, and parking. Of course, that crowd maintained that if you didn't have a lot of parking, people would just take public transit. Now we have all these people in these condominiums downtown frustrated because the streets are all jammed 80-some nights of the year because people haven't taken public transit. They're still out there looking for parking and crowding their streets.

If you're going to put a stadium down there, you really need to take into account what the public is going to do here in San Diego, and not just assume that because they go to the ballpark in Pittsburgh and Boston and Cleveland and New York in a subway, that they're necessarily going to do that here if you don't provide parking for them.

Zenger's: That was another one of the points we Cassandras were making, when they said, "If you don't build the parking spaces, they'll take the trolley." Not! Not in southern California, they won't.

Hadley: We're spending a lot of money on a bridge across the harbor. I'm trying to think of how many millions that is now, but if you're really getting serious about putting a stadium down there, then let's make sure that all the infrastructure we've got for public walkability and transit and everything else flows together and connects. We need to do more coordinated activity, instead of having people out there paving a street, and then two weeks later we're digging it up again to put in another utility line.

Also, if we're going to expand the East Village — if we put a ballpark there at Wonderland or Wonder Bread — and then this requires that we have to build more restaurants and condominiums even father east — then what are we doing now with the residents who are living there now, and with the homeless people? When we buiit Petco, we just had the notion that the homeless were going to take care of themselves, or they were going to bleed in elsewhere, or they were going to scatter around the city. There really wasn't a good plan for what was going to happen to them.

Now we're having to deal with the fact that they're not going to leave, in spite of the fact that we've built high-rise condominiums in their neighborhood and we've tried to crowd them out. Just look at the 15 acres of the Wonder Bread place. Look at the whole surrounding area and do a comprehensive plan for that community that works, before you build a piece of it and hope the rest of it will just gel.

Zenger's: Another question: the new library.

Hadley: It's one of those civic icons, civic symbols. Those of us who really appreciate books would argue that it's the more books, the better; the larger the collection, the better; and all that. But at some point, I really think we've got to take care of what we've got out there in the library system first, and make sure we're fully up to staffing and funding those. We've cut so many library hours now, it would be a shame to build something as nice as it would be downtown, and leave our libraries closed as much as they are out in the communities. And some of them are in dire need of repair.

Would I like to have a new library? Yes, I'd love to. I'd love to have a new car, I'd love to have a lot of things tonight. But I really think that the voters ought to get a say in all of this. I really hope that the voters get a say on whether there's a new library, a new stadium, all this sort of stuff — unless somebody comes along with private funding and wants to help pay for it and it really doesn't cost the voters a dime. Then maybe they'll ask the voters about the design.

Zenger's: One concern that was raised about your candidacy at the San Diego Democratic Club was that your Democratic opponent is much better known throughout the city, has much greater name recognition and a much larger donor base. That was one of the considerations that led the Democratic Club and the county Democratic party in endorsing him over you. How do you think your campaign can overcome those disadvantages, and contest not only the primary but also the general election against a Republican who will also be very well funded?

Hadley: That all assumes a number of things. Howard [Wayne] has been out of office longer than he was in office. He hasn't run for a contested seat in 13 years. He's been very involved in the party, and is well known in political circles, but he isn't that well known in the community. He hasn't been involved in civic groups and activities. He attends, and he belongs to community councils, but he hasn't been out there involved in the life of the community.

I'm attached to the person who probably is best known in District 6, and still draws in 64, 65 percent of the vote when she runs for Council in that district. I can tell you from being out knocking on doors this past month that people still love her, and when I tell them that I'm her chief of staff and she can't run any longer, so she's endorsing me, there's a very warm reception. I've got the community leaders who are recognized in the district lining up to endorse me, and I'm very appreciative about that.

I'm also talking to the Republicans. We've got about 34,000-35,000 registered Democrats in the district; about 27,000-28,000 Republicans; about 20,000 who are undecided, decline to state; and another 4,000-5,000 that are Green and every other party, American Independent. You've got a fairly good split between independents, Republicans and Democrats. So I'm out talking to the Republicans as well as the Democrats. The Republicans simply do not have a strong candidate yet. I've been saying that since June. I'm talking to leaders as well as elected officials in the Republican party, and they are talking to me.

So I'm quite hopeful that once we get through the primary, I'll be the guy out there in the middle that's appealing to a cross-section of voters, like I already am. I know what the talk is. I know what the blogs say, I know what the party conventional wisdom is. But the reality is the voters in District 6 are probably a pretty independent-minded group, more so than in some other districts. They are actually repulsed by the idea that somebody has made decisions for them. So if they ever get the sense that any group, any party, any collection of people has pre-ordained their choices, they'll just go seeking someone that's more independent.
Report this post as:
Local News

Change Links September 2018 posted S02 10:22PM

More Scandals Rock Southern California Nuke Plant San Onofre A30 11:09PM

Site Outage Friday A30 3:49PM

Change Links August 2018 A14 1:56AM

Setback for Developer of SC Farm Land A12 11:09PM

More problems at Shutdown San Onofre Nuke J29 10:40PM

Change Links 2018 July posted J09 8:27PM

More Pix: "Families Belong Together," Pasadena J02 7:16PM

"Families Belong Together" March, Pasadena J02 7:08PM

Short Report on the Families Belong Together Protest in Los Angeles J30 11:26PM

Summer 2018 National Immigrant Solidarity Network News Alert! J11 6:58AM

Watch the Debate: Excluded Candidates for Governor of California M31 5:20AM

Change Links June 2018 posted M28 7:41AM

The Montrose Peace Vigil at 12 Years M22 8:01PM

Unity Archive Project M21 9:42AM

Dianne Feinstein's Promotion of War, Secret Animal Abuse, Military Profiteering, Censorshi M17 10:22PM

CA Senate Bill 1303 would require an independent coroner rather than being part of police M10 9:08PM

Three years after OC snitch scandal, no charges filed against sheriffs deputies M10 8:57PM

California police agencies violate Brown Act (open meetings) M02 8:31PM

Insane Company Wants To Send Nuke Plant Waste To New Mexico A29 11:47PM

Change Links May 2018 A27 8:40AM

Worker-Owned Car Wash on Vermont Closed A27 5:37AM

GUIDE TO REBEL CITY LOS ANGELES AVAILABLE A13 12:39AM

lausd whistle blower A11 6:58AM

Website Upgrade A10 10:02AM

Help KCET and UCLA identify 60s-70s Chicano images A04 8:02PM

UCLA Luskin: Casting Youth Justice in a Different Light A02 6:58PM

Change Links April 2018 A01 6:27PM
More Local News...
Other/Breaking News

Antrhopocène, le grand effondrement S19 9:53AM

Creative Destruction Hack Diamonds Windows/iOS/Android - Creative Destruction Generator S19 12:51AM

Abolir l'économie S18 11:18AM

The Dictatorship of Corporations S17 5:26PM

18 Lethal Consequences Of Hunting S17 3:13PM

Paraphysique de l'outplacement déontologue S15 6:51AM

Creative Destruction Hack Mod Generator S15 3:49AM

Shopping du bashing S14 8:42AM

After Lehman Brothers, Experts Say Global Financial Crisis Can Happen Again S13 8:28PM

"Animaniacs in Concert!" Starring Voice Legend Rob Paulsen S12 9:30PM

Probabilités de fin d'humanité S12 6:49AM

Florida Area of Migrant Farmworkers Denied Right to Construct Health Clinic near NaplesCIW S11 2:57AM

Propagande de virus, virus de propagande S10 7:34AM

Steer clear of work morality! S09 12:10PM

Sweatshop Lodge Ceremony Continues in US Fed Prisons Led by Inmates S08 6:17PM

Paraphysique de l'origami S08 7:11AM

The Shortwave Report 09/07/18 Listen Globally! S06 11:23PM

August 2018 Honduras Coup update S06 12:28PM

Du réussissement putréfié S06 10:55AM

Brett Kavanaugh Filled The 5th Circuit With Execution Judges S06 6:14AM

Log S06 4:25AM

Augusta Georgia Woman Gets 5 Year Prison Sentence for Writing About Russians Crime Acts S05 8:29AM

Paraphysique de contextualité S05 8:29AM

Crisis Regulation in Global Capitalism S03 3:39PM

Ex-voto de réification S03 10:24AM

Please Oppose Warmonger, Execution and Torture Supporting Bush Operative Brett Kavanaugh A31 10:45PM

Paraphysique d'exploitation occultation A31 10:24PM

Ryan Zinke Is Charging Taxpayers For A Trophy Hunters' Council A31 2:10PM
More Breaking News...