Features
•
latest news
•
best of news
•
syndication
•
commentary

Feature Categories



KILLRADIO
printable version - js reader version - view hidden posts - tags and related articles

by Mark Gabrish Conlan/Zenger's Newsmagazine Tuesday, Sep. 22, 2009 at 2:20 PM
mgconlan@earthlink.net (619) 688-1886 P. O. Box 50134, San Diego, CA 92165
One week after San Diego police officers, sheriff's deputies and federal Drug Enforcement Administration (DEA) agents raided 14 medical marijuana dispensaries in San Diego County, the National Lawyers' Guild chapters of California Western and Thomas Jefferson Schools of Law held a forum on the medical marijuana issue at Cal Western. Among the speakers were Gerald Singleton, attorney representing many of the people arrested in these and previous raids against medical marijuana providers; Dion Markgraaf, local activist who's been prosecuted four times for helping medical users obtain marijuana; and Alex Kreit, attorney and law professor who's been involved in medical marijuana issues. They particularly discussed the hard line against medical marijuana taken by the San Diego County Board of Supervisors and attorney general Bonnie Dumanis.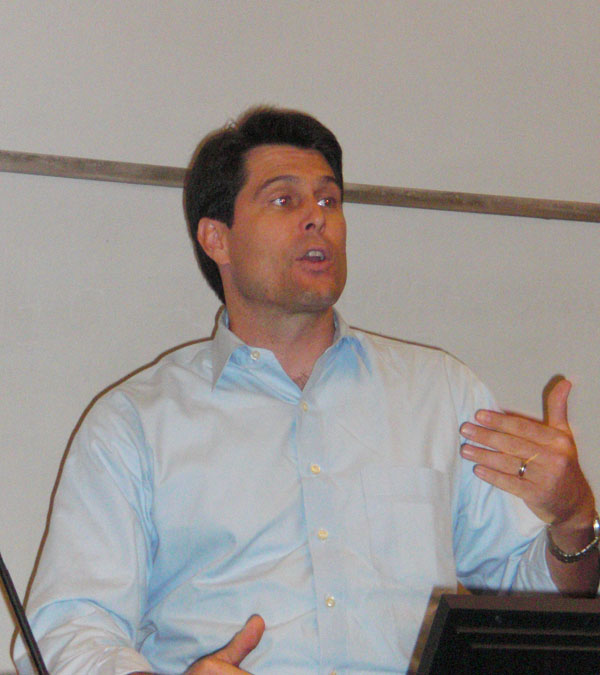 singleton.a.jpg, image/jpeg, 600x675

Law School Discusses Medical Marijuana In Wake of Local Raids

Continued Enforcement Actions Highlight Need for Clarification of Law

by MARK GABRISH CONLAN

Copyright © 2009 by Mark Gabrish Conlan for Zenger's Newsmagazine • All rights reserved

PHOTOS, top to bottom: Gerald Singleton, Dion Markgraaf, Alex Kreit

The forum on medical marijuana law at California Western School of Law September 17 occurred against the backdrop of a series of raids on medical marijuana dispensaries in San Diego one week earlier. On September 10, San Diego County district attorney Bonnie Dumanis hosted a press conference with San Diego police chief William Lansdowne, San Diego County sheriff William Gore, San Diego Drug Enforcement Administration (DEA) field division chief William Sherman, U.S. Attorney Karen Hewitt and other local and federal law enforcement personnel. The press conference announced that 14 search warrants were served on local dispensaries "as a result of a four-month investigation" that "effectively shut down the businesses which were operating under the guise of selling marijuana and marijuana-laced products for medicinal purposes."

The raids only underscored that San Diego County is just about the worst place in California to be a medical user of marijuana. In 2003 the California state legislature passed a law requiring all 58 counties in the state to issue identification cards to legitimate medical users of marijuana — cards they could show to police and other law enforcement officers to stave off arrest. Instead of complying, San Diego and three other counties went through a five-year effort to try to have California's landmark medical marijuana law, Proposition 215, declared unconstitutional on the ground that the continued prohibition of marijuana by the federal government trumps state law. Last year, Dumanis's office and other law enforcement personnel launched what they first called "Operation Green Rx," later renamed "Operation Endless Summer," a police sting operation aimed at entrapping medical marijuana providers.

"What [Dumanis] actually did," said Dion Markgraaf, a medical marijuana activist in San Diego County for over a decade and himself a victim of four criminal prosecutions for his efforts, "is assign a police officer to pose as a medical marijuana patient, lie to doctors to get medical recommendation letters, and target all the local sources. They all got huge bails and were prosecuted to the full extent of the law. Some are still being prosecuted." According to Markgraaf, Dumanis's office is coming down harder on medical marijuana providers than on ordinary drug dealers — despite Dumanis's rhetoric that she supports medical marijuana and is only going after people abusing the law. "One guy in a head shop in Pacific Beach got two misdemeanor charges," Markgraaf said. "The medical marijuana people are being hit with huge felony charges for the same amounts."

According to Markgraaf, not only is the district attorney specifically targeting medical marijuana providers, the courts are also coming down hard on them and denying them due process of law. "One dispensary owner tried to act as his own lawyer, and was denied," Markgraaf said. "He was arrested for 'trespassing' at his own court hearing. He was taken into custody without bail, ordered to have a sanity evaluation and will not have another court hearing until October 2. Another person was set up and didn't have a preliminary hearing for six to eight months. They even tried to deny that he was a medical marijuana patient, and he lost his case because he couldn't prove he was a patient. His bail was raised from $60,000 to $100,000, and the system wouldn't accept a bail post for him from anyone — not a defense organization, not his family and not a professional bail bondsman. After five weeks in custody, he pleaded guilty — and then they let him out."

Markgraaf was the only non-attorney on the panel at Cal Western September 17. The other speakers were Gerald Singleton, local defense attorney who specializes in medical marijuana cases and is representing many of the people arrested in Dumanis's enforcement actions; and Alex Kreit, a professor at Thomas Jefferson School of Law. (The Cal Western and Jefferson chapters of the National Lawyers' Guild co-sponsored the event.) Kreit was involved in a late phase of the long-standing litigation involving the Oakland Cannabis Buyers' Cooperative (OCBC) and its ultimately unsuccessful attempt to block the federal government from prosecuting medical marijuana providers and users. His part of the program was a review of the long, depressing history of federal marijuana law and how the 1970 Controlled Substances Act has been upheld in the courts against every challenge based on medical necessity.

When the Controlled Substances Act was passed, it set up a series of so-called "schedules" depending on how "dangerous" a drug was considered to be and whether it had any legitimate medical use. Marijuana was placed in the most severe category, Schedule I, along with heroin and LSD. A Schedule I drug is one that has "high potential for abuse" and "no significant medical use." Morphine and cocaine were put into Schedule II, acknowledging that they do have recognized medical uses. The Schedule I placement of marijuana, Kreit explained, was supposed to be "provisional" pending a review of marijuana laws by a government panel called the Schaefer Commission. But when the Schaefer Commission finally made its report and recommended that marijuana be decriminalized altogether, President Nixon ignored it. President Carter briefly attempted a rescheduling, but when one of his top advisors was caught in a drug raid, he quietly dropped the issue — and no president has taken it up since.

What made the summary declaration by the President and Congress that marijuana had no legitimate medical use utterly preposterous was that at the time the federal government was actually running an Investigational New Drug (IND) program to test marijuana's effectiveness as medicine. "It was difficult to become one of those patients," Kreit said. In fact, only nine people were ever actually enrolled in this program, but at least six of them remain alive and are still getting legal marijuana from the federal farm in Mississippi that supplies all the government's research stash. But this quiet program came to a skidding halt in 1981, when a San Francisco doctor specializing in AIDS treatment tried to enroll 350 new patients — and the Reagan administration responded by shutting the program completely, leaving only the nine previous enrollees grandfathered in and therefore entitled to medical marijuana doses.

Another attempt to challenge the federal government's denial of the medical benefits of marijuana came in the early 1970's, when the National Organization to Reform Marijuana Laws (NORML) filed a petition to have the substance rescheduled to permit medical use. "After a protracted litigation process during which the DEA refused even to hold hearings on the petition," Kreit said, "administrative law judge Francis Young recommended it be removed to Schedule II. His recommendation was refused by the DEA and so the petition died after 22 years pending. Afterwards there were no further attempts to contest the federal ban on medical marijuana until California voters passed the landmark medical marijuana initiative, Proposition 215, in November 1996.

"After Proposition 215, there were several cases, including the Oakland Cannabis Buyers' Cooperative case," Kreit explained. "OCBC claimed a medical necessity defense against a civil action by the federal government. They won in the 9th Circuit Court of Appeal, but the U.S. Supreme Court unanimously overturned that decision and said the Controlled Substances Act was intended to preclude a medical necessity defense. In a concurring opinion, however, Justice John Paul Stevens seemed to leave open the question of whether an individual patient could claim a medical necessity defense."

Unfortunately, the door Justice Stevens had tried to prop open got slammed shut by a 6-3 Court majority in the Raich v. Ashcroft (later Raich v. Gonzalez, as the defendant — the U.S. Attorney General — changed) case. Medical marijuana patient Angel McClary Raich and her attorneys seized on a case called Lopez in which the conservative majority on the Supreme Court had tried to restrict the reach of the interstate commerce clause. The U.S. constitution gives the federal government power to regulate "commerce between the states," and from the 1930's to the 1990's that was interpreted broadly to give the feds authority to do just about anything they wanted as long as they could make some tenuous claim that it was related to interstate commerce.

Seeking to expand the rights of gun owners, the conservative Supreme Court majority in the Lopez case "held it did not affect interstate commerce to prohibit guns near schools," Kreit explained. "Medical marijuana activists asked why, if possessing a gun near a school zone does not affect interstate commerce, possessing or cultivating marijuana does?" Instead, Anthony Kennedy and Antonin Scalia switched sides and upheld the federal ban on medical marijuana, and while Kreit himself seemed confused by the reasoning they used, it seemed to boil down to "the ground that the CSA provides a total regulatory scheme, and if you can't regulate simple possession, the whole scehem would fall apart." The Supreme Court referred both Raich and OCBC back to the lower courts, where Raich tried to make an argument that she had a "fundamental right" to use marijuana if it helped her medically. But neither Raich's new argument nor OCBC's claims made it past the federal appeals courts.

The U.S. Supreme Court's consistently negative rulings on medical marijuana have put patients into a Kafka-esque situation in which, if they're arrested on federal drug charges and tried in federal courts, they're not permitted to mention medical marijuana at all. They're not allowed to discuss either their own illnesses or those of anyone to whom they may be providing marijuana. According to Kreit, the medical marijuana movement is lobbying Congress for something called the Truth in Trials Act, "which would allow evidence of medical use and compliance with state law [to be used as evidence] in federal trials." Kreit also discussed another rescheduling petition that is making its way through the system, and said he's hopeful it will be heard while Barack Obama is still president and his appointees hear it — especially since the scientific evidence for marijuana as medicine is far stronger now than it was in the 1970's when NORML filed their petition.

About the only good thing that's happened for medical marijuana users at the federal level took place in the late 1990's, when President Clinton and his Office of Drug Control Policy chief, Barry McCaffrey, tried to shut down Proposition 215 by threatening to revoke the federal prescription license of any doctor who wrote a recommendation authorizing a patient to use marijuana. This would have nipped medical marijuana in the bud — pardon the pun — because 215 requires that you have a doctor's recommendation before you can legally use marijuana for medical reasons. "The doctors fought this," Kreit recalled, "and the Ninth Circuit Court of Appeal held with them that they had a constitutional right to discuss treatment options with their patients. This didn't make it to the Supreme Court, but it shut down any rumblings of the federal government doing this again."

More recently, last March Eric Holder, Obama's appointee as attorney general, made a statement that the federal government would no longer prosecute medical marijuana users or providers in states where medical marijuana was legal — as long as the patients and providers were following their states' laws. That's been a loophole big enough to drive a semi-truck packed with "keys" through, since aggressive district attorneys like Dumanis and local DEA chiefs like Sherman can always claim that the people they're arresting are not following the state law. "Like most San Diegans, I support legitimate and legal medical marijuana use," Dumanis said at her press conference. "However, it appears these so-called 'marijuana dispensaries' are nothing more than for-profit storefront drug dealing operations run by drug dealers hiding behind the state's medical marijuana law."

Part of the problem is that the state has been ambiguous as to just what is and is not legal under Proposition 215 and the implementation law passed by the state legislature in 2003, the Medical Marijuana Program Act. That was the main subject of Gerald Singleton's presentation. This law set limits on the amount of marijuana — both live plants and product — a patient may have at any one time, limits that medical marijuana advocates feel are too restrictive. It also set up the ID card system because, as Singleton explained, "they had a problem with law enforcement not following the law, either through misunderstanding or bad faith. The card has the person's photo on it and a phone number that can be called 24 hours a day, seven days a week, to verify that person has a legitimate doctor's recommendation to use marijuana.

"In other counties, people with cards and amounts within the legal limits are not being arrested," Singleton said. "In San Diego, the County Board of Supervisors decided they had a lot of extra money with which to sue the federal government to throw out 215. Supervisor Bill Horn honestly said he didn't care what the voters thought, he would never vote for marijuana in any way, shape or form. That's at least more honest than Dumanis."

Singleton, who's representing many of the medical marijuana patients and providers arrested under Operation Green Rx, added more details to Markgraaf's account of how the raids went down. "The police department, sheriff's department and district attorney's office rented a house on Pico Street on military property," he explained. The use of military property was so that when the operation became public last March, Dumanis could claim she was protecting innocent young sailors from desperate, depraved drug dealers. According to Singleton, the undercover cop they assigned, Detective Henderson, "looked like Van Halen. He got a driver's license and gave his address as 1313 Mockingbird Lane" — the fictitious address of the Munsters family in the hit 1960's TV show.

Detective Henderson, using the alias "Jimmy Conlin," "signed up to be in Joe Malone's collective, and Malone checked out his recommendation with the doctor who issued it," Singleton explained. "The authorities contend that Malone broke the law when he sold 'Conlin' half an ounce because he didn't have a pre-existing relationship with the collective and therefore couldn't 'join' it." Dumanis's office seems to be arguing that once someone exchanged marijuana for money, or vice versa, they have violated the state's ban on "profiting" from medical marijuana. Her office's press release explains her position.

"For-profit marijuana dispensaries are not legal according to state law and the State Attorney General's published guidelines," the release reads. "The Attorney General's guidelines on medical marijuana allow non-profit collectives and cooperatives that cultivate marijuana to serve their legitimate patients if they follow rules, which include acquiring marijuana only from their members and reimbursing only reasonable costs like out-of-pocket expenses."

Singleton challenges the D.A.'s belief that collectives — which are specifically authorized in the 2003 act — can only reimburse their members for out-of-pocket expenses. "They can pay their members a salary reasonable by the standards of other non-profits," he argued. He also said that the Attorney General's guidelines "say you can have dispensaries and can sell. You just can't make profits." Indeed, the guidelines say that people involved in dispensing medical marijuana through non-profit collectives or cooperatives must pay state sales taxes on the proceeds — clear evidence that the state government is aware that money is changing hands in the medical marijuana business, and it's fine so long as the state gets its cut.

"The San Diego district attorney's office admits they take a harder-line stance than anyone else in the state," Singleton said. "We've asked them for guidelines, and they've said, 'We don't give advisory opinions. You have to hire your own lawyer.' I said I had a client who hired me before they started operation and still got prosecuted. They said, 'He should have hired a better lawyer.' I don't think Dumanis and the lawyers on her narcotics task force are enforcing this law in good faith. The law is certainly being abused, but so is the enforcement of it."

Report this post as:


by Mark Gabrish Conlan/Zenger's Newsmagazine Tuesday, Sep. 22, 2009 at 2:20 PM
mgconlan@earthlink.net (619) 688-1886 P. O. Box 50134, San Diego, CA 92165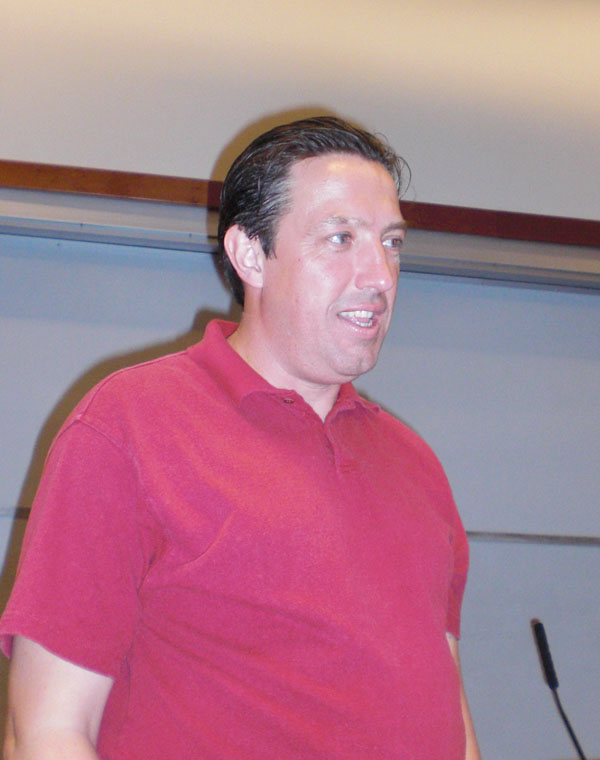 markgraaf.a.jpg, image/jpeg, 600x760

error

Report this post as:


by Mark Gabrish Conlan/Zenger's Newsmagazine Tuesday, Sep. 22, 2009 at 2:20 PM
mgconlan@earthlink.net (619) 688-1886 P. O. Box 50134, San Diego, CA 92165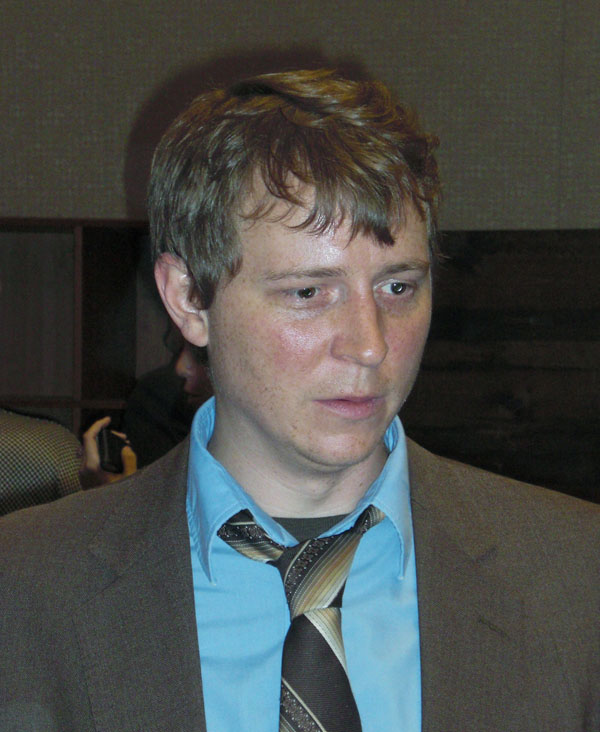 kreit.a.jpg, image/jpeg, 600x732
error
Report this post as:
Local News

Change Links September 2018 posted S02 10:22PM

More Scandals Rock Southern California Nuke Plant San Onofre A30 11:09PM

Site Outage Friday A30 3:49PM

Change Links August 2018 A14 1:56AM

Setback for Developer of SC Farm Land A12 11:09PM

More problems at Shutdown San Onofre Nuke J29 10:40PM

Change Links 2018 July posted J09 8:27PM

More Pix: "Families Belong Together," Pasadena J02 7:16PM

"Families Belong Together" March, Pasadena J02 7:08PM

Short Report on the Families Belong Together Protest in Los Angeles J30 11:26PM

Summer 2018 National Immigrant Solidarity Network News Alert! J11 6:58AM

Watch the Debate: Excluded Candidates for Governor of California M31 5:20AM

Change Links June 2018 posted M28 7:41AM

The Montrose Peace Vigil at 12 Years M22 8:01PM

Unity Archive Project M21 9:42AM

Dianne Feinstein's Promotion of War, Secret Animal Abuse, Military Profiteering, Censorshi M17 10:22PM

CA Senate Bill 1303 would require an independent coroner rather than being part of police M10 9:08PM

Three years after OC snitch scandal, no charges filed against sheriffs deputies M10 8:57PM

California police agencies violate Brown Act (open meetings) M02 8:31PM

Insane Company Wants To Send Nuke Plant Waste To New Mexico A29 11:47PM

Change Links May 2018 A27 8:40AM

Worker-Owned Car Wash on Vermont Closed A27 5:37AM

GUIDE TO REBEL CITY LOS ANGELES AVAILABLE A13 12:39AM

lausd whistle blower A11 6:58AM
More Local News...
Other/Breaking News

test O06 10:01AM

test O06 9:59AM

test O06 9:59AM

100 Ways GOP Have Stolen Elections Since 1876 O06 12:03AM

Proximospective de l'univocité réifiée O05 6:27AM

"Kava-no!!!" O04 6:42PM

Trump & Palestine vs. Genesis, Rashi & The Land of Israel O03 6:29PM

The Criminality of the Elites O03 11:35AM

Business de l'inhumanitaire O03 7:51AM

Marriage Rape/Date Rape Highest Rapes O02 2:59PM

Women I Know Get Raped - Too Many Times To Count! O02 2:55PM

Women In USA Have Stockholm Syndrom O02 2:50PM

Shooting Drill's Are Political Actual Shootings O02 2:47PM

Dr. Ford's Father Works With CIA O02 2:44PM

Weaponizing Frequencies O02 2:41PM

Google Abuses: Worldwide Spying, Censorship, War Promotion, Spying On Children, Etc O02 11:08AM

Paraphysique de l'administration O02 8:34AM

Paraphysique O02 8:31AM

Affordable Rents? A State of Emergency Intensifies O01 11:36AM

A Few Of Many Impeachable Acts by Trump Sessions And Others O01 4:41AM

Désengrammation, l'éloge de la suite S30 7:01AM

someone Should Work In Hollywood - Good Acting! S28 2:55PM

Ford Gives Psych Drugs To Lower Class To Shut Them Up? S28 2:51PM

Hilllary Calls Ford Trailer Trash? S28 2:47PM

Most Rapes Are In Marriages S28 2:43PM

Nice Boys Dirty Deeds S28 2:41PM

Minnesota 2nd Largest Rape State S28 2:39PM

Paraphysique de la plus-value S28 7:18AM
More Breaking News...