Features
•
latest news
•
best of news
•
syndication
•
commentary

Feature Categories



KILLRADIO
printable version - js reader version - view hidden posts - tags and related articles

by repost (full disclosure) Sunday, Aug. 02, 2009 at 7:12 PM

Dozens of film workers at the Downey studio which was built on a highly toxic radioactive dump have been seriously injured and the developer Stuart Lichter is fighting to prevent being held responsible for their injuries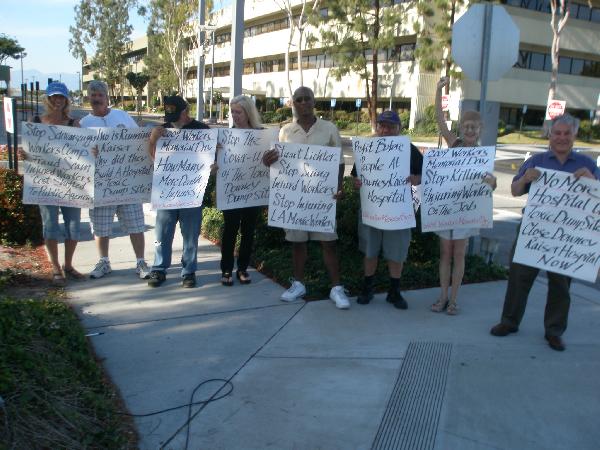 p4190040.jpg, image/jpeg, 2048x1536
Health complaints linked to former NASA site in Downey - Injured Workers Fight For Healthcare and Justice Against Developer & Brownfield Site

http://www.latimes.com/business/la-fi-ct-downey2-2009aug02,0,5980999.story

Health complaints linked to former NASA site in Downey

A toxic cleanup paved the way for Downey Studios. But people who worked on films there say they developed conditions from which they have not recovered. The source of their problems remains a mystery.

By Richard Verrier

August 2, 2009

In 34 years as a Hollywood prop maker, John Izumi rarely missed a day of work. Now he can barely pull himself out of bed.

His medical records describe a daunting array of ailments: chest pains, headaches, dizziness, memory loss, red blotches and pimple-like bumps. He says he has trouble breathing at night and wakes up with tremors.



Related Content

Downey Studios

ADS BY GOOGLE

Denied Insurance Claims

We Represent Clients Through Out CA Call Us For A Free Consult Now!

1-800-446-7529.KantorLaw.net

Workers Compensation

Experienced Injury Lawyer handling Worker Comp cases. Free service

www.InjuryHelpLineAttorney.com

Mold Removal/Remediation

Pros to Remove, Mediate & Inspect. Get Mold Removal Estimates Today!

www.ServiceMagic.com

Izumi traces these symptoms to the three months he spent at Downey Studios in 2004 and 2005 building sets for the science-fiction movie "The Island."

"It's like my body is breaking down," said the 55-year-old Burbank resident. "My life has changed ever since I worked out there."

Dozens of film production workers have similar complaints about Downey Studios, which occupies the site of a former NASA plant southeast of Los Angeles that produced spacecraft for the Apollo moon missions.

Part of the property was turned into a film production center early in this decade, after a cleanup intended to protect workers and the public from the toxic residue of years of aerospace research and manufacturing. The transformation was celebrated as an example of how old industrial sites, often a burden on communities, can be reclaimed for productive uses.

But carpenters, welders, electricians and other film production workers say they developed severe respiratory and other problems while working there and have never recovered.

Film workers have given the name "Downey flu" to one particular cluster of symptoms -- chronic congestion, headaches and rashes. Some have even refused to work there, a rare phenomenon in the tough, blue-collar world of set construction.

At least 34 people have filed workers' compensation claims over illnesses they trace to the studio complex. The Times obtained detailed records on 18 of the cases. In 11 -- including Izumi's -- independent physicians found that some or all of the symptoms were caused or aggravated by working at Downey Studios.

In three other cases, independent physicians -- specialists certified by the state to offer neutral opinions in workers' compensation cases -- said the ailments appeared to be work-related but further tests were needed to make a determination. The tests were never performed because insurance companies contested the doctors' findings and refused to pay for the tests.

In the four remaining cases, independent physicians said workers' symptoms were not work-related.

The source of the health problems is a mystery. Independent physicians generally do not try to pinpoint the precise cause of an illness. In their workers' compensation claims, in injury complaints reported to Cal/OSHA and in a civil lawsuit, film-production workers cited a variety of potential causes, including mold, dust churned up during renovations at Downey Studios and toxic chemicals detected in the soil.

Stuart Lichter, whose Industrial Realty Group operates Downey Studios, rejected the idea that conditions at the site made anyone sick.

"We've done an amazing amount to transform this property, and everything we've done has been totally responsible," said Lichter, founder and president of IRG.

David White, a lawyer for the company, said there was no evidence linking the workers' health problems to Downey. "A lot of these guys work with fairly toxic materials in their line of work," he said. "They've done all kinds of heavy, industrial work."

Gerald Caton, Downey city manager, vigorously defended the cleanup of the former NASA plant: "There's probably not a site in America that has been more thoroughly evaluated from an environmental point of view."

Film production workers typically are independent contractors hired through Hollywood craft unions. While working on a movie, they are employed by payroll services companies, which purchase insurance to cover work-related injuries and illnesses.

Those insurers rejected all the claims related to Downey Studios, saying the workers' problems stem from preexisting conditions or previous employment. Workers appealed within the state workers' compensation system, and insurance carriers have since settled about a third of the cases. In a few others, claimants tired of the battle and walked away with nothing.

At least 16 workers are still fighting for workers' compensation benefits. Ultimately, disputed cases are resolved through a trial before an administrative law judge, often several years after the claim was filed.

Most of the workers who blame their medical problems on Downey have continued to work on movie productions across Los Angeles, but some have stopped, saying they are too sick.

American International Group Inc., the workers' compensation insurer in most of the Downey Studios cases, declined to comment.

"What is clear is that there is a large number of people who have reported similar symptoms from working at the same location," said Saro K. Kerkonian, a Glendale lawyer representing eight of the workers. "That can't be brushed off as just coincidence."

Aerospace history

Downey Studios is one of the largest film production spaces in North America. Its converted hangars have 360,000 square feet of production space and an artificial lake the size of a football field.

Before the controversy over the health complaints and a broad downturn in film production, Downey Studios was one of the region's busiest film sites, hosting such productions as "Spider-Man," "The Italian Job," "Terminator 3: Rise of the Machines" and "Catch Me If You Can." More recently, "G.I. Joe: The Rise of Cobra," which opens next weekend, was filmed there.

The property, between Lakewood and Bellflower boulevards north of Imperial Highway, was a cradle of the nation's aircraft and aerospace industries. During World War II, Vultee Aircraft made heavy bombers there. After the war, North American Aviation conducted research on nuclear power and rocket propulsion.

In the 1960s, North American (later part of Rockwell International) landed a NASA contract to build a booster rocket and the command and service modules for the Apollo lunar program. Later, workers at Downey made and assembled components for six space shuttles.

Boeing Co. acquired Rockwell's aerospace and defense divisions in 1996 and shut the plant three years later.

The city of Downey drafted plans for a shopping center, hospital and movie studio on the 160-acre site and bought an initial 66 acres from the federal government in 1999.

Environmental surveys documented extensive contamination. Trichloroethylene was found in high concentrations in soil and groundwater. Exposure to elevated levels of the industrial solvent can cause nerve and organ damage, respiratory problems and impaired immunity.

Hexavalent chromium, used to plate metal and rust-proof aircraft engine parts, was also found in high concentrations in the soil in places. Exposure to hexavalent chromium can cause cold-like symptoms and damage to the nose, throat and lungs. Direct contact with the skin can cause rashes and sores.

In all, the U.S. Department of Labor has identified 259 toxic substances used at the former NASA facility.

After extensive studies, state and federal regulators determined that the contamination could be mitigated to the point that it would not pose a significant risk to workers or the public. A 2001 study, however, cautioned that employees working outdoors for long periods or involved in excavation could be at risk from exposure to volatile organic compounds such as trichloroethylene in the soil.

To bring in revenue, the city began leasing the site for film production as it moved to acquire the remainder of the property from NASA and redevelop it on a fast track.

Officials took advantage of an amendment to the federal Superfund law that allows certain government properties to be sold before they have been cleaned up or while cleanups are still in progress. Such "early transfers" must be approved by the governor of the state.

Then-Gov. Gray Davis granted approval for the Downey property in 2003, and Winston Hickox, then California's secretary of environmental protection, lauded the move as "great for the environment and for the Southland's economy."

The city awarded a .5-million contract to International Risk Assumption, a Denver firm, to conduct a long-term cleanup overseen by the state water board. Work crews extracted trichloroethylene and other contaminants from soil, treated polluted groundwater and removed hundreds of tons of arsenic-laced dirt, among other steps.

Lichter's Industrial Realty Group, which specializes in redeveloping old industrial sites, was selected to convert the aerospace plant into a film production hub. The company took over management of the property in early 2003 and in November of that year bought about 60 acres and leased an additional 20 from the city.

Early on, the makeover ran into difficulty.

Problems arise

In August 2003, a city inspector came upon a pile of dirt excavated from beneath the main studio building, called Building 1, to create an artificial lake for "Lemony Snicket's A Series of Unfortunate Events." (The reservoir served as Lake Lachrymose in the film.) The inspector noticed patches of yellow-green soil in the pile, a possible sign of chromium contamination, according to records of the Los Angeles Regional Water Quality Control Board.

The city halted all work at the site and had the soil tested. In some samples, measurements of total chromium -- a combination of hexavalent chromium and trivalent chromium -- were far above the federal safety standard, water board records show. The records say the chromium may have been discharged during the 1950s when a section of the building was used as a plating room.

International Risk Assumption developed a remediation plan in consultation with state regulators. From November 2003 to January 2004, cleanup crews separated the contaminated soil from clean soil and deposited it in a pile to be disposed of later off-site. During this process, an industrial hygienist monitored chromium levels in the air and found that they were safe, according to water board records.

The pile of contaminated soil eventually grew to nearly 7,000 tons.

At the time, the Queen Latifah comedy "Taxi" was being filmed at Downey, including outdoor shooting, and crews for "Lemony Snicket" were creating sets in Building 1.

In February 2004, another film crew arrived to work on "Christmas With the Kranks." The workers noticed the pile of contaminated dirt, which was near a back lot where they would build a replica of a suburban Chicago street.

Ruben Lahn, a laborer on the crew, said supervisors asked him to put a plastic covering over the pile. "They told us there was chromium in the dirt, but it's only bad if it's blowing in the air and we breathe it in," said Lahn, 38. "We joked about it."

David Elliott, construction coordinator for "Christmas With the Kranks," said he met with workers and shared with them test results indicating that the soil was not a health threat.

Though initial tests had detected elevated chromium levels in some samples, later testing by Leymaster Environmental Consulting of Long Beach found concentrations within the federal safety standard, according to Leymaster's report filed with the water board.

The report does not explicitly address why the tests results differed. It does say that as the excavated dirt was sorted and the contaminated soil moved into a separate pile, tainted soil was mixed with clean soil. A water board official said that could explain the lower chromium levels in the later tests.

Still, the remediation plan approved by state officials called for the dirt to be hauled to a landfill in Lancaster. This was done from Feb. 2 to Feb. 10, 2004, according to water board records.

Thomas Messmer, IRG's vice president for construction and project management, initially told The Times that no film production was done at Downey while the chromium-laced pile was there. "There were no production people on the site until after the soil had been removed," he said.

Elliott, however, said his production log showed that the "Christmas With the Kranks" crew started work Feb. 2, 2004, eight days before the cleanup was finished. Production crews for "Taxi" and "Lemony Snicket" had been there earlier.

Asked about this in a subsequent interview, Messmer acknowledged that film workers had been at the site while the contaminated dirt was present. He said he was "working off memory" in the earlier interview and was confused by a reporter's question.

Even so, he said, the soil posed no threat to workers on any of the film productions.

Jeff Hill, a lighting technician on "Taxi," argues otherwise. He was at Downey Studios for several weeks in late 2003.

"No one told us anything," said Hill, 43. "If I had known about the contaminated soil, I never would have stepped foot on that property."

Hill developed lesions on his arms and a growth on his thyroid that was surgically removed, according to his medical records. He was later diagnosed with testicular cancer.

His workers' compensation lawyer referred him to Dr. Marvin Pietruszka, a board-certified specialist in occupational medicine. In a 2008 report included in state files on Hill's case, Pietruszka attributed his cancer and other ailments to exposure to hexavalent chromium, trichloroethylene and other hazardous substances at Downey.

The report noted that chromium had been found in the soil and said that Hill was regularly in contact with soil as he laid cable for outdoor shoots.

"It is interesting to note that only two months prior to working at Downey Studios, Mr. Hill had a comprehensive examination . . . and was given a clean bill of health," Pietruszka wrote.

An independent physician, however, found that Hill's illnesses were not work-related. An insurer denied his workers' compensation claim. Hill appealed, and the two sides have reached a tentative settlement.

Mold, dust cited

By late 2004, film crews were at work inside Building 1, creating futuristic sets for "The Island." The former aerospace hangar was still being renovated, and water leaked through the roof during that winter's torrential rains. Standing water accumulated, and mold was visible on the walls, workers recalled.

"In one of the rooms where we were shooting, there was this disgusting, moldy smell," recalled filmmaker Michael Bay, director of "The Island." "I could just tell there was something in the air."

Dust was also a nuisance. Just outside the building, crews were digging trenches for electrical cables. Elsewhere on the site, grading was underway for a shopping center and a hospital. Clouds of dust blew into the studio building, film workers said.

Steve Basile, a 53-year-old prop maker from Castaic who spent two months working on "The Island," said he has suffered from shortness of breath, peeling skin and other ailments ever since.

"Sometimes I wake up choking in the middle of the night," he said.

Dr. Richard Hyman, a board-certified internist and cardiologist, served as an independent physician in Basile's workers' compensation case. After examining Basile and reviewing his medical records, Hyman concluded in 2008 that working at Downey had aggravated his preexisting ear, nose and throat problems.

Despite the finding, the insurer AIG denied Basile's workers' compensation claim. He is appealing.

In response to workers' complaints, DreamWorks SKG, producer of "The Island," brought in an environmental consulting firm, Mintie Corp., to assess the air quality in Building 1. In a memo to workers, DreamWorks said the tests found mold but at levels that would not affect healthy individuals. (DreamWorks executives declined to comment.)

That was small comfort to Daniel Mustoe, a welder who built sets for "The Island." He complained of flu symptoms that wouldn't go away and of difficulty breathing.

Dr. Bruce Gillis, a medical toxicologist serving as an independent physician in his workers' compensation case, found that Mustoe had been permanently disabled by a fungal infection from mold at Downey.

Gillis said blood tests showed that Mustoe was exposed to the same mold identified by Mintie Corp. in its air-quality tests. "There is substantial medical evidence that 100% of this permanent disability was caused by" working at Downey, Gillis wrote.

AIG refused to authorize treatment, citing the opinion of another doctor who questioned the validity of the blood tests. Mustoe is appealing.

IRG has responded vigorously to adverse publicity over the workers' claims. In 2005, it filed a libel suit against the International Alliance of Theatrical Stage Employees, contending that the union scared away business by falsely claiming in its newsletter that Downey Studios was unsafe.

The union and its insurer paid 5,000 to settle the case. As a condition of the settlement, the union acknowledged that air-quality tests for mold and asbestos found that Building 1 was a "clean and safe" environment.

Last August, Lichter filed another libel suit, this one against some of the injured workers and activist Vickie Travis, who has publicized their complaints on a website. Travis said the lawsuit, which is awaiting trial, was "an attempt to intimidate me and to suppress our freedom of speech."

Film production continues at Downey Studios, but at a slower pace than before. IRG executives have said they intend to scale back their film business and have proposed an 0-million development of shops, offices, restaurants and residential units on the site.

Some of the film workers, meanwhile, remain in limbo, uncertain whether they will ever get disability benefits.

Derek Norrbom, a welder who worked on "The Island," still suffers shortness of breath, headaches, a cough and persistent fatigue.

An independent physician found that Norrbom, 24, "experienced an occupational upper respiratory injury" as a "direct result" of working at Downey.

Two insurers recently paid ,000 to settle the case, Norrbom's family said.

Norrbom's father, Bruce, 58, a film production foreman, takes five medications a day for nerve damage, joint pain, itching and rashes. Doctors disagreed on whether his symptoms were linked to Downey, and AIG rejected his workers' compensation claim. He has appealed.

Bruce's wife, Tammy, said her once-hard-driving husband, who supervised crews of 30 people on such productions as "Independence Day" and "Alien Resurrection," can barely muster the energy to leave their home in Castaic.

"I just want my family back the way it was before," she said.

richard.verrier@latimes.com

Former Times researcher Janet Lundblad contributed to this report.

http://www.workersmemorialday.org/documents/Zeltzer-Downey.htm



The Downey Toxic Hell Hole: Injured Workers, Liability And The Business Of Stuart Lichter

By Steve Zeltzer

lvpsf@igc.org

9/3/2008

Under Democratic and Republican administrations, the pressure has been on by developers in the last thirty years to privatize Federal toxic sites around the country. Arguing that they could be cleaned up quicker and cheaper for development if it was done by private investors, these developers with the support of both Democrat and Republican Congresses have passed legislation that allowed these transfers of highly toxic sites throughout the country.

One of these bills was the CERCLA law, which was passed in 1997 as part of the Defense Appropriation bill. Under this federal privatization law, NASA and Air Force toxic sites were allowed to be Early Transfer Authority (ETA) projects that speeded up the privatization and development on the sites. According to the government's own publicity, it allowed the privatization of remediation responsibilities. In other words, putting the developers in charge of making sure that these toxic sites around the country were properly cleaned up before the developer invited industry to come in.

They have also deregulated the oversight of these sites and left it more and more up to state agencies to make sure that they were properly cleaned up. A law was also passed in 2002 that identified these sites as brownfield sites and provided Federal money also to help clean up the sites.

Downey: The "Test" Site

One of the first these highly toxic sites to be privatized was the Downey site in the Los Angeles area, which was privatized by former Federal GSA employee Stuart Lichter.

http://www.irgco.com/pr_nasa_120403.htm

Through a company he collaborates with the International Risk Group IRG, politically connected Lichter promised to indemnify NASA, the United States General Service Administration (GSA), the City of Downey, Kaiser Foundation Hospitals, Downey Landing, LLC. Stuart Lichter does not formally own International Risk Group but this company functions as a critical vehicle for Lichter's privatization operation.

The International Risk Group is an offshoot of Cherokee Environmental Risk Management. The IRAD, which oversees the Downey property, is a subdivision of International Risk Group - International Risk Assumption of Downey. Although it is registered in California as an insurance broker, it is not registered as an insurance company in either California or Colorado where it has offices.

http://www.irgco.com/pr_nasa_120403.htm

http://www.irgco.com/management.htm

Injured workers have reported this information to the California Fraud Assessment Commission but the insurance controlled commission has a record of refused to investigate insurance company fraud. This agreement which was the first of it's kind by NASA has also led Lichter on a national path of similar privatizations and billions of dollars in privatization schemes. Through his company Industrial Reality Group Lichter bought government toxic sites throughout the country.

http://www.industrialrealtygroup.com/

At the same time, even a liability-laundering plan was patented on how to make money off these toxic sites.

http://www.irgco.com/liability.htm

The Downey site has been a toxic and radioactive dump for more than 70 years. Nuclear weapons products including neutron bombs were manufactured there as late as 1997 as a US Air Force site and Boeing as well as NASA have dumped large amounts of dangerous toxic chemicals, asbestos and pollutants into the soil for decades.

As part of the Downey privatization scheme, responsibility for the oversight and protection of the workers and communities was turned over to California state and local agencies such as California Department of Toxic Substances and California EPA Department. These state agencies could more easily be manipulated and controlled by local and state politicians and developers who were profiting off of the rapid development of the sites. The US Agency For Toxic Substance and Disease Registry also began to get grants for health studies investigations at these sites. This was precisely the case in fact at the Downey site. Documents now show that the EPA allowed for the development of these sights without making sure that the developer had properly cleaned it up.

Making A Killing In The Movie Industry

Stuart Lichter also realized that cheap property in the Los Angeles area could be used in the movie industry for sets that could make a financial killing for him. He built the Downey Studios and leased out the facilities to other movie production companies such as Dreamworks and Paramount Pictures. Unfortunately for the movie industry, workers and the community, the site in fact had not been properly cleaned up and the workers began getting rashes, headaches and had severe health reactions. Studio workers also began to discover extensive mold and fungus as they crawled in the dirt at the massive hangar to put up giant sets in major studio films like "The Island" "GI Joe", "Transformer" and "Santa Claus 1, 2 & 3."

These toxic reactions in fact got so bad that initially one of the unions IATSE Local 44 even put out a letter to their members that if they experienced health problems at the site including headaches and rashes, they should not go to the site. IATSE Local 44 business agent Ronnie Cunningham was one official according to the injured movie industry workers who supported warning them about the conditions at the site. Also the Dreamworks studio put out a notice about health problems at the site. This obviously had a severe affect on the Lichter business and any further development of the site. Lichter in retaliation sued IATSE Local 44 for causing financial harm to his business and in a suspicious and possible secret illegal agreement, the union local paid 5,000 to Lichter and agreed not to put out any further information to the members of any health and safety problems.

One of the IATSE Local 44 executive board members Leonard Martin began to challenge these deals that protected employers and worked to get the union to stand up and fight for workers who had been treated unfairly. When he learned of the agreement he also told his fellow members that this was improper. He and other injured workers are now suing Stuart Lichter for his injuries on the site. The secret agreement sought to shield Lichter and his companies from any further exposure by the union and put workers on notice that their union would no longer defend them if they got in a battle over their healthcare with this employer.

http://downey.kaiserpapers.info/injured/downeyvslocal44.html

Approving the settlement in all likelihood was Tom Short, the past president of this powerful international union. Short had a well-deserved reputation of being friends with the industry. Suddenly resigning this year, Short is known as a company man offering the bosses that his workers will be willing to cross other union picket lines and also he is a friend of the industry.

Not surprisingly, despite the agreement, IATSE workers, LIUNA laborers and other movie workers continued to get sick and they and their families began to become terrified when they could not find out what they had. Workers were getting serious ailments and no proper healthcare to discover what was really wrong with them. Workers also noticed some very strange things at the site. Some workers noticed glowing green soil on the site and others noticed that plastic tarps were being put over the toxic material were actually melting the tarps due to the highly dangerous material that management were seeking to cover-up.

At the same time, IATSE nurses who were also supposed to check on the health of the set building and other IATSE workers were themselves getting sick from these sites. Workers began to have severe headaches, nose bleeds, outbreaks of temper, and shedding of skin on their hands on a regular basis. Steve Basile, a master movie set worker called it snake shedding as his skin began to peel off on a regular basis after working in the mold and toxic material in the giant hanger studio buildings.

http://www.workersmemorialday.org/documents/SteveBasileStory.htm

Movie workers also ended up bringing the mold and toxins back to their families. Their families began to get symptoms as well from the site.

No Protection From Ca-OSHA

Workers also filed Ca-OSHA complaints during the Lemony Snickets Paramount production that workers were getting sick from contaminants on the site. Ca-OSHA made an inspection but no serious clean-up or stop work orders were ever issued. Instead, Lichter received a slap on the hand.

http://downey.kaiserpapers.info/injured/osha.html

At the same time, under privatization of the sites, Federal OSHA has turned over responsibility for safety at the sites to state agencies like Ca-OSHA. Under both Democratic and Republican California governors, Ca-OSHA has eliminated doctors on the staff and today there is not one doctor working for the agency which is responsible for the health and safety of 17 million workers in California. In cases like sickness from mold and fungus, industrial hygienists are not qualified to make a serious epistemological investigation as to the causes of workers illnesses at these sites. The last doctor at Ca-OSHA Dr. Larry Rose has written about the destruction of this agency and the complete failure of the agency and it's leadership to take responsibility for these problems.

http://www.workersmemorialday.org/documents/Rose.htm

The net result is that workers are left on their own to fend the best way they can without real health and safety protection on the job and are forced to continue to work in unsafe environments in order to keep their jobs.

The Kaiser Connection

Vicki Travis was a family member whose father was killed by the malpractice of Kaiser Permanente Hospital doctors. This is the largest HMO in the country with over 7 million members. In an effort to inform others about the Kaiser operation, she began a web site to expose the role of the largest non-profit HMO in the country.

It is called www.kaiserpapers.org and Vicki through her web portal was able to come into contact with injured Kaiser senior orthopedic technician Gail Shephard. Shephard, a Kaiser SEIU UHW member who put casts on patients had begun to get serious infections at the Bell Flower hospital site which contained fungus in her workspace and a toilet that was constantly overflowing and was later closed off. When Gail was transferred to the Downey Hospital complex, the toxins materials including chromium, arsenic, asbestos, thallium, mercury, radioactive TCP and dioxin at the new site created even greater health and safety problems for her as a result of decreased immune resistance.

Kasier Builds Large Hospital Complex On Toxic Dump In Downey

Kaiser management although aware that the site was seriously contaminated had decided to disregard this information and invest over 0 million to build one of the largest hospital complexes in Southern California on this toxic dump. Gail Shephard was one of the first victims that went public about the illnesses she was getting at this site. Searching for an attorney, Gail found the Kaiserpapers.org and the connection to other Kaiser workers and patients.

Gail also tried to contact SEIU UHW stewards and even the president of the local Sal Rosselli to address her health and safety concerns, which were not only affecting her but other fellow workers. His secretary told Gail they were not interested in hearing from her. She had also fallen three times due to her illnesses. One of the reasons for his reticence might have been the long-standing labor-management partnership at Kaiser. This agreement with Kaiser bosses and the union was aimed at creating a collaborative relationship between the workers and managers. In return for agreeing to this, the union won the right to organize without opposition many other classifications at Kaiser including social workers and other skilled workers. Another crucial element in understanding the conditions of Kaiser workers is that Kaiser is a self-insured employer, which means that Gail like other injured Kaiser workers needed to go to a Kaiser doctor for their healthcare.

Gail also called Ca-OSHA in June 2007 when she had moved to the Downey site because she and other workers were getting dizzy spells, migraines, kidney pains, stiff necks, breathing problems. Many of these same health problems were similar to those being faced by workers at the Downey and Dreamworks site. Ca-OSHA violating their own rules did not make an investigation and instead notified Kaiser according to Shephard to look at the problem. Kaiser then did their own "air study" and they determined that the air study came out ok but refused to provide a copy of the study to Gail.

In September 2007, after visiting Dr. Leonard Patrice, chair of the Hematology Department, she was told that she had fibromyalgia. In her case, the Kaiser doctor Dr. Alberto Garcia, an epidemiology and infectious diseases specialist after looking at Gail's swollen infected leg on February 2, 2008 told her nothing was wrong with her. Garcia said that her feet looked normal despite massive swelling. Another Kaiser doctor who Gail saw was Dr. Sangarapilla Manoharan who is an Occupational Medicine Specialist. He said he would have to look into it and later she received a letter saying that she was required to go back to work with no restrictions. Gail who at this point was walking with a cane and had a severe nerve disease in her elbows was in no shape to go back to work with no restrictions. She now has also developed head and shoulder syndrome and necrotic tissue. On August 20, 2008, Gail received a letter from Kaiser that she could not be provided a job and was being turned over to the worker's comp system on total disability with a payment of 4.50 a week. This after Kaiser doctors had told her that she had no health problems and should go back to work without restrictions.

Schwarzenegger's Workers Compensation Fiasco

Kaiser, which is a self-insured employer, is a beneficiary of the deregulation of workers compensation. California Senate Bill 899 introduced by Schwarzenegger and passed by the California Democratic legislature almost unanimously allowed insurance companies to cut permanent disability 50% and to set up Medical Review Boards that put more roadblocks for workers seeking to get medical care for their injuries. The bill forced workers to go to company doctors for reviews of their heath injuries and even allowed Doctors unlicensed in California to make medical decisions about their injuries and treatment.

http://www.sfgate.com/cgi-bin/article.cgi?f=/c/a/2008/08/28/EDMD12I96G.DTL

The deregulation of workers compensation has also included self-insured employers like Kaiser. These self-insured employers are supposed to be regulated by the Department of Industrial Relations John C. Duncan and the director of California's Managed-Care Department but for all intents and purposes there is no real regulation. The DIR and Duncan are also presently being sued by injured 7th Day Adventist Nurse Barbara Clark for failure to regulate these HMO and self-insured companies.www.barbclark.org

This was precisely the case in Gail's treatment at Kaiser. The doctors were apparently more interested in protecting the financial liability of Kaiser than protecting workers who faced serious and deadly contamination at the toxic site. The likelihood is that not only will they be legally responsible for these many injured workers but the entire Downey Kaiser hospital site will be shutdown due to the deadly toxic contaminants at the site as the site loses it's license to do business.

In fact, one of the likely reasons of inaction by the Los Angeles Health Department on this toxic site is that a Kaiser doctor Cyrus Rangan M.D. is in fact Director of Toxic Epidemiology Program of the Department of Health Services of LA County. His specialty is debunking "Mold Myths and Fungal Fallacies so he obviously would have little interest in exposing such mold and fungal problems at the Kaiser site in Downey.

http://www.kplearning.com/10_national_site/symp_courses.php

At the same time the issue of liability is one of the factors that has helped expose this whole corrupt operation. Injured workers at the site in fact begged the good doctor in charge of LA Health services to look at their growing health care problems but were turned away.

Role of California AFL-CIO and State SEIU Legislative Director

Unfortunately, the California AFL-CIO's Art Pulaski and Angie Wei, the CA AFL-CIO's Legislative Director along with the SEIU's California Legislative Director Allen Davenport are pushing for injured workers to be pushed into HMO's rather than be able to go to the doctor of their choice. They argue that this would this scheme "offers employers the potential for substantial savings" according to flyer advertising a September 9th, 2008 meeting to push these schemes. These unions and officials have also refused to fight and publicize the elimination of all medical doctors at Ca-OSHA. Both Wei and Davenport are on the board of the California Commission On Health And Safety and Workers Compensation.

Art Pulaski and the State AFL-CIO also took a neutral position on the deregulation of Governor Schwartzenegger's SB899 which deregulated workers compensation and cut permanent disability payments by more than 50%. It also set up an obstacle course of "medical review boards" and company doctors to prevent seriously injured workers from getting treatment. At the same time, the California AFL-CIO and the State SEIU have also refused to support any campaign for single payer that would eliminate the insurance industry from control of healthcare despite the actions of many of their locals and councils in the state. Their main political effort has been to make it more profitable to allow unions by "constraining" healthcare costs. Wei in the past has also attacked workers compensation doctors for creating the crisis in workers compensation.

Busting Lichter, Who's Liable For The Damages?

The issue of financial liability for workers who have been injured on the site is probably one of the straws that broke the camel's back. On Tuesday June 24, 2008 Stuart Lichter and his company Industrial Reality Group IRG sued Dreamworks and International Risk Group for refusing to cover 0,000 in legal expenses arising for lawsuits by injured workers at the Downey site. For a property that was supposed to have been properly being cleaned up before being developed, it was now clear that something was seriously wrong and someone had to pay for it. "Downey Studios executives previously have dismissed the workers' complaints as spurious, citing extensive environmental testing that concluded that the former aerospace manufacturing facility was a "healthy and safe environment."

http://www.latimes.com/entertainment/news/business/la-fi-downey262008jun26,0,2356057.story

The growing battle over who would pay for the liabilities of fighting the cases of injured workers claims was now in the news and raising public questions about what was really going on at this toxic site.

Local, State and Federal Politicians Refuse To Investigate Lichter

Injured workers at the Downey site also sought to inform not only local, state and federal agencies including the EPA, but also powerful Congressional representatives in Southern California and other politicians. Governor Schwarzenegger, himself a former movie industry worker was notified but never responded. Lucille Roybal-Allard, a Congresswoman from representing the district where the Downey site was located also never responded. In fact, she like many other Congress people had received political contributions from Lichter and his companies. Her husband previously had been employed by the GSA. Also contacted were US Senators Feinstein and Senator Boxer.

After hearing of the US Congressional hearings on steroids by US Congressman Henry Waxman, the IATSE members contacted the Congressman and asked for him to have a meeting with him and have Congressional governmental oversight hearings in Southern California, yet he has still not set up a meeting with the workers. Also the California Coalition For Workers Memorial met with Lynn Downey, the subcommittee chair on the workplace under Congressman George Miller chair of this key Congressional committee. www.workersmemorialday.org

Even Presidential candidates McCain and Obama were contacted but no responses have been heard from yet. Only Ralph Nader and Matt Gonzalez have invited the Downey injured workers to their recent Santa Monica press conference where the workers were able to speak about their struggle.

Shutting It Down: Desperate Tactics By Developer Lichter

The great fear of Lichter was that the exposure of one of his development sites would lead to the collapse of his toxic site industry. Some of his other sites includes McClellan Air Force Base (McClellan Park), Alameda Naval Air Station (Alameda Point) and the Letterkenny Army Depot (Letterkenny Business Park) and in Uniontown, Ohio. He is traveling constantly as he manages dozens of these toxic sites around the country so a chink in the armor of his operation could bring down the entire empire.

In an effort, in part, to stop the growing campaign of the Downey injured workers and supporters Vicki Travis and Dina Padilla, Lichter on August 5, 2008 sued injured workers Leonard Martin, Bruce Norrbom, Dina Padilla and Vicky Travis charging that they had defamed him and harmed him financially. At the same time in an inexplicable move, Lichter and his lawyers had actually included the documents he wanted to keep secret. They included the secret agreement between himself and IATSE Local 44 and even a deposition of the injured workers testifying that they indeed were getting sick as a result of working on the site. This lawsuit now is itself part of the same record they want to keep from the public.

http://dinapadillaforcongress.com/pdfs/DINA%20A%20VICKE%20page%202.pdf

Despite the efforts to shutdown the Kaiser papers website and silence the injured workers and their supporters, this Slapp type action will not stop them from speaking out. They have already linked up with workers and community activists from throughout the US who themselves are facing the same battles.

This case is just the tip of an iceberg as the deregulation and privatization of these toxic sites brings a bitter backlash of those who are paying the costs of this fiasco and the massive financial scam.






www.latimes.com/business/la-fi-ct-downey2-2009aug02,0,598...
Report this post as:
Local News

GUIDE TO REBEL CITY LOS ANGELES AVAILABLE A12 5:39PM

lausd whistle blower A10 11:58PM

Website Upgrade A10 3:02AM

Help KCET and UCLA identify 60s-70s Chicano images A04 1:02PM

UCLA Luskin: Casting Youth Justice in a Different Light A02 11:58AM

Change Links April 2018 A01 11:27AM

Nuclear Shutdown News March 2018 M31 6:57PM

Join The Protest Rally in Glendale on April 10, 2018! M29 7:00PM

Join The Protest Rally in Glendale on April 10, 2018! M29 6:38PM

Spring 2018 National Immigrant Solidarity Network News Alert! M19 2:02PM

Anti-Eviction Mapping Project Shows Shocking Eviction Trends in L.A. M16 5:40PM

Steve Mnuchin video at UCLA released M15 12:34AM

Actress and Philanthropist Tanna Frederick Hosts Project Save Our Surf Beach Clean Ups M06 12:10PM

After Being Told He's 'Full of Sh*t' at School Event, Mnuchin Demands UCLA Suppress Video M02 11:44AM

Resolution of the Rent Strike in Boyle Heights M01 6:28PM

What Big Brother Knows About You and What You Can Do About It M01 3:30PM

Step Up As LAPD Chief Charlie Beck Steps Down F14 2:44PM

Our House Grief Support Center Hosts 9th Annual Run For Hope, April 29 F13 12:51PM

Don't let this LA County Probation Department overhaul proposal sit on the shelf F13 11:04AM

Echo Park Residents Sue LA Over Controversial Development F12 8:51AM

Former Signal Hill police officer pleads guilty in road-rage incident in Irvine F09 10:25PM

Calif. Police Accused of 'Collusion' With Neo-Nazis After Release of Court Documents F09 7:14PM

Center for the Study of Political Graphics exhibit on Police Abuse posters F07 9:50AM

City Agrees to Settle Lawsuit Claiming Pasadena Police Officer Had His Sister Falsely Arre F04 3:17PM

Professor's Study Highlights Health Risks of Urban Oil Drilling F04 12:42PM

Claims paid involving Pasadena Police Department 2014 to present F04 10:52AM

Pasadenans - get your license plate reader records from police F03 11:11PM

LA Times Homicide Report F03 1:57PM
More Local News...
Other/Breaking News

Neurogenèse involutive A18 9:21AM

Paraphysique de la dictature étatique A16 10:13AM

Book Review: "The New Bonapartists" A16 3:45AM

The West Must Take the First Steps to Russia A14 12:25PM

Théorie générale de la révolution ou hommage à feu Mikhaïl Bakounine A14 3:30AM

The Shortwave Report 04/13/18 Listen Globally! A12 3:50PM

"Lost in a Dream" Singing Competition Winner to Be Chosen on April 15 for ,000 Prize! A12 3:48PM

The World Dependent on Central Banks A12 4:43AM

Ohio Governor Race: Dennis Kucinich & Richard Cordray Run Against Mike DeWine A11 9:40PM

March 2018 Honduras Coup Again Update A10 10:52PM

Apologie du zadisme insurrectionnel A10 3:33PM

ICE contract with license plate reader company A10 1:14PM

Palimpseste sisyphéen A09 11:23PM

Black Portraiture(S) IV: The Color of Silence...Cuba No...Cambridge Yes A09 5:32AM

Prohibiting Micro-Second Betting on the Exchanges A09 4:18AM

Prosecutors treat Muslims harsher than non-Muslims for the same crimes A08 10:33PM

Amy Goodman interview on cell phone safety A08 10:29PM

Mesa, Arizona police officer kills unarmed white man A08 9:50PM

Israeli leaders should be prosecuted for war crimes A08 9:48PM

Paraphysique de l'autorité A08 12:11AM

Two Podcasts on fbi corruption A06 10:13PM

Fbi assassins assault & try to kill DAVID ATKINS A06 7:29PM

EPA Head Scott Pruitt: Of Cages And Sirens A06 2:15PM

The Shortwave Report 04/06/18 Listen Globally! A05 4:25PM

Nicaraguas Conflic with native Peoples on the Caribbean Coast Near Bluefields in Decade80 A05 12:14PM

Millions Boycott The Sponsors Of Laura Ingraham A05 11:36AM

THE CONSERVATIVE THREAT A05 6:51AM

The US, the Dollar, IS and Saudi Arabia A05 3:34AM
More Breaking News...