Features
•
latest news
•
best of news
•
syndication
•
commentary

Feature Categories



KILLRADIO
printable version - js reader version - view hidden posts - tags and related articles

by Mark Gabrish Conlan/Zenger's Newsmagazine Tuesday, Jun. 23, 2009 at 10:17 AM
mgconlan@earthlink.net (619) 688-1886 P. O. Box 50134, San Diego, CA 92165
San Diego Leatherman Mike Little ran for the 2009 International Mr. Leather title in Chicago in May and describes it as one of the most emotionally exhilarating experiences of his life. In this issue for the July 2009 Zenger's Newsmagazine, Little talks about his IML experience, his ideals and goals, and his extensive community service. He also stresses that Leather isn't just about kink or sex; it's a 24/7 commitment to goals of trust, honor, service and respect.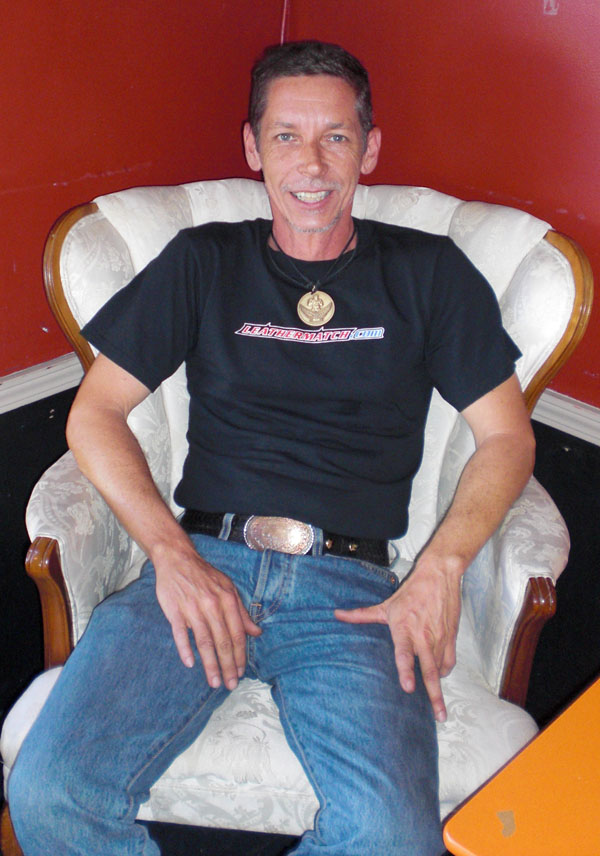 mr._mike_1.a.jpg, image/jpeg, 600x856

MIKE LITTLE:

Local "Sir" Runs for International Mr. Leather

interview by MARK GABRISH CONLAN

Copyright © 2009 by Mark Gabrish Conlan for Zenger's Newsmagazine • All rights reserved

Every year in mid-May, about 15,000 Leatherpeople from all over the world converge on Chicago for an event that's been called "the Vatican of Gay Leather." Its official name is International Mr. Leather but it's usually referred to just by its initials, "IML." The primary business of IML's annual gatherings is to select a Leatherman for the annual International Mr. Leather title, but it's also a chance for Leather adherents to meet, network, socialize, bond and — yes — have fun, sexual and otherwise.

Mike Little was "present at the creation" of International Mr. Leather 31 years ago, when he was just "a scared little 21-year-old kid," new to the Leather community and the Gold Coast bar where the contest was originally centered. "In 1979, no one knew that International Mr. Leather would become a phenomenon," said Chuck Renslow, who started the contest with his then-partner Dom Orejudos (later a famous Gay artist under the name "Étienne") and still runs it. "Back then, if you were a Leatherman coming to Chicago you were coming to the Gold Coast. One of our most popular promotions, the 'Mr. Gold Coast Contest,' often drew out-of-town contestants."

When 12 people signed up to run for Mr. Gold Coast in 1979, and 400 people showed up to attend, Renslow and Orejudos realized they had to move the event to a hotel. "Dom thought our change of venue called for a change of name," Renslow recalled in the book International Mr. Leather: 25 Years of Champions. "I suggested 'Mr. World Leather.' Dom, my artistic genius, didn't like the sound. He suggested 'International Mr. Leather,' and that was that."

Today, in addition to drawing a five-figure audience, International Mr. Leather also attracts over 50 contestants each year. Unlike some events that use the I-word, it's truly international; this year's first runner-up was from Canada and other contestants hailed from Britain and Germany. After having served on the staff of the first three IML's, Little returned this year to represent San Diego as a contestant — an experience he found emotionally overwhelming and exhilarating.

Known locally as "Mr. Mike," Little is a dedicated Gay and Leather activist who's been a major force in San Diego's Leather community since 2004. He's producing the Californial Leather/SIR event in Long Beach in August and International Leather/SIR in San Francisco in October. He has a personal Web site at Mr2008.SanDiegoEagle.com and also owns and operates www.leathereventsponsors.com, and coordinates the IML historical site www.imlyearbook.com. He's also involved in Leather Realm, the adults-only Leather area within the San Diego Lesbian, Gay, Bisexual, Transgender Pride Festival this July 18 and 19 — and his partner, boy ron, is president of the San Diego Leatherboys and was interviewed in the June 2009 Zenger's.

Zenger's: Could you briefly explain what IML is, and why it's always held in Chicago?

Mike Little: International Mr. Leather was founded 31 years ago by Chuck Renslow as a way to honor the Leatherman for his work, trust, honor and respect; and to share with the rest of the world what the Leather community is all about. It takes place in Chicago because that's where Chuck Renslow lived. Also, it's convenient that it's in the middle of the U.S. I see it as being kind of a central convention area for the country, and it's proceeded along those lines for 31 years.

Zenger's: What's the importance of it, in terms of the prestige of the community?

Little: The Leather community as a whole? It demonstrates to others the foundations and principles of being a Leatherman. It shows the community —the world community as a whole, not just the Leather community — that it isn't all about kink and sexuality. It's about traditions, and it's carrying on a history.

Zenger's: What do you think are the most important traditions, and people who are not part of the Leather community, what should they know about?

Little: My whole foundation is based on trust, honor, service, dignity and respect. To me, being a Leatherman is not about what we do behind closed doors a couple of hours a day, if we're lucky. It is how we treat each other 24/7. It's about the automatic trust and respect that we have with each other. If I'm in need, I can call any one of my Leather brothers and know that I can get a situation taken care of. If they can't take care of it, they'll turn me on to someone who can.

Zenger's: For those who have never been to IML, exactly what goes on there?

Little: If you're a contestant, it's a very long week! There are three main parts to the contest. You start off with just an introduction, let the audience see how comfortable you are behind a microphone, introduce yourself and your sponsors. Then there are interviews before a panel of nine judges, which for me is the best part. I love the interview!

We come back the next evening for Pecs & Personality, where we get re-introduced and come back on stage in some sort of attire that shows our inner Leather self. The instructions are, "Show skin." They want to see how comfortable we are in our real skin. At that point we're asked an on-stage question that can be comical or sincere. Most of them at that point are comical, to let the audience see how we can think on our feet when presented with something.

At that point the top 20 are chosen. We had 54 contestants in my class, so they finished down to the top 20. Individuals are brought back on stage a second time to show physique and how they can think on stage with a more serious question, and then they get 90 seconds to give their speech. The weekend culminates with the Black & Blue Ball, a 31-year tradition, which is a fantastic time.

Zenger's: I'm sure you've followed the whole thing with Carrie Prejean and the Miss U.S.A. contest, her answer to the question on Gay marriage. Having participated in something at least vaguely similar, do you think that was a "gotcha!" question; and if someone wanted to do something similar at IML, what do you think the question would be?

Little: Well, in a way I got a "gotcha!" question. My on-stage question was about the fact that I help produce Baskets & Bulges, an annual contest that helps benefit the Gay and Lesbian community Easter egg hunt. As producer of the Baskets & Bulges contest, I was asked, "If Barack Obama, Dick Cheney and Hillary Clinton were your contestants, what order would they place in, and why?" I've talked that over with my judges since. It was kind of a "gotcha!" question because it called on my opinions of politics, as opposed to a clear-cut answer about community, lifestyle, Leather relationships or such, that would have had an answer that wasn't politically based.

In the interview process I was asked a very personal question about other individuals in town. There were several ways I could have handled it at that point. I explained to the judge that it wasn't my place to be speaking about other individuals in town, and that if he had a question of those folks, then perhaps maybe he should ask them. I consider that having been a "gotcha!" question, but I also think we handled it very adequately and within trust, honor and respect.

Zenger's: What title were you running for, and how did you do?

Little: The title would have been Mr. International Leather 2009. I did very well in presentation. I know people that have worked there 31 years. I worked on the first three IML's myself, so I knew people on staff, and though I didn't make the top 20, we were told we were one of the most fantastic, close-knit, equally level playing fields in 20 years. It was an honor to have shared the stage with those 53 other gentlemen. I have no qualms and no worries about where I came in.

Zenger's: What was the role of your wrangler, Sir V.?

Little: Sir V. was a Godsend. Any contestant going to IML, if they've been mentored well, will take a wrangler with them. And the job of the wrangler is to make sure that the contestant stays fed, nourished, hydrated, hopefully sane; that we sleep and are sheltered from outside distractions. The contest will get very emotional at some level for everyone. It's good to have somebody there who is not your partner, who won't take issue if you go off. It's highly stressful at certain points, and you need to have somebody there that can just simply be there, without having an emotional attachment.

Sir V. did an awesome job. He constantly checked to make sure I was taking my medications on time, was I eating, was I drinking, and was there to share the times when I finally broke down in tears. I highly recommend him to anyone, and will take him again if I do this again. He took his job very seriously, and I'm very grateful.

Zenger's: You said that being in the contest can get very emotional. How so?

Little: It's a lot of very close-knit camaraderie. You can enter the contest and say you're not stressed, and think you're doing well with it all, but it's just emotionally overwhelming in one way or another. really can't go into specifics because it's kind of behind the scenes for the classmates at IML, but there's a lot of male bonding. For some guys, the emotions of the stress get to them. For me, it was just the emotions of happiness and being amongst that group of men.

Part of it just comes down to the fact that you've got 54 Leathermen, very passionate about what they stand for and what they do, in a room. Everything is timed down to the minute, so you've got the pressure of time on you, and when you get those moments when you just all get together and get to start sharing and knowing each other, it starts growing from moment one. Most of us showed up Wednesday, a day early, and got to know each other a little bit. By the time Thursday came around and the real registration started, there were some companionships going on. By Saturday, you're so inner-woven with each other, some were even finishing each other's statements.

Behind closed doors in the evening? We're too tired for that! I was exhausted when I came in each night. I hit the bed and went right to sleep. I do know that others were doing other things out in the hallway — I mean the public, not the contestants. I slept. You've got 54 male people in a room, lots of testosterone raging. There's butt-slapping going on here and there, to break tension. Lots of hugging — it just grows. It just grows.

Sunday is spent with many of the directors of IML that have been there years and decades. Each of the previous title holders, everyone takes a moment and shares what it was like for them to compete, the things that have happened to them since their title year, and it just solidifies the bonding.

Zenger's: I understand that you brought your partner along, and there are rules restricting the amount of contact you can have with your partner while you're a contestant. Is that true, and if so, why?

Little: It's self-imposed. The guideline of not having your partner with you has been passed down for years here in San Diego. Speaking with other contestants, they heard the same thing from their mentors. It goes back to the fact that it is an emotionally charged time. You need to be focusing on the task at hand. For myself, if my partner is with me, part of my focus is on him.

So ron didn't come in until Friday because of his job. He spent his hotel time with other friends from Palm Springs, and got to see me after each round of the contest. Now, on Saturday I didn't have a lot to do. My interviews were over, my photographs were over, so we got to spend some time together in the afternoon up until the time I had to go practice for my contest. After the top 20 were picked, and I was not one of them, we got to join up and spend the rest of the weekend together. It was for his protection as much as mine!

Zenger's: What does the Mr. IML actually do once he's chosen? What would you be doing right now if you had won?

Little: The terms of the contract say that once an IML is chosen, he has no responsibilities for the year except to return the next year and judge the next contest. That is his only defined responsibility. All of us have a responsibility to go out and act in a manner never to disparage the medal, because whether you win or not, everyone walks away with a medal. Now, ideally, the new Mr. will use his year to travel and promote the IML contest for the next year. Everybody enters IML with a platform, what it is they want to do, and a mission. Hopefully he will use his title to follow that mission.

Zenger's: One of the things that amazes me about the Leather community is that, in a way, these titles are really a combination beauty pageant and officer election. You're judging people on how well they look in a harness and chaps, but you're also judging them on what sorts of things they're willing to do for the community. It seems like a very interesting way to pick a community's leadership. Do you think this is a tradition that's going to continue, or is there someday going to be a separation between who are the titleholders and who are the ones who really run the community?

Little: We've seen the judging process go through swings over the years. All the mentors I've talked with, the previous contestants I've talked with, and having been around IML since day one, we've see it go through stages. We've seen it go through stages where the judges seemed to be looking strictly at qualities of a Leatherman. We've seen it go through stages where it was the pretty boy. It went through stages where it was the muscle/bodybuilder. Over the past couple of years, the reflection has once again been more about substance, and the individual behind that title.

The judging process is designed to be rounded. It does take a look at the physical characteristics. It takes a look at the mental aspects. It takes a look at the experiences, strengths and skills of the individual, and tries to round all that out, to look for the most rounded individual to portray the Leather community to the world for that year.

Zenger's: Do you think the organizers of the local contests in San Diego have anything to learn from IML in terms of how these contests are judged and how the winners are chosen?

Little: Mr. San Diego Leather has been patterned after IML for many years. I've only been involved in San Diego Leather for the past five years, so I can't tell you how many those have been, but, having been through both of them, I can tell you that the processes are patterned very much alike. We've always had a very well rounded judging panel, and we've produced some mighty find Mr's. and IML contestants over the years. San Diego's got a rich history at IML. I wish other feeder contests were even more patterned after IML than we are.

Zenger's: Do you think you'll ever do this again?

Little: Yes!

Zenger's: So I guess it was a pleasant experience for you, and something you got a lot out of.

Little: It was awesome. I was just speaking with my sponsor in the recovery community, and he's given me an assignment in regard to my experience at IML. That is to write down the strengths that I brought home from it, and any weaknesses that I discovered within myself that we can talk about. It's an awesome process to go through.

I like competing in the Leather community because it makes you look at yourself. You're not competing against those other 53 guys. You're competing against yourself. Every time you step on that stage, or even simply walk out of your room, the judges are watching you 24/7; and if they're not, they've probably got somebody else that is. I'll either go back next year as a handler, and give it a break a year or two, or I'll go back and compete.

Zenger's: Who won?

Little: Jeffrey Payne. It took me a minute to come up with the names, because I'm not really good with names. Even after spending a week with those guys, it took me a week of being home before I could look at a photograph and go, "Oh, that's so-and-so" — even with the guy standing next to me. You're just so caught up in getting through it all that sometimes the names don't sink in. Jeffrey Payne is Mr. Texas 2009.

Zenger's: Anyone who can pull off being a Leatherman in Texas deserves some kind of an award!

Little: They were quite something: big guys, big sashes. Big sashes.

Zenger's: The stereotype of Texans, and maybe that's unfair, is that they're always claiming that they're the biggest and the best in everything.

Little: That evening you couldn't walk anywhere in the hotel without hearing "The Eyes of Texas Are Upon You" all night long. Brendan McGovern from Ottawa, Canada is the first runner-up, and I'm embarrassed to tell you I cannot tell you who our second runner-up is at this moment. [The second runner-up was Alan Penrod, Mr. Atlanta Eagle 2009.]

Zenger's: So what are your plans for the next year and a half, in terms of the community here in San Diego?

Little: I am the producer of California Leather SIR/boy Community Bootblack Weekend, which will take place August 7, 8 and 9 in Long Beach. Prior to that we have Leather Realm at San Diego Pride in July. We have International Leather/SIR in San Francisco in October, Mr. Eagle San Diego in February, Mr. San Diego Leather in April, and by May I'll be back in Chicago for IML again.

My platform and mission outreach is about hepatitis C awareness in the community. Now that my title year (as Mr. Eagle San Diego) is actually over, I can set to work on things that I set forth prior to taking the title. We're trying to start a hepatitis C support group — actually, it's already begun. We'll be promoting that and getting it more so, off the ground, and that'll pretty much take care of my year.

Zenger's: So you're going to be a busy man.

Little: Always. It keeps me out of pain. I'm in full-time pain from a car accident, and staying busy keeps me out of that, and keeps me from taking a handful of drugs that would kill off my liver. So I stay busy. I'm up at about 4 o'clock in the morning and I'll turn in around midnight. But it's what I always do.

When I very first came into the community 31 years ago and walked into the Gold Coast in Chicago a scared little 21-year-old kid, I was befriended by a very prominent man who taught me to respect the family and community. That's what being a Leatherman is about to me — family and community — and I'll stay busy in this community as long as they'll have me.

Report this post as:


by Mark Gabrish Conlan/Zenger's Newsmagazine Tuesday, Jun. 23, 2009 at 10:17 AM
mgconlan@earthlink.net (619) 688-1886 P. O. Box 50134, San Diego, CA 92165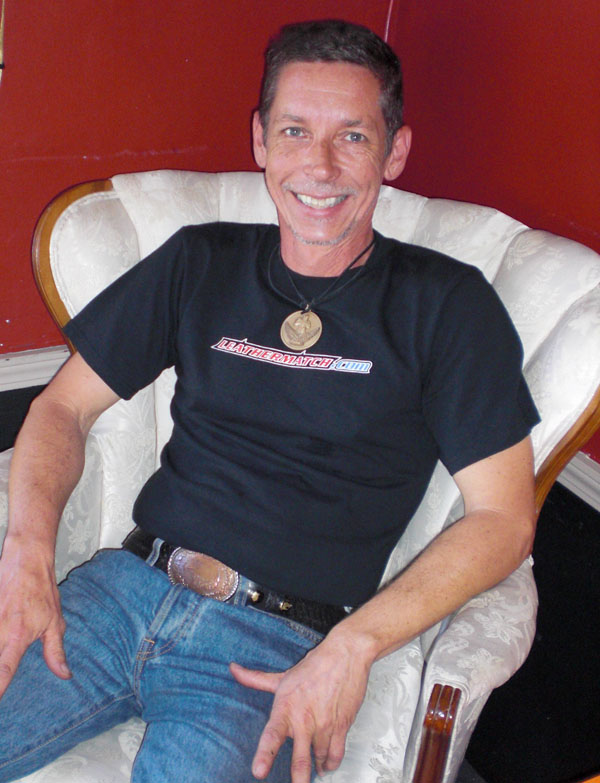 mr._mike_2.a.jpg, image/jpeg, 600x783

error

Report this post as:


by Mark Gabrish Conlan/Zenger's Newsmagazine Tuesday, Jun. 23, 2009 at 10:17 AM
mgconlan@earthlink.net (619) 688-1886 P. O. Box 50134, San Diego, CA 92165

mr._mike__showing_skin_.a.jpg, image/jpeg, 600x800

error

Report this post as:


by Mark Gabrish Conlan/Zenger's Newsmagazine Tuesday, Jun. 23, 2009 at 10:17 AM
mgconlan@earthlink.net (619) 688-1886 P. O. Box 50134, San Diego, CA 92165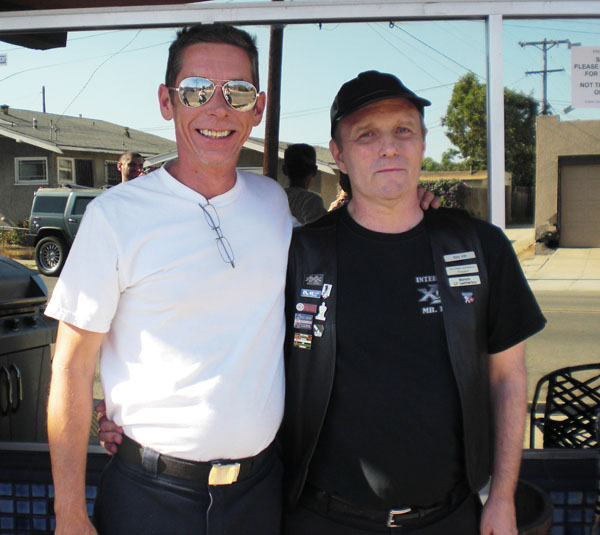 mike___ron.a.jpg, image/jpeg, 600x535
error
Report this post as:
Local News

Woolsey Fire: Worst News of 2018? J01 12:18AM

Oppose Environmentally-Harmful Development D10 4:03AM

Oppose Environmentally-Harmful Development D10 3:58AM

OUR HOUSE Grief Support Center Presents Night for Hope O30 5:38PM

Marshall Tuck's racist dog whistle O27 5:01AM

Marshall Tuck's ethnocentrism contradicts Californian values O27 4:32AM

Contra Costa-Hawkins O25 3:48AM

Debunking Some Anti-Prop 10 Propaganda O12 6:56AM

Why Should California Choose De Leon Over Feinstein? O10 9:55PM

Change Links September 2018 posted S02 10:22PM

More Scandals Rock Southern California Nuke Plant San Onofre A30 11:09PM

Site Outage Friday A30 3:49PM

Change Links August 2018 A14 1:56AM

Setback for Developer of SC Farm Land A12 11:09PM

More problems at Shutdown San Onofre Nuke J29 10:40PM

Change Links 2018 July posted J09 8:27PM

More Pix: "Families Belong Together," Pasadena J02 7:16PM

"Families Belong Together" March, Pasadena J02 7:08PM

Short Report on the Families Belong Together Protest in Los Angeles J30 11:26PM

Summer 2018 National Immigrant Solidarity Network News Alert! J11 6:58AM
More Local News...
Other/Breaking News

bataclone J21 8:08PM

VAN ATTACK HOAX J21 7:35PM

Mobile Royale Hack Online Generator - Get Unlimited Crystals J21 3:03PM

Unification, séparation et fragmentation J21 2:48PM

Testing Upload J21 7:10AM

FARCELONA.2 J20 7:18PM

FAKE NEWS POR SOROS J20 6:11PM

Chemtrails and Prince J20 2:43PM

Wages For Housework J20 2:41PM

Tutelle comportementaliste J20 9:18AM

A Mistake: Jesse Jackson-Toyota deal-in Lexington -Ky is .8 billion over 10 years 2018 J20 1:17AM

If Trump Declares a AantionalEmergency, He'll Be Breaking the Law J20 12:47AM

Jesse Jackson's Sneak Attck on Toyota Lexington Ky and it's workers 2018 J19 9:12PM

Video: Chris Herdges in Eugene, 1 hr 24 min J19 5:37PM

FAKE NEWS J19 2:31PM

MACROTHSCHILD.2 J19 11:03AM

Judge Delays Ruling on Puerto Rico Debt Deal White House Opposes Island's Food Assistance J18 6:04PM

BATACLOWNS J18 9:28AM

FALSAS VICTIMAS J18 9:22AM

Paraphysique de proxémie guerrière J18 7:59AM

MACROTHSCHILD J17 9:38PM

FARCELONA 8.17.2017 J17 3:23PM

DEAD MAN LIVING J17 10:46AM

DIARY OF A CON MAN J16 10:40PM

PR Debt Cancel, Judge Reviews Cofina Debt J16 9:04PM

Réseautage, fragmentation du capital J16 4:20PM

Paraphysique de manipulation mentale et sociale J15 9:51AM

The Global Justice Project and Human Survival: We're Badly Off Track J15 5:08AM
More Breaking News...