Features
•
latest news
•
best of news
•
syndication
•
commentary

Feature Categories



KILLRADIO
printable version - js reader version - view hidden posts - tags and related articles

by Mark Gabrish Conlan/Zenger's Newsmagazine Tuesday, Apr. 28, 2009 at 6:39 PM
mgconlan@earthlink.net (619) 688-1886 P. O. Box 50134, San Diego, CA 92165
Darrel Wood, Jr. is a 17-year-old high school senior in the conservative San Diego suburb of Santee, but the openly Queer rock musician has already been on two CD's with a former band and is about to release a new one by his current group, The Elephant Project. He's also headlining at the North Park Arts Festival in San Diego Sunday, May 17. In this interview, to which his mother accompanied him and also participated, he discusses his musical influences and the role of his sexuality in his life.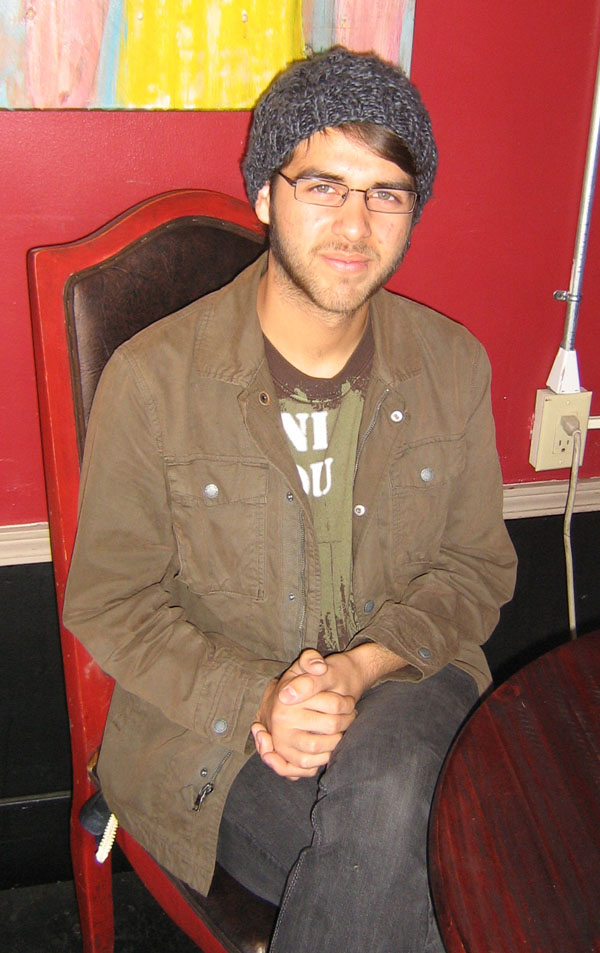 wood_1.a.jpg, image/jpeg, 600x953
DARREL WOOD, JR. of THE ELEPHANT PROJECT:

17-Year Old Gay Man Leads North Park Festival Headliners

interview by MARK GABRISH CONLAN

Copyright © 2009 by Mark Gabrish Conlan for Zenger's Newsmagazine • All rights reserved

Darrel Wood, Jr. is only 17 years old and a high-school senior, and he grew up in the notoriously redneck San Diego suburb of Santee, but he's already been in a band called Cain Street that's recorded two CD's and is about to release a CD EP with his current group, the Elephant Project. The Elephant Project's instrumentation is typical rock-band — two guitars, bass and drums — but the personnel aren't; they're two women, guitarist Ashley Castillo and drummer Valerie Lozano; and two men, Wood on lead vocals and guitar and Marc Pattee on bass.

What's more, Wood is not only openly Gay — or, as he prefers to call himself, "homosexual" — but he's written songs directly dealing with issues affecting the Queer community. When he performed at the final Say What! open mike at Filter coffeehouse April 1, he played a piece about older Gay men who approach younger ones offering to mentor them — and the younger ones thinking they're making sexual advances and telling them to get lost.

The Elephant Project is scheduled to headline the North Park Arts Festival Sunday, May 17 at 5 p.m. on University Avenue east of 30th Street. On their MySpace page, myspacecom/elephantproject/music, they describe a wide range of influences including Billy, TOOL, The Mars Volta, Incubus, Muse, Led Zeppelin, Blind Melon, Jimi Hendrix, Janis Joplin, Arcade Fire, Captain Squeegee, Ella Fitzgerald and "imaginations." He did his Zenger's interview at Filter on 30th and Polk April 8, and his mother Valerie came along and added her own comments.

Zenger's: Why don't you give me a little background about yourself and how you got into music?

Darrel Wood, Jr.: I guess I started getting into music when I was 10 years old. My parents bought me a small keyboard, and I took keyboard lessons but I hated them. I hated learning "Mary Had a Little Lamb" over and over again. Then my dad, who's been a drummer in a classic-rock band since before I was born, started teaching me guitar. I was very inspired by him and the music he played. It was a lot of fun. When I started on guitar, immediately I found my life's purpose. Music was for me. Ever since then I've been practicing three hours a day, and I love it.

Valerie Wood [Darrell's mother]: Or more.

Zenger's: How did you form your current band, The Elephant Project?

Darrel Wood, Jr.: My current band was formed because my previous band, Cain Street, was having our second CD release party. I had these songs that I had written. I asked the lead singer of Cain Street if we could perform at their CD release party before them. So he said, "Of course."

I talked to my best friend Valerie [Lozano], who said she played drums. She'd never played with anyone before. I got her over to my house, and all of a sudden it was like beautiful magic, and I couldn't believe she'd never played with anyone. She's absolutely incredible. I started teaching her songs, and I also talked to one of my best friends, Marc [Pattee] and started teaching him songs on the bass, because he'd been playing guitar forever and I said, "Well, I need someone." He was very talented. So I immediately started teaching him, and at our first performance at the CD release party we performed for 400 people, at least. It was an incredible performance, awesome.

Zenger's: That's a great way to start. So where was this?

Valerie Wood: It was in Jamul.

Darrel Wood, Jr.: This was in Jamul, on August 4, 2007.

Valerie Wood: It was at a private residence.

Darrel Wood, Jr.: It was a really big property, so we just got everyone we could out there, and it just turned out great.

Zenger's: How has the band developed since?

Darrel Wood, Jr.: We have acquired one new member, named Ashley [Castillo], who is an incredible guitarist. I started realizing after a while that I couldn't play and sing all the time; I needed some extra backing on guitar, and some extra fill. And she's perfect. She's an incredible guitarist.

Valerie Wood: And you all go to school together.

Darrel Wood, Jr.: Ashley and Valerie have actually known each other since kindergarten. We like to say, "We were all best friends who happened to play instruments very well, so then we started a band." And we've been writing more songs. Last summer, we recorded an EP that we're calling Bones, and that should be released in mid-June this year.

Zenger's: You said you'd already had two albums out with the band before this, Cain Street. How close would you say the sounds of the two bands are?

Darrel Wood, Jr.: Not very close at all!

Zenger's: How have you evolved?

Darrel Wood, Jr.: Well, Cain Street itself has evolved as well. The first album was very acoustic — I wouldn't say pop, but much more easygoing. The second album was more inspired by Rage Against the Machine and Tool, bands like that. And in the Elephant Project, I'm very jazz-influenced, so it's a very —

Valerie Wood: A combination of all of those.

Darrel Wood, Jr.: Yes, progressive, jazz, punk, reggae, high energy, really fast. Ashley and Valerie both got started playing music off of punk rock, so we're putting punk rock in with jazz; and my bassist really likes indie music. Combining indie music and this melting pot of genres really turns out well. It's something very different.

Zenger's: Yes, I saw the "Influences" list on your Web site, and I hadn't thought I'd ever see Ella Fitzgerald and Tool mentioned as influences on the same band!

Darrel Wood, Jr.: Those are both huge influences on me as well as my band. Each of us has very eclectic tastes in music, and we're all very different. I like that; I think it all comes together perfectly. We like writing songs that have a lot of movements in them, not just verse-chorus-verse-chorus. We really like putting in rextended bridges and making our songs five to six minutes long, making them pieces of art, not just songs you'd hear on the radio.

Zenger's: To someone like me, who has living memories of the 1960's, it sounds like a 1960's band.

Darrel Wood, Jr.: Yes. A lot of my current lyrics — not so much the ones being released on Bones — are very inspired by Beat poetry. We take what we can from different eras, the best part of everything.

Zenger's: It's a pretty major achievement — two albums with one band, a forthcoming EP with another — for someone who's just 17.

Valerie Wood: Well, by the time he was 11 he was playing in coffeehouses throughout the county. That was a lot of fun, going to different coffeehouses. Sometimes it was just him, sometimes it was him and Dad together.

Darrel Wood, Jr.: My dad definitely got me started performing. I wrote a couple of songs and he said, "Let's put you on a stage! Let's do it!" He was so avid to see me performing, especially with vocals, because back when I was younger, I really didn't like my voice. I didn't like singing at all, and he was the one who said, "You have to sing your songs! Who else is going to sing your songs?"

Zenger's: You've mentioned your dad. How many other musicians are in your family?

Darrel Wood, Jr.: Well, he's the only musician that directly influenced me — and him bringing musicians around — in my family. I guess there are family friends who've been with us so long that they are family now, you know, that play music, like the lead singer of Cain Street, Anthony Sanchez. He's pretty much taught me everything I know. He's a very big influence in my life as far as music is concerned..

Valerie Wood: And his dad plays with your dad.

Darrel Wood, Jr.: Yes, his dad is the guitarist with my dad's band, so it's a big family fest of music. Dad's bass player's son used to play with Anthony, and now he's off doing the funk thing. It's interesting how we've all branched off from our fathers, and my mom's dad played mariachi music, very Mexican influence and everything. On my dad's side of the family, we're finding that a lot of people from the Midwest play country music. So it's kind of interesting how it all ends up. It's very cool.

Zenger's: When I saw you here at Say What! you did two songs. One was "Sunny Afternoon" by the Kinks — another 1960's connection —

Darrel Wood, Jr.: Yes, yes. I love the Kinks.

Zenger's: How did you first encounter that kind of music? Was it your parents' record collection, or what?

Darrel Wood, Jr.: Going to my dad's band practices. His band covers Led Zeppelin, the Doors,Z.Z. Top and old Tom Petty. My mother still listens to a lot of old R&B and soul, as well as all the rock and everything.

Valerie Wood: Jazz.

Darrel Wood, Jr.: Jazz and stuff. My dad listens to all of the hard-rock stuff, like Black Sabbath. I remember some of the first songs I learned were Black Sabbath songs and Led Zeppelin songs, and I loved it.

Zenger's: Were you at all influenced by the Grateful Dead?

Darrel Wood, Jr.: Actually, no. I've always heard the Grateful Dead and I liked them, but they were never integrated into my childhood.

Zenger's: Even though, in some ways, the way you're describing your band is something like a Dead of today. They drew on a lot of jazz influences and incorporated them into rock. They played very long songs, with complicated structures, and drew on a lot of different kinds of music.

Darrel Wood, Jr.: Yes, the Grateful Dead, them and the Beatles — the Beatles is another band that I didn't necessarily grow up with, but I appreciate them a lot for their innovation, because for their time they came up with so many new things that no other band was doing. And that's exactly what we're doing. We feel that, aside from a few artists that really make a difference, music is kind of stuck in a rut, and everyone's kind of waiting for something new, or until then just replaying what they've always been playing.

A lot of artists are going back to their roots in the — and others are going back to the 1980's, which is interesting. I'm not a particular 1980's fan. We're trying to be as innovative and creative as possible, without creating music that people are turned off by. There's a band we're very influenced by called the Mars Volta, and I love the Mars Volta, but sometimes their songs are so complex and so innovative that it's too much to listen to.

Valerie Wood: It's probably what people thought of Jimi Hendrix when he came out.

Darrel Wood, Jr.: Yes, exactly. So I guess what we're trying to do is let people connect to new, innovative, artistic music.

Valerie Wood: You guys were covering Janis Joplin there for a little while, too.

Darrel Wood, Jr.: Yes, we did a cover of a Janis Joplin song, "Move Over." It's a very hard song to sing, so we don't play it much anymore!

Zenger's: Isn't it unusual that your band is evenly split by gender: two women and two men?

Darrel Wood, Jr.: Yes, that's interesting.

Valerie Wood: They're very proud of that.

Darrel Wood, Jr.: We call ourselves "a group of rock 'n' roll minorities," because the two girls in the band are Latina, and then we have — I'm the only right-handed person in my band, and I'm a homosexual. And Mark, who's the bassist, the straight white male, seems to be the only one who fits into the rock 'n' roll stereotype. So we very much appreciate our roots and our diversity, and that's what we try to talk about.

Zenger's: I wanted to ask you about the inspiration for the other song I heard you do, this piece about older people in the Gay community reaching out to younger people, and the younger people thinking, "Oh, this geezer is just trying to get at me," when he might be offering something else.

Darrel Wood, Jr.: I watched a documentary on the Logo channel, and it was specifically about that. In San Francisco, it's really hard on the seniors in the Gay community there when they don't have their rights, when they've been with their partner forever, and then their partner dies and they have to go back to a really hard way of living, when they were so comfortable before. There are so many paths that have been made for the younger Gay generation, but we don't know that because we're not educated about that. No one tells us.

My parents are completely supportive about my homosexuality, but I was never taught about Harvey Milk until the movie came out, which is kind of sad for me to say as a homosexual. Those political figureheads —

Valerie Wood: We're learning the history of the community together.

Darrel Wood, Jr.: I think it would be helpful if more kids learned about those role models, because we really have none. None are taught to us. If the older Gay generation were to be able to speak in peace to the younger Gay generation, they would know those role models and maybe have some hope for the future.

Valerie Wood: Oh, the incredible stories that have come from that, their lives and their struggles. Even the good things that have come their way because of [struggle]. That would be incredible.

Darrel Wood, Jr.: Exactly. I think that a lot of the younger Gay generation feel that it's so much so a "fight" or a "rebellion" for their rights, for being who they are. I don't think it's a fight, necessarily, to go into it with love and acceptance and everything.

Valerie Wood: And just be who you are.

Darrel Wood, Jr.: It's teaching people, more than fighting against people. If you start a "war," quote-unquote, you're just creating more opposition. It's really about teaching people how to accept everyone.

Valerie Wood: I just think more people need to be aware of the people that paved the way for where we are today and to have some appreciation for all of those "veterans," we'll call them.

Darrel Wood, Jr.: "Mavericks," can we be so bold?

Valerie Wood: And, at times, silent sufferers in those days.

Zenger's: I was particularly interested in this because one of those unsung pioneers is my associate editor, Leo Laurence, who's 70 years old, and who started the first Gay liberation organization in San Francisco in March 1969 and led the first Gay-rights demonstration four months before Stonewall. He's quite naturally upset that virtually nobody, even in the Gay community, seems to know that.

Darrel Wood, Jr.: Yes.

Valerie Wood: That is upsetting. That's extremely upsetting.

Zenger's: So when I heard your song, he was one of the people I thought of.

Darrel Wood, Jr.: Very definitely, and I guess he was one of the people I was writing about.

Valerie Wood: And there are so many people out there with this history and this knowledge, and because of the stigma that they lived with for so long, they're out there in this position where they're just not comfortable, or haven't been allowed to come and get together with the youth and form some type of place where everybody can get together and share all this knowledge with. That would be an incredible thing to be part of. I would be extremely excited for my son and for myself to learn, because history is history, regardless of where it comes from and what it's about.

Darrel Wood, Jr.: Exactly.

Zenger's: One thing I've heard from a lot of young people is that the boundaries between "Gay" and "straight" are really disappearing. Younger people are much more willing to try things, to date and love and have sex with whomever they find where there's mutual attraction, rather than feeling, "Oh, I have to declare myself either 'straight' or 'Gay.'"

Darrel Wood, Jr.: Right, very much so. In high school, especially in a place as conservative as Santee, it's been very hard in the sense of finding other homosexuals to relate to completely. But at the same time, the number of straight friends I have that are completely supportive of me and my cause, and come to the No on Prop. 8 rallies with me, wear the pins and everything with me, that's very encouraging.

Valerie Wood: And just love you. They just love you.

Darrel Wood, Jr.: Yes, people with love in their hearts. I think it's very important, and definitely the younger generation is advocating for that more. But I feel that it's important for us to keep that going for the generations under us, because we're so close to just having it be all right, having it be accepted. It doesn't matter if you like men or women, or what you do in the privacy of your bedroom. It's about loving —

Valerie Wood: — who you are, integrity.

Darrel Wood, Jr.: And knowing that being a homosexual doesn't define who you are. I am a homosexual and I'm proud of that, but at the same time that doesn't define me as a person, because it's strictly a sexuality. It's just who I care to be attracted to.

Zenger's: It's interesting that you use the word "homosexual," because for the Gays of my generation that's exactly the kind of clinical, pathological image that we were trying to get away from.

Darrel Wood, Jr.: Yes, that's very interesting, actually.

Valerie Wood: And now these guys are embracing it.

Zenger's: In my magazine, the collective term I use is "Queer," which a lot of people my generation or older have a problem with, but I like it because it's the last all-inclusive word we have left, and I hate "LGBT" with a passion. "The LGBT People" — it sounds like we just beamed in from Andromeda.

Darrel Wood, Jr.: I think I use "homosexual" because, throughout my life, the words "faggot," "queer," "gay" have all been very negative in kids speaking that to me, kids speaking that to other children.

Valerie Wood: Condescending.

Darrel Wood, Jr.: It's very condescending. Even "gay" now is this slang term for "stupid" — "oh, goodness, that's so gay," "this is so gay." Does it really like men? I feel that "homosexual," even if it is a somewhat clinical term, is more universal in that aspect.
Report this post as: