Features
•
latest news
•
best of news
•
syndication
•
commentary

Feature Categories



KILLRADIO
printable version - js reader version - view hidden posts - tags and related articles

by Mark Gabrish Conlan/Zenger's Newsmagazine Wednesday, Apr. 29, 2009 at 1:32 AM
mgconlan@earthlink.net (619) 688-1886 P. O. Box 50134, San Diego, CA 92165
Despite the much-ballyhooed announcements from the Obama administration that they're going to stop prosecuting medical marijuana patients and providers as long as they abide by the laws of their states, little has changed, attorney Gerald Singleton and activist Dion Markgraaf told Activist San Diego at a meeting April 20. Patients and providers are still being raided, and the Justice Department disappointed medical marijuana advocates by recommending a five-year prison sentence for former Morro Bay dispensary operator Charles Lynch despite the request by the judge in the case for some legal ground to be more lenient.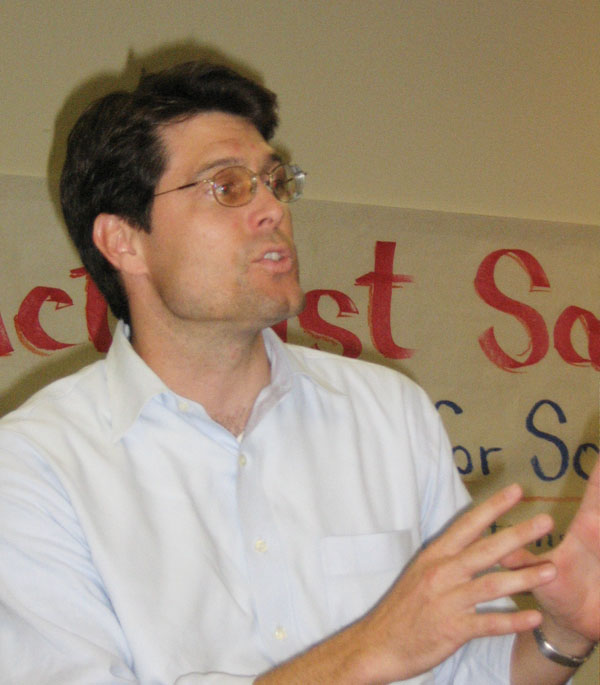 singleton.a.jpg, image/jpeg, 600x685

Medical Marijuana Policy Still in Flux

Obama's Rhetoric Better Than His Actions, Activists Say

by MARK GABRISH CONLAN

Copyright © 2009 by Mark Gabrish Conlan for Zenger's Newsmagazine • All rights reserved

PHOTOS, top to bottom: Gerald Singleton, Dion Markgraaf

When Barack Obama took over as president, his administration sent strong signals that the federal government's harassment of medical marijuana patients and providers in states where it's legal would end — but, as on so many other issues, Obama's performance has been far worse than his rhetoric. That was the message disappointed activists on the issue shared with members of Activist San Diego April 20 at the Joyce Beers Community Center in Hillcrest. Dion Markgraaf, chair of the San Diego chapter of Americans for Safe Access, and Gerald Singleton, an attorney who has represented many defendants arrested on marijuana charges relating to medical use, talked about the hopes Obama and his attorney general, Eric Holder, raised for medical marijuana users — only to dash them again with their refusal to intervene in a Los Angeles court hearing for former Morro Bay dispensary owner Charles Lynch.

Obama's first signal that his administration would be easier on medical marijuana than former President Bush's came in early February, when White House spokesperson Nick Shapiro responded to news that the federal Drug Enforcement Administration (DEA) had staged four raids on medical marijuana collectives and dispensaries in Los Angeles after Obama took office on January 20. "The President believes that federal resources should not be used to circumvent state laws, and as he continues to appoint senior leadership to fill out the ranks of the federal government, he expects them to review their policies with that in mind," Shapiro said.

The next statement from Obama's administration pledging non-interference with state laws legalizing medical marijuana came during a March 18 press conference by Attorney General Eric Holder, Jr. While he didn't say flat-out that the DEA would stop raiding medical marijuana users and facilities, Holder did say, "The policy is to go after those people who violate both federal and state law. … Given the limited resources that we have, our focus will be on people, organizations that are growing, cultivating substantial amounts of marijuana and doing so in a way that's inconsistent with federal and state law." Holder also warned that the feds wouldn't tolerate people who tried to "use medical marijuana laws as a shield" for drug dealing or other sorts of crime, but overall the statements of Holder and Shapiro gave heart to medical marijuana activists.

"I was heartened by Obama's comments on medical marijuana and his attorney general saying that the federal government would respect state law," Singleton told Activist San Diego. Then up came the Lynch case — the new administration's first opportunity to put up or shut up about supporting state medical marijuana laws — and the administration blew it. Morro Bay dispensary owner Lynch had been convicted in a typical case. The 47-year-old Lynch had opened his business in 2006, in a public ceremony attended by the Morro Bay mayor and members of the local chamber of commerce, but he hadn't been able to argue that in his own defense because federal law forbids any mention of medical necessity in a marijuana case.

Lynch was not only convicted of violating federal drug laws, his conviction was enhanced because one of the people he sold to was 17 years old. The jury never got to hear that the reason Lynch sold marijuana to a 17-year-old was that the young man, Owen Beck, was ill with bone cancer and the drug helped him tolerate chemotherapy drugs. Nor did they know that Beck's parents not only gave their approval but were physically present when he received his medicine, as California's medical marijuana law requires when the patient is a minor. In the sentencing phase of the trial, Beck's parents appeared as witnesses for Lynch.

The judge in the case, George H. Wu, decided to delay sentencing Lynch so he could ask the new attorney general, Holder, whether the previous administration's recommendation of a five-year prison sentence for Lynch (the minimum under the strict federal drug laws) still stood. On April 17, Judge Wu got an unequivocal answer: yes, it did. The government filed a court document signed by four prosecutors stating that they still wanted Lynch to draw a five-year prison sentence, and attached a letter from H. Marshall Jarrett, director of the Executive Office for United States Attorneys in the Justice Department.

Addressed to Thomas O'Brien, U.S. Attorney for the Los Angeles area, Jarrett's letter read, "In response to your request, the Office of the Deputy Attorney General reviewed the facts of this case to determine whether the prosecution of Mr. Lynch comports with the Department of Justice's policies with respect to marijuana prosecutions. Based on the facts of this case, the Office of the Deputy Attorney General concurs with your office that the investigation, prosecution, and conviction of Mr. Lynch are entirely consistent with Department policies as well as public statements made by the Attorney General. Accordingly, you should seek to proceed with the sentencing recommendations which your office has filed with the court."

Though Lynch still hasn't been officially sentenced — Judge Wu delayed it yet again on April 23, saying he was still researching whether he could find legal authority to give Lynch less than the five-year federal minimum — Singleton made it clear to his Activist San Diego audience that as far as he's concerned, the federal government's position in the Lynch case means that they have no intention of dropping the Bush administration's war on medical marijuana and its users and providers. "As long as federal law enforcement officers are given the power to determine whether state law is being violated," Singleton said, "we won't see much change. … The Attorney General's statement does not have the force of law."

Part of the problem, Singleton continued, is that nobody knows just what is or isn't legal under the medical marijuana statutes. "Most state officers don't know the law," he explained. "Alexis Bastido and I represented a clinic in El Cajon, and when we met with the prosecutor, the first thing he said was, 'We don't know anything about the medical marijuana law' — after the case had been going on for three months and our client had been indicted for two felonies." It's even more of a problem in San Diego than elsewhere in California, Singleton said, because "we live in a county stricter than any in California, and unfortunately they're very aggressive about this."

The San Diego County Board of Supervisors has been actively resisting the medical marijuana law ever since California voters approved it as Proposition 215 in November 1996. When the state legislature passed legislation mandating all California counties to provide identification cards to medical marijuana patients, the Board of Supervisors responded by filing a lawsuit in to have Proposition 215 thrown out as an infringement on the federal government's monopoly on drug law. The county's case has lost in every state court that's heard it, and right now the county has filed a last-ditch petition before the U.S. Supreme Court to have them hear the case. Singleton said he and other medical marijuana advocates expect the U.S. Supreme Court to reject it unheard — as they do with most appeals — but until then, the case is legally "pending" and so San Diego County can get away with flouting the state law requiring them to issue the ID cards.

San Diego County has aggressively prosecuted medical marijuana patients and providers on their own authority as well, despite an 1890's California Supreme Court ruling that state and local law enforcement personnel are not supposed to enforce federal laws. According to Markgraaf, one of the leaders in San Diego law enforcement's war on medical marijuana is district attorney Bonnie Dumanis. Markgraaf explained that Dumanis has interpreted Proposition 215's ban on "sales" of medical marijuana as making it illegal to receive any compensation whatsoever for growing medical marijuana or providing it to patients — even if the person is a professional caregiver being paid for services to the patient that have nothing to do with marijuana.

Among the people attending the Activist San Diego meeting were victims of Dumanis's latest law enforcement action against medical marijuana. Announced to the public on February 10, this was presented in the district attorney's press release and the San Diego Union-Tribune as "Operation Endless Summer," supposedly aimed at protecting sailors and other military personnel in San Diego from being targeted by drug dealers preying on military housing. But, according to Markgraaf, it had actually begun as a deliberate attempt to target medical marijuana providers by sending out undercover police officers with phony doctors' recommendations.

"This operation featured a man who got a doctor's recommendation to entrap people," Markgraaf said, adding that the undercover officer went to the Web site of the National Organization for Reform of Marijuana Laws (NORML) and just kept calling individuals listed there as medical marijuana providers until some of them agreed to sell to him —and therefore ended up being arrested. The connection with the military was created, Markgraaf said, when the cops "set these people up on Pico Street in Pacific Beach" — on a stretch of public right-of-way that is technically Navy property — so Dumanis could bill the arrests as "to protect the military while they are protecting us."

Markgraaf said he hopes the current round of cases will ultimately be repudiated by the courts, and will disprove Dumanis's broad interpretation of the ban on "sales" in the law. "The law is codified, but she is not respecting that," Markgraaf said. His group is also hopeful that when Dumanis runs for re-election in 2010, they'll be able to make her opposition to medical marijuana a campaign issue and elect a more sympathetic, reasonable D.A. in her place. His group is also targeting the Board of Supervisors and the San Diego City Council, focusing on the economic impact of the raids and what detailing police officers to entrap medical marijuana providers is doing to the overall effectiveness of local law enforcement. "Every time you cry about money and why cops can't come to your house when you've been victimized," Markgraaf said, "it's because they're setting up raids and taking people's children away."

Part of the problem, Singleton added, is that "the law we have now is a combination of different laws" — the original Proposition 215 and the amendments and interpretations the state legislature has added since. "There are some holes," he said. "One is the question of how people get marijuana. If you're a 'caregiver' you're allowed to get compensated, but that's been defined very narrowly." [In November 2008 the California Supreme Court ruled that to be a "caregiver" under Proposition 215, a person "must prove at a minimum that he or she (1) consistently provided caregiving, (2) independent of any assistance in taking medical marijuana, (3) at or before the time he or she assumed responsibility for assisting with medical marijuana" — a ruling that seemed aimed at closing down the state's dispensaries once and for all.]

Singleton added that you can be compensated "if you're in a collective" — an association of people who get together to grow marijuana for medical use by themselves or people they're caregivers for — but was considerably more skeptical than Markgraaf that the issue will be resolved in the courts. "I don't believe we'll get a lot of favorable rulings," he said. He also pointed out that California Governor Arnold Schwarzenegger vetoed a bill passed by the state legislature that would have cleared up some of the ambiguities in the current law.

"Both the county and the city of San Diego have brushed off the issue and put us on the back burner," Markgraaf said. "There have been rounds of raids every six months, closing all the storefronts and delivery services. We went to the San Diego City Council, and they asked us, 'Can we legally do something?' We had to wait one year just to get a report on what the law said, and the report said, 'Yes, dispensaries are allowed. You just have to set up a framework.' They just refused to bring up the report. It's going to take a political policy step to get dispensaries again in San Diego."

The presentation Markgraaf and Singleton made to Activist San Diego was actually quite broader than just focusing on the current legal situation and the broken promises of the Obama administration. Markgraaf said that he'd got involved in the issue 20 years ago when he researched it for a graduate thesis at San Diego State University that attempted to analyze U.S. marijuana law in light of the Marxist belief "that economics was the basis of everything. No matter what people think, cannabis [the preferred term for the substance of Markgraaf and many other activists, who regard 'marijuana' as a word dredged up for propaganda reasons by the people who successfully campaigned to make it illegal in the 1930's] is coming back and will take over because of the economic force and power." Markgraaf said that marijuana is already California's largest cash crop — not just medical marijuana, though one Oakland dispensary paid million in taxes in its first year of operation.

What's more, hemp, the non-narcotic form of cannabis, is an easily renewable resource that has the potential to replace scarce resources like wood and petroleum. "As activists, there's nothing more important you can do than work on hemp," he said. "The environment: hemp is the solution. Most of Balboa Park is made of hemp. There are three million cars in America partially made of cannabis because it's stronger and better than other materials for making the inside panels." Markgraaf actually works for Dr. Bronner's, a company that makes soap and other products out of hempseed oil — but they have to import their raw materials from Canada, China and Eastern Europe because the U.S., alone of all major industrialized countries, has made industrial hemp illegal even though it isn't a drug.

Markgraaf said the state of North Dakota has recently become the first in the nation to repeal its laws against the cultivation of industrial hemp, and the California legislature passed two pro-hemp bills but Schwarzenegger vetoed both of them — even one that merely called for a study of the issue — "because he didn't want to get our hopes up." An audience member asked about President Obama's derisive comments against the legalization of hemp at his town-hall press conference on March 26 — for which the questions were submitted online by ordinary citizens and more people logged on to ask about marijuana than any other issue, including the economic crisis.

"I have to say that there was one question that was voted on that ranked fairly high and that was whether legalizing marijuana would improve the economy — (laughter) — and job creation," Obama said. "And I don't know what this says about the online audience — (laughter) — but I just want — I don't want people to think that — this was a fairly popular question; we want to make sure that it was answered. The answer is, no, I don't think that is a good strategy — (laughter) — to grow our economy." Like the government's stand on the Lynch case, this answer from Obama disappointed many marijuana activists — but Singleton was a bit more forgiving towards the President than the person who raised the issue at Activist San Diego.

"In his defense, I don't think he's ready to come out for it two months into his term," Singleton said, "but he has voted in the past to legalize hemp." Singleton also said he sees the economic impact — both the costs of prohibiting marijuana and the potential tax revenue from legalizing it — as a viable way to argue the issue politically. He quoted California State Assemblymember Tom Ammiano [D-San Francisco], who's sponsored a legalization bill in the state legislature, as saying an open trade in marijuana could bring billion per year in tax revenue to California. If marijuana were legalized nationwide, Singleton added, it would bring in -30 billion, both in direct tax revenue and in savings on the costs of drug-law enforcement and imprisonment.

Report this post as:


by Mark Gabrish Conlan/Zenger's Newsmagazine Wednesday, Apr. 29, 2009 at 1:32 AM
mgconlan@earthlink.net (619) 688-1886 P. O. Box 50134, San Diego, CA 92165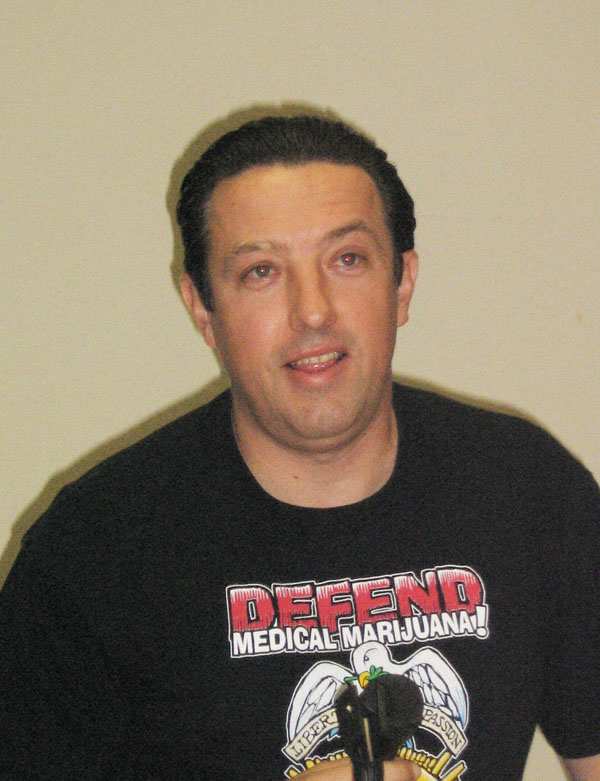 markgraaf.a.jpg, image/jpeg, 600x781
Report this post as:
Local News

OUR HOUSE Grief Support Center Presents Night for Hope O30 5:38PM

Marshall Tuck's racist dog whistle O27 5:01AM

Marshall Tuck's ethnocentrism contradicts Californian values O27 4:32AM

Contra Costa-Hawkins O25 3:48AM

Debunking Some Anti-Prop 10 Propaganda O12 6:56AM

Why Should California Choose De Leon Over Feinstein? O10 9:55PM

Change Links September 2018 posted S02 10:22PM

More Scandals Rock Southern California Nuke Plant San Onofre A30 11:09PM

Site Outage Friday A30 3:49PM

Change Links August 2018 A14 1:56AM

Setback for Developer of SC Farm Land A12 11:09PM

More problems at Shutdown San Onofre Nuke J29 10:40PM

Change Links 2018 July posted J09 8:27PM

More Pix: "Families Belong Together," Pasadena J02 7:16PM

"Families Belong Together" March, Pasadena J02 7:08PM

Short Report on the Families Belong Together Protest in Los Angeles J30 11:26PM

Summer 2018 National Immigrant Solidarity Network News Alert! J11 6:58AM

Watch the Debate: Excluded Candidates for Governor of California M31 5:20AM

Change Links June 2018 posted M28 7:41AM

The Montrose Peace Vigil at 12 Years M22 8:01PM

Unity Archive Project M21 9:42AM
More Local News...
Other/Breaking News

Allo, quelqu'un ? Allo, quelqu'une ? D09 9:16AM

deral Government Officials are not allowed to take leaflets nor pick up items in privste D09 4:15AM

Communist Mouthwash Hides Nature of Nations Suffering in Comm Pyramids Ploys D09 12:01AM

Atlanta: metro Pillage, Poison Gas, Pricks D08 9:13PM

Atlanta Metro Suffers Under Pillage, Shame lso Political Poison Gases D08 8:41PM

Fed Says College Students Have More Debt than Previous Generations D07 3:08PM

Paraphysique de l'insurrection et de l'émeute D07 9:55AM

Corruption of USA government D06 4:14AM

"We live in a time of radical counter-enlightenment" D04 1:45AM

Did Woolsey Fire Cause Radioactive Fallout? D03 10:26PM

G20 Discusses Preventing Financial Crisis and Small Island Economies N30 3:10PM

Driver near Campbell San Jose researches Bus Traffic from Northern Mexico N29 4:04AM

The Death of Small Businesses in Big Cities, Explained N28 3:43PM

Felons Shw Ninjasred Heavy Truck Tyres N28 2:28PM

Paraphysique de la consommation/pollution N28 8:08AM

Paraphysique de l'effet spectateur N26 11:13AM

Condominium, terrorisme du capital N24 8:52AM

Debt and Tax Policies Needed to Prevent Crisis Says Finance Watchdog Group N23 2:40PM

Independent Media Crackdown and Global Social Movements N22 9:45PM

Abécédaire du fascisme restreint et général N22 8:41AM

"Animaniacs in Concert!" Starring Voice Legend Rob Paulsen Heads to Portland, Oregon N20 8:39PM

Socialism in American English N20 12:04PM

Noske, noskisme réactualisé N20 11:29AM

Oprah Please Stop Selling Dead Animal Pieces N20 3:32AM

Down In Smoke SF N20 12:03AM

Lucifers Banker N18 7:38PM

Paraphysique du scientisme N18 9:19AM

USDA Withholds Names Of Turkey Companies Spreading Salmonella N17 7:51PM
More Breaking News...