Features
•
latest news
•
best of news
•
syndication
•
commentary

Feature Categories



KILLRADIO
printable version - js reader version - email this article - view hidden posts - tags and related articles

by Peggy Lee Kennedy Wednesday, Feb. 25, 2009 at 6:53 PM
justicecommittee@fastmail.fm
Big Election in Venice is Biggest Fiasco!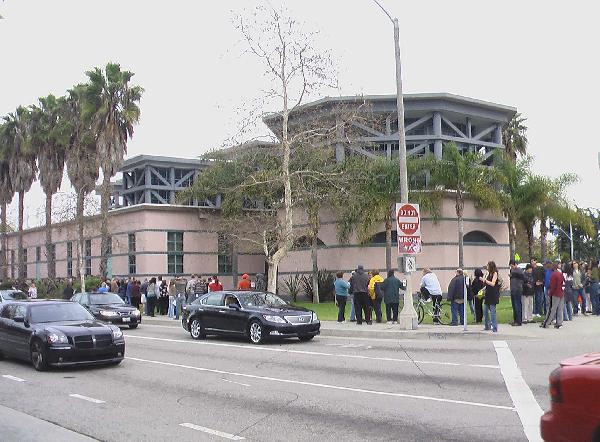 linearoundlibrary.jpg, image/jpeg, 2048x1512

The Venice Neighborhood Council (VNC) held an election Saturday, February 21 at the Venice Abbot Kinney library and, according to Michael Linder, it was the "Best fledgling democracy this side of Baghdad." The election and the ballot counts consisted of more irregularities ever seen before in Venice and maybe the world.

The VNC web site claims that the vote is now certified (cheers for them, hooray, the homeless haters won again), but exactly when do the two people who conduct an election - unseal the ballot box at the polling place to start the vote count, then put ballots in three smaller flimsy boxes, take these boxes full of ballots to their home, actually be the only two people who conduct the final ballot count the next day, and also be the same people who officially certify the election results? I am not kidding. I videotaped it.

OK, lets start this story near the beginning. The Overnight Permit Parking District law or OPD law, LAMC 80.54, is a law put through City Council in 2005 by Bill Rosendahl, the Councilman for the 11th District, and it is specifically being used to remove those living in vehicles from affluent areas. The Venice Neighborhood Council, whose president is a real estate Attorney and most board members are white homeowners, supports the OPDs.

The election stimulus (no federal money involved) for this Venice Neighborhood Council vote was an initiative petition, a provision of the VNC bylaws, which was submitted by someone named Mark Lipman on December 16 - without any real forethought on who the opposition was here. The language of his initiative was meant to rescind the Neighborhood Council's support of Overnight Permit Parking Districts (OPDs) in Venice, but some people felt that only a lawyer could understand it.

Subsequent to Lipman's initiative petition, Mark Ryavec and Stewart Oscars, both well known for Venice Neighborhood Council involvement and for supporting criminialzation of homeless people, submitted an equally confusing opposing initiative petition the following month stating that permit parking is a Right.

As a reader of the U.S. Constitution Bill of Rights and the U.N. Declaration of Human Rights (which I highly recommend people read), I simply do not remember overnight permit parking on either document. Nonetheless, the Ryavec/Oscars initiative states that it is a right to have permit parking and a well-funded campaign based on fear, hate, and the pretense that permit parking is a public safety issue ensued up through the election day.

A group calling itself the Venice Stakeholders Association, which Mark Ryavec admits to be part of, paid almost $4,000 for Argonaut newspaper ads in favor of overnight permit parking. The Argonaut is a Marina Del Rey paper that, until recently, is packed with real estate advertisements.

First a ¾ page advertisement in the February 12 Argonaut, which "was filled with unproven allegations, inaccuracies, and misleading statements." (An exact quote of the portion deleted from a letter to the Editor printed the following week.) And contained hate speech against homeless people, according to local human rights activists, such as " What is scarier than finding syringes, condoms and pornographic material in your yard, hoping it won't be your children finding it next time?"

This advertisement was written as if an open letter to Venice residents and signed by Georgann Abraham, co-chair of the [pro] OPD committee of the Venice Neighborhood Council, who was seen sporting around Venice in a very hot looking burgundy Carrera 4 Porsche on the election weekend.

Two more ¾ page ads appeared in the February 19Argonaut; one stating that "Those who live in RVs and vans have proposed an initiative to deprive [the real Venice residents of] their right…" and the other was a reprint of the nasty hate ad one signed by Georgann Abraham.

This group, the Venice Stakeholders Association, spread fear and hate with flyers that went through Venice neighborhoods and were also passed out in the election line! The flyers said permit parking is a safety issue and "LAPD says parking restrictions help keep burglars, muggers, and child predators out of our neighborhoods."

I am guessing some big money is behind this Venice Stakeholders Association, who also hired an expensive lawyer to help them at the Coastal Commission on this issue.

Well, the election process, itself, was very poorly planned. Only three hours was provided to vote? The person apparently running the election was unable to maintain any real decorum. People were given multiple ballots to vote with. The ballot box was opened and the ballots went home with someone prior to any vote count.

The complaints so far are:

* The LAPD blocked the entrance to the election location by parking their vehicles in front of the entrance of the library and people thought they could go into the lot. No sign was put up telling people to pull around the police car to drop off disabled or seniors.
* LAPD officers milled around the election entrance throughout most of the election.
* People felt intimidated by the police presence and did not go vote at all.
* A long-time Venice Neighborhood Watch person called Boston Dwana was spewing fowl language, flipping the bird, and threatening people documenting the election on video tape (also seen hugging the LAPD).
* The line was so long, people who knew they could not physically stand in line for hours simply did not try to vote.
* There was no absentee voting process.
* Ivan Siegel, the person running the election, was yelling at people and some left without voting.
* Ivan Siegel, yelled at person for having VNC registration forms and tried to pull them out that person's hands – when the form is downloadable from the VNC website and others were allowed to go up and down the election line with the same form registering people.
* A polling volunteer inside the election witnessed people voting multiple times (they were given more than one ballot.)
* A person voting, who qualified as a Venice stakeholder under VNC bylaws, had his or her registration form marked as "Non-Resident" by a (rightwing Cuban) polling volunteer.
* The place voter marked their ballots during the election, was a small table where groups of people were allowed to mark their ballots together, talk among themselves, and consult each other how to vote.
* Someone honest reported being given 3 ballots inside the polling place.
* A VNC board officer harassed someone talking to friends in line, accusing him or her of electioneering, while a man was passing out a bright purple pro-OPD flyer to most of the election line right in front of him.
* A VNC walking man flyer stating the actual ballot initiatives should have been distributed to Venice addresses. Most people who voted were informed by flyers or emails distributed by the initiative proponents or advertisements.
* The VNC election committee decided the votes would be counted on the same day as the election and the count took place in a meeting that was not given sufficient public notice.
* No one should have taken the ballots home, especially after unsealing the ballot box.
* The vote count and certification is not legal by any standards.


The vote count is a noteworthy part of the VNC election fiasco. At the polling place, a decision was made by Ivan Siegel to begin the count at the library – even though the actual voting ended around 5pm and the library closed at 6pm. (If you were in the line to vote by 3:30, you could still vote and that is how long it took to finish.) There were multiple witnesses in the room. An initial one-time count of the total ballots was made and a number of 1504 total ballots was provided.

Siegel then decided that there was not enough time to count the vote around 5:45 (duh!). Most of the witnesses demanded that the votes be counted and people started to yell and fight. One person, who made some sense, suggested that the ballots be picked up by a Brinks document service. After a very crazy exchange of screaming and arguing back and forth, a decision was made by Siegel to meet at the Extra Space Storage on Venice Bl at 11am the next morning and Elizabeth Wright, the other person on the VNC election committee and the person who was supposed to be working with Siegel to manage the election, took the ballots home – flimsy boxes an all - in her minivan!

On Sunday, February 22, the Wright minivan pulled up to Extra Space Storage with the overnight ballot guests. The count took place in a small, hot room filled with homeless haters. There were three tables of two counters and one witness each. Wright was witness on and off on one of the counting tables. Two of tables had witnesses that participated fully in the tally process of the counts. They did not maintain their witness status at all.

After hours of unreasonable temperatures in the Extra Space Storage room that no one could legally be forced to work in because the heater had been left on, and many confusing recounts of tallies, each table provided Siegel with their tally sheets. Then most of the counters and the so-called witnesses left. Siegel added up the tally sheets (by hand), but found out that they were more than 300 ballots shy of the 1504 count from the night before.

Siegel and Wright then decided to count the votes themselves!

Siegel and Wright, the people who ran the election and members of the VNC election committee, then counted the votes, tallied the votes by hand (no calculator), found the over 300 missing votes plus 6 more, and Siegel announced that he certified the election. Wow.

Despite all of the cheating, the misconduct, the police blocking the entrance of the polling place, the fear campaign waged by homeless haters, confusing ballot initiatives, and the lines that no working or disabled person could possible wait in – the vote in favor of the anti-homeless Overnight Parking Districts still only came out to a 57% lead.

Rosendahl, himself, insists that each block will require a 66% approval to get the permit parking put in.

All in all a deeply flawed election.

So what next? The Venice NIMBYs vote to exterminate the homeless people?



Report this post as:


by Peggy Lee Kennedy Wednesday, Feb. 25, 2009 at 6:53 PM
justicecommittee@fastmail.fm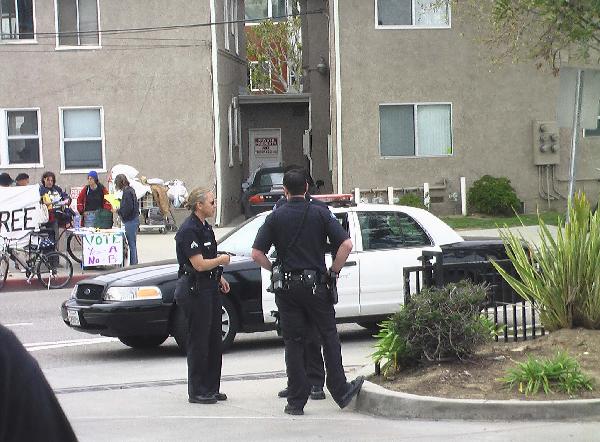 cops_blocking_entrance.jpg, image/jpeg, 2048x1512

error

Report this post as:


by Peggy Lee Kennedy Wednesday, Feb. 25, 2009 at 6:53 PM
justicecommittee@fastmail.fm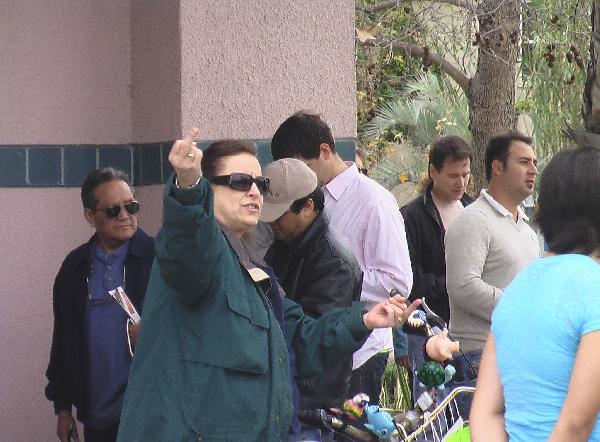 cops_blocking_entrance_2.jpg, image/jpeg, 2048x1512

error

Report this post as:


by Peggy Lee Kennedy Wednesday, Feb. 25, 2009 at 6:53 PM
justicecommittee@fastmail.fm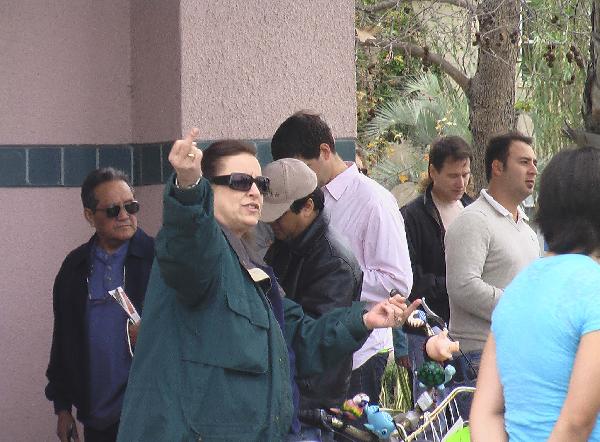 bostondwanaflippingbird.jpg, image/jpeg, 2048x1512

Boston Dwana flipping us the bird for filming the election.

Report this post as:


by Peggy Lee Kennedy Wednesday, Feb. 25, 2009 at 6:53 PM
justicecommittee@fastmail.fm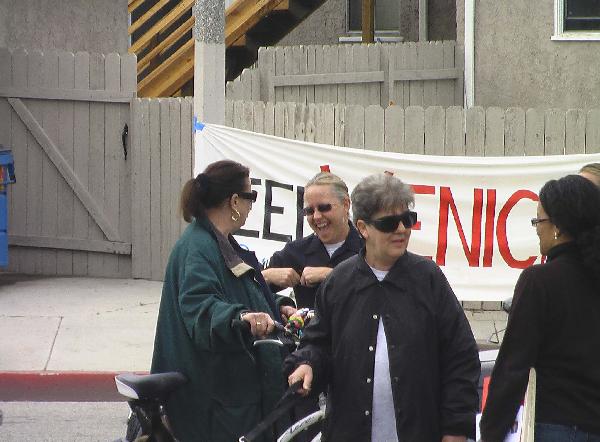 bostondwana_officeskinner.jpg, image/jpeg, 2048x1512
And blocking the entrance to the election.
Report this post as:
Local News

The Eagle Rock Peace Vigil Marks 15 Years N27 11:23AM

12/2-3 LA Binational Conference To Cancel NAFTA and Unite Workers Of Mexico and the US N27 3:44AM

Winter 2017 National Immigrant Solidarity Network Monthly News Alert! N26 9:22PM

Nuclear Shutdown News November 2017 N26 4:23PM

Report Back on November 18th Counter Demonstration Against Anti-Muslim March N20 10:57AM

Report Back on November 18th Counter Demonstration Against Anti-Muslim March N19 7:12PM

National US Gov as wellas EPA slow to act on Abandoned uranium Mines Cleanup in Southwest N15 10:50AM

OUR HOUSE Grief Support Center Hosts 9th Annual Comedy Fundraiser N14 10:47AM

BUSTED: Watch LAPD cops plant drugs in black suspect's wallet – unaware body cams were on N10 5:32PM

lapd shootings 1998 - 2015 N06 11:21PM

"Oh Say Can You See" How the LAPD Singing the National Anthem Cost the Dodgers WS Game 7? N03 7:30AM

Car drives into immigration protesters outside Rep. Ed Royce's office in Brea N02 2:06PM

PACIFICA RADIO BOARD SECRETLY OK'S BANKRUPTCY FILING & SEEKS NY SIGNAL SWAP O25 4:49PM

LAUSD, Privatization, Charters And The Fight To Defend Public Education Education Conferen O04 12:10PM

Afghan Women Read RAWA.org founded 1977 S27 9:42PM

[France] The State Attacks Indymedia-Grenoble and Indymedia-Nantes… Solidarity! S25 5:18PM

Segregation in the City of Angels: A 1939 Map of Housing Inequality in L.A. A15 7:44PM

Justice Dept. seeking info, IDs on 1.3M visitors to protest website DisruptJ20.org A15 1:04PM

San Francisco Rally Protests Hate Crimes in Charlottesville A14 5:38PM

New Google algorithm restricts access to left-wing, progressive web sites A02 1:52PM

Tracking Twenty Years of Stockton Killings by Law Enforcement A02 1:27PM

Garcetti Cronyism - Why and How to Ignore Your LA Dog License A01 5:05PM

Nation's Worst Meltdown Was In LA J31 4:54PM

As RV towing resumes in LA, officials say program won't 'target homeless' J31 1:15PM

Class War on the Waterfront: Longshore Workers Under Attack J21 10:18AM

Limits to Growth Published Forty Years Ago J18 5:15AM
More Local News...
Other/Breaking News

Paraphysique de la prohibition D16 2:14AM

Philippines: We condemn extension of Martial Law in Mindanao D14 9:37PM

The Shortwave Report 12/15/17 Listen Globally! D14 4:27PM

What the State Can Do D14 5:50AM

November 2017 Honduras Pre-Coup Repeat Update: Part 1 D14 5:23AM

Le système, ses agents, ses exécutants D13 11:49PM

Police problem officers D12 11:13AM

Masturbatorium de capitalisation D11 10:15PM

Palestinians, Beware Jewish Days of Rage, Hanukkah is Coming to Israel! D11 5:28PM

Asian Superstar's Book Finding Julia, Based on the Movie, Goes on Sale D11 11:16AM

I am the victim of murder for hire and need help to file a police report D11 12:29AM

Modus operandi de l'apocope D10 10:04PM

Archbishop and Evangelical Leader Tell Congress to Protect Puerto Rico in Tax Plans D08 9:51AM

Fbi is Gestapo D07 6:12PM

The Shortwave Report 12/08/17 Listen Globally! D07 5:10PM

Paraphysique de l'argutie D06 10:18PM

Holiday Tips for Grievers D06 1:27PM

Stand Against Reem's. Stand Against hate. Stand Against Violence D06 8:44AM

Base Erosion and Profit Shifting (BEPS) D06 7:53AM

Philippines - Why there is nothing Revolutionary about the call for a "Revolutionary Govt" D06 2:04AM

Historicisme d'hybridation D04 10:08PM

Real filthy fbi D03 7:30PM

People in Uproar in West Virginia-US Public lands Hearings 2017 D03 10:42AM

Le capital ou la société des inégalités D03 12:11AM

Stop Trump's tax plan D02 3:10PM

Government Regimes Are On A Global Kill Spree D01 8:29PM

Global High Crimes By Government D01 7:47PM

The Right to the City and the Greed of the Rich D01 3:32AM
More Breaking News...