Tell the NSA:
StopWatching.US
Features
•
latest news
•
best of news
•
syndication
•
commentary

Feature Categories



KILLRADIO
printable version - json version - email this article - view hidden posts - tags and related articles
by Mark Gabrish Conlan/Zenger's Newsmagazine Thursday, Oct. 02, 2008 at 7:00 AM
mgconlan@earthlink.net (619) 688-1886 P. O. Box 50134, San Diego, CA 92165
The predominantly Queer San Diego Democratic Club voted September 25 to endorse Proposition 4 on the November 4 ballot in the city of San Diego, which would make the temporary ban on alcohol consumption at city beaches permanent. Opponents have argued that the ban is an attack on individual freedom, but the club rejected that argument and instead supported beach-area residents who say the ban has improved their quality of life.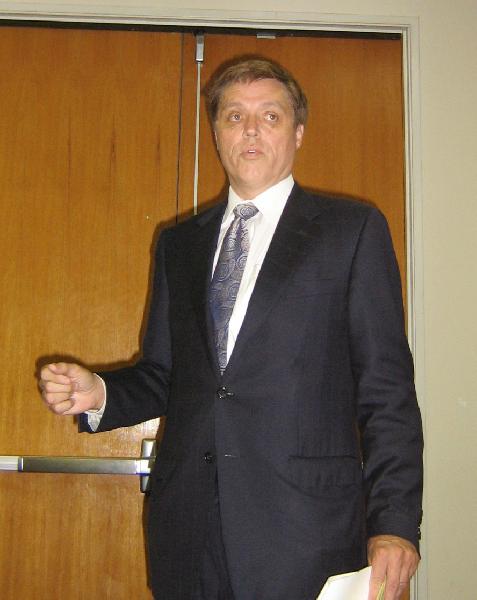 ottilie.a.jpg, image/jpeg, 888x1115

Queer Democrats Endorse Beach Booze Ban

by MARK GABRISH CONLAN

Copyright © 2008 by Mark Gabrish Conlan for Zenger's Newsmagazine • All rights reserved

Photos, top to bottom: Bob Ottilie, Pam Benssousan, Mona Alvarado-Rios

The predominantly Queer San Diego Democratic Club broke ranks with the San Diego County Democratic Party and endorsed City of San Diego Proposition D on the November 4 ballot. The city already passed a ban on alcohol consumption on public beaches for a trial period; Proposition D would make the ban permanent. Rejecting claims that the alcohol ban on beaches is an infringement on personal freedoms and unfairly penalizes law-abiding social drinkers for the acts of irresponsible alcoholics, the club instead embraced the arguments of beach residents themselves that their lives are better for the ban.

"I live in Ocean Beach, and the difference on the Fourth of July and Labor Day was remarkable," said Gloria Johnson, former club president and active member for over 30 years. "A few years ago I was almost run over by a drunken skateboarder. I once had some friends over who were from the East Coast and had never seen the Pacific Ocean, and the first thing their seven-year-old daughter saw at the ocean was a man urinating. Right after that she cut herself on a bottle."

"I want to echo what Gloria said," said a club member identified only as Tom. "I've lived in San Diego two years. I have a dog and like to take my dog to the beach. I like to go to the Silver Strand [in the independent city of Coronado] three to four times a week, and before the alcohol ban passed in San Diego it was peaceful. Now that there's a ban in San Diego, everyone who wants to drink at the beach comes to Coronado." Just when it seemed as if he were going to argue against the ban in San Diego so his favorite beach in Coronado would no longer be inundated by drunks, he made clear that what he would really want would be a ban on drinking at beaches throughout San Diego County.

Alex Sachs, the club's legislative advocate, said he opposed the booze ban the first time it was on the San Diego ballot in 2002 — but he now supported it. "We've really had problems," he said. "The change has been dramatic. I don't think it's just old fogies in Pacific Beach" supporting the ban. The club's vote to support Proposition D was overwhelming — 29 in favor to four against and two abstentions — well past the 60 percent threshold for a club endorsement.

The club also debated Proposition C, a complex measure aimed at dedicating the lease revenue from Mission Bay Park to the city's overall park system, but in the end was unable to come to a position on it despite a strong endorsement from City Councilmember Donna Frye, usually one of the club's favorite propositions. Frye couldn't attend the meeting herself, but she sent Bob Ottilie, a former Council candidate in her district, to speak for the measure. Ironically, the club was debating this two days before it was going to hold its largest annual fundraiser, the Freedom Banquet, at a hotel in Mission Bay Park.

"Sea World, the Hyatt and the Hilton are among 20 leases on land in Mission Bay Park," Ottilie explained. "It's the most commercialized park in the world, and in 1945 [when the lease system was set up in the first place] we agreed the money would be used to finish and fix the park. The leases now generate $30 million in direct revenues and $17 million in TOT [hotel taxes paid by tourists]. This doesn't focus on taxes, which still go into the city's general fund. The only money impacted are the lease fees, and this would put into effect the agreement in 1945-50 that the money would go to Mission Bay Park."

Ottilie insisted that there would be oversight and control over how the money would be spent, and that "the first year, the city would lose nothing" in lease revenues going specifically to parks instead of into the general fund. Thereafter, only "the inflationary impact" — the increases in the lease fees over time — would be dedicated to the park system instead of funding the city's overall budget. "It's part of the effort to reform the city's budget process and keep user fees where they belong" — with the programs and activities that generate them — Ottilie said.

Leading the opposition at the club was former president and long-term club activist Jeri Dilno. Identifying herself as a member of the Balboa Park Committee — that and other city parks have been promised revenue from this proposition if there's any left over after Mission Bay Park has its share — she said, "On the surface, this looks like a great thing to share Mission Bay Park revenues with other parks, but there's no mechanism to share revenues. There's no definition on when a capital improvement is 'finished,' or [a list of] whatever projects are going on in Mission Bay Park."

Dilno also criticized the provision that none of the money could be spent on bridges and roads — put in there, Ottilie said later, to make sure the funds actually improve the parks themselves and aren't seized by the City Council for overall transportation needs. Eventually a motion to endorse Proposition C was voted down, 17 to 7 with 17 abstentions, and a motion to take no position on the measure passed 22 to 8, with four abstentions.

On the state ballot measures, the club found itself taking the same positions as the California Democratic Party, supporting 1a (rail bonds for a high-speed train between San Francisco and Los Angeles), 2 (a measure to limit certain farming practices supporters say are cruel to animals), 3 (bond money for children's hospitals) and 5 (broadening California's commitment to offer nonviolent drug offenders rehabilitation instead of jail).

The club had already opposed the two most significant "lifestyle issues" on the November 4 ballot: Proposition 4, the third attempt in California to impose a parental notification requirement on minor girls seeking abortions; and Proposition 8, which would abolish the newly won right of same-sex couples in California to marry. The state party also urged no votes on Propositions 6 and 9, which would toughen penalties for certain crimes and add to the "victims' bill of rights"; 7, which would strengthen the requirements on utilities to get a certain percentage of their energy from renewable sources by a certain date; and 11, which would take the job of drawing state legislative districts from the legislature itself and set up a supposedly independent and non-partisan commission to do it instead.

The only statewide ballot measures the club debated were 7 and 11 — and while only two club members came out for 7 (28 voted to oppose it and three abstained), the debate on 11 was heated even though the club ended up taking the same anti-11 position as the state party. "I'm going to vote no on 11 because I am in favor of democracy," said former club president Craig Roberts. "Putting redistricting in the hands of retired judges" — who, if Proposition 11 passes, would draw the maps if the original 11-member commission deadlocks — "is not democratic. Party registration is a factor in elections, but ultimately it's not the way the lines are drawn, it's the way people vote.

Jess Durfee, another former club president who is currently the chair of the San Diego County Democratic Party, said he opposed 11 because "it creates a commission of four Democrats, four Republicans and three decline-to-states [California's legal term for people who register to vote but don't affiliate with a party], chosen through a lottery process. Anyone who's part of a central committee or participates in the legislature is not eligible." Durfee argued that Democrats have been gaining ground in total voter registration in California in recent years, and it would be foolish for Democrats to vote for a commission on which they and Republicans would be equally represented. Durfee also argued that the proposition could reduce the representation of people of color in the legislature because the commission wouldn't be required to follow guidelines that currently help create districts where the majority of voters are people of color.

Proposition 11's supporters emphasized the way incumbent legislators of both major parties put in a redistricting plan that was designed to protect all incumbents — and did its job so well that in the 2004 and 2006 elections no state legislative or Congressional seat in California changed parties. "The redistricting process needs to be changed," said Alex Sachs, the club's legislative director. "Proposition 11 is not perfect, but it's better than what we have now." He and another supporter also said that the commission formed by Proposition 11 could not use its power to dilute representation of people of color in the legislature because then they'd be running afoul of the Constitution and federal law. Nonetheless, a motion to oppose Proposition 11 passed with 24 in favor, 12 against and one abstention.

The club also heard from two candidates for City Council in National City and Chula Vista, cities in southern San Diego County the club usually doesn't bother to endorse in. This time, however, they did, endorsing Pamela Benssousan for the Chula Vista City Council and Mona Alvarado-Rios and Alexandra Satelo-Solis for two at-large seats on the National City City Council. (There are two seats up for consideration and a total of seven candidates, of whom the top two vote-getters will be elected.) Satelo-Solis was unable to attend the meeting, and club member Michelle Krug spoke for her. Benssousan and Alvarado-Rios appeared in person.

Benssousan — whose endorsers include Congressmember Bob Filner and former Chula Vista Mayor Steve Padilla, who was defeated in his 2006 re-election bid by the wife of a Republican county supervisor after he came out as Gay — said, "We are in a fight to turn Chula Vista blue and are tired of the special interests. I want to bring transparency to city government and be a voice for healthy growth and our community." She described her opponent, Russ Hall, as a "Lincoln Club Republican," saying that club had paid for an "independent" hit piece attacking her in the primary. Benssousan also boasted that when Chula Vista held its first Pride event this year, she was the only City Council candidate who attended. She got 100 percent on the club's issues questionnaire.

Alvarado-Rios got 98 percent, but it turned out that was only because she misunderstood the question: whether colleges that don't allow military recruiters on campus should be penalized by the federal government. (She said that she doesn't think military recruiters should be allowed on campuses, period.) Alvarado-Rios said her main issues are public safety, governmental transparency, environmental justice and involving more citizens in the governance of National City, even though 65 percent of its population are renters — who usually don't participate as extensively in local politics as homeowners.

Finally, the club endorsed three openly Queer candidates in other areas — Mark Leno for a State Senate seat from San Francisco; Jared Polis in Congressional District 2 in Colorado; and Linda Ketner for South Carolina Congressional District 1. The club also voted to oppose construction of a new natural gas-fired "peaker" power plant in Chula Vista on the ground that the currently proposed site (where an old and rarely operated power plant already exists) is too close to residents and schools.

Report this post as:


by Mark Gabrish Conlan/Zenger's Newsmagazine Thursday, Oct. 02, 2008 at 7:00 AM
mgconlan@earthlink.net (619) 688-1886 P. O. Box 50134, San Diego, CA 92165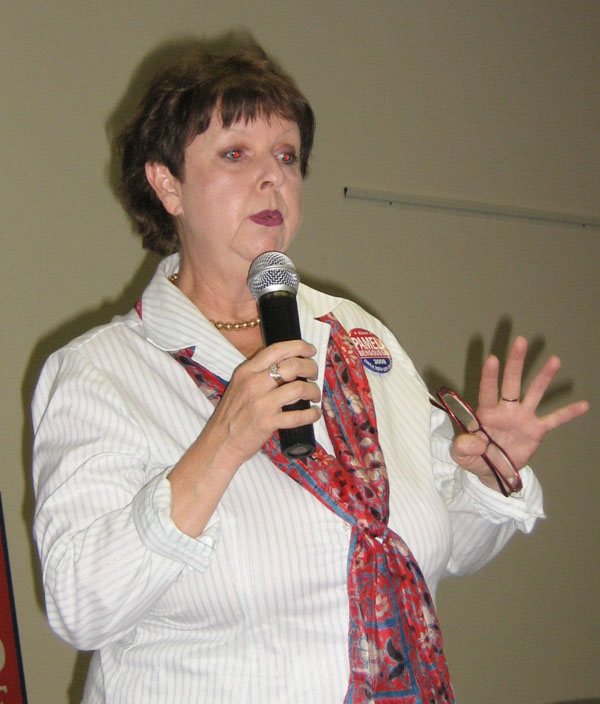 benssousan.a.jpg, image/jpeg, 600x704

Report this post as:


by Mark Gabrish Conlan/Zenger's Newsmagazine Thursday, Oct. 02, 2008 at 7:00 AM
mgconlan@earthlink.net (619) 688-1886 P. O. Box 50134, San Diego, CA 92165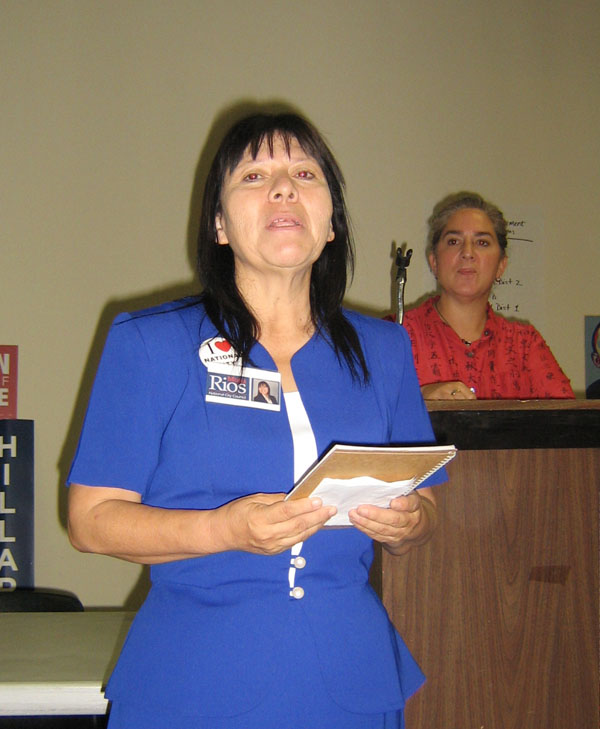 alvarado-rios.a.jpg, image/jpeg, 600x729
Report this post as:
Local News

LA Fields Two Marches Against Police Executions Photoset 2 of 2 A21 9:09PM

LA Fields Two Marches Against Police Executions Photoset 1of 2 A21 7:01PM

Running Down the Walls 2014 A20 8:48PM

Weaving the Past: Journey of Discovery Extends Exclusive Engagement A19 3:37PM

Los Angeles Declares "Hands Up!" in Peaceful Protest of LAPD Murder of Ezell Ford A18 4:09AM

Ezell Ford and Ferguson Solidarity A17 6:35PM

Family and Supporters of #Justice4Fords Protest LAPD Execution of Ezell Ford in South L.A. A17 2:49PM

Southern California Swarms to Save the Bees in Solidarity with Honey Bee Day Around the Gl A17 5:30AM

L.A Supports August 2nd International Gaza Protest Photoset 4 A05 7:03PM

L.A Supports August 2nd International Gaza Protest Photoset 3 A05 6:45PM

More about KPFK via Pacifica turmoils A05 6:29PM

L.A Supports August 2nd International Gaza Protest Photoset 2 A05 6:23PM

L.A Supports August 2nd International Gaza Protest Photoset 1 A05 11:36AM

Demonstration in Support of Persecuted Christians Saturday A02 10:40AM

Water in California - info proliferated now is dubious J28 5:04PM

Pacifica clearly endangered. Reposting info here: J28 2:34PM

Video: Occupy Love (2013), 1 hr 19 min J28 4:43AM

Who declares themselves to be the ultimate-only-valid-authority here on current wars elsew J27 11:11AM

MDRC's Rent Reform Assault: Section 8 tenants vs. affordable housing industry J24 12:24AM

Obama at LA Trade Tech J23 3:23PM
More Local News...
Other/Breaking News

The Shortwave Report 08/29/14 Listen Globally! A28 4:40PM

Wasecans hope trip to Ghana makes a difference A28 1:27PM

Targeting Syria A28 11:42AM

The Russians Are Coming Big Lies A28 5:11AM

Washington Sabotages Russian/Ukrainian Summit A27 1:29PM

The unconditional basic income - a social concept for Europe A27 10:49AM

Gaza Ceasefire: Hold the Cheers A27 6:04AM

Ottawa, Kansas Police Cure for Depression is 16 Bullets A27 4:08AM

Turkey is training ISIS / Islamic State A26 2:58PM

Did Obama really save the Yezidis? A26 2:38PM

Obama Declares War on Syria A26 12:43PM

What we're being told about ISIS just doesn't add up A26 12:29PM

Another No-Peace Ceasefire A26 12:23PM

Mejicanada angelina rechaza contundentemente al "Presidente" Peña Nieto A26 12:19PM

Joseph Stiglitz Calls for Fair Taxes for All A26 5:05AM

Israel v. Palestine: MSM Unreported Truths A26 4:05AM

Russia and America: Geopolitical Opposites A26 3:40AM

Anarchie ou barbarie A26 12:11AM

Steven Salaita's Academic Lynching A25 10:32AM

America's Mind Manipulators Meet New Members A25 10:27AM

Pharma Corps Act as Mafia Dons by Suppressing Cancer Treatment Alternatives A25 7:35AM

in-human rights in the U.S. A25 6:46AM

Fascism Grips Israel A25 5:55AM

The Free Trade Trap A25 4:30AM

Shocks The Conscience, Offends Sensibilities A24 2:53PM

Ukraine's Independence Day A24 12:12PM

Israel's Genocidal Killing Machine A24 7:58AM

Obama Heading for War on Syria? A24 3:22AM
More Breaking News...