Features
•
latest news
•
best of news
•
syndication
•
commentary

Feature Categories



KILLRADIO
printable version - js reader version - view hidden posts - tags and related articles

by Mark Gabrish Conlan/Zenger's Newsmagazine Thursday, Apr. 10, 2008 at 7:04 PM
mgconlan@earthlink.net (619) 688-1886 P.O. Box 50134, San Diego, CA 92165
The predominantly Queer San Diego Democratic Club supported the city's corrupt political establishment and its handmaidens in organized labor and refused to support progressive Democrat Mike Aguirre for re-election as city attorney. Instead they endorsed moderate Democrat City Councilemmber Scott Peters even though Peters voted to renew the Boy Scouts of America's sweetheart lease on city land in 2001 and refused to commit to backing Aguirre in a general election against a Republican.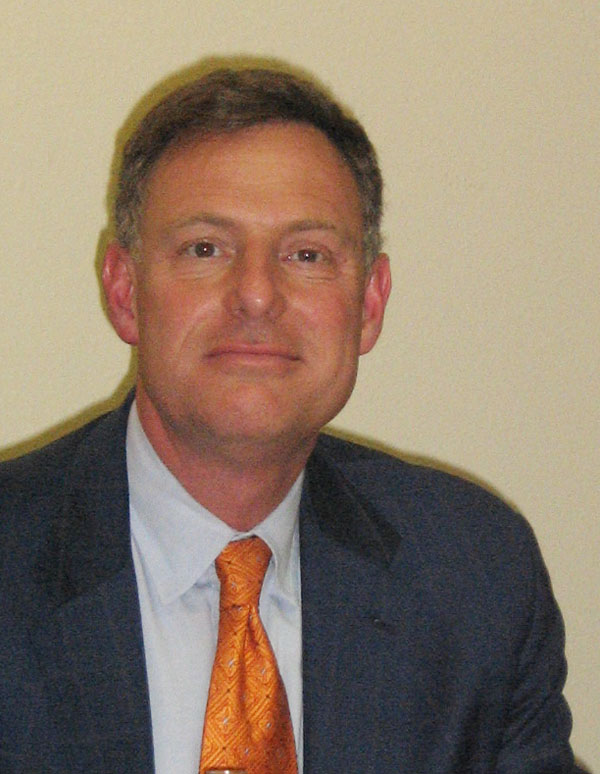 peters.a.jpg, image/jpeg, 600x774

Queer Democrats Endorse Peters for City Attorney

Go Along with City Establishment, Labor; Spurn Incumbent Aguirre

by MARK GABRISH CONLAN

Copyright © 2008 by Mark Gabrish Conlan for Zenger's Newsmagazine • All rights reserved

In a surprising move, the predominantly Queer San Diego Democratic Club went with the city's business establishment, public-employee unions and the San Diego Union-Tribune and endorsed moderate Democrat Scott Peters for city attorney against the incumbent, Mike Aguirre. The endorsement came at the end of a 2 1/2-hour meeting March 27 during which Aguirre, Peters and a third Democrat in the race, private-practice attorney Amy Lepine, spoke — and, during the club's own debate that followed, Peters' supporters, may of them from the San Diego Municipal Employees' Association (MEA), accused Aguirre and his backers in the club of being anti-labor because of Aguirre's attempts in court to break the city's contracts with its employees' pension funds.

The March 27 meeting was actually the second time the club had considered the city attorney's race. Aguirre had spoken at a previous club meeting January 24 along with two other prospective candidates for the office, Dan Coffey and Lee Burdick — both of whom have since withdrawn and endorsed Peters. At that meeting, the club voted 43 to 28 to table the endorsement until March, at least partly in the hope that other candidates would emerge. At both the January and March meetings, club members were greeted at the door by MEA picketers carrying signs reading, "Mike Aguirre Must Go." While the debate in January had focused mainly on the responsibility of the city attorney — whether the job is primarily legal advisor to the mayor and city council or representative of the people of San Diego as a whole -— in March most of the questions and answers focused on the pension issue and the candidates' relationship to city workers and the labor movement in general.

Peters, who is nearing the end of his second term on the San Diego City Council and has served as Council president since the city went to a strong-mayor form of government in 2005, began the candidates' forum by saying, "For 15 years, before I was on the City Council, I was an environmental attorney. I'm proud of my record as a Democrat. One thing I haven't done is demonize our workers. I have respected the pensions they earned and haven't tried to take them away. I have a long history of employing women and I've never had a history of sexual harassment" — a reference to Lepine's claim that Aguirre harassed her when she worked for him in the city attorney's office, an allegation Lepine herself didn't mention at the meeting. Peters also boasted that the San Diego-Imperial Counties Central Labor Council and the Firefighters' Union had already endorsed him.

"When I became city attorney we completely reorganized the office and found that San Diego had engaged in the largest municipal securities fraud ever discovered by the Securities and Exchange Commission (SEC)," Aguirre said — adding that Peters, as Councilmember, shared responsibility for authorizing false statements about the city's financial status to help sell the city's bonds. (As a result of the alleged frauds and the lowering of the city's credit rating, San Diego has not been able to sell municipal bonds since 2003.) Aguirre cited his history as a supporter of organized labor — "I was Cesar Chavez's attorney when he died," he said — and noted that he had opposed the city's renewal of its contract with the Boy Scouts of America for access to 18 acres of city parkland in 2001, when Peters provided the deciding vote on the City Council to support it.

"I'm here to offer you a choice," said Lepine. "We are put between two very bad extremes. We need an independent city attorney, but the incumbent has such a polarizing effect nothing is getting done." Noting that the Kroll accounting firm's report on the cty's finances had singled out Peters as one of the councilmembers whose negligence got the city into the pension-fund crisis in the first place, Lepine added, "If litigating our way out of this was possible, it would have happened by now. The city has not got a dime back and no one has gone to jail because of what [Aguirre] has done."

Answering the first audience question — about the candidates' roles in the pension crisis — Lepine amplified her last point and said that, whether the city's pension deals with its workers were financially advisable, they were binding contracts and no court was going to break them. "I left my nice, comfortable job to fight corruption at City Hall," she said, "and while I was in the city attorney's office we were keeping the cases alive. I saw from within the problems with, and futility of, the litigation. No judge in the country will take away vested pension rights. We need to find a new, creative way of working with our employees to solve the problem."

Aguirre, up next, had based the lawsuits to break the pension contracts on a state law that says cities can't spend money they don't have — and the theory that since the city didn't have the money to pay the benefits they'd promised the workers, the contracts were illegal and therefore the courts should void them. Before the meeting, he passed out copies of a statement of decision in one of the pension cases in which the judge, Jeffrey B. Barton, had written, "The legal principles the City uses to challenge the benefits in this action appear to be one of the few available mechanisms to do so under the remedies in the state court system. Despite the creative use of these principles and the excellent presentation of the case at trial by the City, previous inconsistent positions taken by the City before the filing of the cross-complaint raise significant obstacles to the City's current effort to undo the remaining pension benefits."

Asked for clarification by this reporter before the meeting, Aguirre said that the "previous inconsistent positions" referred specifically to Scott Peters' public statements as City Council president that the city had no intention to break the pension contracts and no interest in doing so. During this discussion, former city attorney candidate Dan Coffey accosted Aguirre and asked him for a copy of the document. Aguirre refused and told Coffey to go away, but another person in the audience fetched a copy from one of the chairs where Aguirre had dropped them and gave it to Coffey.

When he addressed the issue during the meeting, Aguirre defended his legal record in the pension cases — which has been a good deal better when he's been able to get away from San Diego judges and argue before appeals courts in other cities. "Last fall the appellate court ruled in Sacramento that the California legislature could not fund pensions by paying them in later years," Aguirre said — explaining that that was a precedent on which he was relying to ask the courts to throw out the San Diego pensions as well. He added, that the appellate court had also "found that there was a viable criminal case" against the members of the city's pension board, a ruling now pending before the California Supreme Court.

"The only way that we can get the city back on track is to refinance the pension deals," Aguirre said. "There are 0 million in giveaways that our children and grandchildren are going to be paying for. Every other candidate in this race has given in to the unions."

"The pension was overfunded since the mid-1990's and we addressed that in 2004," Peters replied. "In 2005 we did a labor deal that saved 0 million by canceling raises for city employees and imposing a 6 percent pay cut. In 2006 we hired an independent budget analyst, and in 2007 the actuary Mike Aguirre uses as his source told us that the pension system is now solvent."

Two specifically Queer issues came up during the debate, and both brought forth fireworks even though the candidates essentially agreed with each other — and with the club — on one, marriage equality for same-sex couples. All three supported it — Lepine called it "the civil rights issue of our time" — but Aguirre's claim that he spearheaded the effort to get San Diego to join the lawsuit before the California Supreme Court to have the state's ban on same-sex marriage declared unconstitutional drew an angry response from City Councilmember Toni Atkins, a Peters supporter, later in the meeting.

Aguirre said that he was responsible for inviting Dennis Herrera, the city attorney of San Francisco, to speak to the San Diego City Council and urge them to get involved in the case. Atkins said the invitation to Herrera had actually come from Dale Kelly Bankhead, local representative of the American Civil Liberties Union (ACLU), which is heavily involved in the case on the side of marriage equality.

The other Queer issue that came up was the Boy Scouts lease, which the City Council voted to renew in 2001 despite the Boy Scouts' open discrimination against Queers and atheists — and despite warnings that the city's Human Dignity Ordinance (HDO), which bans discrimination on the basis of sexual orientation or gender identity, made it illegal for the city to give exclusive use of public parkland to a group that practices such discrimination. Peters, who provided the deciding vote to renew the Boy Scouts' lease — a decision later voided in a court case the city chose not to appeal — did a dramatic turnaround before the club on March 27.

"I'm someone who understands when I made a mistake, and that was a mistake," Peters said. "I broke Toni Atkins' heart and I've worked hard to regain her support. We learned from the court that it was illegal and I did vote to settle the case.'

"I don't think we need a court case to tell us you can't discriminate on sexual persuasion," Lepine said. "We need to be more pro-active about seeking out and addressing this type of discrimination and rooting it out."

"The city attorney at the time [Aguirre's predecessor, Casey Gwinn] wrote a legal opinion not to enforce the law, and did so after consulting with the City Council," Aguirre said. "Scott Peters and I can tell you a lot of different things. Both of us practiced law. The Constitution and the city charter were clear, but for political reasons Scott Peters didn't stand up to do what's right. The city attorney has to be willing to stand up and tell you what you don't want to hear, because it's right. It shouldn't be a matter of political calculation."

The candidates even disagreed dramatically on what's usually a routine question before a partisan club: will you support your party's candidate in the general election if you don't make the runoff yourself? "Of course I'd support the Democrat," said Aguirre — "unlike my opponent [Peters], who on the City Council votes with the Republicans more often than with the Democrats." But Lepine said point-blank that she wouldn't promise to vote for Aguirre if the general election is between him and a Republican. Peters also refused to pledge his support for a Democrat in the general election, adding that he thinks that if Aguirre is the Democrat in the runoff, whichever Republican runs against him — former Assemblymember Jan Goldsmith or City Councilmember Brian Maienschein — will win easily.

After the candidates spoke, the club followed its usual procedure and asked them to leave the room while club members and others in the audience debated the race. The first speaker, on Peters' behalf, was former candidate Dan Coffey. "I clearly oppose Aguirre for a lot of reasons," Coffey said. "He's a weak and non-viable candidate. Scott Peters has the integrity and the resources to run two rounds against all comers. Aguirre doesn't have the resources to run a citywide race. Peters will stand up for principles and build up the party. All Aguirre has done is tear down and attack."

Peters also got a surprise endorsement from Howard Mentzer, local chair of Scouting for All, which led the citizens' campaign to get the city to end its lease with the Boy Scouts. "I came here tonight to vote against Scott Peters," Mentzer said. "I was very upset with his vote on the Boy Scouts. I talked to all three candidates and I was inconclusive. Then Aguirre came up, talked in circles and was on a total attack against his opponents. Scott apologized, and I believed him."

"Four years ago, I endorsed Mike Aguirre, gave him money and made phone calls for him," said Councilmember Atkins. "I support Scott Peters because these are complicated issues that require different solutions. Scott has supported us on issues that have represented Democratic values. This club's endorsement means a lot in this county. Scott Peters has supported medical marijuana. … Mike Aguirre has been a friend to our community, but we need to stand by labor and not make them the scapegoats for the city's financial problems."

Many of the people who spoke for Peters were themselves city workers and made it clear that for them the issue was their bottom line: they wanted their pensions preserved intact and were worried Aguirre's court strategy might cut them. "I'm a city of San Diego garbage-truck driver and president of the AFSCME [American Federation of State, County and Municipal Employees] local, and the idea that the City Council president is giving in to my union is laughable," said Jean Raymond. "I have been demonized personally by Mike Aguirre and my workers have been demonized. My workers have had to spend hundreds of thousands of dollars of our money to fight Aguirre's attacks on our benefits."

Aguirre's supporters in the audience emphasized his record on behalf of the environment, his resistance to the Republican-dominated political establishment they claim runs San Diego, and his independence. "I'm not speaking for Mike Aguirre because I work for him," said attorney Alex Sachs. "I support Mike because Mike supports us. Mike issued a legal opinion on the flaws in the 301 University project" — a 12-story high-rise planned for Third and University in Hillcrest, later abandoned when a court ruled its approval by the City Council (on a 7-1 vote with both Peters and Atkins supporting it) violated Hillcrest's planning process — and, Sachs added, backed other local planning groups against developers and their supporters on the City Council. Sachs also reminded the club that Peters had refused to seek the club's endorsement when he ran for re-election in 2004 and had never spoken to it between the Boy Scouts' vote and now.

The club took two ballots to make the endorsement. On the first ballot, Peters got 47 votes — three short of the 60 percent required — to 17 for Aguirre, 6 for Lepine and 12 for no endorsement. On the second vote, with 21 fewer members voting, Peters got 39, exceeding the 60 percent figure by two votes (one of them his own; though agreeing to leave the room during the club debate, he insisted that as a paid-up member he had the right to vote for himself, and club president Andrea Villa agreed) to Agurre's 7 and 15 for no endorsement.

Earlier in the evening, the club also turned back an effort to rescind its previous endorsement of incumbent Congressmember Susan Davis, who angered some members with her votes for funding the Iraq war on the Bush administration's terms and a version of the Employment Non-Discrimination Act (ENDA) that bans discrimination against sexual orientation but leaves Transgender people unprotected. By a vote of 42 to 21, the club agreed to sustain the Davis endorsement.

Report this post as:


by Mark Gabrish Conlan/Zenger's Newsmagazine Thursday, Apr. 10, 2008 at 7:04 PM
mgconlan@earthlink.net (619) 688-1886 P.O. Box 50134, San Diego, CA 92165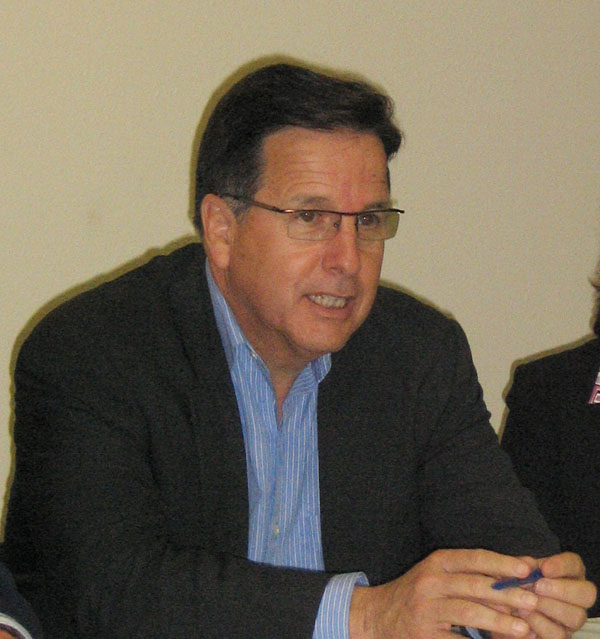 aguirre.a.jpg, image/jpeg, 600x639

Report this post as:


by Mark Gabrish Conlan/Zenger's Newsmagazine Thursday, Apr. 10, 2008 at 7:04 PM
mgconlan@earthlink.net (619) 688-1886 P.O. Box 50134, San Diego, CA 92165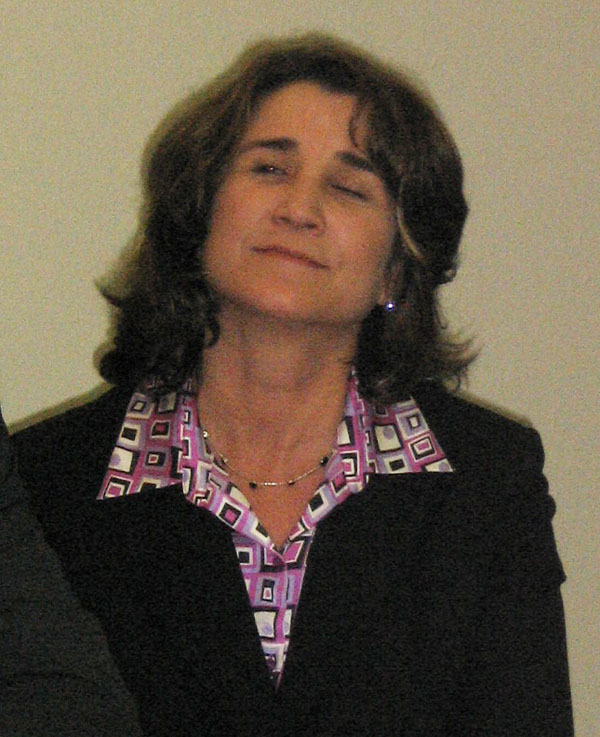 lepine.a.jpg, image/jpeg, 600x737
Report this post as:
Local News

GUIDE TO REBEL CITY LOS ANGELES AVAILABLE A12 5:39PM

lausd whistle blower A10 11:58PM

Website Upgrade A10 3:02AM

Help KCET and UCLA identify 60s-70s Chicano images A04 1:02PM

UCLA Luskin: Casting Youth Justice in a Different Light A02 11:58AM

Change Links April 2018 A01 11:27AM

Nuclear Shutdown News March 2018 M31 6:57PM

Join The Protest Rally in Glendale on April 10, 2018! M29 7:00PM

Join The Protest Rally in Glendale on April 10, 2018! M29 6:38PM

Spring 2018 National Immigrant Solidarity Network News Alert! M19 2:02PM

Anti-Eviction Mapping Project Shows Shocking Eviction Trends in L.A. M16 5:40PM

Steve Mnuchin video at UCLA released M15 12:34AM

Actress and Philanthropist Tanna Frederick Hosts Project Save Our Surf Beach Clean Ups M06 12:10PM

After Being Told He's 'Full of Sh*t' at School Event, Mnuchin Demands UCLA Suppress Video M02 11:44AM

Resolution of the Rent Strike in Boyle Heights M01 6:28PM

What Big Brother Knows About You and What You Can Do About It M01 3:30PM

Step Up As LAPD Chief Charlie Beck Steps Down F14 2:44PM

Our House Grief Support Center Hosts 9th Annual Run For Hope, April 29 F13 12:51PM

Don't let this LA County Probation Department overhaul proposal sit on the shelf F13 11:04AM

Echo Park Residents Sue LA Over Controversial Development F12 8:51AM

Former Signal Hill police officer pleads guilty in road-rage incident in Irvine F09 10:25PM

Calif. Police Accused of 'Collusion' With Neo-Nazis After Release of Court Documents F09 7:14PM

Center for the Study of Political Graphics exhibit on Police Abuse posters F07 9:50AM

City Agrees to Settle Lawsuit Claiming Pasadena Police Officer Had His Sister Falsely Arre F04 3:17PM

Professor's Study Highlights Health Risks of Urban Oil Drilling F04 12:42PM

Claims paid involving Pasadena Police Department 2014 to present F04 10:52AM

Pasadenans - get your license plate reader records from police F03 11:11PM

LA Times Homicide Report F03 1:57PM
More Local News...
Other/Breaking News

Doxa du lobby A25 2:03AM

Tech workers organize A24 6:24PM

Architect Stephen Francis Jones A24 3:01PM

UN Forum Wrestles with Economic Policies 10 Years After Financial Crisis Islands Call for A24 12:34PM

Xyloglossie attitudinale A23 8:07AM

Shadowgun Legends Hack and Cheats A23 7:24AM

What does the Quran Say About Islamic Dress?? A21 4:15PM

Biodiversité ou la nature privatisée A20 11:22AM

The Market is a Universal Totalitarian Religion A20 7:14AM

Book Available about Hispanics and US Civil War by National Park Service A19 5:52PM

The Shortwave Report 04/20/18 Listen Globally! A19 4:01PM

The Republican 'Prolife' Party Is the Party of War, Execution, and Bear Cub Murder A19 11:48AM

Neurogenèse involutive A18 9:21AM

Paraphysique de la dictature étatique A16 10:13AM

Book Review: "The New Bonapartists" A16 3:45AM

The West Must Take the First Steps to Russia A14 12:25PM

Théorie générale de la révolution ou hommage à feu Mikhaïl Bakounine A14 3:30AM

The Shortwave Report 04/13/18 Listen Globally! A12 3:50PM

"Lost in a Dream" Singing Competition Winner to Be Chosen on April 15 for ,000 Prize! A12 3:48PM

The World Dependent on Central Banks A12 4:43AM

Ohio Governor Race: Dennis Kucinich & Richard Cordray Run Against Mike DeWine A11 9:40PM

March 2018 Honduras Coup Again Update A10 10:52PM

Apologie du zadisme insurrectionnel A10 3:33PM

ICE contract with license plate reader company A10 1:14PM

Palimpseste sisyphéen A09 11:23PM

Black Portraiture(S) IV: The Color of Silence...Cuba No...Cambridge Yes A09 5:32AM

Prohibiting Micro-Second Betting on the Exchanges A09 4:18AM

Prosecutors treat Muslims harsher than non-Muslims for the same crimes A08 10:33PM
More Breaking News...