Features
•
latest news
•
best of news
•
syndication
•
commentary

Feature Categories



KILLRADIO
printable version - js reader version - view hidden posts - tags and related articles

by Mark Gabrish Conlan/Zenger's Newsmagazine Tuesday, Mar. 25, 2008 at 10:31 AM
mgconlan@earthlink.net (619) 688-1886 P.O. Box 50134, San Diego, CA 92165
Though San Diego Congressmember Susan Davis voted against the original authorization for the war in Iraq, since then she's been a faithful supporter of funding the war and last year crossed party lines to vote for the open-ended, three-year commitment to the occupation pushed by the Bush administration. Mike Copass, scientist and legal consultant, is mounting a grass-roots primary campaign against her with the support of Progressive Democrats of America, who helped Donna Edwards mount a similar challenge in Maryland to a pro-war Democrat.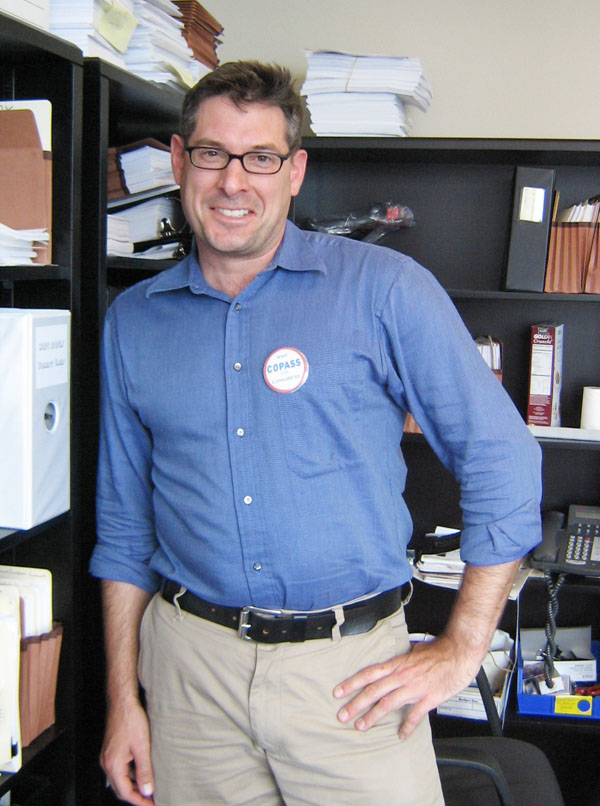 copass_4.a.jpg, image/jpeg, 600x806
MIKE COPASS:

Progressive Scientist Takes On Susan Davis for Congress

interview by MARK GABRISH CONLAN

Copyright © 2008 by Mark Gabrish Conlan for Zenger's Newsmagazine • All rights reserved

San Diego's progressives have long had a love-hate relationship with Congressmember Susan Davis. They loved her when she initially ran for Congress in 2000 and unseated three-term Republican incumbent Brian Bilbray from Imperial Beach (who has since carpetbagged to North County to regain a Congressional seat by replacing the corrupt Randy "Duke" Cunningham). They hated her when she provided the deciding vote to grant President Bush so-called "fast-track" authority to negotiate job-killing, environment-destroying "trade" agreements — especially when it turned out she'd taken a $25,000 contribution from executives of Qualcomm, a company that stood to benefit from such agreements, just two weeks before the vote.

The progressives loved her again in October 2002, when she had a rare attack of courage and voted against authorizing President Bush to attack Iraq — dodging a mistake John Kerry, Hillary Clinton and John Edwards had made. Since then, however, she's been a faithful supporter of war funding, even — as her primary opponent, Mike Copass, explains below — going against House Speaker Nancy Pelosi and the Democratic leadership to vote for the Republicans' bill to fund the occupation of Iraq for at least three more years without any withdrawal dates, timetables or benchmarks with which to hold the Iraqi government accountable.

A microbiologist by profession, Mike Copass works as a staff member advising on pharmaceutical-industry cases for the plaintiffs' law firm of Coughlin, Stoia, Geller, Rudman and Robbins downtown. His main argument for replacing Susan Davis is to point out that the 53rd Congressional District encompasses the most progressive parts of San Diego — downtown, uptown, Hillcrest, North Park, City Heights and Ocean Beach — and therefore deserves a representative as progressive as South Bay Congressmember Bob Filner, a consistent opponent of the Iraq war and pro-corporate 'trade" deals. Copass admits unseating an incumbent in a party primary is an uphill battle, but he points to successes — notably Donna Edwards' recent primary victory in Maryland's Fourth Congressional District against eight-term incumbent Al Wynn, who'd alienated voters in a progressive district by voting to authorize and, later, fully fund the Iraq war.

Zenger's: Just tell me about yourself, your background and how you got here.

Mike Copass: I was born in the Pacific Northwest, in the city of Seattle, in 1969. I am the son of an emergency-room physician, Dr. Michael Copass, who works at Harborview Hospital. It's King County's county hospital. The hospital takes in the people the other hospitals refuse to admit because they don't have insurance. My mother is Lucy, and she's a long-time League of Women Voters member and a planning commission advocate.

I have an aunt who's an Episcopal minister, Father Nancy, and some other remarkable aunts and uncles, one of whom is named Mary Ames, who worked many years to bring an end to the Viet Nam conflict. She told me several years ago, "You know how we did it? We lobbied the Appropriations Committee. We got smart. We knew that we had to end the funding for it. If we ended the funding, the occupation and the war would have to end."

Zenger's: It sounds like your family is still in Seattle. What brought you to San Diego?

Copass: I came to San Diego in a roundabout fashion. I lived in the Seattle area for the first 18 years, and then I went to Stanford University in the Bay Area. I was very excited about their academic and athletic programs. I'm a distance runner. I ran the mile and two-mile in high school and the 10K in college. I've run a 4:18 mile, which is the modest mark. After college I worked in San Francisco for two years. I loved living in the city. I worked as a research assistant in the biochemistry department of Stanford University. I lived on Potrero Hill.

Then I moved to Siena, Italy. I obtained a fellowship to work in the Immunological Research Institute of Siena, It's abbreviated IRIS, "iris." After 2 1/2 years in Italy, I applied and was accepted to graduate school at Harvard Medical School. I obtained a Master's degree from Harvard in microbiology and molecular genetics, where I worked on salmonella. Then, after about 12 years at the bench in academic science, I decided it was time for something completely different. I came to San Diego in mid-2002. In fact, it was September 4, 2002, which is both my birthday and Bob Filner's birthday.

Zenger's: September 4? That's also my birthday.

Copass: Very auspicious. It makes us both Virgos, very keen on details. So I came around on September 4, our mutual birthday. I was asked by an attorney at Coughlin, Stoia if I would be willing to review a number of scientific documents that pertained to a securities-fraud litigation matter, that being my expertise. The attorneys know the law extremely well, but not necessarily the vagaries of clinical drug trials.

Zenger's: So they get a scientific paper in discovery, and then they have to bring in someone like you to tell them what it means.

Copass: Yes, both the data and the back-and-forth debate on the statistical analysis. I began statistical work as a consultant to this plaintiffs' firm, and then I've stayed on.

Zenger's: What made you decide to run for Congress?

Copass: Having begun paying extremely close attention immediately before and after the 2004 election, I saw that our nation, literally our republic, is in for troubled times. I wanted to do everything I could in my power as a citizen to work make it better. At first I worked outside electoral politics, as a volunteer for Progressive Democrats of America (PDA) as a point person for the 53rd Congressional District. My job was to communicate with the PDA members in the 53rd about what their concerns were, and bring them to the attention of their Congressional representative, Susan Davis.

The major concerns were impeachment, impeachment, out of Iraq, impeachment, out of Iraq, and government according to the Constitution. I brought those to a meeting with Susan Davis and her staff, and we had an opportunity to discuss the pending legislation, H.R. 508. This was a bill by Congressmember Lynn Woolsey called "Bring the Troops Home: Restoration of Iraqi Sovereignty." It's called H.R. 508. It's still in committee. I think it's actually gone to Susan Davis's House Armed Services Committee.

We were upset that Rep. Davis refused to support H.R. 508 and she also refused to move on impeachment, or on investigations that would lead to impeachment, of an executive branch that has clearly run amok. I realized that Rep. Davis was not going to take action on issues that were very important to the progressive community that I represented.

Many people had asked me to consider running for the office. My first thought was, "Good God! Who am I to run for office, a scientist working for a law firm? I'm an advocate, happy to be a lobbyist." I had a profound conversion last fall, and I agreed to take on running for the office to serve as a progressive voice, a progressive representative in a California district that by any measure of the term is quite on the progressive side. We're talking about Ocean Beach, downtown, uptown, Hillcrest, University Heights, the beaches. This is the progressive stronghold of San Diego County.

Zenger's: You described it as a "conversion." What exactly happened on your road to Damascus?

Copass: I thought, in 25 to 30 years from now when I've got children, and grandchildren bouncing around on my knee, they're going to want to know the story of the crisis that the American republican system of government went through in the early 2000's. And, however the story turns out, they're going to want to know from their dad or their uncle Mike, what did I do? When the time was called for all good men to come to the aid of their country, what did I do? And I don't want my account to be found lacking. I have the opportunity and the ability to make a difference.

Zenger's: I've been covering Susan Davis for years, and I was impressed with her with her during her days in the state legislature, when she really seemed to be a committed progressive voice. I was extremely disappointed when she cast the deciding vote to give President Bush fast-track authority on trade deals, and did that two weeks after receiving a $25,000 contribution from Qualcomm. Then she voted against authorizing the war in Iraq, and I liked her again.

Copass: Yes, you had to. It was a Paul Wellstone moment, October 2002. But what has happened since then? There's been the Peru CAFTA vote, which has really made labor unhappy. I want to be completely honest: I think that these supranational trade agreements , whether made by bodies such as the World Trade Organization or negotiated between countries like NAFTA, are by and large a terrible idea. They benefit a very narrow elite of our population. We're told that they will bring some kind of magical benefit. We'll all become knowledge workers because our manufacturing jobs will now be done overseas.

But the record shows that they have these horrible unintended consequences — at least I'd like to think they were unintended — such as the NAFTA-permitted dumping of U.S. corn, a subsidized product, on Mexican markets. Doesn't sound so bad, does it? Until you consider that the Central Americans who grow corn for their living — it's maize; they've been growing it for thousands of years — now they can't earn a living as farmers. They can't compete with a subsidized product, sold on their markets at below-cost, below-market levels.

So they lose their land, and who knows who picks it up — the Mexican subsidiary of Archer Daniels Midland, probably. They make their way to Mexico's cities to join the ranks of the urban poor. And at some point, when they get desperate enough, they become undocumented immigrants and come here. We here in the border regions are the first to feel the blowback from these disastrous trade deals.

You can't say they're to the detriment of all. They're to the emolument and enrichment of a narrow segment of folks who sit on the boards of the corporations, that hold the stock options, that have the most to gain. But from the human perspective, these trade agreements cause increased hardship, misery and suffering. Which is why you see them so fiercely opposed. Not to mention the loss of solid manufacturing-sector jobs, union jobs, here in this region, in San Diego, and across the country, to places that don't enforce labor standards. This is very troubling, and I think a reason why the organized labor movement is very opposed to things like the fast-tracking of trade deals.

You had an issue with Susan Davis on the fast-tracking on those bills, and then she won you back with a vote against the force authorization in October 2002. Since then, there's been a troubling pattern of consistent votes for the funding of the Iraq occupation. I specify "occupation" and not "war" because the part you could rightly call a "war" began March 19, 2003 and was over officially when George Bush landed on the aircraft carrier — the U.S.S. Lincoln — parked conveniently off of San Diego, and announced an end to major combat operations in front of a banner saying, "Mission Accomplished."

At that point the war was over., The U.S. military in its awe-inspiring might — and it is an awesome force — had accomplished nearly all the objectives it had been asked to do under the mandate. There was no stipulation that the U.S. military remain indefinitely, or until Iraq had established a representative democracy that was, of course, going to make the "right" decisions vis-à-vis what we wanted, pass the Iraq hydrocarbons law. None of this was in the charter.

The troops should be saluted for having done an incredibly excellent job under duress. They completed their jobs and should be welcomed home. When Susan Davis voted consistently to fund the continued occupation — and, really, to extend the occupation — this becomes very troubling to myself and the entire progressive Democratic community. In May 2007, not long after the 110th Congress — the first Democratic-controlled Congress in 12 years — was sworn in, a bill came to the floor that George Bush and Dick Cheney and the GOP faction of the House wanted, which was open-ended, no withdrawal date, $100 billion for the continued occupation.

This isn't just a few big coins stuck in the meter that keeps the occupation going for a few months. This is a three-year procurement cycle for weapons, for replacement parts, for everything that gets bidded out by the Pentagon. The Bush administration made it look like if it didn't pass, the troops in Iraq wouldn't have ammunition, armor, supplies or even food and water — but that wasn't what the bill said. The bill said the actual material wouldn't even start arriving for 16 to 18 months. So with that funding bill, you're making a long-term commitment to this occupation. You're going into a relationship with it. Three years.

When I saw that Susan Davis had voted yes to this funding bill, along with Brian Bilbray and Duncan Hunter, I became deeply disturbed. Susan Davis had crossed party lines. She had gone against the wishes of Nancy Pelosi and the House majority leadership to vote for this war funding bill. Had all the Democrats in the House voted against it, the bill would have failed. There were enough Democrats who defected that the war funding bill passed, and Susan Davis was among them.

Zenger's: What other issues do you think that Susan Davis have failed on, in terms of the priorities of the progressive community?

Copass: To be fair, I don't want to compartmentalize the issue of war apart from the others, because ending the occupation, ending the disastrous open-ended funding that's the giant sucking sound of hundreds of billions of dollars, directly affects, impacts, just about every other issue of government.

Under that umbrella of failure, the subheadings are a lack of government according to the United States Constitution, particularly regarding the accountability of public officials. We believe that authority should never be granted without accountability. Authority without accountability is essentially a dictatorship, if you will. And when in the face of so many weil-enumerated, well-described crimes against the Constitution, from deception and fraud that took a country to war — a war of aggression — to the circumvention of the FISA [Foreign Intelligence Services Act] court; the surveillance of U.S. citizens perpetrated by Bush/Cheney and the Department of Justice; the signing statements that are essentially line-item vetoes deciding what parts of Congress's laws he will and won't enforce: all of these are grounds for impeachment.

What is the purpose of having a Congress if, after a month of their careful deliberation and consulting and crafting a bill and compromise, if the President says, "This part I will enforce. This part I don't agree with, so I'm not going to." At that point, either Congress has to say, "We're just a rubber stamp," and admit it; or we might as well pack up our bags and go home, and accept that we have a dictatorial system.

Zenger's: Oh, come on, Mike. You know perfectly well that, at this point in our history, there's only one ground for impeachment, and that is sex. As long as Bush isn't caught having an affair with a White House aide, or paying an insane amount of money for a prostitute, he's home free.

Copass: I'm glad you brought that up, because I was getting a little dizzy on the soapbox. But you have a point there. In a patriarchal sense, in the strict-father morality that [UC Berkeley professor of cognitive science] George Lakoff talks about, lack of self-restraint in committing acts of sexual lust or deviance, or giving into the sins of the flesh, represents something really bad because you lack self-restraint. You're not a good strict-father figure, etc. However, these other issues, such as massacre of innocent people abroad; targeting civilian infrastructure — since no sex is involved, that's not an issue.

My point is that the failure to start impeachment proceedings against George W. Bush and Dick Cheney is a failure to hold them accountable for their violations of the U.S. Constitution. Susan Davis was very frank: she sent the same letter to just about everyone, the thousands of people who asked her to support impeachment, either in general or specifically to support Dennis Kucinich's bill for the impeachment of Cheney.

The letter I got from Representative Davis to my e-mail plea was that there are other ways to hold the administration accountable; she would be asking the hard questions, particularly as a member of the House Armed Services Committee; that she thought impeachment would be a waste of the taxpayers' money — although I don't know that it really costs very much — and that it would distract from the important business at hand in Congress: making strides on health care, education, and fighting global warming.

I stopped for a second, kind of dumbfounded, and then I looked through the Congressional Record. Even if you could justify some sort of horse-trading — "Well, we're not going to impeach, but we just got single-payer health care, a minimum wage increase to $20 an hour, and we've signed the Kyoto Protocol" — well, that would be a start. But, Mark, nothing had happened. There was no important legislation that was being addressed. There was simply a refusal to do what was potentially the unpleasant thing, which was to begin investigations that might lead to impeachment.

As unpalatable or unpleasant as beginning investigations towards impeachment might be, and the conflict it might bring about, and the bad press and all that, it's an obligation. The Constitution talks about impeachment in six different places. The founders of this country, the framers of the Constitution, knew damned well that there could be a tendency in the executive branch to overstep its authority, to arrogate power to itself, to defy the legislative branch; and the legislative and judicial branches had to have recourse. And it was impeachment.

Zenger's: In fact, I read one commentator recently who said that Bush's term has vastly increased the power of the presidency, and it's perfectly obvious that President Clinton or President Obama or President McCain will take full advantage of that. It's just human nature.

Copass: Yes, I'm glad you brought that up.. In fact, I've got a very conservative brother-in-law. He's a former Marine. He's a very good guy. I like him. He's O.K. with the Bush-Cheney presidency having the power to go after the bad guys by harvesting all of our voice data, phone, e-mail communications, with the full collaboration of the telecoms, because the president needs to find the bad guys. Well, as I put as a what-if to him, "You know, you're not worried now that that power may be abused for political ends, but when President Hillary Clinton is in power, tell me you wouldn't be worried about her office, about her Department of Justice, abusing this incredible power to track political opposition. History tells us that, given this power, it's always been abused towards political ends." He stopped for a moment, he thought about it, and he didn't look too happy. I think even my conservative brother-in-law gets it, that extending incredible powers to an unaccountable branch of government isn't a good idea.

Drilling down to the more specific issues that are concerns to the progressive community, we care a lot about standards of education We care deeply about health care, and PDA, a group that I'm a member of, has just launched a "Health Care, Not Warfare" campaign. It's very clean, very elegant. You couldn't see it any better. John Conyers and Dennis Kucinich have been very vocal advocates of a universal single-payer health-care plan, to extend at least at a minimum skeletal coverage to all Americans. We have 47 million uninsured, and an equal number, if not more, of what you might call "underinsured." And this isn't a cost savings. When my dad works at the emergency room, when you're only treated when there is a crisis, when you're going into a diabetic coma, rather than having preventive care, the treatment at crisis moment only is no cost savings. This is, in fact, an enormous cost that is passed on to the taxpayer at the local, the county and the state level.

I believe fundamentally that access to health care is a right. Didn't they tell us in the Declaration of Independence that we had the right to life, liberty and the pursuit of happiness? Well, you can't get very far with those without a modest degree of health and wellness. So Rep. Davis's lack of action on health care, especially her refusal to co-sponsor H.R. 676 — the Conyers health-care bill — was a major issue.

I think it would be unfair not to bring up some of the things I think Susan Davis has done well. Susan Davis has been strong on humane treatment of animals, and I think in general has shown an openness, tolerance and support for the entire community, extending to the LGBT [Queer] community. She marched in the Pride Parade, waved the right flag. So in general a lot of Davis's support has come from that base in Hillcrest, the LGBT community, and I think that's something that's to Susan's credit. But even with the sort of long-term backing of the Gay/Lesbian community, there are troubling votes in Susan's record. There was a vote recently to extend the nondiscrimination provisions of federal civil rights legislation to Gay and Transgender people, and it was troubling that Rep. Davis went along with the "compromise" by which the Lesbian/Gay aspect was retained in extending the nondiscrimination provisions but the Transgender was clipped off,

On a human level, I was deeply saddened. As you might have noticed so far, I'm very obviously not Transgender or Transsexual — or else I'm a very convincing post-op — but I thought, that the people who are most marginalized, who suffer the most discrimination because they're not understood, they're thought of as weird, freakish or what have you, and they make people uncomfortable: they're human beings, damnit. To me, the Transgender, the "T" part of the equation, was the most fundamental part to protect. Once you clip off the "T" and extend protections to the Lesbian and Gay side, who's going to row back to the island and rescue the Transgender community? There will never be anyone who will stand with them.

Another reason I'm running for Congress is that we need to have a viable, economically sound energy and water security plan for this region. The numbers are absolutely frightening. We import 90 percent-plus of our water and 98 percent of our energy. So this puts San Diego in a tenuous circumstance — and I'm not just talking about its future growth, but its very existence. You remember the blackouts and the Enron debacle, and when you're so easily held hostage — 98 percent of your energy, 98 percent of your fresh water — I think it's irresponsible for the region as a whole not to come up with a long-term energy and water security plan.

Zenger's: Realistically, how much of a chance do you think you have? And in particular, are any of the groups, like MoveOn.org and others that have supported progressive challengers against incumbent Democrats in Congress, interested in you?

Copass: I think that I have an excellent chance in this election. I wouldn't say I'm the current favorite. They say it's very, very difficult to challenge incumbents. I love a challenge. I'm a distance runner. I love getting to the front and putting my toe on the line. I love competing.

Wbat's happening right now is very interesting. There's been a major shift. People are unhappy with incumbents they feel have failed to do what they asked them to do: their job. Donna Edwards in Maryland, supported by a number of progressive groups — particularly Progressive Democrats of America — soundly trounced Al Wynn, who I think was an eight-term incumbent, in Maryland District 4. I have the backing and now the endorsement of the local PDA chapter, and I'm beginning to get that buzz.

People have been calling me out of the woodwork, saying, "I saw that you filed. I'm really glad that you're running, that you're challenging Susan Davis." I don't believe there's ever been a Democratic primary challenger to Susan Davis in any of her four terms. And the model is out there. Donna Edwards, the outsider who never held political office before, beat the incumbent, and beat an incumbent who was able to call in a lot of corporate favors and money. So yes, I plan to be the Donna Edwards of San Diego.
Report this post as:
LATEST COMMENTS ABOUT THIS ARTICLE
Listed below are the 10 latest comments of 1 posted about this article.
These comments are anonymously submitted by the website visitors.

| | | |
| --- | --- | --- |
| TITLE | AUTHOR | DATE |
| Mr. | Daniel Watman | Monday, Apr. 07, 2008 at 4:38 PM |