printable version - json version - email this article - view hidden posts - tags and related articles
by Hugh Stegman Sunday, Mar. 16, 2008 at 3:14 PM

The Coalition For World Peace banner at the March 15, 2008 Hollywood march.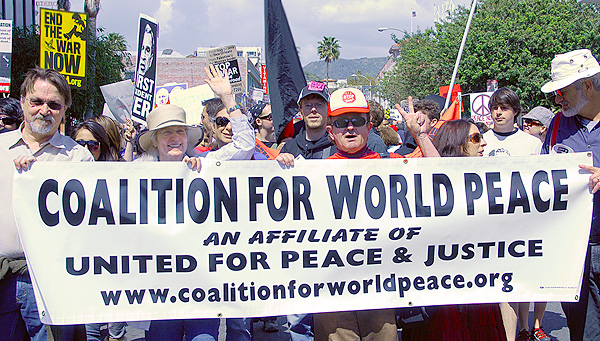 cfwp600.jpg, image/jpeg, 600x341
Marian Gordon and Don White in the center as the Coalition For World Peace banner is carried through the streets of Hollywood for the March 15th 5th Anniversary anti-war March. CFWP was an endorser and sponsor of this ANSWER action.

www.coalitionforworldpeace.org/
Report this post as:
Local News

LA Fields Two Marches Against Police Executions Photoset 2 of 2 A21 9:09PM

LA Fields Two Marches Against Police Executions Photoset 1of 2 A21 7:01PM

Running Down the Walls 2014 A20 8:48PM

Weaving the Past: Journey of Discovery Extends Exclusive Engagement A19 3:37PM

Los Angeles Declares "Hands Up!" in Peaceful Protest of LAPD Murder of Ezell Ford A18 4:09AM

Ezell Ford and Ferguson Solidarity A17 6:35PM

Family and Supporters of #Justice4Fords Protest LAPD Execution of Ezell Ford in South L.A. A17 2:49PM

Southern California Swarms to Save the Bees in Solidarity with Honey Bee Day Around the Gl A17 5:30AM

L.A Supports August 2nd International Gaza Protest Photoset 4 A05 7:03PM

L.A Supports August 2nd International Gaza Protest Photoset 3 A05 6:45PM

More about KPFK via Pacifica turmoils A05 6:29PM

L.A Supports August 2nd International Gaza Protest Photoset 2 A05 6:23PM

L.A Supports August 2nd International Gaza Protest Photoset 1 A05 11:36AM

Demonstration in Support of Persecuted Christians Saturday A02 10:40AM

Water in California - info proliferated now is dubious J28 5:04PM

Pacifica clearly endangered. Reposting info here: J28 2:34PM

Video: Occupy Love (2013), 1 hr 19 min J28 4:43AM

Who declares themselves to be the ultimate-only-valid-authority here on current wars elsew J27 11:11AM

MDRC's Rent Reform Assault: Section 8 tenants vs. affordable housing industry J24 12:24AM

Obama at LA Trade Tech J23 3:23PM
More Local News...
Other/Breaking News

Gaza War Postmortems A29 5:30AM

Big Lies Risk Confrontation with Russia A29 4:10AM

Philippines: Charter change and foreign ownership of land not solution to development A29 3:13AM

Infobésité ou faux évergétisme A28 11:49PM

The Shortwave Report 08/29/14 Listen Globally! A28 4:40PM

Wasecans hope trip to Ghana makes a difference A28 1:27PM

Targeting Syria A28 11:42AM

The Russians Are Coming Big Lies A28 5:11AM

Washington Sabotages Russian/Ukrainian Summit A27 1:29PM

The unconditional basic income - a social concept for Europe A27 10:49AM

Gaza Ceasefire: Hold the Cheers A27 6:04AM

Ottawa, Kansas Police Cure for Depression is 16 Bullets A27 4:08AM

Turkey is training ISIS / Islamic State A26 2:58PM

Did Obama really save the Yezidis? A26 2:38PM

Obama Declares War on Syria A26 12:43PM

What we're being told about ISIS just doesn't add up A26 12:29PM

Another No-Peace Ceasefire A26 12:23PM

Mejicanada angelina rechaza contundentemente al "Presidente" Peña Nieto A26 12:19PM

Joseph Stiglitz Calls for Fair Taxes for All A26 5:05AM

Israel v. Palestine: MSM Unreported Truths A26 4:05AM

Russia and America: Geopolitical Opposites A26 3:40AM

Anarchie ou barbarie A26 12:11AM

Steven Salaita's Academic Lynching A25 10:32AM

America's Mind Manipulators Meet New Members A25 10:27AM

Pharma Corps Act as Mafia Dons by Suppressing Cancer Treatment Alternatives A25 7:35AM

in-human rights in the U.S. A25 6:46AM

Fascism Grips Israel A25 5:55AM

The Free Trade Trap A25 4:30AM
More Breaking News...