Features
•
latest news
•
best of news
•
syndication
•
commentary

Feature Categories



KILLRADIO
printable version - js reader version - view hidden posts - tags and related articles

by Alegria Concepcion Sunday, Dec. 16, 2007 at 7:27 AM
philcsc@gmail.com
Massive human rights violations--extrajudicial killings, forced disappearances, torture, massacres, dislocation of millions of peasants and rural folk--characterize the current Arroyo regime in the Philippines. US taxdollars are paying the Arroyo military and police to carry out such barbaric practices. US citizens, concerned with human rights, ought to protest Bush/Pentagon's aid to the corrupt Arroyo administration, and demand an end to US mililtary intervention in suppressing the Moro and National Democratic Front insurgents. In the following article, Prof. E. San Juan re-affirms the necessity of upholding human rights embodied in the UN Declaration of Human Rights, which is an integral part of contemporary international law, to which every nation should adhere as member nation-states. The article pays tribute to the self-sacrificing work of thousands of Filipino activists fighting for national democracy, social justice, and genuine sovereignty, in particular the staff of KARAPATAN and its secretary-general, Marie Hilao Enriquez.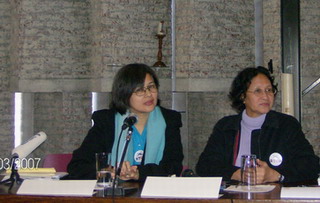 cpppt.jpg, image/jpeg, 320x203
RE-AFFIRMING HUMAN RIGHTS AND THE VINDICATION OF FILIPINO DIGNITY :

With an Interview of KARAPATAN Secretary General MARIE HILAO-ENRIQUEZ



by E. SAN JUAN, Jr.

Philippines Cultural Studies Center, USA



A FEW WEEKS AGO, to the consternation of a world audience, the provincial Universidad de Alcala in Spain awarded de facto president Gloria Macapagal-Arroyo a "Medalla de Oro" for her "defense of human rights." Whether this was a cruel joke or a travesty of academic ritual, or both, the reader can easily decide. It happened just a few days after United Nations Special Rapporteur Philip Alston (now a household name for social commentators) submitted the full report of his findings on summary or arbitrary executions after his mission to the Philippines in February 12-21. Alston reiterated his initial judgment that "there is impunity for extrajudicial executions," attesting to the breakdown of the criminal justice system. The substantial documentation of criminal acts perpetrated by the Armed Forces of the Philippines (AFP) has now been circulated to all governments and international agencies worldwide. Meanwhile, the Arroyo entourage of "trapos" and shady hirelings in a junket trip to Europe and the Middle East ignored this event with its "business-as-usual" hauteur.

Last October KARAPATAN secretary-general Marie Hilao-Enriquez presented to the UN Human Rights Council in Geneva, Switzerland, evidences of 60 cases of extrajudicial murders from January to July 2007, together with 17 cases of abductions, 12 cases of torture, 113 cases of illegal arrests, and 7,470 victims of forced evacuation. It was, surely, a painful and unconscionable inventory. Even while the morally bankrupt president bewails the military violence in Myanmar, her regime continues to play deaf and dumb to Mrs. Edith Burgos' plea that the government troops release her son Jonas Burgos--or his body, if dead. Arroyo is also deaf and dumb to hundreds of petitioners, to the grievances of relatives of "disappeared" activisits Nilo Arado and Luisa Posa Dominado; and to the stricken mothers of Sherlyn Cadapan and Karen Empeno, college students whose rape and torture have been witnessed by two brothers who escaped from their brutalizing encounter with the AFP, Raymond and Reynaldo Manalo, now under the custody of the Supreme Court (Phil Daily Inquirer, 24 Aug 2007). Earlier, the arrest and torture of BAYAN MUNA South Cotabato leader Gilbert Cardino and of Berlin Guerrero, a popular pastor of the United Church of Christ, elicited widespread and intense condemnation (see Dabet Castaneda, Bulatlat 24-30 June 2007; Carol Pagaduan-Araullo, "Smoking Gun," Business World, 9 June 2007). Due to pressure from religious groups, Amnesty International, Human Rights Watch, and other monitors, the US Congress imposed pre-conditions on continued military assistance to the Arroyo regime, esp. the use of tax money to fund or support the harassment and murder of political dissenters (Karapatan Press Statement, 6 Nov. 2007). Unprecedented scandals of large-scale corruption, brazen ill-concealed bribery, covert State terrorist tactics, and other abuses are beginning to erode whatever scrap of legitimacy the Arroyo dispensation can still muster.

The irrepressible specter of truth haunts and hovers over Arroyo's blood-thirsty tenure. Human Rights Watch (HRW) dispatched a mission last October to determine whether the 17 extrajudicial killings and two disappearances it investigated last year have led to the conviction of the malefactors. It found that not one case has been solved. Sophie Richardson, HRW advocacy director, blasted the Arroyo's claim that there's no "state policy of killing people" as absurd, noting how the civilian leadership has utterly failed to control the military (Inquirer, 5 Oct 2007). In his UN report, Alston also implied that Arroyo seemed hostage to AFP and police officers exemplified by the notorious ex-general Jovito Palparan. All these developments have "compromised" the country's international standing, opined lawmakers from the European Union (EU) on a five-day visit in the Philippines last November, rendering precarious and untenable all humanitarian assistance, and even investment, from Europe. Last June 21, BAYAN chair Dr. Carol Araullo called on the EU to halt its technical assistance to the Arroyo regime because "it quietly condones, if not masterminds, the killing of activists and their alleged supporters as well as members of independent media organizations" (Bayan News Release, 21 June 2007). Araullo also stated that "the courts are being used to violate the rights of progressive leaders"--a claim that will soon be tested when the recent Peninsula Hotel protesters (such as Bishop Labayen, former vice-president Guingona, UP head Nemenzo, journalists and lawyers are brought to court for alleged rebellion). It is only a matter of time before the desperate functionaries, spurred by Arroyo's Administrative Order 197 to counter the writs of amparo and of habeas data, revive the scorched-earth tactics of the fascist Human Security Act of 2007, signaling the legalistic streamlining of virtual martial rule in order to extend tenure beyond 2010.

Last March 21-23, the Permanent People's Tribunal found the Arroyo regime guilty of flagrant violation of human rights, specifically the arrest, torture and murder of critics and activists that cannot be justified as simple measures against terrorism. Verena Graf, the secretary general of the International League for the Rights and Liberations of Peoples, charged that the AFP, whose officers committed unpunished atrocities during the Marcos dictatorship, "continues to serve as an instrument of suppression and executor of extra-legal operations under the guidance and with the support of US counterinsurgency and antiterrorism agencies, i.e. the CIA and the Pentagon" on which the survival of the Arroyo presidency depends ((Statement to UN Human Rights Council, 28 Sept. 2007).

Who can still play deaf, dumb and brainless? Aside from Amnesty International's comprehensive report on the human-rights situation in the Philippines last May 2007, the most cogent and devastating briefs on Arroyo's killing fields" are the February 2007 "Special Report" of the Asian Human Rights Commission entitled "The Criminal Justice System of the Philippines is Rotten" and the March 2007 Ecumenical Report on Human Rights in the Philippines released by the National Council of Churches in the Philippines. All these accounts, including Alston's painstakingly modulated survey, have been triggered, elaborated and reinforced by the periodic and annual tabulation of human-rights violations prepared by KARAPATAN (Alliance for the Advancement of People's Rights) under the expert and indefatigable leadership of Marie Hilao-Enriquez, its secretary general.

A veteran human-rights advocate known to the global community, Marie has been called "an icon," a local heroine, an international fighter for humanistic ideals. Her engagement with the struggle for freedom, national independence, and the defense of human dignity dates back to the early seventies when she was a scholar at the College of Medicine, University of the Philippines, taking up occupational therapy; she was involved in the youth organization Kabataang Makabayan when she escaped from AFP brutality in 1973, shortly after martial law was declared. She was arrested in 1974 and spent two years in military camps and the Bicutan Rehabilitation Center. Her older sister Liliosa Hilao was tortured and killed by the AFP, an event which prompted the church to set up the Task Force Detainees of the Philippines. Liliosa remains a formidable emblem of the workers-peasants' revolutionary struggle for national democracy. After the fall of Marcos, Marie helped to file a landmark class action suit in a Hawaii federal court on behalf of 9,539 Filipino victims of Marcos' authoritarian rule. The Hawaii court ordered the Marcos estate to pay 6 million damages to the victims, in addition to .2 billion exemplary damages. So far, none of the victims have been compensated. Marie's personal experience as a political prisoner has been massively enriched by her work with KAPATID (Association for the Release and Amnesty of Political Detainees in the Philippines) and SELDA (Society of Ex-Detainees Against Detention and for Amnesty), two organizations instrumental in alleviating the plight of political prisoners and reintegrating them back to productive life. Marie's commitment to freedom and democracy has been tested and tempered in the fire of collective struggles, giving her a wisdom resonant in her affirmation of a humanist, liberatory faith (recorded in memorable interviews by Dabet Castaneda of Bulatlat, and Chris Richards of New Internationalist): "I have committed myself to fight for genuine change in our society. The best people of our generation are in this movement for social change. If they could give themselves, why could I not myself?….We paid a very high price to fight for our rights and freedoms. Many fell through the dark years of martial law. The memory of that inspires us all."

It was my honor and pleasure to have met Marie in person, for the first time, in March at The Hague, Netherlands, during the momentous sessions of the Permanent People's Tribunal. Marie and her associate, Ruth Cervantes, were extremely helpful in supplying the 2006 Karapatan Annual Report on Human Rights for the appendix to my book US Imperialism and Revolution in the Philippines (Palgrave Macmillan, 2000). Marie's poignant testimony at the People's Tribunal, together with those of over a dozen witnesses and resource persons, serves as a powerful reminder to the corrupt Arroyo regime, its robotic officials and mealy-mouthed apologists, including its foreign accomplices, that justice and human dignity (in consonance with the UN Universal Declaration of Human Rights, which is recognized as an integral part of international law) will inevitably render implacable judgment on them, in the same spirit that the Nuremberg Tribunal in 1946 found individual Germans guilty under international law for crimes against peace and against humanity. Arroyo's neocolonial State barbarism, a pale mimicry of Bush's imperial terror, cannot be allowed to go on. As the Rubaiyat puts it in a memorable stanza, the Moving Finger of the people writes….

__________________________________

[ The following is an interview of Marie Hilao-Enriquez by Dr. Rainer Werning, edited for readability by E. San Juan, Jr., conducted on 24 March 2007, during the session of the Permanent People's Tribunal at The Hague, Netherlands. Dr. Werning is a distinguished German political scientist and journalist who has lectured and researched in various institutions in the Philippines, UK, Japan, and elsewhere. He interviewed Jose Maria Sison in The Philippine Revolution: The Leader's View (1989) and co-edited Handbuch Philippinen (2006) and a recently released book on the Moro people's struggle for self-determination.

E. San Juan, Jr. is an emeritus professor of English, Ethnic Studies and Comparative literature, Washington State University and the University of Connecticut; recently a Fulbright professor of American Studies at Leuven University, Belgium; and fellow of the Rockefeller Foundation Study Center at Bellagio, Italy; his book Balikbayang Sinta: An E. San Juan Reader will soon be released by Ateneo University Press, and From Globalization to National Liberation, from the University of the Philippines Press. ]



R: Would you kindly introduce yourself?

Marie: I am Marie Hilao-Enriquez, secretary general of the human rights alliance called Karapatan, in the Philippines. It is the alliance for the advancement of people's rights composed of around 40 organisations, nationwide, with 15 regional centers. Our main task is to investigate and document human rights violation cases all over the country.

R: Given your long and substantial experience in monitoring human rights violations, what do you think is the difference between the Marcos and the Arroyo regimes?

Marie: Well, basically, I think the situation of a virtual martial law in the Phil. today, is similar to the situation during Marcos' time. The only difference is that from 1972 to 1986, Marcos was able to violate grossly and systematically the rights of all Filipinos because he formally declared martial law. But now the alarming situation is that though we are already subjected to the rigors of martial law, the world does not know about this because GMA (Gloria Macapagal Arroyo) has not formally declared martial law. What she did was to test the waters of arrogating absolute power to herself when she declared state of national emergency on February 24, 2006. And because the Filipino people protested vigorously, she was forced to withdraw it within a week's time. And I think she also withdrew it because the US government did not agree with her decision.

R: Could you share with us your findings about the number of people whose human rights were grossly violated, including those who were killed, abducted, tortured, etc.?

Marie: Ah yes, the reason why we say that we are now in a martial-law situation is that the violations have become very alarming, especially the extra-judicial killings being committed against key leaders and key members of progressive organizations which are in the forefront of criticism against GMA's anti people's policies. From 2001 up to the present we have counted 838 people killed summarily and 194 victims of ?enforced disappearances. We have around 355 victims of "frustrated killings"-- we call "frustrated" when survivors were not killed in the attempt to kill them. So we now have this situation in which opposition leaders are being targeted systematically and gunned down--a situation which we did not experience during the Marcos years.

R: Do you think there is a pattern behind these killings?

Marie: Yes, we have been documenting these incidents since 2001 when Mrs. Arroyo came to power. And the pattern that we see is this: first, the profiles of the victims would turn out to be members of progressive organizations which the government has branded left leaning. In fact, the government has embarked on a systematic campaign to label them as communist front organizations. The victims include leaders of peasants or farmers organizations and of trade unions, lawyers, human rights workers, church people, youth activists, women and indigenous people. So many of the 838 victims that I am speaking about--almost half of them belong to organizations which have been in the forefront of anti-dictatorship struggle during the Marcos dictatorship. And now they are in the forefront of criticizing Mrs. Arroyo's anti-peoples policies and criticizing the growing US intervention in our affairs.

Another pattern would be the ongoing vilification campaign. Many of the victims were tagged as members of communist-front groups who were subjected to heavy surveillance and threats. Subsequently they were killed by assassins riding on motorcycles or vans with no license numbers. Many of the assailants concealed their identities by wearing ski masks; we have noted that several incidents took place near a military camp or police precinct. Another pattern would be the inaction of government authorities. So, as I have said, there are now 838 victims. And when we plotted the pattern, many of the witnesses and relatives of the victims would point to military or policemen as behind these killings.

R: Recently you had a chance to speak out in the United States? Could you give your impression of the response to your intervention?

Marie: First, the US tour was done together with a group coming from the churches. I was impressed by the response of the major church organizations in the US. It was due to the increasing number of church people being killed in the country right now---the UCCP, for example, counts 16 members of the United Church of Christ in the Philippines as victims of extra-judicial killings. The total number now is 26, an intolerable number, so that the churches in the US became extremely alarmed. The response was very warm because many of the church members in the US went to the Phil to investigate and see for themselves what was really happening. This led them to the conclusion that, indeed, Philippine security forces are behind many of the killings, so they lobbied hard in the US Senate and the House of Representatives. And when the delegations coming from the Philippines went to the US, they seized the opportunity to put pressure on the US Senate, especially the sub-committee on East Asia and Pacific Affairs of the Foreign Relations Committee of the US Senate. They persuaded Senator Boxer to open up the hearing on the Philippines at the time that the Philippine delegation was there.

So that was the time also that I realized that the US churches have a certain clout on their representatives and that they can exert pressure on certain government agencies so that appropriate investigations can be carried out. This is continuing today. This is important, I think, because historically the US and the Phil have had a very unequal relationship. In fact, right now we see that you know the US has been looked upon by Philippine authorities as a big brother and that we have always been attached to the US, so I think that if ever we could convince the US government, or any of its agencies, on the unconscionable human-rights violations in their former colony, then word would get out of Washington to Malacanang Palace in the Philippines that President Arroyo should really act on these political killings and abductions.

R: Did you have a chance to participate in the hearings?

Marie: Yes, I am glad I was one of the witnesses who testified in the hearings and that we were able to put across to the chairperson of the subcommittee that indeed that these killings are going on. I was able to tell them the numbers of the victims. And we were also able to put out our analysis of the situation why these killings are going on, and how U.S. government policies are affecting the Philippine situation. In fact we encouraged them to review the military assistance of the US being given to the Phil government--this aid must really be evaluated since they are using US people's tax money to fund the activities of the Philippine state security forces that [as UN Special Rapporteur Philip Alston has officially stated at the UN General Assembly] are the perpetrators of these killings and enforced disappearances.

R: What are your experiences in the European context - any suggestions, recommendations or anything you would like to say about that? 20 years back, so it seems to me, the churches were more vocal and active than nowadays.

Marie: Well, I think Europe is no different from the US, Australia and New Zealand in this regard: when we were able to oust Marcos, everybody thought that democracy was already thriving in the Philippines. And I think the post-Marcos administrations were able to conceal the true situation in the Philippines. In truth, there has been no substantial effective change in the political and economic set-up: the rich families are still in control, the political and economic leadership of the country remain in their hands. It was only a different faction of the elite that was able to gain control after the February 1986 revolt. Having said that…because of this situation that there has been no real change in the power relation, the feudal system and neocolonial dependency prevail, resulting in grinding poverty for the majority. The collapse of Marcos' martial law and the succeeding administrations did not cure the so-called insurgency problem. And so people would want to change that, and I think when the situation called for GMA to really use force--and she is really using force now more than deception-- that is the time that the killings and violations accelerated and worsened. And so, the churches are again focusing attention on these brutalities. And we think also that any attention that can be aroused in European and American churches will be stimulated by the actions of the Filipino people within the country.

I remember when I was plotting out these extra-judicial killings which became gradually alarming, I started going out of the country in 2002, speaking out against this growing strong-arm tactics of the Arroyo government against people's protests. Slowly, slowly more people are being more aware as we speak out and as we conduct more protests, in several fronts, mass demonstrations in the streets, lobbying in the congress and calling media people to disseminate information regarding the alarming human rights situation. Now the world is taking notice. In addition, we went to United Nations and drummed up support, including appealing to foreign governments. And I think all the actions of people around the world are being made to bear against the Arroyo government and we hope the solidarity of peoples in churches from Europe and US will culminate in a morally implacable pressure on the Arroyo administration so that the situation will change.

R: Would you like to add anything? I understand your sister got killed during the Marcos period…

Marie: Many people would always ask me why I am into this kind of work. You know it is very hard facing what is going on....always sad, always sad…what do you call this, when you hear news of political killings, you are sad but at the same time angry because the people being killed are good people. The military has come to tag them as communists but they do not say that these people are ordinary citizens with very good intentions, working for the good of their families and the nation as well. They are not people like GMA and her appointees who rob the coffers of the national government, they are not cheats in the election--these activists speak the truth. I say that my experience during the dark days of Marcos' dictatorship strengthened me, especially the painful experience of losing a sister who was in fact a very sickly sister in the family but who wrote well and that's why she was targeted by the dictatorship. And I was also incarcerated together with other two siblings in the family and underwent the unforgettable agony of torture. Living through this history, and reflecting about it, I promised myself that I will seek justice for my sister and for all those who gave up their lives during Marcos' martial-law regime by being a human-rights worker. So after Marcos, I proceeded to engage in upholding the value of human rights and up to now I am doing this for the sake of all those who gave up their lives and suffered during the dark days of martial law and of the current Arroyo regime.

R: How long were you imprisoned?

Marie: I spent one year nine months in prison. I delivered my oldest baby inside prison and I know what is it to be tortured and what is it to be robbed of your rights and I really don't like others, either Filipinos or foreigners, to undergo what we experienced during those dark days.

R: Marie, thank you so much! I do wish you the very best and the biggest possible success in all your endeavours. #


Report this post as:
Local News

GUIDE TO REBEL CITY LOS ANGELES AVAILABLE A12 5:39PM

lausd whistle blower A10 11:58PM

Website Upgrade A10 3:02AM

Help KCET and UCLA identify 60s-70s Chicano images A04 1:02PM

UCLA Luskin: Casting Youth Justice in a Different Light A02 11:58AM

Change Links April 2018 A01 11:27AM

Nuclear Shutdown News March 2018 M31 6:57PM

Join The Protest Rally in Glendale on April 10, 2018! M29 7:00PM

Join The Protest Rally in Glendale on April 10, 2018! M29 6:38PM

Spring 2018 National Immigrant Solidarity Network News Alert! M19 2:02PM

Anti-Eviction Mapping Project Shows Shocking Eviction Trends in L.A. M16 5:40PM

Steve Mnuchin video at UCLA released M15 12:34AM

Actress and Philanthropist Tanna Frederick Hosts Project Save Our Surf Beach Clean Ups M06 12:10PM

After Being Told He's 'Full of Sh*t' at School Event, Mnuchin Demands UCLA Suppress Video M02 11:44AM

Resolution of the Rent Strike in Boyle Heights M01 6:28PM

What Big Brother Knows About You and What You Can Do About It M01 3:30PM

Step Up As LAPD Chief Charlie Beck Steps Down F14 2:44PM

Our House Grief Support Center Hosts 9th Annual Run For Hope, April 29 F13 12:51PM

Don't let this LA County Probation Department overhaul proposal sit on the shelf F13 11:04AM

Echo Park Residents Sue LA Over Controversial Development F12 8:51AM

Former Signal Hill police officer pleads guilty in road-rage incident in Irvine F09 10:25PM

Calif. Police Accused of 'Collusion' With Neo-Nazis After Release of Court Documents F09 7:14PM

Center for the Study of Political Graphics exhibit on Police Abuse posters F07 9:50AM

City Agrees to Settle Lawsuit Claiming Pasadena Police Officer Had His Sister Falsely Arre F04 3:17PM

Professor's Study Highlights Health Risks of Urban Oil Drilling F04 12:42PM

Claims paid involving Pasadena Police Department 2014 to present F04 10:52AM

Pasadenans - get your license plate reader records from police F03 11:11PM

LA Times Homicide Report F03 1:57PM
More Local News...
Other/Breaking News

What does the Quran Say About Islamic Dress?? A21 4:15PM

Biodiversité ou la nature privatisée A20 11:22AM

The Market is a Universal Totalitarian Religion A20 7:14AM

Book Available about Hispanics and US Civil War by National Park Service A19 5:52PM

The Shortwave Report 04/20/18 Listen Globally! A19 4:01PM

The Republican 'Prolife' Party Is the Party of War, Execution, and Bear Cub Murder A19 11:48AM

Neurogenèse involutive A18 9:21AM

Paraphysique de la dictature étatique A16 10:13AM

Book Review: "The New Bonapartists" A16 3:45AM

The West Must Take the First Steps to Russia A14 12:25PM

Théorie générale de la révolution ou hommage à feu Mikhaïl Bakounine A14 3:30AM

The Shortwave Report 04/13/18 Listen Globally! A12 3:50PM

"Lost in a Dream" Singing Competition Winner to Be Chosen on April 15 for ,000 Prize! A12 3:48PM

The World Dependent on Central Banks A12 4:43AM

Ohio Governor Race: Dennis Kucinich & Richard Cordray Run Against Mike DeWine A11 9:40PM

March 2018 Honduras Coup Again Update A10 10:52PM

Apologie du zadisme insurrectionnel A10 3:33PM

ICE contract with license plate reader company A10 1:14PM

Palimpseste sisyphéen A09 11:23PM

Black Portraiture(S) IV: The Color of Silence...Cuba No...Cambridge Yes A09 5:32AM

Prohibiting Micro-Second Betting on the Exchanges A09 4:18AM

Prosecutors treat Muslims harsher than non-Muslims for the same crimes A08 10:33PM

Amy Goodman interview on cell phone safety A08 10:29PM

Mesa, Arizona police officer kills unarmed white man A08 9:50PM

Israeli leaders should be prosecuted for war crimes A08 9:48PM

Paraphysique de l'autorité A08 12:11AM

Two Podcasts on fbi corruption A06 10:13PM

Fbi assassins assault & try to kill DAVID ATKINS A06 7:29PM
More Breaking News...