Features
•
latest news
•
best of news
•
syndication
•
commentary

Feature Categories



KILLRADIO
printable version - js reader version - view hidden posts - tags and related articles

by Mark Gabrish Conlan/Zenger's Newsmagazine Thursday, Nov. 22, 2007 at 6:07 PM
mgconlan@earthlink.net (619) 688-1886
When a student newspaper at San Diego State University published a letter attacking an openly Gay administrator, fraternity/sorority coordinator Doug Case, the Queer communities on campus and throughout San Diego responded and confronted the paper's staff members at a November 14 town-hall meeting on campus. They've scheduled a "Rally Against Hate" at SDSU December 3 to protest this and other hate incidents against Queer SDSU students.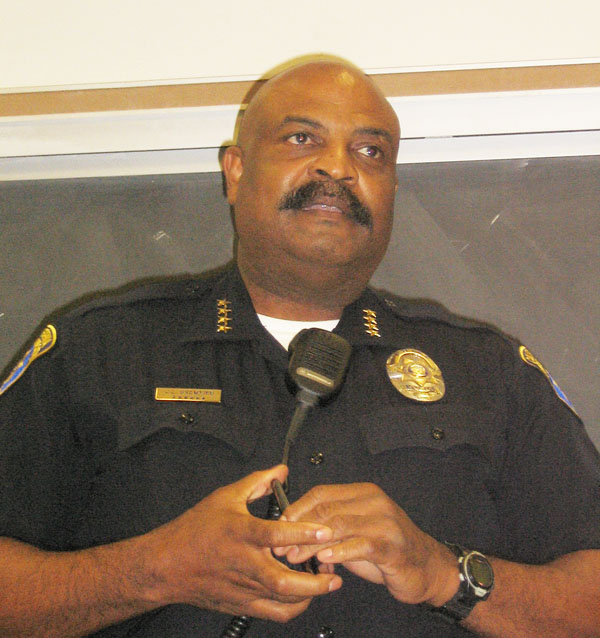 browning.a.jpg, image/jpeg, 600x638

SDSU LGBTSU Hosts Meeting on Koala Controversy

Attack on Fraternity Director Latest Blow Against Queers on Campus

by MARK GABRISH CONLAN

Copyright © 2007 by Mark Gabrish Conlan for Zenger's Newsmagazine. All rights reserved.

PHOTOS, top to bottom: SDSU police chief John Browning, SDSU LGBT Resource Center staffer Ben Cartwright, Associated Students president James Poet, and SDSU LGBTSU president Isaac Castro (right) with LGBTSU secretary and acting vice-president Nikki Tjarks (left).

"We're here to talk about the state of the LGBT [Queer] community at San Diego State University," said Ben Cartwright, former president of the SDSU Lesbian, Gay, Bisexual, Transgender Student Union (LGBTSU) and current director of the campus's LGBT Resource Center, said at the start of a town-hall meeting on campus November 14 at 6:30 p.m. "Thirty-seven years ago, a group of Gay men met in the Presidential Suite of Aztec Center to form a Gay Liberation Front on campus. The recent incidents on campus tell us that the concerns they had 37 years ago are still live issues today."

The incidents that inspired the meeting began last September, when anti-Queer students living in an apartment building near campus staged an impromptu counter-demonstration against supporters of marriage equality for same-sex couples. The students saw the demonstration and came out, first with anti-Queer signs, then with eggs which they threw at the students. The next event occurred sometime between October 11 and 12, when the LGBTSU's rainbow flag was stolen during the night for the fourth time in five years. The final straw was the publication of an anonymous attack on the school's coordinator of fraternities and sororities, Doug Case, an openly Gay man, in an independent student publication called The Koala.

The letter appeared on the back page of The Koala, called "Personals" but actually devoted to a series of letters to the editor, most of them insulting and many of them scatological. The one attacking Case — the only letter on the page that went after a specific person by name — called him a "flaming fag" and went on to say, "Oh yeah, and get off our fucking nuts. I know you love them, but unlike your flamboyant self we like to have girls on them." It ended with a specific threat, not against Case himself but against his dog: "P.S. If I ever see you with your fucking poodle again I am going to jump kick it in the face." The author was anonymous and the letter was signed, "The Greek Community."

Though Case was unable to attend the November 14 meeting — he was chairing a community planning group the same night — he left a letter which current LGBTSU president Isaac Castro read. Case thanked the current SDSU Associated Students president, James Poet — himself a fraternity member — for his support, and added, "Most of the fraternity and sorority leaders have treated me with respect." (Indeed, many of the strongest statements against the Koala letter came from students who were fraternity and sorority members and were particularly galled at the anonymous author's claim to represent the entire "Greek community.") Case commented on a news story KNSD, NBC's local TV affiliate, had done on the incident and said he liked it "except that it identified me as a 'victim.' I am not a victim; I was a target."

The coverage on KNSD 7/39 and other local TV news stations helped swell attendance at the meeting to over 100 students and community members. The public interest forced organizers to move it from the Presidential Suite — where LGBTSU usually meets Wednesday nights at 6:30 — to an out-of-the-way lecture hall whose acoustics were so bad it was sometimes difficult for people in the back of the room either to hear speakers in the front or to make themselves heard when they talked. Among the speakers were Cartwright, Castro, Poet and the chief of the SDSU police force, John Browning, a tall African-American with a football player's build who took questions from LGBTSU members and others who felt his department hadn't been aggressive enough in pursuing crimes against Queer students and their property.

"As a result of my skin color, I've been placed in a category I feel is undeserved," Browning said. "This police organization will not accept hate crimes, period. We depend on the eyes and ears of our community to get the message across that those crimes will not be tolerated." He gave out the phone number of his department, (619) 594-1991, and urged students and SDSU community members to "program that number into your cell phones" to ensure that they can reach the campus police whenever they spot a hate crime or incident in progress. Asked if the police department had a dedicated representative to work with the Queer community on campus, Browning said, "You're looking at him."

Browning got a tough question from a student who said that an officer had driven by the marriage equality protest at which participants had eggs thrown at them by anti-Queer students, had chuckled at the report and done nothing. He used his answer to underscore his point that people witnessing incidents like this need to call his department as soon as possible. "The officer understood there was a demonstration in progress, but had no idea there was an egging," Browning explained. "You can't assume we know everything. The officer was just driving by, and when he learned later [that pro-Queer students had been assaulted with eggs] he was disappointed." Browning also claimed that he hadn't known until the meeting that a Queer flag had been torn down and stolen on campus.

"I was president of my fraternity for 1 1/2 years, and I had the great experience of working with Doug Case," said AS President Poet. "I've had the opportunity as student body president to meet with many community representatives, including LGBT representatives, and it's opened my eyes to much of what you experience, including the hatred. Once I learned more about this community, I've been more open to it." Poet urged Queer SDSU students to participate in the Multicultural Caucus on campus, which he said recently heard a presentation from a Transgender person about the experience of a gender transformation.

The meeting was galvanized when one person recognized four Koala staff members, including the paper's editor, Alex Trudelle, in the audience. "I'm here to listen," Trudelle said — but he soon spoke out when he was attacked directly by law professor, Gay & Lesbian Times columnist and former SDSU student body president Rob DeKoven.

"What's published in the Koala [about Case] qualifies as a hate crime and a terrorist threat," DeKoven said. "It is not protected by the First Amendment. It's clear that when you threaten an individual because of his sexual orientation, it's a terrorist threat." DeKoven demanded that Browning arrest Trudelle then and there. He also asked Associated Students president Poet to urge university administrators to move SDSU out of the Mountain West football conference, where its team plays against schools like the U.S. Air Force Academy and Brigham Young University, which openly and legally discriminate against Queer students.

A somewhat nonplussed Chief Browning said "we're doing an investigation" of the Koala incident. "We have a systematic way of working and we have to investigate before we make an arrest," he said. Throughout the rest of the meeting he refused to comment further on the case, saying that police can't make statements about investigations while they're still in progress.

Once they identified themselves, the Koala staff members were put on the hot seat by several audience members, who were particularly interested in how the paper is funded and how they decide what to publish. Editor Trudelle said, "I think the First Amendment is a cherished part of the public heritage," and added that the Koala publishes everything it receives. "We've published all personals in the last year and a half," he said. "I haven't censored a personal in the time I've been editor." Trudelle bristled at the suggestion of other people in the audience that he should have edited the letter to soften its criticism or delete Case's name. "There had been cases years ago where some [names] were edited out," he admitted, but said that wasn't his policy.

"We don't receive money from the state," an individual who identified himself as the Koala's art director said in answer to the question on how they were funded. "We're self-sufficient with ads and we are a club that was kicked out of our office last year. We came to an open forum, and here's a man inciting a mob to have our editor arrested." He also defended the letter against Case, saying it "isn't attacking the Gay community. It's attacking a single person, and it does not attack him because he's Gay."

Another Koala staff member, who identified himself only as Joe, said, "We're all for free speech. We want to be able to say what we want. The only place we've seen this implemented is the Koala. We publish letters, including letters from people who hate us. This paper is not written to be taken seriously. It's all being blown out of proportion." Like Trudelle and the art director, Joe insisted that the letter about Case was "not an attack on the Gay community."

Asked by one audience member, "Would you publish a threat to bomb the library?," one of the Koala staff members said, "Would you rather not know?"

Margie Palmer, a reporter for the Gay & Lesbian Times, asked Trudelle about his comment that he would only do an interview if someone bought him a six-pack of beer. "It was a case," said Trudelle — a demand also referred to in the KNSD 7/39 story about the incident. He explained that he wanted reporters seeking to interview him to buy him beer because he's only 20 years old and therefore can't buy it himself, essentially admitting that he wanted to get other people to break the law for him.

"I think it's a responsible thing that you guys were here," said a woman student in response to Trudelle — but she made it clear that she had no sympathy for him, his editorial decisions or his actions. "You say it's not a personal attack on his sexuality, but it was, and that's why it was an issue," she said. "It's a bigger issue than freedom of speech. You should take caution, or you will encounter other situations like this."

Another student, a male named Alan, said that "free speech is becoming a red herring" in the discussion of the Koala letter. "There's an established social ideal that says it's not O.K. to be LGBT," Alan said. "When there's an apparent threat against a specific individual and his pet, that's not appropriate. When our flag gets stolen from Aztec Center, that's an issue. Before that, we had a rally for marriage equality and people came out with signs about particular sex practices, but when they threw eggs at us that crossed the line."

Another sore point with the Queer students present was that no high-level officials from the campus administration attended the meeting, and no administrative representatives spoke. Cartwright said that the university chancellor and president were invited to the meeting but were unable to attend, nor did they send representatives. "I agree it was sad that they did not send representatives," Cartwright acknowledged, adding that the only administrator there was the vice-president of student affairs.

Andy, a student from the University of California at San Diego (UCSD), said, "A lot of people at UCSD are probably as upset by this as you are. Two years ago, one of our community members was attacked in the [UCSD] Koala." Andy urged more cooperation between Queer student groups at SDSU, UCSD and the local community colleges.

Cartwright replied that there had been a Rainbow Student Alliance between 2002 and 2004 that had done exactly that; it had brought together the various Queer student groups and met on each campus on a rotating basis. "That coalition folded in the last year or two, and if anyone is interested in bringing that back, speak to Isaac [Castro] or me," Cartwright said.

Other issues that came up including building a mass rally on campus and getting SDSU's administration to establish and fund a campus LGBT Resource Center. The Resource Center has been a long-standing demand of LGBTSU, especially since UCSD's Resource Center opened a few years ago in a building dedicated especially to it. Now, according to Cartwright, UCSD's LGBT Resource Center is the largest on any college campus in the U.S., while SDSU's is a tiny office in Aztec Center that Cartwright joked is smaller than his bathroom.

The mass rally was originally scheduled in October, right after the LGBTSU flag was stolen, in hopes that it could attract enough community support to duplicate the success of the previous rally in May 2006. The last time the LGBTSU flag was stolen, the group had sponsored a rally that was so well-attended the flag was returned anonymously two days later. This year, however, the San Diego fires intervened before the rally could take place, and by the time LGBTSU was ready to reschedule it the letter about Case had appeared in the Koala and the issue had snowballed. The rally is currently scheduled for Monday, December 3, noon to 3 p.m., on the Free Speech Steps at SDSU. Visit www.prideatstate.org for up-to-date information.

Report this post as:


by Mark Gabrish Conlan/Zenger's Newsmagazine Thursday, Nov. 22, 2007 at 6:07 PM
mgconlan@earthlink.net (619) 688-1886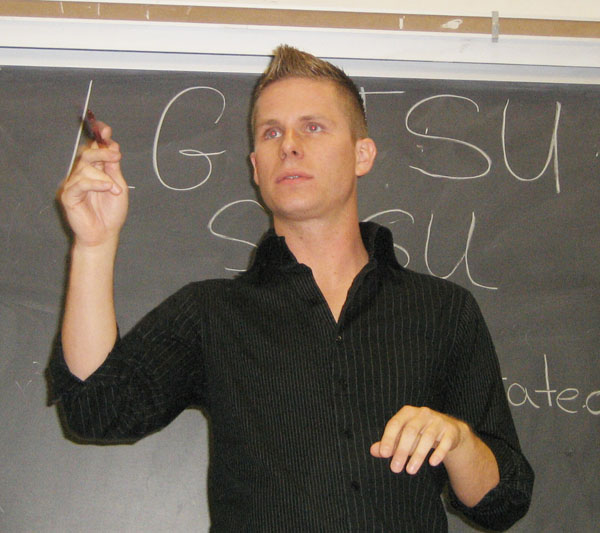 cartwright.a.jpg, image/jpeg, 600x533

error

Report this post as:


by Mark Gabrish Conlan/Zenger's Newsmagazine Thursday, Nov. 22, 2007 at 6:07 PM
mgconlan@earthlink.net (619) 688-1886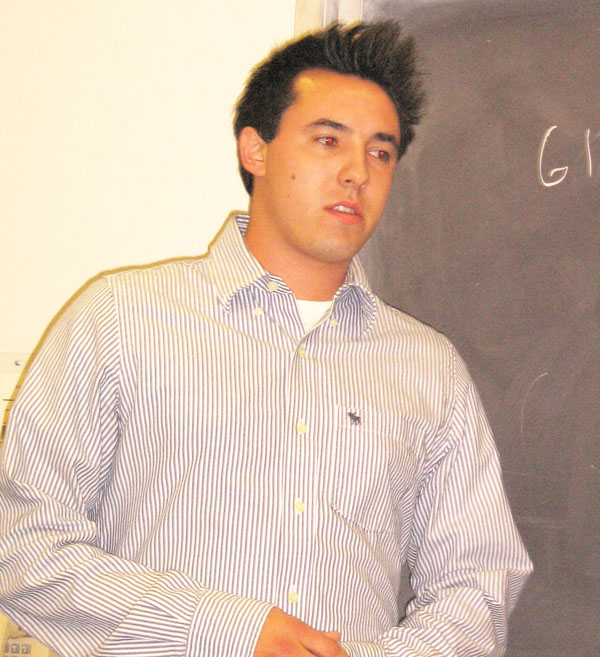 poet.a.jpg, image/jpeg, 600x657

error

Report this post as:


by Mark Gabrish Conlan/Zenger's Newsmagazine Thursday, Nov. 22, 2007 at 6:07 PM
mgconlan@earthlink.net (619) 688-1886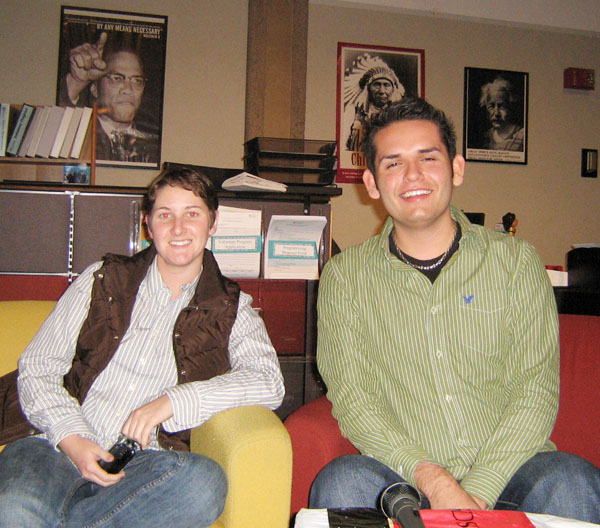 tjarks___castro.a.jpg, image/jpeg, 600x528
error
Report this post as:
LATEST COMMENTS ABOUT THIS ARTICLE
Listed below are the 10 latest comments of 3 posted about this article.
These comments are anonymously submitted by the website visitors.

| | | |
| --- | --- | --- |
| TITLE | AUTHOR | DATE |
| Doug Case is a POS | John Covert Boyd | Saturday, Jun. 12, 2010 at 7:22 PM |
| Doug Case | Baldassare Cossa | Sunday, Oct. 14, 2012 at 12:04 AM |
| just wondering | just wondering | Sunday, Oct. 14, 2012 at 4:33 AM |