Features
•
latest news
•
best of news
•
syndication
•
commentary

Feature Categories



KILLRADIO
printable version - js reader version - view hidden posts - tags and related articles

by Mark Gabrish Conlan/Zenger's Newsmagazine Thursday, Oct. 25, 2007 at 5:41 AM
mgconlan@earthlink.net (619) 688-1886 P.O. Box 50134, San Diego, CA 92165
Blayne Bell lost his lucrative career in Christian music and broadcasting when his former partner "outed" him to the dean at Abilene Christian University in 2001. He's gone from making up to 0,000 per year to working at a Starbucks in Palm Springs, but as an openly Gay man he's happier than he's ever been. He's performing at the Palm Springs LGBT Pride event Saturday, November 3.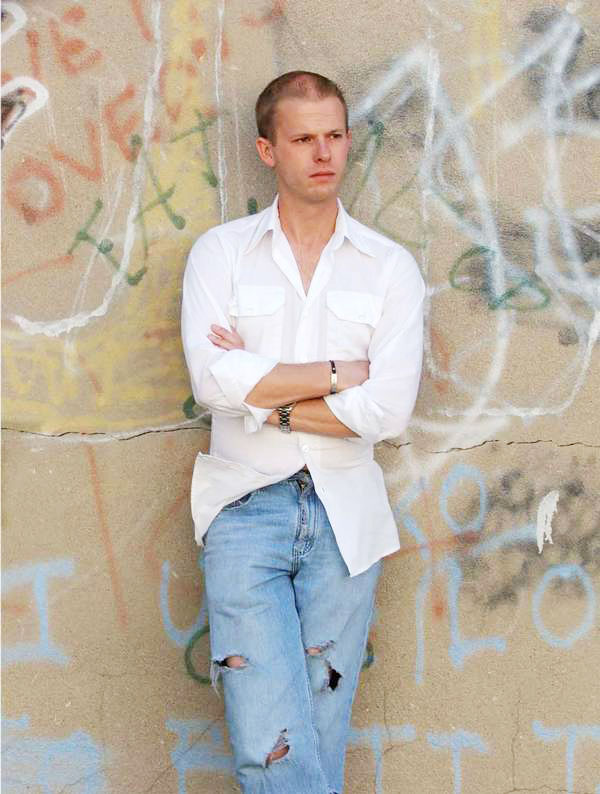 blaynebell5.a.jpg, image/jpeg, 600x794
BLAYNE BELL:

Gay Former Christian Music Star to Sing at Palm Springs Pride

interview by MARK GABRISH CONLAN

Copyright © 2007 by Mark Gabrish Conlan for Zenger's Newsmagazine • All rights reserved

In 2001, Blayne Bell was riding high. The 26-year-old performer was a rising star in contemporary Christian music, with a recording contract with Sony/Epic's Christian division and experience opening for Johnny Cash, Waylon Jennings, The Blackwoods (the legendary white gospel group Elvis Presley unsuccessfully auditioned for before beginning his career in secular music), CeCe Penniston, the Kingsmen, Thea Austin and many other country and Christian music stars. Between his earnings as a singer and his career in radio, he was earning up to 0,000 a year while still attending classes at Abilene Christian University, where he was majoring in broadcasting.

Then it all came crashing down when the man Bell had been in a relationship with for nearly seven years reacted to the collapse of their partnership by "outing" him to the administrators at Abilene. The college dean did a Web search on Blayne Bell and found that their star student had been performing at Pride events and Queer or Queer-friendly churches like Metropolitan Community Church (MCC) and United Church of Christ (UCC). Bell was called to the dean's office and, with only weeks left before his graduation, was given an ultimatum: go to three two-hour "counseling" sessions a week aimed at "curing" him of his homosexuality, or leave the university.

Bell walked out, and he's never looked back. Though it cost him his life savings and his lucrative Christian music career, he says he's a lot happier now working at Starbucks, doing home health care and still singing at Pride events and other Queer venues. "It's not what you are, but who you are," Bell says. He takes a particular interest in reaching out to Queer young people, especially those from Christian families who've thrown them out once they've found out. After living in various locations around the country, this native of Lubbock, Texas (which also gave to the music world Buddy Holly, John Denver and Dixie Chicks leader Natalie Maines, whom Bell knew in high school) was invited to perform at the Palm Springs Pride Festival in 2006; he fell in love with Palm Springs, moved there and says it's the best place he's ever lived.

Blayne Bell will perform at this year's Palm Springs Pride Festival Saturday, November 3, 12:45 to 1:15 p.m. on the Main Stage. His current CD is a solo effort called Overcome, recorded in 2005. Three songs from it, including the appropriately titled single "Escape," are available on his MySpace page, www.myspace.com/blaynebell. Bell has a Web site under construction at www.blaynebellmusic.com, where his CD will soon be offered for sale. To find out more about the Palm Springs Pride events November 3 and 4, visit www.pspride.org

Zenger's: Let's go back to your childhood and how you got into music in the first place.

Bell: I went to Lubbock Christian High School in Lubbock, Texas, and in 1991 a music teacher named Barla Moore liked me, so she pushed me to sing. I said, "I don't want to sing. That's not what I was born for." But I performed during the talent show in Lubbock for them and liked it so much I ended up coming out publicly into the music scene. Within three years I had a top record contract with Sony/Epic with Acappella [his Christian-music singing group], and by 1996 I was a solo artist.

Zenger's: How did you manage the double life, being in Christian music and being Gay, for so long?

Bell: It wasn't easy. It was pretty obvious that I didn't date women. But my big excuse for that was that I was on the road 200 to 300 days a year, so I didn't have to worry about it. Plus I was in college, and you can pull that off so long. But after people have been together 10, 20 years, two old men living together in a home, you're going to eventually figure out that it's not just a "roommate" issue.

I knew some day I probably would come out, and I was just going to move to California or somewhere where I wouldn't have to worry about it so much. But I also felt that I had an obligation to support the GLBT community through the music business. I knew my own marketing and everything else, and I thought, why not do something for the Gay market?

Zenger's: It seems like an odd situation. You're in this Christian music cocoon. You're aware of the fact that if people find out you're Gay your whole career could dissolve overnight. Yet you're also kind of dipping your toe into the Gay community, and playing at Gay functions.

Bell: It was a hard thing. It was hard being in the Christian music business, especially with Sony/Epic Records and a top recording group. But at the same time, it was just that whole life of picture-taking, signing autographs, making ,000-,000 a night. It was hard being in the Christian music industry, and even just in a Christian home that didn't accept the Gay life in West Texas and everything.

I knew there were Gay bars. There were places you could go and meet the other Gay people, and I think I was fortunate that they started coming out with gay.com and all. The Internet really helped a lot growing up as far as meeting people in that part of the country. But it was very redneck. We had a lot of Gay people but they were just all closeted and quiet. And the ones who were out were generally not newscasters, as I was.

I knew I was Gay. I've never dated women, didn't want them. But everybody's got their own idea of what they want in their relationships. I grew up very conservatively, and so I wanted mine with just one person, not this "open" thing and going out and picking people up in the bars and the fields. I'm sure we've all done it at some point, but my goal was getting into a normal relationship. Here in Palm Springs I've seen that a lot more, with people who have been together years: 40, 50, some of them.

Zenger's: You'd been raised as a Christian. You'd heard the message that homosexuality was sinful, all that stuff in the Bible that people should be stoned and all that. How did you reconcile that with your growing awareness of your own sexual orientation?

Bell: It was just a way of life. I knew I had to follow the church. I didn't want to be Gay. I knew I was Gay, but I'd been taught it was wrong. I think it was just a set of rules and regulations. It's like a job. You either do this or you don't do this. It's like going to school. You act up and they swat your hand. You have the rules and you've got to follow them. Now I've learned that everyone has got to make their own rules for their own life. Back then I felt that my life was being controlled by all this organized religion.

When I was kicked out of the Christian university, it was finally over. My family knew about it. It was hard. It took me three years to get everything back in order, and I lost thousands of dollars. All my bookings went downhill because I was outed in the Christian music field, not to mention that I lived in Abilene, Texas, 110,000 people. Being on the news, people are going to know who you are in town.

But I felt that I just had to move out and really start supporting something that's me, starting my life. I had to deal with it for years. It was really hard because I knew that I was probably going to go to hell, because I believed in the Bible. Then I learned about the Metropolitan Community Church and I learned a lot of historical stuff about the Bible. I started studying the Bible and realized that a lot of it is just baloney. It's a really nice book that was put together, and there's a lot of truth in it, but it's been changed over the years and the centuries. It's just evolved to what it is now, and all these organized religions are teaching people different things.

Zenger's: How did the folks at Abilene Christian University find out about you?

Bell: My ex-husband told them I was Gay. Then they went on the Internet and searched, and of course I'd been at all these Gay Pride events, and it was all on the Web. Even before I came out in 2001, I'd been pretty much singing in the Gay community for three or four years. I was just doing it in other states, other places. I knew some day it would eventually catch up with me. Someone would find my name on a search engine, or something, but I figured I'd say, "You know, it's no different than Dolly Parton singing to the Gay people. It doesn't make her Gay."

The dean of the university called me to his office. He had all these print-outs. He said, "I know you're Gay. In fact, your husband brought in a tape-recorded conversation you two were having." I said, "Oh, that's nice." We were having relationship problems, and he had had a serious alcohol problem towards the end of the relationship. I don't want to elaborate too much on him, but he just did it out of deviance. I don't think he really thought that it would turn into a wildfire like that. Anyway, Abilene Christian has a set of rules in which they believe, and which as a private institution they can enforce. So they said, "You have to go to counseling for six hours a week until you graduate, two hours each session," and I said, "I won't do it." I finally just told them, "Yep, I'm Gay," and that was the end of it.

Zenger's: They said you had to go to "counseling" six hours a week. Was this one of those "reparative therapy" things where they thought they could change you?

Bell: Yeah, it's one of those deals where you sit down and you talk to the counselor, and they say, "Do you feel you're Gay?," and why, trying to put you through everything because they believe being Gay is wrong. Well, that's pretty much where that went.

I lost ,000 in 2001, over a one-year period, paying the bills and suing the university. We had to settle out of court because I got very furious with them and I made a phone call one day. My whole life had been shattered, and I was furious. So I said some very derogatory comments on the phone, which I shouldn't have and which undermined my case. I'm not going to elaborate too much on that, but I got vocal. But who wouldn't, when you take half their life away, and you take their belongings, and you're going to court just to get your college hours? That's all I wanted. They said, "You're suspended because you won't follow our rules." I said, "I'm about to graduate. Why in the world can't we just go three or four more weeks, I'm graduating, and I'm out of here?"

After they kicked me out, I moved to Florida for a while, and then finally moved to New Mexico. I was offered a job at a company that was non-profit, offering educational benefits for students and things. The CEO was a Gay friend of mine, which helped. While I was in Albuquerque there were two youth who'd also gone to school in Abilene, an 18-year-old and a 20-year-old, who'd also been kicked out for being Gay. The 18-year-old, Jason, moved in with me at the time.

His family wouldn't have anything to do with him. The church and the school wouldn't have anything to do with him. He had nowhere to go, and I tried to give him a chance to better his life. It was kind of a conflict of interest, because I had a two-bedroom apartment, and I was a 26-year-old Gay male having this kind of wayward 18-year-old moving in with me. I didn't want people to get the wrong impression. I wanted them to know it was professional But I gave him time to get a job and do what he needed to do to better his life.

Instead, in the middle of the night I got a call from the police. I went to the police station, and they told me Jason had been to a nightclub, checked into a motel drunk, and then went in the room and shot himself. I had to go to the morgue and identify this body, because luckily he'd had my card in his wallet, or they wouldn't have known how to trace him.

A 20-year-old moved in with me about a year later, kicked out of MacMurray University, which was adjacent to Abilene Christian. It was a Methodist Christian school. They have three in that city. He was in the bars a lot, and I said to him, "If you don't get your life together, then you're going to lose your opportunity, you know. But I'm trying to help you. Here's some money, here's what you need. Try to better yourself." Instead, after three or four months with me, he just disappeared.

These students would not have been in the situation they were in if they had not been Gay. And these people are doing them an injustice. They think they're helping them by saying, "Well, Jesus loves you, but if you're not going to change your life, then we can't have you here." How is that bettering somebody? You don't have to agree with them, but you certainly don't have to trash them out on the street. Is this what we're putting these kids out on the street for? Just because they're different?

In a way, I was lucky. When they kicked me out, I had close to ,000 in IRA's and things that I had to cash in. It was money I had saved over the years. I made more money at 19 than I do now. But I'm happy with myself. Sometimes money and all that is not important. But happiness is, and how are we going to give happiness to these youth if we don't give them support?

Zenger's: You've mentioned problems some of the people you've known had with their families. How did your family react to your being Gay?

Bell: When I was outed in Abilene, it went statewide in different things but it never hit Lubbock. It wasn't until about a year and a half later that my family found out. A news station in West Texas said, "Would you come and talk about being Gay?" I really wasn't living in Lubbock at the time. I would come in and stay for a while, and then I would go back to where I was living at the time.

My family saw it on the news, and my uncle called my stepdad and said, "Do you know Blayne is 'that way'?" Then my cousin called and said, "He's a little on the 'left side,' not the right." And they didn't like it. They didn't talk to me for a while. It was probably about a year that we had very, very little communication. But then it changed. After my stepfather and my two grandfathers all died within about a year or two, my family pretty much said, "We just don't want to hear about it."

I always told them and said, "If you all would just sit down and talk to me, and understand that my life is not all about sex, I don't go out and pick up people. I had a husband for 6 1/2, seven years, and he was a wonderful person. There's more to being Gay than a sexual issue."

My family just won't open their minds any further than that church building and what they've been taught. They don't want to experience and understand me. They don't accept it, but at least they don't judge me anymore. They will tell me, if I ask them about homosexuality, "I think you're going to hell. That's what the Bible says." And I said, "Well, if I write on a black sheet of paper, it doesn't make it black. Just because you're in a chicken house doesn't make you a chicken."

Zenger's: How would you describe your current music, and what's the status of your career now?

Bell: It's going to be in the Gay community. I've had my first album out for a couple of years now, and I'm still pushing that. I feel my next album will be out within the next year to two years. I'm currently collaborating on some new songs. I write some of my own, and some of the other popular songs I pick up. I'm also still trying to get my book out [Still Standing, originally scheduled for release in 2006]. My career is going up. It will be good.

I'm staying in the Gay community only. I refuse to go back to what I was doing. I'm only singing to the Gay community. Straight people can be a part of it, but it's going to be at Gay events and Gay outreaches, because that's my life. Everything else that I do is pretty much just to better other people and make a decent living. I have my own work on the side that I do, and that's just to help keep the bills paid, and benefits and insurance and all that. But it's different working with Starbucks and doing home health care on the side of that, and then still being able to go out and perform, to give people a sense of reality and hope.
Report this post as:
LATEST COMMENTS ABOUT THIS ARTICLE
Listed below are the 10 latest comments of 2 posted about this article.
These comments are anonymously submitted by the website visitors.

Local News

GUIDE TO REBEL CITY LOS ANGELES AVAILABLE A12 5:39PM

lausd whistle blower A10 11:58PM

Website Upgrade A10 3:02AM

Help KCET and UCLA identify 60s-70s Chicano images A04 1:02PM

UCLA Luskin: Casting Youth Justice in a Different Light A02 11:58AM

Change Links April 2018 A01 11:27AM

Nuclear Shutdown News March 2018 M31 6:57PM

Join The Protest Rally in Glendale on April 10, 2018! M29 7:00PM

Join The Protest Rally in Glendale on April 10, 2018! M29 6:38PM

Spring 2018 National Immigrant Solidarity Network News Alert! M19 2:02PM

Anti-Eviction Mapping Project Shows Shocking Eviction Trends in L.A. M16 5:40PM

Steve Mnuchin video at UCLA released M15 12:34AM

Actress and Philanthropist Tanna Frederick Hosts Project Save Our Surf Beach Clean Ups M06 12:10PM

After Being Told He's 'Full of Sh*t' at School Event, Mnuchin Demands UCLA Suppress Video M02 11:44AM

Resolution of the Rent Strike in Boyle Heights M01 6:28PM

What Big Brother Knows About You and What You Can Do About It M01 3:30PM

Step Up As LAPD Chief Charlie Beck Steps Down F14 2:44PM

Our House Grief Support Center Hosts 9th Annual Run For Hope, April 29 F13 12:51PM

Don't let this LA County Probation Department overhaul proposal sit on the shelf F13 11:04AM

Echo Park Residents Sue LA Over Controversial Development F12 8:51AM

Former Signal Hill police officer pleads guilty in road-rage incident in Irvine F09 10:25PM

Calif. Police Accused of 'Collusion' With Neo-Nazis After Release of Court Documents F09 7:14PM

Center for the Study of Political Graphics exhibit on Police Abuse posters F07 9:50AM

City Agrees to Settle Lawsuit Claiming Pasadena Police Officer Had His Sister Falsely Arre F04 3:17PM

Professor's Study Highlights Health Risks of Urban Oil Drilling F04 12:42PM

Claims paid involving Pasadena Police Department 2014 to present F04 10:52AM

Pasadenans - get your license plate reader records from police F03 11:11PM

LA Times Homicide Report F03 1:57PM
More Local News...
Other/Breaking News

Doxa du lobby A25 2:03AM

Tech workers organize A24 6:24PM

Architect Stephen Francis Jones A24 3:01PM

UN Forum Wrestles with Economic Policies 10 Years After Financial Crisis Islands Call for A24 12:34PM

Xyloglossie attitudinale A23 8:07AM

Shadowgun Legends Hack and Cheats A23 7:24AM

What does the Quran Say About Islamic Dress?? A21 4:15PM

Biodiversité ou la nature privatisée A20 11:22AM

The Market is a Universal Totalitarian Religion A20 7:14AM

Book Available about Hispanics and US Civil War by National Park Service A19 5:52PM

The Shortwave Report 04/20/18 Listen Globally! A19 4:01PM

The Republican 'Prolife' Party Is the Party of War, Execution, and Bear Cub Murder A19 11:48AM

Neurogenèse involutive A18 9:21AM

Paraphysique de la dictature étatique A16 10:13AM

Book Review: "The New Bonapartists" A16 3:45AM

The West Must Take the First Steps to Russia A14 12:25PM

Théorie générale de la révolution ou hommage à feu Mikhaïl Bakounine A14 3:30AM

The Shortwave Report 04/13/18 Listen Globally! A12 3:50PM

"Lost in a Dream" Singing Competition Winner to Be Chosen on April 15 for ,000 Prize! A12 3:48PM

The World Dependent on Central Banks A12 4:43AM

Ohio Governor Race: Dennis Kucinich & Richard Cordray Run Against Mike DeWine A11 9:40PM

March 2018 Honduras Coup Again Update A10 10:52PM

Apologie du zadisme insurrectionnel A10 3:33PM

ICE contract with license plate reader company A10 1:14PM

Palimpseste sisyphéen A09 11:23PM

Black Portraiture(S) IV: The Color of Silence...Cuba No...Cambridge Yes A09 5:32AM

Prohibiting Micro-Second Betting on the Exchanges A09 4:18AM

Prosecutors treat Muslims harsher than non-Muslims for the same crimes A08 10:33PM
More Breaking News...