Features
•
latest news
•
best of news
•
syndication
•
commentary

Feature Categories



KILLRADIO
printable version - js reader version - email this article - view hidden posts - tags and related articles

by Fredric L. Rice Friday, Oct. 12, 2007 at 7:26 AM
feedback@crystallake.name
Environmental Education Center nature trail foot bridge restoration was completed successfully. Photographs and a video are available at the link provided.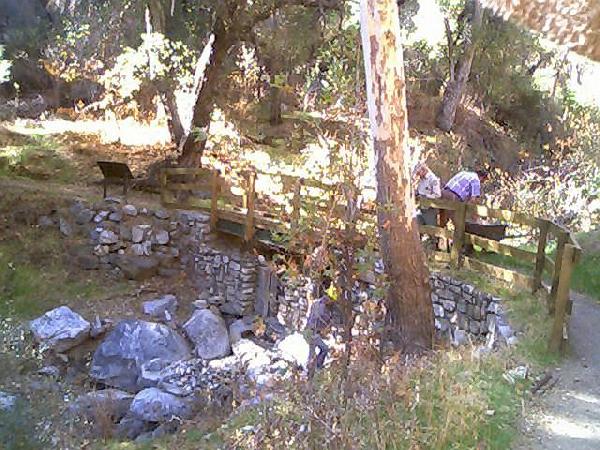 brdg011.jpg, image/jpeg, 640x480

Friday night, October 5'th, and I stood outside of the new visitor center being built at the bottom of the gateway into the San Gabriel River Ranger District of the Angeles National Forest.

I expected a ride up to the environmental Education Center, and while waiting in the dark with my backpack, tent, laptop computer, and tools, I suddenly discovered that I was about to freeze to death! Stepping discreetly behind some trees and brush, I installed my thermal clothes, stepped out of the bushes, and resumed my wait, covered in warm toasty comfort!

My friend came and picked me up, tossing my bicycle and other things into the back of his pickup, then we wound our way up into the canyons. Along the way we got a bit of rain and the temperature continued to fall as we climbed up to 2000 feet altitude.

Setting up my tent in the dark and the freezing rain was kind of fun; the temperature got down to around 35 degrees so in actual truth it wasn't exactly FREEZING, but it was sure cold enough! Since my sleeping bag was being stored somewhere up in the Crystal Lake Creation Area, I got to shiver and shake under a single blanket in damp thermal clothing -- what fun!

Morning eventually, slowly, came, and with it some warmth -- it was 40 degrees by the thermometer inside the Education Center when the gate was unlocked by a USFS guy getting an early jump on things. Karen had a watershed restoration project going on this morning and I was happy to help direct volunteers who came a bit late to the work site down across east Fork Bridge and in to Burro Canyon for that project.

While I was directing volunteer traffic, the San Gabriel Mountains Trailbuilder team arrived and drove in to the Rincon Fire Station to acquire their tools and concrete that they would be using today. Eventually, after it seemed that no further volunteers would be driving up for the watershed reclamation project, we closed the gate and waited for a trailer hitch to bring the concrete mixer to the Education Center.

What fun! Since there was a bit of a delay while the hitch was located and the mixer brought in, Tom, Mike, and myself started hauling some of the concrete dogbone blocks from the pile at the gate where they were being stored down to the SECOND foot bridge that's still being built (I didn't get photographs of that but it's in the videos offered in the links below.)

When the mixer came, the actual work could get started.

Jeanette, Bron, Ben, Mike, Tom, Wayne, and myself -- oh man, I hope I didn't forget anyone! -- drilled, glued, mixed, washed, and hauled for about five or six hours, installing 31 bags of concrete at 60 pounds each, carried in buckets from the mixer down below at the Center.

Holes were drilled into the existing foundation and into one of the boulders that had been placed into position by the Trailbuilders the previous week. Rebar was cut into proper lengths and then epoxy was used to secure the rebar into the holes that had been drilled.

The rebar was tied tightly together using strong wire and pliers, then rocks that had been hammered into useable sizes were mixed with the concrete coming up in buckets after the whole area was washed clean with fresh water which was also hauled up in buckets.

The under sections of the existing bridge foundation which had been undermined were filled with concrete and rock, with special care being taken to ensure that there were no air gaps, leaves, or twigs in the mix. The area where the plunge pool was slowly undermining the footing was filled in with rocks and concrete, and the surrounding areas to the left and right of the plunge pool area was carefully filled in.

When the rocks and concrete were finally all in place, more buckets of fresh clean water was hauled up and the whole area was scrubbed down with soft brushes to remove concrete splatters so that the footing and surrounding area was as clean and natural looking as we could make it.

Down at the Environmental Education Center, the concrete mixer was cleaned out and a GREAT DEAL OF EFFORT was put forth by Tom, Jeanette, and Bron to ensure that the mixer was perfectly spotlessly clean once again. The mixer was also inspected -- every seam, weld, and bolt -- to make sure that the mixer would be in perfect condition for the next people to use it.

The tools and the many buckets that we had used were cleaned out as well. When all of the tools and such had been cleaned out, I took one of the trash containers at the Center and I scraped up the spilled concrete and contaminated soil under the mixer, and I placed it into the trash container.

While the container of contaminated soil was being dumped in to one of the bigger bins back at the Fire Station, I used a McLoud to till up the ground where I had removed the spilled concrete, and I brought in some leaves and pine needles to make the work site look nature and match the surrounding area.

The tools were returned to their proper place, and we all got to watch as Ben carefully backed the concrete mixer in to its storage space at the Fire Station -- and that was a difficult job to do since there wasn't much room and backing trailers isn't easy when one doesn't do it very often!

Well, I have to admit that I wussed out a bit and came back down the mountain a day early. As the other volunteers were leaving, I asked for a ride down the mountain despite the fact that I had planned to spend another night, but the cold of the night before and the lack of an actual sleeping bag -- and the fact that I had ripped out the crotch of my pants! -- all conspired to make me long for a hot shower, a bottle of Tylenol, and a cup of hot coffee.

Did I mention how FROCKING FUN these things are? We have a volunteer up there -- Alan -- who collects litter and hauls garbage practically every week end, bless him, and he must enjoy it... But I prefer hot, sweaty, heavy lifting, back-straining labor like this since it's great exercise and -- when it's trails and bridges that little children use -- I think this kind of work actually means something and has lasting benefit.

This effort was actually less stressful and easier than usual since there wasn't a hike required bringing in tools. If you ever thought about joining a volunteer effort just to see what it's like, projects like this one is an excellent first time project since it's relatively easy and gives some indication of what volunteering in the Angeles National Forest is like.

It's fun!


www.crystallake.name/twork/05oct07/05oct07.htm

Report this post as:


by Fredric L. Rice Friday, Oct. 12, 2007 at 7:26 AM
feedback@crystallake.name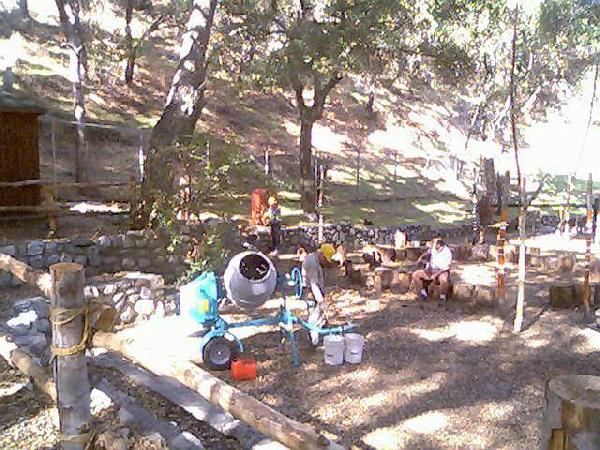 brdg007.jpg, image/jpeg, 640x480

And carrying it up to the bridge foundation in buckets

www.crystallake.name/twork/05oct07/05oct07.htm

Report this post as:


by Fredric L. Rice Friday, Oct. 12, 2007 at 7:26 AM
feedback@crystallake.name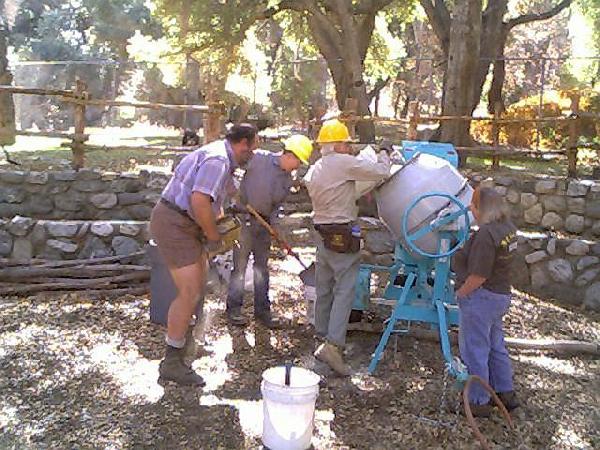 brdg019.jpg, image/jpeg, 640x480

Ben did a great job filling in all the gaps

www.crystallake.name/twork/05oct07/05oct07.htm

Report this post as:


by Fredric L. Rice Friday, Oct. 12, 2007 at 7:26 AM
feedback@crystallake.name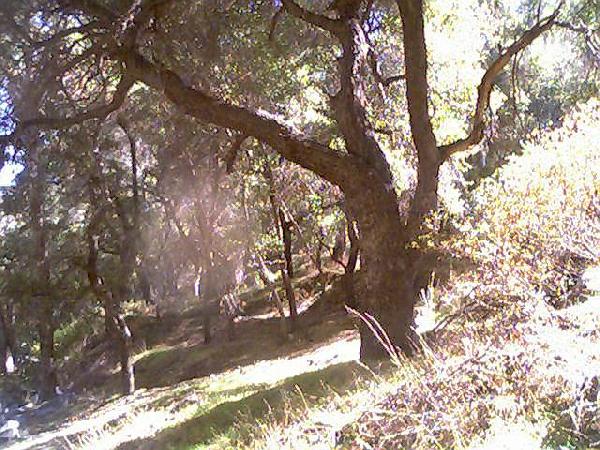 brdg025.jpg, image/jpeg, 640x480

Most of the work has been completed

www.crystallake.name/twork/05oct07/05oct07.htm

Report this post as:


by Fredric L. Rice Friday, Oct. 12, 2007 at 7:26 AM
feedback@crystallake.name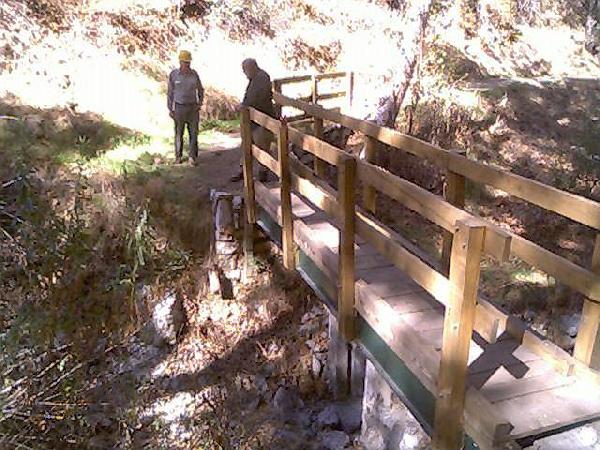 brdg033.jpg, image/jpeg, 640x480
The final work is examined to ensure that the area is clean and looks as natural as possible
www.crystallake.name/twork/05oct07/05oct07.htm
Report this post as:
Local News

Jane Fonda Divests From Wells Fargo J03 8:27PM

LA Solidarity Protest Rally For Japanese American Apparel Workers Who Face Loss D16 1:49PM

Architect Chris Mercier Unveils Mural in Rogers Park, Inglewood D16 9:13AM

Peace Vigils D15 8:20PM

Standing Rock Solidarity Action D11 9:59PM

Large Turnout for Dakota Pipeline Protest N16 3:35PM

NODAPL N15 2:24PM

Cruel Teacher Taunts 6th Grade Kids, Fired N12 8:47PM

How Cities Can Protect People Threatened By Trumpism N12 8:17PM

What ThisMeans, How This Happened, What to Do Now N12 5:03AM

PROTEST TRUMP TONITE N11 2:55PM

Westside Thanksgiving for everyone in LA ! N11 12:36PM

FOR A WORLD WITHOUT NUCLEAR RISKS   N10 5:05AM

Non-violent protest ideas; hooch bomb recipe N09 7:42AM

Nuclear Shutdown News October 2016 N05 6:17PM

State Legislature is where it's at N03 10:16PM

Tom Hayden on The Unfinished Business of Democracy O28 4:49AM

Video: Tom Hayden, Listen Yankee! 2015 O25 10:56AM

Art About Privilege Censored on Facebook O23 3:16AM

SAG-AFTRA video game performers on strike O22 11:04PM

Stop Circus Animal Suffering – Protestors Urge Audiences to Shun the Wild Animal Circus O20 3:04PM

KPFK LSB statement on DAPL arrests O19 10:25AM

Transit Dependent Residents Need a Guaranteed Right to Stay O15 11:36PM

My letter to JJJ on JJJ O11 12:33PM

Prop 60, Condom Law O10 12:43PM

KPFK-Pacifica Radio Archives being sold off on ebay? O10 10:31AM

KPFK struggles without re-solutions O07 2:25PM

Problems with Measure M O05 5:24PM
More Local News...
Other/Breaking News

De l'éducastration chattemite J19 10:15PM

The Shortwave Report 01/20/17 Listen Globally! J19 5:33PM

"Trump does not read much" J19 1:28PM

Important Discoveries J18 6:50PM

#J20 CalArts in SoCal Plan Walkout; NY Galleries & Nonprofits Plan Art Strike J18 5:25PM

FBI's "Suicide Letter" to Dr. Martin Luther King, Jr., and the Dangers of Unchecked Survei J18 5:10PM

Camp 120 Will Hold Space in Front of City Hall Until Inauguration Day to Protest the Inac J18 5:03PM

Teamsters Local 2010 Initiates Mass Walkout and Strikes at University of California J18 4:12PM

Civil Rights Groups Sue Caltrans to Stop Illegal Raids Against California's Homeless J18 4:05PM

This Week in Palestine, January 13th, 2016 J18 3:44PM

Littératie ou numératie ou La loi J18 4:14AM

Nurses Storm The Boulevard To Pressure Trump on the ACA J17 4:49PM

Nurses Storm The Boulevard To Pressure Trump On the ACA J17 3:12PM

Gangstar New Orleans Hack J16 6:18PM

All Government Officials can be Sued for Actions Outside their Authority – Robert Tronge J16 12:36PM

The Effectiveness of Sex Offender Treatment Programs – Robert Tronge J16 12:32PM

Inevitable Conclusion J15 7:48PM

Trump and the Consequences: Democracy at a Crossroads J15 9:07AM

Nuclear Shutdown News January 2017 J14 8:17PM

Honduras coup update December 2016 J14 6:06PM

Evidence that fbi corrupts all of society at will J14 4:15PM

Intellectuels d'élevage, intellectuels de batterie, intellectuels industriels J14 8:03AM

Paraphysique de virologie politicienne J12 10:58PM

The Shortwave Report 01/13/17 Listen Globally! J12 5:23PM

Code Pink on the temple Mount J12 8:36AM

The Civilization Crisis: Post-Factual Criticism of Politics J12 6:43AM

L'enterrement de la liberté d'expression J11 10:23PM

Control of major news media by fbi J11 8:04AM
More Breaking News...