Features
•
latest news
•
best of news
•
syndication
•
commentary

Feature Categories



KILLRADIO
printable version - js reader version - view hidden posts - tags and related articles

by Unhoused Wednesday, Apr. 11, 2007 at 6:10 AM
worldatpeace@hotmail.com
In the face of recent news reports that homeless numbers are now increasing downtown, two first-hand accounts of abuses of homeless people on L.A.'s Skid Row --and this as LAPD continues business' unprecidented eight-month attack on L.A's downtown blacks.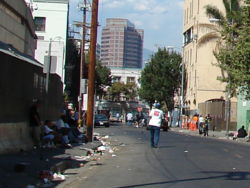 skid_row.jpg, image/jpeg, 250x188
On March 27, 2007 the Los Angeles Times ran an account –prominently on it's opinion page --of the supposed "outrage" of LAPD Skid Row Captain Andrew Smith that the ACLU is currently daring to take action in Federal Court on behalf of a dozen Skid Row residents --charging LAPD with increasingly harassing innocent black homeless people on Skid Row; this is also despite several previous Federal Court orders aimed at curbing LAPD's continued brutality towards the African American homeless community downtown. Seventy-five percent or more of L.A.'s Skid Row are African-Americans.

On Skid Row today, hundreds of homeless people each day now are made to get up at 5:30 every morning in a sleep deprivation tactic --or face arrest. They further face possible immediate incarceration and property seizure if at any time any of the hundreds of them lie down or even sit anywhere on Skid Row until 15 and ½ hours later, at 9 p.m --outside of two tiny parks which provide almost no shade. Each day religious "missions" come out set up their blaring loudspeakers with fringe religious propaganda as their main message; and force the homeless people here to endure the aural onslaught: all in order to receive nutritionally thin bowls of noodles and water.


This is the way America treats it's homeless.

-----------------------------------------------------------------------

. In contrast to the sanctimonious rant by Captain Smith that the LA Times has choose to print in its pages --the following two brief factual accounts speak for themselves regarding the different course of treatment in two recent LAPD attacks on the homeless on Skid Row.

=========================
Bill Clinton*

My own name is Bill Clinton;* and I have lived off and on Skid Row since 1999. Currently I am trying to live peaceably at 6th and Towne.

This last, Friday, April 6th --at the early hour of 6 a.m., before the sun was even up, and with no advance warning, there was another in a long series of large raids by LAPD of us homeless here in tents.

It was a raid that involved at least 10 squad cars of cops –attacking everybody, especially between 6th and 7th on Towne on Skid Row.

An area which is mostly nothing but a blank warehouse wall --and with no nearby "businesses" to disturb.

As I say, moreover, the police approached every single tent near that corner; both on Towne and also on 6th.

Except mine.

The police know me well as an activist and know where I sleep. I recognized several of the officers from recent encounters --and I suspect I was left alone solely because they know I am an involved activist who seeks to hold LAPD responsible for the abuses going on here right now against the innocent homeless on the sidewalk.

I was also the only white person encamped near there.

After it was over, I spoke with "New York Julio*" and one of the other of only about three of us who were left. According to the others, it seems that everybody who was not awake was arrested --simply if they were only even asleep.

And their property was seized, and or thrown with abandon --across the sidewalk and or the gutter. Among which was the property of Gabriel Johnston* and his wife Leticia*.

A lot of personal property seemed to be left behind: even though it didn't seem so much as to be beyond LAPD to have kept it all that morning, about a pick-up full, for its owners to later reclaim.

As I say, I was the only one there who was white.

And the only one who was not even harassed.
======================

Gabriel and Leticia

Among those whose property was seized, and some of it lost, that morning was Gabriel Johnston and Leticia's. Gabriel, 40, black, and his African-American wife, were rudely woke up by LAPD that morning --pulled out of their tent, insulted, cuffed, searched --and despite absolutely no drugs being found on them, were nevertheless taken into custody that morning: taken to the LAPD station, and not released, and with none of their property, until 1:30pm.

Seven hours later on that Friday.

Gabriel is very recognizable --in addition to a colostomy bag from a recent operation, he has a tracheotomy valve on his throat.

Gabriel, can speak in only a whisper; he has to put a finger over his throat-valve --even to speak at that low volume. On Saturday, at a food line on Skid Row, he showed me the result of his and his wife's all morning ordeal at the hands of LAPD that last Friday --a citation for sleeping on the sidewalk.

A ticket citing him for "violating" LAMC 41.18(d).

Gabriel and his wife, whose only crime is that their combined relief payments, and other minor income, cannot afford to house them even in cheap hotels here for the entire month, were woke up by LAPD last Friday and were among the score who were searched, their property was seized, and who were hauled down to LAPD for the entire morning and harangued to "get into a shelter."

The first thing that Gabriel did when police attacked him and his wife that morning though --was to try to beg the police not to handcuff him.

As was noted, Gabriel cannot speak or answer any questions unless he can put his finger over his tracheotomy throat-valve.

The first thing the police however did, was separate Gabriel and his wife: and begin their harangue:

"Where's your drugs? We know you both are on drugs. Where's your drugs?"

Gabriel went through Prop. 36 treatment about a year ago --as a former drug offender. But according to Gabriel and his wife, Gabriel's only actual drug use was over 11 years ago --and that a certain agency only put him through this program recently in order to pad their numbers.

Gabriel went to the program --in the vain hope that it would help them get housing.

Neither Gabriel nor his wife Leticia have any sort of criminal record beyond that long-ago possession conviction of Gabriel's.

The next thing the LAPD did that morning though was handcuff Gabriel --all the while expecting him to answer their barrage --as they started ripping through his and his wife's bags; and demanding he tell him where his drugs were.

Gabriel was near tears --and even knowing that nothing he even tried to say could be heard --was begging that they had no drugs; and trying to tell them to please let him show them his California I.D. He had just gotten it. It cost him $25. Even as they were demanding he tell them where his I.D. was, with his hands cuffed behind his back, LAPD officers dumped the entire contents of Gabriel's backpack on the ground.

Included somewhere in it was Gabriel's California I.D.

According to Gabriel, later, the police's excuse for keeping them cuffed and dragging him and his wife down to the station was that "they had no I.D."

Of course, it gave the police --who claimed somehow nevertheless to know so much about them --plenty of time to question them to no end.

"Why aren't you off the streets?"

"You know the law --no sleep after 6 a.m."

When Gabriel and his wife were finally released it was 1:30 in the afternoon.

One can be sure, too -- the police will tell anybody inquiring, that during this entire all-day ordeal, that Gabriel and his wife weren't "arrested."

Only "cited."

And if the public were to enquire, especially since it's the public calling, they'll no doubt tell you, oh so very sincerely, as well, just how "sorry" they are that people are homeless.

And also how they are really just trying to protect them now.

And how outraged they are that anybody would "oh my" accuse them of intentionally harassing anybody on Skid Row on behalf of the Central Cities Business Association.

But as you may be aware, many of us here have just been simply asking the LAPD's Police Commission to not wake people up and cite them or harass them on Skid Row in this "encampment zone" unless there is a substantial reason to believe that they are interfering with a business.

And as was noted --this is an area where this raid took place last Friday --that is almost nothing but a large, blank, empty, back warehouse wall.

Along with these worthless tickets, though, for merely being human in downtown LA, and with none of this world's basic human rights --when finally released, Gabriel and his wife were given a slip of paper telling them to walk about 8 blocks away and to pick up their property. When they got there it was almost 2p.m. According to the regular workers at the property warehouse, only actual LAPD police officers themselves could release to them their caged, impounded, property.

They also told them that LAPD officers have to be called; and are available there to release property only from 10 am to 2 pm.; and only on Mondays, Wednesdays, and Fridays.

One can also surmise from this that they are just too busy at LAPD --out hauling other downtown African American homeless people into the station for merely sleeping now --or any other excuse they can make up --to even think that maybe somebody other than a $50,000 a year or more LAPD officer ought to be assigned to this simple clerk's warehouse duty.

And of course --there was no officer there waiting when Gabriel and his wife arrived.

And none came before 2p.m. for Gabriel and his African-American wife.

On Saturday, someone asked Gabriel what they had to keep themselves warm until Monday.

Nothing.

But they told those listening that they, too, would nevertheless continue to "rough it"
on the street here in L.A.'s growing black Guantanamo.


Report this post as:
LATEST COMMENTS ABOUT THIS ARTICLE
Listed below are the 10 latest comments of 1 posted about this article.
These comments are anonymously submitted by the website visitors.

| | | |
| --- | --- | --- |
| TITLE | AUTHOR | DATE |
| Uncle Hayes | Duh | Friday, Apr. 13, 2007 at 6:14 AM |