Features
•
latest news
•
best of news
•
syndication
•
commentary

Feature Categories



KILLRADIO
printable version - js reader version - view hidden posts - tags and related articles

by IMPEACH BU$H Tuesday, Sep. 05, 2006 at 4:16 AM

Lebanon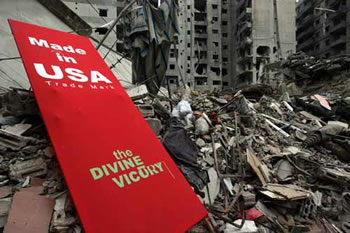 lebanon.jpg, image/jpeg, 350x233
Turning Rubble into Rhetoric

With war's debris as backdrop, Hezbollah seeks to stoke anti-U.S. sentiment and gain Lebanese support

by Mohamad Bazzi

HARET HREIK, Lebanon - Hezbollah has a message for everyone entering this south Beirut neighborhood: The devastation all around was "Made in USA."


A sign posted by Hezbollah on the ruins of a building reads, "Made in USA trademark, the Divine Vic[t]ory " in the southern suburb of Haret Hreik in Beirut, Lebanon. Many Lebanese are coming to the destroyed neighborhoods in Beirut to witness the damage, so extreme that residents of the areas can not return home. (Getty Images)

Now that the fighting is over, the propaganda war has begun. Using the rubble and widespread destruction in Haret Hreik, Hezbollah's public relations department has gone into high gear to garner international sympathy and win over Lebanese domestic opinion.

In the Beirut equivalent of a Madison Avenue ad campaign, the Shia militant group has decorated mountains of rubble where dozens of buildings stood with giant red-and-white banners. Printed in English and Arabic, they bear slogans such as "Made in USA," "The New Middle Beast" and "Smart Bombs for Dumb Minds."

Hezbollah also is organizing daily tours of the destruction for visiting diplomats, Lebanese politicians, business leaders and others who want to see. This campaign is directed not so much against Israel, which caused the devastation during 34 days of intense bombing, but at the United States. It supplied Israel with weapons and provided diplomatic support for Israel to continue its offensive despite international appeals for a quick cease-fire.

"People knew during the war that these were American bombs falling on us, in Israeli hands," said Ghassan Darwish, a Hezbollah official in charge of the propaganda effort. "People are receptive to these slogans, especially 'Made in USA.'"

But to Hezbollah's critics, the campaign is intended to deflect attention from the militia's abduction of two Israeli soldiers on July 12, which provoked the war. Initially, many Lebanese - especially Sunnis, Christians and members of the Druze minority - were angry at Hezbollah for dragging the country into a war. As the Israeli offensive intensified, killing hundreds of civilians and destroying Lebanon's infrastructure, that anger turned toward Israel and the United States.

"There is an effort by Hezbollah to obscure its own actions and the consequences they had," said Mohammad Abi Samra, an editor at the Beirut-based An-Nahar newspaper and a Hezbollah critic. "By blaming America, Hezbollah wants to tell the Lebanese people that this was a conspiracy against it and capturing the two soldiers did not matter ... Lebanese are angry at America and Israel, but they still blame Hezbollah for its role in this war."

Denouncing White House

From the war's early days, Hezbollah leader Sayyid Hassan Nasrallah focused on the United States and its backing of Israel. In an Aug. 3 speech broadcast on the group's TV station, Nasrallah claimed Israeli Prime Minister Ehud Olmert was carrying out American wishes by attacking Lebanon. "The ones who bear most responsibility for what has happened since the first day of this war - in killing, massacres and destruction - are Bush and his administration," Nasrallah said. "Olmert and his government are only tools that carry out the orders."

In this context, analysts say, it is natural for Hezbollah to direct its postwar public relations offensive at the United States. By extension, the group also is targeting U.S. allies in the Lebanese government, including Prime Minister Fuad Saniora. After a United Nations-brokered cease-fire on Aug. 14, some pro-U.S. members of the government tried to open a debate about disarming Hezbollah.

But the militia was bolstered by its own surprising tenacity and its ability to inflict heavy casualties on Israeli forces and prevent them from capturing significant territory. In Lebanon and throughout the Arab world, Hezbollah was seen as having scored a victory over a far superior Israeli military. That gave Hezbollah (Arabic for "Party of God") new leverage, and its leaders now argue that it must keep its weapons to defend against future Israeli attacks.

Touting a 'victory'

While it showcases the destruction, Hezbollah is also quick to capitalize on its military success. On the roads into Haret Hreik, the group covered billboards normally advertising cigarettes and perfume with posters proclaiming "The Divine Victory." The banners have silhouettes of fighters, some holding machine guns, others standing next to a rocket launcher.

Hezbollah's "victory" came at a high price for the tens of thousands of families who lived in Haret Hreik. It was the most densely populated neighborhood in south Beirut, a crowded swath of apartment buildings known as dahiya, or the suburbs. It is the Shia Muslim heartland, the place where Hezbollah draws its most loyal support and where many of its leaders live.

Today, fire trucks rumble through the streets, followed by backhoes and cranes busy clearing the roads of mangled concrete, broken glass and wooden beams. Everywhere, there are mountains of rubble, great mounds of cement blocks, twisted sheets of corrugated metal and spaghettis of iron bars.

Nearly 200 buildings have been reduced to mounds of detritus. The sides were sheared off many others, exposing ceiling fans, beds, kitchens, toilets, televisions, refrigerators. Whole buildings were collapsed, their top stories pancaked, telescoping down into each other.

Hundreds of people walk through the rubble every day, some to inspect their destroyed homes and businesses, others simply to see what happened to a once-bustling neighborhood. Many stop to snap pictures with cameras or cell phones. Unlike average Lebanese, politicians and visiting dignitaries - including UN Secretary-General Kofi Annan and several European ministers - receive a special tour from Hezbollah.

The first stop is the headquarters of Al Manar, the militia's television station that never went off the air despite repeated Israel bombings of all its buildings. Hezbollah has set up a white tent outside the mountain of charred rubble where Al Manar's main studio used to stand, with TV cameras recording visitors and often broadcasting live when a foreign dignitary shows up.

Ahmed Naeem, a Hezbollah member who leads tours of the area, points to the rubble all around. "There was a school; there, four apartment buildings; there, two buildings," he said. "Too many buildings to count."

Altogether, Israeli air strikes destroyed Al Manar's studio, plus nine surrounding buildings. Eight other apartment buildings on that block were severely damaged and Naeem said several of them might be torn down.

"Everyone is visiting," Naeem said excitedly. "We've had ministers, ambassadors, civil society groups, the Beirut Chamber of Commerce. Everyone!"

The wreckage is filled with red banners announcing Hezbollah's "victory." Other signs mock Israeli and U.S. claims that the bombing avoided civilian areas. One banner, wedged in the remains of a large apartment building, proclaims, "Extremely Accurate Targets."

"We've been getting these slogans from the war itself," said Darwish, the campaign's coordinator. "They're the slogans that the Americans and Israelis were using." For example, he and his graphic artists turned Secretary of State Condoleezza Rice's vow that the war would lead to a "New Middle East" into a poster saying "The New Middle Beast," with the word beast splashed across the banner like blood.

Longtime campaign

Since its founding in the 1980s, Hezbollah has mastered the art of propaganda. Before the war, south Beirut was dotted with stores selling militia accessories. Hezbollah flags, key chains, stickers and pins that light up could be bought for less than a dollar each. A yellow T-shirt with the group's logo - a clenched fist holding an AK-47 - sold for about $5. The militia also produced video games and omnipresent posters of its "martyrs," young men who died fighting Israel.

But Hezbollah's most effective propaganda tools were the dozens of videotapes it produced during its 18-year guerrilla war with Israel, which ended in May 2000 when Israeli troops withdrew from southern Lebanon. Hezbollah greatly increased the impact of its attacks by secretly videotaping them and distributing the tapes to news agencies. The videos often were shown on the nightly TV news in Israel, and that contributed to public pressure on the Israeli government to pull out of Lebanon.

In the latest war, Hezbollah designers worked on victory posters, stickers and banners - even while the bombs were falling on Haret Hreik.

"We never stopped working for one day during the fighting," Darwish said. "We were preparing our divine victory posters while the war was going on. Every day, we had to come up with something new."



Report this post as:
LATEST COMMENTS ABOUT THIS ARTICLE
Listed below are the 10 latest comments of 11 posted about this article.
These comments are anonymously submitted by the website visitors.

| | | |
| --- | --- | --- |
| TITLE | AUTHOR | DATE |
| 666 THE DEVIL (GEORGE WARMONGER BUSH) on Arming IDF IAF SS LIKUD NAZIS & Killing Civilians | 666 THE DEVIL (GEORGE WARMONGER BUSH) | Tuesday, Sep. 05, 2006 at 10:10 PM |
| Rocket Launchers for Peace | Becky Johnson | Wednesday, Sep. 06, 2006 at 5:32 AM |
| Project Mockingbecky | worker | Wednesday, Sep. 06, 2006 at 5:45 AM |
| the kidnapped soldiers | WTHF? | Wednesday, Sep. 06, 2006 at 10:01 AM |
| another version from CNN | just the Facts, Mam... | Wednesday, Sep. 06, 2006 at 10:28 AM |
| no no no... use this | The heh | Wednesday, Sep. 06, 2006 at 10:36 AM |