Tell the NSA:
StopWatching.US
Features
•
latest news
•
best of news
•
syndication
•
commentary

Feature Categories



KILLRADIO
printable version - js reader version - email this article - view hidden posts - tags and related articles
by Ross Plesset Friday, Mar. 24, 2006 at 6:49 PM

"In those times, people were energized, and they were more intellectual. People were processors of information, whereas today you don't see a lot of that." -- David Sanchez, former leader, The Brown Berets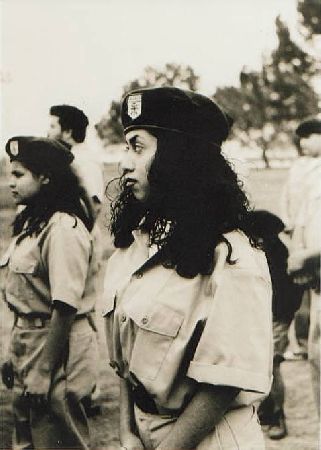 beretmujerphoto.jpg, image/jpeg, 321x450
August 7th, 2005, Roosevelt High School: Today is one of last days of production on the film Walkout, a dramatization of the Latino Civil Rights Movement of the late 1960s and early '70s (which is currently premiering on HBO). Among the final scenes being shot is a countdown to one of the walkouts.

David Sanchez, who founded the Brown Berets and is advising on the movie, is giving me a tour of the set. Many of the film's events happened on this campus. According to him, most of the police brutality occured at Roosevelt.

On several occasions, Sanchez displays nostalgia for his alma mater. "This is the same place," he exclaims, pointing to pipes in the ceiling of a hallway behind the auditorium. Adding to his nostalgia is the redressing of various areas to reflect 1968. Also, throughout the school are young adult extras dressed in '60s attire. Most of them are loitering as they wait for their next scenes. Sanchez, who himself has appeared as an extra in the film (i.e., an adult participating in a demonstration in front of Lincoln High. In the film, he is visible in the lower right-hand corner of the screen), fraternizes with many of them. "These clothes are kind of bigger than I normally wear and tighter in some areas," laughs Maple Navarro, a young Asian extra. (Sanchez will later tell me that Asians were involved in the walkouts, especially at Belmont.) "You feel like you're in a different era. It's fun."

We enter the school auditorium, where Sanchez graduated decades earlier ("I'm getting flashbacks," he laughs), and relax in the seating area among dozens of '60s-clad extras.

Q: What kind of input have you been providing on the project?

SANCHEZ: I'm advising the actor who's playing me [Douglas Spain]. I'm advising on the wardrobe: showing people how to wear brown berets, [and] I was able to get patches. . . . Also, on the script they asked me questions: "Is this right?" "Is that right?""Did this happen?" "What was going on in the coffee house?"

The coffee house was the Brown Beret headquarters. That's where the movement started.

The energy of the student movement was much higher in the 1960s and '70s [than today]. The energy of some of the actors was kind of low, so I tried to get them more energized about the movement energized about social change. In those times, people were energized, and they were more intellectual. People were processors of information, whereas today you don't see a lot of that.

. . . There were certain scenes where I would try to increase the intensity. For example, when the walkout was happening, the students were confronted by police, and the police arrested 15 of them and injured several. I increased some of the screaming.

Another time when the students were walking out of a school they didn't have any books in their hands. I said: "Wait a minute. When the students walked out, they had books in their hands. They weren't going back to school, they were going to go home!" The first time they shot it, their hands were empty when they walked out. [Then] they got some books and Pee Chees.

. . . Altogether, in 1968 there were 10,000 students that walked out of about five different high schools. It was shock to the school system. It will never be the same. The students walked out of the schools because they had demands. We organized the walkouts out of the Brown Beret coffee house, [a place] called La Piranya.

. . . The demands were: *more Latino teachers (there were hardly any Latino teachers), *better food (it's still pretty bad) and Mexican food, *Chicano history classes, *more counseling directed toward college as opposed to vocational education. Before we even made the demands, we made a survey and distributed it to the students. These were the kinds of questions we asked on the survey.

Because we made demands on the system, and they didn't want to listen to our demands, we walked out in March of 1968, and a few months later, there was a grand jury indictment to arrest 13 people. They were called the Los Angeles 13. There were nine Brown Berets and three others. We were arrested out of [our] houses, and some of us were arrested in the middle of the night. I was arrested at the Brown Beret office. I tried to get away: I jumped out the back window.

Q: Where was the Brown Beret office located?

SANCHEZ: Soto and Chavez Avenue. There's a Kentucky Fried Chicken there [now]. So we all went to jail. We were on a hunger strike for three days in the Parker Center. And the community came out: several thousand people demonstrated at the Parker Center.

. . . I think some of the things that the Brown Berets did were very creative because they did so many different kinds of events: walkouts, demonstrations, the Brown Berets started the Moratorium Committee, mass rallies, marches, caravans, occupations of parks, an occupation of Catalina Island, everything in the book in applying social change.

Q: Could you discuss the origin of the Brown Berets?

SANCHEZ: The original committee was called Young Citizens for Community Action, and then it became Young Chicanos for Community Action. I changed the name, and that's when a lot of people left the organization. I felt that we had to bring up the stakes. [The name] Young Citizens for Community Action wasn't good enough. We had to raise the stakes to become more firm and more militant in our beliefs in order to bring attention to the problems of the Chicano community. But then we wanted the stakes to be a little higher, so we changed the name again in 1967 from Young Chicanos for Community Action to the Brown Berets.

The way I became a Brown Beret was someone gave me a dark blue beret for a present, and I didn't feel comfortable wearing a blue beret. So I went downtown shopping for a brown beret, and I found [one]. I bought it, and I was wearing it, and everywhere I went people called "Hey, brown beret." I said, "That's a good name for the organization." That's how the Brown Berets got started.

I bought 12 brown berets for the people in the coffee house. At the coffee house, we asked our customers to come protest police harassment at the sheriff's station, and they were given brown berets.

Q: What were the police harassing people about?

SANCHEZ: The police were harassing the Brown Beret coffee house. They didn't like activism, so they were harassing the customers. When people would leave, the police would give them tickets, or they would come in at 10 o'clock and arrest people because of the curfew.

So we started protesting against the police. Over time, people from different schools started meeting at the Brown Beret coffee house. The building is still there on the corner of Olympic and Goodrich. It's now called Tomayo's Restaurant. We had this huge Aztec mural on the wall, and they took it out. They should have left it up. It was beautiful.

Q: Did they re-create that for the movie?

SANCHEZ: No, they didn't ask me about that. They went ahead and did some artwork, and I didn't agree with it.

Q: Do you feel that a lot of what you were trying to do in the '60s and '70s has been realized, or has not all of it been accomplished?

SANCHEZ: No, what happened was lousy. A lot of the rewards and opportunities that we gained from the movement, especially the walkouts, were lost. For example, back then there was a 50% dropout rate, and we were able to reduce that to about 15%. But today, the Latino dropout rate is as high as 63%.

A lot of the gains have been lost because of government rules: they're testing students too much now, [and] there's an algebra requirement. Students who can barely pass high school math, let alone take algebra, are dropping out like flies.

There are some [Chicano Studies] classes; that's one of the only gains that we have left. Only a very few classes are in the high schools, but there are some. The problem is that a lot the classes are not taught to promote leadership. Instead, they only teach history. You have to connect these students with what actually happened, and you have to connect them with leadership, but it's not being done.

Q: Another lasting achievement has been the hiring of Latinos in schools.

SANCHEZ: Yeah, it opened up the doors to universities for Chicano students, and many of them have returned to the classroom as teachers. There were a number of good things that happened. The movement also opened the doors for hiring Latinos to some degree.

Nonetheless, even today the City of Los Angeles only hires like 15% Latinos, Los Angeles County only hires 17% Latinos, the state of California only hires seven percent Latinos. So a lot of the things that we fought for are being taken away by the conservative system.

There's a lot of discrimination, and we don't have any leaders. This is one reason why I'm running for City Council: to fight for jobs in the community, to change the political direction of our community, to put more of their energy into social action and social change to increase the employment of our people from this community.

Q: Going back to the subject of Chicano history classes, in what ways could they impart leadership?

SANCHEZ: I taught Chicano studies for 11 years. They don't want you to teach relevant politics, they don't want you to teach Chicano politics, they don't want you to teach the real action that took place then [during the Brown Beret movement] and should take place now, they don't teach people to get involved with the community, they don't teach people the need for civic duty and civic participation. Instead, most students only go into the Chicano Studies classes because they want credit or because they want to graduate from the school or university. There's no social change consciousness that comes along with that, and that's the problem.

Q: Did you teach in college or in high school?

SANCHEZ: I taught seven years at East LA College and four years at LA Trade Tech. In those colleges I always had difficulty with the conservative elements in the administrations and also conservative teachers and also conservative Chicano teachers who professed to be Chicano Studies professors but in actuality never really had their heart in the right place. Some people say, "Oh, a lot of people have forgotten where they came from." No, they didn't forget where they came from; they were never for the people in the first place. They were just out there for the opportunities.

[Sanchez strikes up a conversation with an extra seated in front of us, a Caucasian female named Kelsey Morrissey. She appears to be in her early twenties.]

SANCHEZ: Kelsey was playing one of the students who walked out at Roosevelt High School. One of the things the director asked me was "Were there Anglos going to Roosevelt at the time who walked out also?" I said, "Yes, there were Anglos who walked out." That's an important factor.

[He then resumes talking about the Latino civil rights movement.]

Why there was such a large social cultural revolution in America is because many of the people were forced to think because of the Vietnam War, [where] people were being drafted and returned in aluminum coffins; leaders were being assassinated [including] Martin Luther King, John F. Kennedy, Bobby Kennedy, Ruben Salazar here in East L.A., and a number of other people.

So The entire country wanted change, and the young people were really tired of the all-white, all-American educational system, which excluded other cultures. It was a time when Latinos got tired of trying to be Anglos. Trying to be all-American wasn't working for a lot of us. [Also] many of us were witnesses and victims of poverty and victims of the selective prison system, victims of joblessness, victims of violence, victims of the chaos that was being exploited by society and which is still being exploited by society today. This kind of motivated all of us to take political action.

Today it's a little different: you have a large part of society that is just living on the comforts of society and don't know what's going on with the left-out sector. They're self-absorbed by luxury; they have received the spoils of poverty: nice houses, good-paying jobs [while] stealing everything they can from the poor and middle class. . . . We're talking about one-third of the people in America, and that one-third is the dominant society. They refuse to share the national wealth; they have controlled and conquered the national wealth for themselves. For the people who live in chaos, the left-out population, there is no direction. The left-out population really does not know what's going on today. But back in the '60s and '70s, people were more aware of what was going on.

Q: Why do you think the left-out people are less aware now than they were?

SANCHEZ: Because there's more government control. The government is promoting the chaos; the government is promoting the poverty. So when people are poor, they're not thinking about going to a meeting or getting involved with politics, they're thinking about getting food, they're thinking about finding a place to stay. Survival dominates all of their time and energy, whereas in the '60s and '70s it was not like that.

In the '60s and '70s many high school students had cars, [and] there was a different job market out there. The jobs aren't there any more. Here in East L.A we had a light bulb company and several other companies that hired a lot of people in this community, and they were paying high wages during those times.

Now they hire a lot of immigrants for low wages, so people who have been here for many generations are [excluded]. The companies don't pay what they used to because they have access to cheap labor. It's a big problem, the left-out population is growing. Here in East Los Angeles we're getting about 60,000 people released from the prisons every year, and that's adding to the left-out population. The high dropout rate of students is adding to the left-out sector. Because there's no political direction, the population has become very chaotic and has many times created
crime at our own doorstep. What they're doing is forcing the people to the point of leaving Los Angeles or staying in Los Angeles as homeless people who have been pushed out of society. Society doesn't do anything for those people.

Q: What are some solutions?

SANCHEZ: There are many solutions: we have to create jobs for the homeless people; we have to create shelter for the left-out sector. What we're doing is creating a huge left-out population that's only going to create more chaos in our society, more violence, more crime. The problem with chaos is that the government is real good at exploiting it. They make money from prisons, and the prisons become our homeless shelters. Instead of creating more jobs, we're creating more prisons and jobs for prison guards. Nobody's doing anything about that. Things are getting bad again, and there's no political basis to change any of it at this time.

I think an example of that is the anti-war movement. It was off to a good start when the United States was first attacking Iraq, but it kind of slowed down. Where is the student movement in this country? The student movement is under total control by the government. The government has taken over the schools and the
colleges and the universities. There's no longer any academic freedom for teachers to speak about certain issues because when they do, they're scrutinized by the same system that they work for. That's an example of the "1984" that's going on in our school systems today. Not only is that happening in schools but on jobs. Many times, if you get involved in a social action, your employer will take it out on you, and how can anybody function without a job?

[Sanchez starts up a conversation with another of the film's extras, Sergio Ortiz. The young actor says he feels a connection with Walkout: in 1968 his parents participated in the riots in Mexico City that coincided with the Olympics. When reenacting riots for this film, Ortiz says that he and other actors could feel the energy of the actual events.]

SANCHEZ: I think what he's trying to say--and I was [on the set], too--is you could feel the karma of social change. I think that's what's missing today, the karma is not there. . . . There are no strong student movements, there's no strong black movement, there's no strong white liberal movement, there's no strong Latino movement. Those are the elements that are missing. But I think this movie will change a lot of thinking because people will see what really took place at that particular time, so they can relate that to what's happening today and perhaps get more involved in the community the way people did during those times.

END
www.hbo.com/events/walkout/index.html
Report this post as:
LATEST COMMENTS ABOUT THIS ARTICLE
Listed below are the 10 latest comments of 26 posted about this article.
These comments are anonymously submitted by the website visitors.

| | | |
| --- | --- | --- |
| TITLE | AUTHOR | DATE |
| IT WASN'T "LATINO" | Mexica | Friday, Mar. 24, 2006 at 10:29 PM |
| The Walkouts also had nothing to do with.. | ixquintl | Friday, Mar. 24, 2006 at 11:22 PM |
| Real History | Corn Bread Fed | Saturday, Mar. 25, 2006 at 5:06 AM |
| to Corn Bread | El Chivo | Saturday, Mar. 25, 2006 at 7:33 AM |
| Ain't that the truth!! | Quizling | Saturday, Mar. 25, 2006 at 7:39 AM |
| Walkout is a good depiction of Chicano History | Mescalero Apache | Saturday, Mar. 25, 2006 at 10:36 AM |
| Dropout Facts | Pachuco | Saturday, Mar. 25, 2006 at 10:47 AM |
| Critique of the Movie | Pachuco | Saturday, Mar. 25, 2006 at 10:54 AM |
| LOL! | fresca | Saturday, Mar. 25, 2006 at 5:59 PM |
| Let's get the numbers straight | Jorge | Saturday, Mar. 25, 2006 at 9:39 PM |
| REAL NUMBERS | Jorge | Saturday, Mar. 25, 2006 at 9:44 PM |
| "Based on Conversations I've Had With People" | Mescalero Apache | Saturday, Mar. 25, 2006 at 10:15 PM |
| California's disaster | JOrge | Saturday, Mar. 25, 2006 at 10:46 PM |
| California's impending disaster | Jorge | Saturday, Mar. 25, 2006 at 10:55 PM |
| peso crisis | Mike Almeida | Sunday, Mar. 26, 2006 at 2:53 AM |
| Latinos Unidos Jamas Seran Vencidos! | BaBaBooey! | Sunday, Mar. 26, 2006 at 3:41 PM |
| here's my research | Hex | Sunday, Mar. 26, 2006 at 4:38 PM |
| re: It wasn't "LATINO" | Ross Plesset | Monday, Mar. 27, 2006 at 9:59 PM |
| Kudos | johnk | Tuesday, Mar. 28, 2006 at 12:08 AM |
| A Mexican filipina American | a filipino | Tuesday, Mar. 28, 2006 at 8:21 AM |
| ufw | a filipino | Tuesday, Mar. 28, 2006 at 8:29 AM |
| okay... | esquintle | Tuesday, Mar. 28, 2006 at 9:55 PM |
Local News

Families Protest Abusive Foreclosure Practices of Wells Fargo Bank A26 10:37AM

How is CCSA's Ref Rodriguez hiding his billionaire and ideologue contributors? A21 12:08PM

What drives charter profiteer Ref Rodriguez? A21 12:04PM

Los Angeles Artist Threatens 40 Million Dollar Law Suit for Public Storage Illegal Auction A20 4:08PM

RAC-LA Community Center Grand Opening A20 1:44PM

KPFK and Pacifica- woes unrelenting... A19 4:20PM

RAC-LA Community Center Badly Needs Your Support A14 10:09PM

Meet Green elected school board members, Sunday, March 29 in LA - 4pm M26 2:36AM

Californians Shame Regulators For Teaching Big Oil How To Skirt Law and Pollute Our Water M25 5:28PM

Next "Star Wars" to score in Los Angeles for First Time in Franchise History M25 10:43AM
More Local News...
Other/Breaking News

Global March Against Monsanto Day M23 2:44AM

Endless Nakba M22 11:37AM

Jail torture trick M22 8:56AM

Obama's War on Yemen Rages M22 7:02AM

Heading Toward Financial Maidan in Ukraine? M22 4:01AM

The Shortwave Report 05/22/15 Listen Globally! M21 5:25PM

Mad men of government driving good men to distraction M21 3:13PM

Ukraine Provoking Confrontation with Russia M21 11:17AM

Saudi Arabia: Headed Toward Becoming Nuclear Armed and Dangerous? M21 7:27AM

Foreclosure Victims Occupy Senate Stump Speech of Kamala Harris M21 4:58AM

Israeli Defense Minister Threatens to Nuke Iran M21 2:31AM

Transinhumanisme ( transe inhumanisme ) M20 11:17PM

Transinhumanisme ( transe inhumanisme ) M20 11:04PM

Next Generation Climate Justice Action Camp Aug 4-8, 2015 M20 3:53PM

Kiev to Prosecute Two Russian Nationals As Terrorists M20 9:43AM

Kiev Reneges On Its Debt Obligations M20 9:14AM

Ukraine: A Cancer in Europe's Heartland M20 5:05AM

'Remember al Nakba,' too Israel celebrates its 'Independence Day' in May M19 6:56PM

Rewriting the Rules for the American Economy M19 4:46PM

Demand The Permanent Closure Of A Taxpayer Funded "Meat Animal" Research Center in Nebrask M19 1:34PM

Netanyahu Appoints Hardline Peace Negotiator M19 10:32AM

Video: Humans Need Not Apply, 15 min M19 6:41AM

UK Whistleblower Says Britain's Nuclear Deterrent a Disaster Waiting to Happen M19 6:36AM

Washington Wants War on Donbass M19 4:25AM

LA Nakba Anniversary protest at the Israel Consulate M19 12:56AM

Broken Prmises, 12 pp M18 2:41PM

Freedom Flotilla III Heads for Gaza M18 10:08AM

Israeli Security Force Thugs Attack Russian Journalists M18 7:48AM
More Breaking News...