Features
•
latest news
•
best of news
•
syndication
•
commentary

Feature Categories



KILLRADIO
printable version - js reader version - view hidden posts - tags and related articles

by William Hughes Sunday, Feb. 05, 2006 at 7:58 PM
liamhughes@comcast.net
Back in the late 19th century, the political cartoonist, Thomas Nast, in NYC's "Harper's Weekly," viciously attacked Catholics, the Irish and the Vatican. He crossed the line with those caricatures. The same can be said about the Danish authors of the 12 cartoons vilifying the Prophet Muhammad (pbuh), the revered founder of Islam. The demonizing was, in effect, an attack on all of the Muslim faithful. The parties responsible should offer an apology.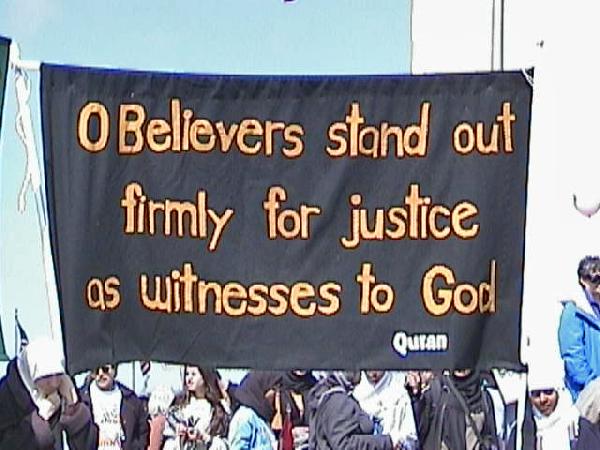 o_believers.jpg, image/jpeg, 640x480
Shame on the European newspapers for publishing grossly disrespectful cartoons of the Prophet Muhammad (pbuh), the founder of Islam. One of the original 12 cartoons, which were all first published in a Danish tabloid, in Sept., 2005, showed him wearing a turban shaped like a bomb with a burning fuse. Some of the offensive cartoons were then reprinted in other newspapers in European countries. (1) How would Christians like it, if someone showed Jesus, the "Prince of Peace," with an H-bomb in one of his hands? Or, how about a cartoon with the Jewish G-d, Yahweh, depicted with Uzi machine guns coming out of his yarmulke? Or, what about the Buddha being displayed in a drawing as sitting on park bench puffing away on a cigar made of anthrax? I don't think those kinds of insulting images would ever see the light of day in any establishment-owned publication in the U.S. - even one controlled by the Evil Media Empire of Rupert Murdock!

Did the Danish and other European newspapers have a "right" to publish/reprint the provocative cartoons in question? Yes, they did. But, it was in the worst kind of taste for them to do so. And, by doing it, they abused their right of free expression. The parties responsible should offer sincere apologies to those, whose feelings they have so cavalierly offended.

What was the point of these galling Muslim-bashing images anyway? I think it was an attempt to demonize all Muslims-to dehumanize them. It was a political statement by the creators/editors of the disputed cartoons. They wanted their viewers to believe that "all" Muslims are violent and that all Muslims are violence prone. The cartoons were an invitation for their readers to hate Muslims! Is that what the owners of those newspapers really wanted? I hope not! It is one thing for a political cartoon to demonize the still missing-in-action Osama bin Laden. (2) He's fair game as are the other al-Qaeda firebrands. It is quite another thing, however, to hold up to ridicule the revered founder of Islam, the Prophet Muhammad (pbuh). The public distortion of his image brings a whole people, one billion faithful followers, into disrepute.

Now, having said all of the above, I also think it's wrong for anyone insulted by the cartoons in controversy, to take revenge, especially on any innocent third party. This would be like a Canadian getting back at an American for something crass that was written by that repulsive Neocon, Jonah Goldberg. It was Goldberg who suggested, in 2002, that the U.S. should "bomb Canada," because it wasn't blood thirsty enough to suit his need for mayhem. Also, in 2003, he called the French "liars." Goldberg's stupid comments were protected by the First Amendment. That didn't mean they were the right things for him to write; nor, did it signal that Americans should be blamed for his ignorance.

I think it's unfair for a cartoonist, or a political pundit, to demonize an entire class, or group, of people. This is going on today with respect to how elements of the U.S. media are negatively portraying the Hamas organization in Israeli-Occupied Palestine. If you don't believe me, just read any of the recent scurrilous editorials from the Murdock-owned NY Post. I can't forget, too, how another Neocon ranter, Mona Charen, viciously labeled those who protested in Washington, D.C., against any war with Iraq as supporting "Islamo fascist and their enablers." (3) As far as I know, Charen has never heard a shot fired in Iraq, nor has she bothered to visit the U.S. wounded at Walter Reed Hospital.

Political cartooning in the U.S. can trace its lineage to colonial days. Rarely, if ever, did a cartoonist dare to go after an organized religion. There were exceptions. One of the favorite targets of the lampooners back then was, naturally, the British tyrant, George III, head of both the Church of England and the State. He took a beating from the patriots of old. The Sons of Liberty had a field day pulverizing the image/icon of the British monarch. On July 6, 1776, they destroyed his statue in NYC. (4)

The man in the U.S., however, who put his name on the craft of political cartooning, as we know it today, was the legendary Thomas Nast-a German by birth. (5) His repeated attacks, in the late 19th century, on NYC's "Boss" William Marcy Tweed, and his Tammany Hall-related rackets, led to the downfall of the once mighty politico. Nast, however, had a darker side. He despised Roman Catholics, particularly the Irish, many of whom were recent immigrants to America. He regularly depicted them as brutal, Simian-like creatures, (6) controlled by their local priests, who in turn were nothing more than puppets for Nast's arch villain - the Rome, Italy-based Vatican. (7) Nast was very good at what he did, but his anti-Catholic, anti-Irish legacy, is hard to overlook or to forgive. He was a demonizer of an entire class of people and that kind of cartooning, thankfully, wouldn't pass muster in today's America. Unfortunately, I can't say the same for what's going on in Denmark, et al.

All of this brings me to the late Herb Block. He was a very talented cartoonist for the "Washington Post" for many years. He took a mostly liberal position on domestic issues, but he had a Global Cop point of view about America in the world. Block's cartoons reveal that he was a crafty warmonger at heart, even before Pearl Harbor. He did everything that he could in the '30s to get the U.S. involved in a European conflict. Americans who wanted to stay out of any such conflict were tagged, "isolationists," by Block in his demeaning cartoons. When the horrific war finally did start on Dec. 7, 1941, he failed to join the military, but waited until 1943, to be drafted in the U.S. Army. Even then, he didn't rush to serve on the front lines against the Fascists in Europe. Instead, he was content to leave the fighting to others, while he produced and edited a "clip sheet" for the Army's newspapers. (8) From time to time, after WWII, Block also used his caustic pen to reduce to a caricature entire ethnic groups, like the Arabs.

Another thing I think is interesting about the body of Block's work, is this: Who he didn't satirize! Where were his cartoons on the excesses of the Zionists? In the Middle East, the late Palestinian chief, Yassar Arafat was one of his favorite targets for abuse, but never an Israeli leader! Block was an expert at his craft, but he was also very selective about whom he lampooned. And, anytime somebody is around in that kind of influential editorializing field for over 50 years, like he was, it means that he or she was sucking up to the wire pullers behind the scene. (9)

For a wider perspective on the Prophet Muhammad (pbuh), it is worth knowing that, in the Holy Qur'an, this mystical-oriented man, who was also a teacher, statesman, poet, judge and warrior, honored both Jesus and the Jews, too, because they were a prophetic people. According to the noted scholar, Adolf Von Harnack, the Prophet Muhammad (pbuh), may have been influenced earlier in his mission by the teachings of Gnostic Judaeo-Christian sects that had flourished in Arabia a century before his birth. In any event, may the day come, when all the great religions of the world, wake up to the deeper meanings that are found in their creeds and to the oneness in spirit of Humankind. Hopefully, that needed awakening will unite us all, before we rip ourselves apart and destroy our planet. (10)

Notes:

1. //en.wikipedia.org/wiki/Muhammad_Drawings

2. Osama bin Laden is the mystery man of our times. The CIA operatives knew him intimately. The idea that he is now living in a cave somewhere in Afghanistan and directing a worldwide terrorist network, using the mother of all cell phones, may be part of the growing fake history of recent years, like, e.g., our fearless leader George W. Bush's search for the fanciful WMD in Iraq! Who really knows the truth? (See, "Ghost Wars," by Steve Coll, for more details on the shadowy bin Laden, the CIA, and those foreign spooks, too.)

3. "Baltimore Sun," Feb. 24, 2003.

4. "Liberty and Freedom," by David Hackett Fischer.

5. http://cartoons.osu.edu/nast/text/bio.htm

6. http://www.latinamericanstudies.org/ellis-island/rum-day.jpg

7. http://www.latinamericanstudies.org/ellis-island/nast-anticatholic.jpg

8. http://www.loc.gov/rr/print/swann/herblock/about.html

9. This is sort of ironic. It was Ken Adelman, another "Washington Post" genius, who insisted, on 02/13/02, that any U.S. war in Iraq was going to be "a cakewalk." Naturally, like his fellow Chickenhawks, Goldberg and Charen, he has declined to volunteer to serve in the U.S. military, in Iraq. (See, http://www.washingtonpost.com/ac2/wp-dyn/A1996-2002Feb12?language=printer).

10. Karen Armstrong's "Islam: A Short History."

© William Hughes 2006.

William Hughes is the author of "Saying ''No' to the War Party" (IUniverse, Inc.). He can be reached at liamhughes@comcast.net.
Report this post as:
LATEST COMMENTS ABOUT THIS ARTICLE
Listed below are the 10 latest comments of 52 posted about this article.
These comments are anonymously submitted by the website visitors.

| | | |
| --- | --- | --- |
| TITLE | AUTHOR | DATE |
| Australians have received their orders: | iranianrapedgirl | Monday, Feb. 06, 2006 at 2:17 PM |
| And Christians were called intolerant when they complained | Daisy | Monday, Feb. 06, 2006 at 2:40 PM |
| Insane Video Of Burning | Daisy | Tuesday, Feb. 07, 2006 at 5:37 PM |
| Chill | johnk | Wednesday, Feb. 08, 2006 at 1:17 AM |
| practice what you preach | ? | Wednesday, Feb. 08, 2006 at 1:42 AM |
| Let's print a big flag of Israel with a swastika over the star! | what's good for the goose... | Wednesday, Feb. 08, 2006 at 2:11 AM |
| IMC Censorship Borg | Scorpio | Wednesday, Feb. 08, 2006 at 4:31 PM |
| Reason | johnk | Wednesday, Feb. 08, 2006 at 8:52 PM |
| Payback is a B1tch, isn't it? | BaBaBooey | Thursday, Feb. 09, 2006 at 1:47 PM |
| But we already had JDL Jews arrested in Los Angeles for planning fire-bombings there! | we don't have to wait | Friday, Feb. 10, 2006 at 1:42 AM |
| Fresca | payback master | Friday, Feb. 10, 2006 at 9:22 AM |
| Looks like Israel to me! Good riddance! | fresca | Friday, Feb. 10, 2006 at 9:54 AM |
| Day 2 | fresca | Friday, Feb. 10, 2006 at 5:56 PM |
| Holocaust Cartoons? | jk | Saturday, Feb. 11, 2006 at 12:54 AM |
| Or better yet.... | BaBaBooey | Saturday, Feb. 11, 2006 at 2:15 PM |
| HAAAAATE, FRESCA, *HAAAAAATE*...!! INHALLLLE THE *HAAAAAATRRRED*...!! YOU HATE MUSSSLIMS! | JA VADER | Saturday, Feb. 11, 2006 at 8:31 PM |
| Day 1 | Jedi Master | Saturday, Feb. 11, 2006 at 8:46 PM |
| Day 4 | fresca | Sunday, Feb. 12, 2006 at 2:40 PM |
| Day 5 | fresca | Monday, Feb. 13, 2006 at 7:16 PM |
| Oh, fuck-up fresca! Go look in the other thread and see what a *FFFOOOLLL* I made of you!: | JA | Tuesday, Feb. 14, 2006 at 10:02 AM |
| Day 4 | Jedi Master | Tuesday, Feb. 14, 2006 at 2:32 PM |
| OH, FRESCA....! YOU GOT SOME SPLAININ' TO DO!!!... | *WHERE'S* FRESCA!!??? | Tuesday, Feb. 14, 2006 at 2:33 PM |
| Day 6 | fresca | Tuesday, Feb. 14, 2006 at 10:15 PM |
| Day 6 | Jedi Master | Wednesday, Feb. 15, 2006 at 9:43 AM |
| We don't even have to wait to see what pro-Israel/Zionist Jews would have done!: | JA | Wednesday, Feb. 15, 2006 at 12:26 PM |
| Day 7 | fresca | Wednesday, Feb. 15, 2006 at 1:30 PM |
| Day 7 | count-up | Wednesday, Feb. 15, 2006 at 2:00 PM |
| Day 8 | Day 8: fresca is still a fool. | Thursday, Feb. 16, 2006 at 11:30 AM |
| My, my, my | fresca | Friday, Feb. 17, 2006 at 12:01 AM |
| Day 9 | Day 9: fresca is still a fool. | Friday, Feb. 17, 2006 at 6:22 PM |
| Day 9 | fresca | Friday, Feb. 17, 2006 at 6:54 PM |
| There I go again | fresca | Friday, Feb. 17, 2006 at 7:04 PM |
| I missed it | What? | Friday, Feb. 17, 2006 at 7:06 PM |
| awwww | Islamic Hordes | Friday, Feb. 17, 2006 at 7:19 PM |
| Day 10 | fresca | Sunday, Feb. 19, 2006 at 7:57 AM |
| And still | fresca | Monday, Feb. 20, 2006 at 9:56 AM |
Local News

More Pix: "Families Belong Together," Pasadena J02 12:16PM

"Families Belong Together" March, Pasadena J02 12:08PM

Short Report on the Families Belong Together Protest in Los Angeles J30 4:26PM

Summer 2018 National Immigrant Solidarity Network News Alert! J10 11:58PM

Watch the Debate: Excluded Candidates for Governor of California M30 10:20PM

Change Links June 2018 posted M28 12:41AM

The Montrose Peace Vigil at 12 Years M22 1:01PM

Unity Archive Project M21 2:42AM

Dianne Feinstein's Promotion of War, Secret Animal Abuse, Military Profiteering, Censorshi M17 3:22PM

CA Senate Bill 1303 would require an independent coroner rather than being part of police M10 2:08PM

Three years after OC snitch scandal, no charges filed against sheriffs deputies M10 1:57PM

California police agencies violate Brown Act (open meetings) M02 1:31PM

Insane Company Wants To Send Nuke Plant Waste To New Mexico A29 4:47PM

Change Links May 2018 A27 1:40AM

Worker-Owned Car Wash on Vermont Closed A26 10:37PM

GUIDE TO REBEL CITY LOS ANGELES AVAILABLE A12 5:39PM

lausd whistle blower A10 11:58PM

Website Upgrade A10 3:02AM

Help KCET and UCLA identify 60s-70s Chicano images A04 1:02PM

UCLA Luskin: Casting Youth Justice in a Different Light A02 11:58AM

Change Links April 2018 A01 11:27AM

Nuclear Shutdown News March 2018 M31 6:57PM

Join The Protest Rally in Glendale on April 10, 2018! M29 7:00PM

Spring 2018 National Immigrant Solidarity Network News Alert! M19 2:02PM

Anti-Eviction Mapping Project Shows Shocking Eviction Trends in L.A. M16 5:40PM

Steve Mnuchin video at UCLA released M15 12:34AM

Actress and Philanthropist Tanna Frederick Hosts Project Save Our Surf Beach Clean Ups M06 12:10PM

After Being Told He's 'Full of Sh*t' at School Event, Mnuchin Demands UCLA Suppress Video M02 11:44AM
More Local News...
Other/Breaking News

3 Essential Videos J19 3:53AM

The System Question as a Survival Question J18 8:54PM

"Animaniacs in Concert!" Starring Voice Legend Rob Paulsen J18 2:41PM

Nation's Largest Voting Machine Co., ESS, Admits Lying Re Having Installed Remote Control J18 11:55AM

Du pain et des jeux J18 9:53AM

Fbi joins with Facebook to remove this report J18 7:08AM

Paraphysique de martyrologie J17 8:00AM

Asian Countries:Cambodia, Vietnam, N. Korea do not permit unlawful immigration J16 8:06PM

Children Incorporated Earns 4-Star Rating on Charity Navigator J16 11:24AM

Democratic Socialists of America J14 4:57PM

Leonard Peltier Non Violent Native American Political Prisoner since 1970's J14 4:18PM

Paraphysique miscellanées de l'aggiornamento J14 12:54AM

Actress and Philanthropist Tanna Frederick Hosts Project Save Our Surf Beach Cleanup J13 4:14PM

FBI Investigated LA County Sheriff Baca,Why Not Hank Skinner's Persecution? J13 3:52PM

Updated Partial List Of Famous Vegetarians, Vegans, & Fruitarians J13 2:59PM

The Shortwave Report 07136/18 Listen Globally! J12 4:36PM

Social Policy as Social Infrastructure J12 3:38AM

Vol I: 84 Varieties Of GOP Election Fraud J12 1:50AM

Texas Can Call it An Execution,But It is A State Sponsored Murder of Hank Skinner.. J11 6:48PM

June 2018 Honduras coup update J11 3:35PM

Maria Estrada doubles down on racist support J11 1:40PM

New York Women in Film & Television Announces 2018 NYWIFT Ha Phuong Scholarship Recipients J11 10:14AM

Trapps de la domination, trapps de l'aliénation J11 1:31AM

Please Work For The Defeat Of Brett Kavanaugh And Why J09 8:54PM

Change Links 2018 July posted J09 1:27PM

Transinhumanisme ( transe inhumanisme ) J09 12:44PM

Google, World's Biggest Censor, Was Founded By The CIA J09 10:25AM

For a World Free of Nuclear Risks J09 8:29AM
More Breaking News...