Tell the NSA:
StopWatching.US
Features
•
latest news
•
best of news
•
syndication
•
commentary

Feature Categories



KILLRADIO
printable version - js reader version - email this article - view hidden posts - tags and related articles
by cyberaztec Saturday, Jun. 18, 2005 at 9:39 AM

Los Angeles artist, Mark Vallen, wrote and posted the following article on his weblog concerning the closing of LA's Self Help Graphics. You can read more of his posts, at: www.art-for-a-change.com/blog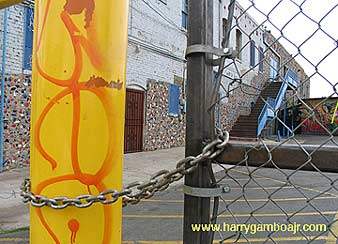 shg.jpg, image/jpeg, 338x244
From artist Mark Vallen's weblog:
http://www.art-for-a-change.com/blog
Self Help Graphics Finished?
Friday, June 17, 2005
Self Help Graphics, East Los Angeles' venerable institution dedicated to Chicano art, printmaking and grassroots community arts in general, was closed on June 7th, 2005. The artistic heart of Chicano LA beats no more. Amazingly enough, it was the organization's own "Board of Directors" that closed the doors of SHG to the public, changed the locks on the building to bar staff and artists from entering, and locked-up the parking lot used by visitors and community members alike.
While I was aware that there were problems brewing at SHG, its closure comes as a complete shock to me, and to many other artists, activists, and community members. I have exhibited my artworks at SHG, and I have prints and other artworks in its Tienda Colores giftshop. But it's not being deprived of a venue at which to exhibit that I find so upsetting, more importantly - the Chicano community in particular and Los Angeles in general, has lost one of its premiere arts institutions. Founded in the late 1960's by Sister Karen Baccalero, Self Help Graphics quickly established itself as the center of artistic production for the people of East L.A., and has remained one of the most important community arts centers in the nation. Its Galeria Otra Vez has been a showcase for local and national artists, playing an essential role in bringing Chicano/Latino art into the mainstream. As a non-profit organization SHG offered several important youth art programs and writing workshops. They maintained a print making atelier and collection of hand made prints that rival any collection of Chicano art in the country, and their annual print exhibit and auction was always a huge community event. One of the most popular festivals in East Los Angeles was held at SHG, the annual Dia de los Muertos, or Day of the Dead celebration. Based on the ancient Aztec revelry that honored the dead, the community event took place every November 2nd, with a procession of costumed participants that culminated in an art exhibit and craft fair replete with traditional music, entertainment and food. To say that Self Help Graphics helped to launch an artistic renaissance is an understatement.
While trouble was brewing just beneath the surface, it became apparent to all when Self Help's executive director, Tomas Benitez, submitted his resignation on December 2004. His resignation was formally accepted by the "Board of Directors" on June 7th, who then made the unprecedented move of completely shutting down the institution. The mission of any board of directors is to protect, promote, nurture, and expand the body it presides over… not to kill it. No matter what difficulties they face, a proper Board of Directors will do everything within its power to preserve what has been entrusted to them. Which begs the question… just who are the people sitting on the Board of Directors for Self Help and what exactly have they done for the institution? If financial woes were the core problem faced by the board, why did they not make a direct appeal to the people, artists, foundations, and various supporters for help? If the Board of Directors had an understanding of the actual historic significance of Self Help Graphics, if they grasped the importance of such a cultural center, if they had any respect or empathy for the arts or for artists… in short, if they had any integrity, they would have done everything in their own power to keep Self Help Graphics afloat, up to and including using their own financial resources. Instead, they chose to strangle the life out of this most revered establishment.
Now is the time for action, an occasion for all who have ever benefited from the good works of Self Help Graphics to rise in its defense. It is the artists and people of Los Angeles who built SHG, we are the ones who kept it alive and vibrant, and we are the ones who will defend and resurrect it. The Board of Directors may have chained the gates and locked the doors, but the demise of Self Help Graphics will only come about when it is abandoned by the people and the artists. It is a crime to wrap a community arts center in chains, and the way forward is to sweep away the Board of Directors as it is presently constituted. The struggle for cultural democracy is "on" in Los Angeles, and all are invited to become active, as it's said - "use it or lose it". Having taken the unwarranted and extreme measure of closing Self Help Graphics, the Board of Directors now wants a community meeting to "discuss the state of the organization", which seems an odd thing given that they've obviously made up their minds as to the direction of the institution. We should all take this opportunity to demand the immediate reopening of Self Help Graphics as well as the removal of its abysmal Board of Directors. The meeting will take place at Ave 50 Studio in Highland Park, Tuesday, June 28th, at 7:00 pm. (location: 131 N. Avenue 50 (Figueroa).
Report this post as:
LATEST COMMENTS ABOUT THIS ARTICLE
Listed below are the 10 latest comments of 4 posted about this article.
These comments are anonymously submitted by the website visitors.

Local News

5 Reasons to Support RAC-LA This Month J20 11:10PM

Viacom CBS' Sumner Redstone Promotes Brutal Treatment Of Pot Smokers J19 1:20PM

Summer 2015 National Immigrant Solidarity Network Monthly News Alert! J15 12:33PM

Housing Board Member is an Evicter! J11 11:37PM

KPFK & PAPCIFICA forum in LA J11 5:45PM

LA Times goes to bat for killer cops in Salinas J10 10:34PM

NUCLEAR SHUTDOWN NEWS MAY 2015 J04 12:48PM

Los Angeles Uranium Film Festival J04 7:18AM

KPFK difficulties continue J01 4:22PM

KPFK buys premiums to re-sell them for donations -so J01 4:00PM

Latest Long Beach Police Execution: Murder of Youth In Mental Distress J01 8:19AM

How can california deal with this water crisis? M31 1:46PM

Four Winds of March Against Monsanto Los Angeles Take The Streets of Hollywood M27 2:49PM

Foreclosure Victims Occupy Senate Stump Speech of Kamala Harris M21 4:58AM

LA Nakba Anniversary protest at the Israel Consulate M19 12:56AM

Long Beach Police Execute Unarmed Teen Hector Morejon on Suspicion Of Trespassing M15 6:08AM

Eagle-Con 2015 at Cal State L.A. M13 4:15PM

Brendon Glenn Dies and Venice S/Weeps M08 7:45PM

JOIN CLASS ACTION LAWSUIT AGAINST RONALD L. HAVNER JR's PREDATORY BUSINESS, PUBLIC STORAGE M08 4:48PM

Councilmember Bonin Calls People of Venice Outraged by Police Murder "Outside Agitators" M08 10:45AM

May Day March, LA 2015 M07 7:33PM

LA Progressive: Ref Rodriguez—What the PUC Is Going on Here? M05 11:26PM

L.A. Stands in Solidarity with Australian Aborigines M05 11:12AM

KPFK'S rep to Pacific Bd Whitleblower -being kicked out ...plse sign petiton here M04 2:38PM
More Local News...
Other/Breaking News

Ours, the most important work of this Age J01 7:51PM

Summary of fbi crimes and harassment in concert with others J01 4:36PM

Ukraine: Rogue State Deadbeat J01 11:52AM

Happy Canada Day! The TPP and Canada, 4 pp J01 9:43AM

Trans-Pacific Partnership Guarantee J01 9:34AM

Former Science Ed of London Times: Smallpox Vaccine Triggered Aids J01 9:32AM

Dutchman Opens Limited Engagement at Edgemar Center for the Arts on July 15 J01 9:21AM

Dutchman Opens Limited Engagement at Edgemar Center for the Arts on July 15 J01 9:00AM

Tsipras Surrenders to Troika Demands J01 5:21AM

The U.S. Social Forum Puts San José on the Map of Social Change J30 11:26PM

Governor SIgns SB 277, Citing Science J30 6:54PM

Corruption of Law & Society by fbi J30 9:20AM

Russia Vows Continued Support for Embattled Syria J30 9:19AM

Dreyer's, Another Ice Cream Maker, Is Owned By Nestle J30 9:09AM

No Deal as June 30 Iranian Nuclear Talks Deadline Arrives J30 7:17AM

Greece May Become BRICS Member J30 4:58AM

Greece May Become BRICS Member J30 4:54AM

High-Seas Piracy: Israel's Latest Bandit Act J30 2:31AM

Gov Mulls SB 277 (SATIRE) J29 10:47PM

Video: The Age of Uncertainty-The Big Corporation, 56 min J29 3:51PM

KPFK in Pacifica's meeting - more descriptions J29 2:57PM

KPFK hosted PACIFICA's board in LA. Missed it? here's some for ya J29 2:16PM

Khader Adnan Ends Hunger Strike J29 12:12PM

Sitemeter blocks my account, prevents tracking of visitors J29 11:47AM

ISIS: US Proxy Foot Soldiers J29 10:50AM

Greece Declares Bank Holiday, Capital Controls Imposed J29 8:37AM

Netanyahu's Statement Following His Latest Bandit Act J29 5:34AM

Israel Hijacks Humanitarian Ship to Gaza in International Waters J29 3:27AM
More Breaking News...