Features
•
latest news
•
best of news
•
syndication
•
commentary

Feature Categories



KILLRADIO
printable version - js reader version - view hidden posts - tags and related articles

by Hans Bennett Saturday, Jun. 18, 2005 at 5:23 AM
destroycapitalism@hotmail.com
On Thursday, June 16, supporters of journalist and former Black Panther Mumia Abu-Jamal gathered outside Philadelphia City Hall in response to a recent decision by Judge Pamela Dembe which prohibits him from entering in 2 new pieces of evidence. That day, members of the Ossining, NY chapter of the NAACP and others visited both Mayor Street's and Pamela Dembe's office in downtown Philadelphia. Others conducted a "Honk for Mumia" outside of City Hall as the day's traffic passed.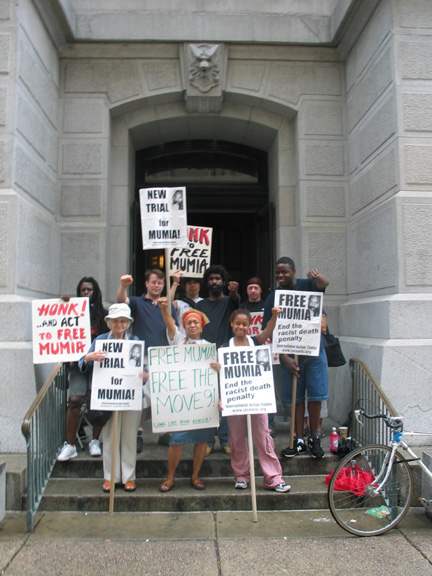 group_tall.jpg, image/jpeg, 432x576

On Thursday, June 16, supporters of journalist and former Black Panther Mumia Abu-Jamal gathered outside Philadelphia City Hall in response to a recent decision by Judge Pamela Dembe which prohibits him from entering in 2 new pieces of evidence. That day, members of the Ossining, NY chapter of the NAACP and others visited both Mayor Street's and Pamela Dembe's office in downtown Philadelphia. Others conducted a "Honk for Mumia" outside of City Hall as the day's traffic passed.

Convicted and sentenced to death in 1982 for the murder of Philadelphia police officer Daniel Faulkner, Abu-Jamal is attempting to enter in evidence that fundamentally challenges to credibility of the 2 key pieces of evidence against him: 1) the supposed "eyewitness" testimony of prostitute Cynthia White, and 2) the supposed "hospital confession" that police only remembered to report 2 months after the incident.

In an expanded essay next week, I will give further examination to this new testimony, so please stay tuned!

To read the court's decision blocking the evidence, and Abu-Jamal's lawyers' response, please link to:



http://www.freemumia.com/dismiss.html



Below is the response from the International Concerned Family and Friends of Mumia Abu-Jamal:

ATTENTION: JUDGE MASSIAH-JACKSON, CONGRESSMAN FATTAH, MAYOR STREET, NATIONAL AND PHILADELPHIA NAACP, ALL OTHER POLITICAL, RELIGIOUS, NATIONAL AND COMMUNITY LEADERS AND PEOPLE OF GOOD WILL:

Once again, Mumia Abu-Jamal, an innocent man on Pennsylvania's Death Row for 23 years, is being denied justice because the court system is violating his right to due process, to the consideration of relevant evidence, and to a new and fair trial, if not his immediate release. Judge Pamela Dembe, in the Court of Common Pleas, has hammered another nail into the coffin they're preparing for Mumia by rubberstamping the record of the notorious "Hanging Judge" Albert Sabo.

The whole world denounced Mumia Abu-Jamal's trial and his Post Conviction Relief Appeal (PCRA) held in 1982 and 1995 respectively in the courtroom of Judge Albert Sabo. Legal groups such Amnesty International, the International Association of Democratic Lawyers, the Criminal Justice Institute at Harvard Law School, the National Lawyers Guild, and the National Conference of Black Lawyers detailed the many violations of US and international laws that Sabo committed. World leaders such as Nelson Mandela, then President of South Africa, Bishop Desmond Tutu, French

President Jacques Chirac, the Japanese Diet (Japan's legislative body), and the US Congressional Black Caucus denounced the trial and PCRA as being unjust, illegal, and racist. Religious leaders, writers, artists, and other intellectuals from across the globe expressed outrage at the conviction and death sentence imposed on Mumia, and millions petitioned and marched to demand Mumia's freedom or at the very least a new and fair trial.

Now after four years of Mumia's case being before Judge Pamela Dembe, we see a pattern of supporting all of Sabo's rulings, with the only difference being that Dembe's decisions have been made in the absence of Mumia or his supporters in the courtroom. There is a deafening silence from many of those who were so outraged only ten years ago. WE CANNOT REMAIN SILENT WHILE THE RAILROADING OF MUMIA TOWARD EXECUTION OR LIFE IN PRISON CONTINUES. THE ATTEMPT TO KILL MUMIA IS NOT FOR ANY CRIME HE COMMITTED. IT IS FOR HIS UNCOMPROMISING POLITICAL POSITIONS AND HIS ELOQUENCE IN EXPRESSING THEM. Refusing to include evidence pointing to Mumia's innocence in the record prevents the higher courts from

reviewing these critical affidavits.

What Judge Dembe has done is deny Mumia his constitutional and human right to a fair judicial process. She has sustained every decision Sabo made and refused to introduce extremely relevant and crucial material pointing to Mumia's innocence. When Mumia's attorneys submitted an affidavit by someone who said that it was he, and not Mumia, who killed Officer Faulkner, and this affidavit supported other witnesses' versions of what happened on the night of December 9, 1981, Judge Dembe dismissed the confession as "untimely". Similarly, she declared affidavits from Mumia and his brother presenting their side of what happened that night as also "untimely". When Mumia and his lawyers fought for Mumia's right to be present at his hearing in August 2001, Judge Dembe allowed prison officials to revoke Mumia's scheduled court appearance in Philadelphia. When Mumia and his lawyers presented an affidavit from a highly credible court stenographer who heard Judge Sabo say in 1982, in the supposed privacy of another courtroom, "Yeah, and I'm going to help 'em fry the nigger", Judge Dembe ruled that that testimony should not be introduced into the record. Unable to argue that it was "untimely", she presented the ridiculous explanation that even if Sabo had actually made the comment the witness alleged he did, it did not prove that his decisions were affected by this expressed intention. Also, she said the issue of Sabo's racism had already been raised earlier and so did not need to be reviewed again. When presented with two new affidavits this year pointing to Mumia's innocence, Dembe cancelled a scheduled hearing to present the evidence and, now on May 27th she has ruled that this evidence is to be excluded from the record, thus preventing a serious consideration of Mumia's innocence in the higher courts.

**Several years ago when Mumia's case was before Judge Yohn in federal court, he noted that there was no evidence of Mumia's innocence in the record. That is precisely what Mumia's attorneys are trying to correct by introducing the new evidence that has been systematically and consistantly excluded from the record by Judge Dembe!

Call Judge Frederica A. Massiah-Jackson, Pamela Dembe's supervisor, to let her know you are outraged by Judge Dembe's decisions.

Please know that Mrs. Jackson has done nothing to hurt Mumia, yet is capable of acting against Dembe as her supervisor.

(215) 686-2523

OR FAX HER:

(215) 567 7328



International Concerned Family and Friends of Mumia Abu-Jamal Statement

People must understand the severity of what is currently happening in the case of Mumia Abu-Jamal. This is one of the last steps in the groundwork being laid to execute Mumia or keep him in prison for the rest of his life. Both are death sentences and are totally unacceptable. It is no coincidence that within this short span of time, the MOVE 9 appeal was denied, then the bounty was raised on our sister Assata's head, and now Mumia's last appeal to have evidence of innocence allowed in the Courts has been denied. These are all full-on assaults on our freedom fighters and acts of war against the freedom of all. People should look at these examples and realize this. The Patriot Act is expanded, a worldwide war is raging, and Lynne Stewart has been convicted. It should be clear to all that it is time to fight! If a child is in a house that is on fire, a good mother will stop at nothing to protect her child. Whether she has to tear down walls or jump from that building she will do what ever it takes to protect her child's life. We must understand that our brother Mumia is our innocent life to protect; he is in the same danger as one trapped in a burning building---as this prison system is suffocating the lives of millions. Our survival as a people is dependent on his survival and we must stop at nothing to achieve his release.

For over 23 years the judicial system has exhibited blatant racism and political prejudice towards Mumia. On December 17th, 2001, when Judge Yohn stated that there was no evidence of innocence before him, this was simply because he had thrown it out the same way as Judge Pamela Dembe. Both of these judges had irrefutable evidence of innocence, prosecutorial and judicial misconduct before them, and threw it out. The rulings that were made on this evidence were so ridiculous, racist, and insulting that most will not believe what they said unless they read it themselves. People must understand the history here, the plot that is being acted out, in order to understand the seriousness of it. In July of 2001 a hearing was scheduled for August 17th before Judge Pamela Dembe in which Mumia was supposed to be present. Word spread across the globe and hundreds were organizing to be in Philadelphia for the hearing. Only days before the 17th, Judge Dembe barred Mumia from being present at his own hearing, but this did not stop the support; it intensified it. On August 17th the streets around the Criminal Justice Center were packed with those standing up for Mumia. The late great Ossie Davis, Sonia Sanchez, Dick Gregory, Jesse Jackson, a prestigious delegation of French officials, students and activists and hundreds from around the world were present. Judge Dembe refused to make a ruling on that day stating that she did not want to make a ruling with so many Mumia supporters there without having more police (even though there had been no problems) but that she would reschedule another hearing. No other hearing was scheduled. On November 21st, 2001, Judge Dembe denied Mumia's appeal. It was at this point, and no sooner, that the International Concerned Family and Friends of Mumia Abu-Jamal began to target and expose her for the unjust Judge that she is. Judge Dembe was given plenty of opportunities to do justice but only proved how unjust she is. It has always been our position to expose that injustice. We of the International Concerned Family and Friends of Mumia Abu-Jamal will never betray Mumia by neglecting to expose those who deny him justice.

Judge Dembe threw out the videotaped confession of Arnold Beverly, a man who swears that he, not Mumia, killed Officer Faulkner. She threw this out not because it was not credible but because she claims that it was not filed in a timely manner. She threw out the affidavit of Mumia's former attorney, Rachel Wolkenstein, which backed up Beverly's confession and showed that the murder of Faulkner was part of a much bigger conspiracy to cover up the murders of many other police officers due to mob related activities. The affidavit of court stenographer Terri-Maurer Carter who heard Judge Sabo say "Yeah, and I'm gonna help 'em fry the nigger" was thrown out. Dembe stated that even if Sabo did make such a racist remark in the middle of the trial that it does not prove that he acted as a racist or prejudiced towards Mumia during the trial. This argument is an insult to anyone's intelligence. Even conservative Senator Specter stated in 1995 that Sabo's courtroom conduct towards Mumia was so bad that it would sabotage Sabo's

credibility.

That December 8th there was a demonstration for Mumia's freedom that ended with the police attacking and arresting innocent activists. A picture of a Philly cop holding a gun to the head of one young Mumia supporter went out internationally and shocked the world. Nine days later Judge Yohn issued his decision. Yohn stated that there was no evidence of innocence before him but that there was a problem with Sabo's instruction to the jury about sentencing. (There was no evidence because Yohn threw it out. Actually, he had affidavits from Arnold Beverly, Billy Cook, Mumia Abu-Jamal, Linn Washington, and FBI confidential source, Donald Hersing, before him which all pointed strongly towards innocence.) He said that he was overturning the sentencing so that Mumia would have life in prison with no possibility of parole but that if either side appealed within 90 days then that matter would have to be settled in the third circuit court of appeals. Mumia appealed because he is innocent, and life in prison is still a death sentence. The prosecution appealed because they are bloodthirsty.

The media blew up this decision and misled millions into believing that Mumia was off death row and even out of prison. In reality, Mumia never, at any point, left his death row cell at SCI-Greene. This trick was used in order to mislead and confuse people; to try to take the urgency out of the fight to free Mumia Abu-Jamal, end the death penalty, and get all of our political prisoners out of these hell holes.

While people were confused by Yohn's ruling Judge Dembe continued to hammer nails into Mumia's coffin and her most recent denial of evidence of innocence is the last one that she needs to put in. All the while this government has continued to terrorize those who support Mumia. Look at the examples of Narberth, PA, politician, Angus Love, being intimidated into backing away from his position. The Ossising chapter of the NAACP, who pushed for the national NAACP resolution for justice for Mumia, is now being singled out and harassed. At one point Philadelphia Mayor John Street publicly stated that Mumia had not received justice and even suggested that the matter be taken to the NAACP. This past year, one of his representatives met (due to his orders) with a French Delegation for Mumia and gave them awards. Street was attacked in the media. Maureen Faulkner said that Mayor Street had apologized to her and said that Mumia is guilty. Street refused to stand up and correct this statement. He was intimidated and politicked into shutting up. That is how serious this is. But we will never back down. This is life or death here.

Dembe just threw out Mumia's last opportunity to have evidence of innocence heard in court EVER! She handed down her decision on Friday the 27th of May but kept it a secret. It was not put out in the papers, as it always has been when a decision is made, and no one in the Movement found out about it until June 2nd. With this decision the path towards death is set and the Judges can just keep rubber-stamping it all the way until that murderer Ed Rendell happily stamps his signature on the death warrant. Even before Rendell got into office he said that he was looking forward to killing Mumia.

All of those who have stood for Mumia in the past, you are needed now! The late, great Ossie Davis never turned his back on Mumia and always stated that our generation's moral obligation is to ensure justice for Mumia Abu-Jamal. Martin Luther King III stated that "all those with the power to intervene do so now in the name of justice" ---we need you now! Jesse Jackson, Dick Gregory, Chuck D, Minister Farrakhan, Mos Def, Danny Glover, Ed Asner---we need you here! You who are sitting down reading this on your computer, hearing this on the radio---we need you! There is only one thing that can stop them from murdering Mumia and that is you! The death warrant is about to be signed; they are putting the poison in the needle. Not only are they trying to kill Mumia, they are murdering your freedom. What will you do?

TO QUOTE JOHN AFRICA , QUOTE:

"A JUST PERSON WILL IGNORE HIS PRIDE WHEN HE HEARS WHAT IS RIGHT, AN UNJUST PERSON WILL IGNORE WHAT IS RIGHT AND HOLD FAST TO HIS GODDAMN PRIDE."

- END QUOTE LONG LIVE JOHN AFRICA !!!





Contact ICFFMAJ: 215-476-8812

icffmaj@aol.com

www.mumia.org

To view photos from the Feb.11 demo for Mumia, please link to:

http://www.indybay.org/news/2005/02/1721239.php



Hans Bennett is an independent photojournalist in Philadelphia working on an upcoming book featuring a photo-documentary of the movement to free Mumia Abu-Jamal and an examination of his case. He can be contacted via email: destroycapitalism@hotmail.com

More of Bennett's work can be viewed at:

http://awol.objector.org/insubordination/insubindex.html





Report this post as:


by Hans Bennett Saturday, Jun. 18, 2005 at 5:23 AM
destroycapitalism@hotmail.com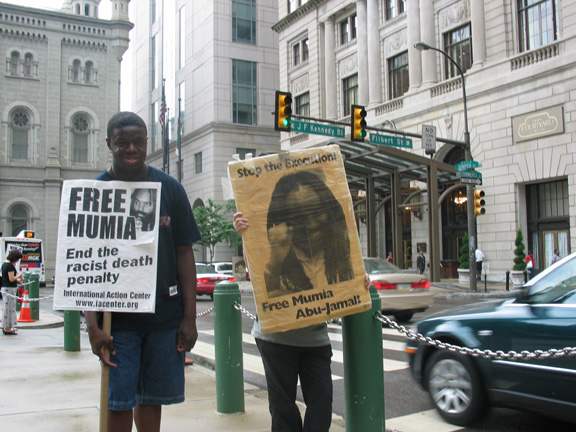 pair.jpg, image/jpeg, 576x432
Report this post as:
Local News

GUIDE TO REBEL CITY LOS ANGELES AVAILABLE A12 5:39PM

lausd whistle blower A10 11:58PM

Website Upgrade A10 3:02AM

Help KCET and UCLA identify 60s-70s Chicano images A04 1:02PM

UCLA Luskin: Casting Youth Justice in a Different Light A02 11:58AM

Change Links April 2018 A01 11:27AM

Nuclear Shutdown News March 2018 M31 6:57PM

Join The Protest Rally in Glendale on April 10, 2018! M29 7:00PM

Join The Protest Rally in Glendale on April 10, 2018! M29 6:38PM

Spring 2018 National Immigrant Solidarity Network News Alert! M19 2:02PM

Anti-Eviction Mapping Project Shows Shocking Eviction Trends in L.A. M16 5:40PM

Steve Mnuchin video at UCLA released M15 12:34AM

Actress and Philanthropist Tanna Frederick Hosts Project Save Our Surf Beach Clean Ups M06 12:10PM

After Being Told He's 'Full of Sh*t' at School Event, Mnuchin Demands UCLA Suppress Video M02 11:44AM

Resolution of the Rent Strike in Boyle Heights M01 6:28PM

What Big Brother Knows About You and What You Can Do About It M01 3:30PM

Step Up As LAPD Chief Charlie Beck Steps Down F14 2:44PM

Our House Grief Support Center Hosts 9th Annual Run For Hope, April 29 F13 12:51PM

Don't let this LA County Probation Department overhaul proposal sit on the shelf F13 11:04AM

Echo Park Residents Sue LA Over Controversial Development F12 8:51AM

Former Signal Hill police officer pleads guilty in road-rage incident in Irvine F09 10:25PM

Calif. Police Accused of 'Collusion' With Neo-Nazis After Release of Court Documents F09 7:14PM

Center for the Study of Political Graphics exhibit on Police Abuse posters F07 9:50AM

City Agrees to Settle Lawsuit Claiming Pasadena Police Officer Had His Sister Falsely Arre F04 3:17PM

Professor's Study Highlights Health Risks of Urban Oil Drilling F04 12:42PM

Claims paid involving Pasadena Police Department 2014 to present F04 10:52AM

Pasadenans - get your license plate reader records from police F03 11:11PM

LA Times Homicide Report F03 1:57PM
More Local News...
Other/Breaking News

Xyloglossie attitudinale A23 8:07AM

Shadowgun Legends Hack and Cheats A23 7:24AM

What does the Quran Say About Islamic Dress?? A21 4:15PM

Biodiversité ou la nature privatisée A20 11:22AM

The Market is a Universal Totalitarian Religion A20 7:14AM

Book Available about Hispanics and US Civil War by National Park Service A19 5:52PM

The Shortwave Report 04/20/18 Listen Globally! A19 4:01PM

The Republican 'Prolife' Party Is the Party of War, Execution, and Bear Cub Murder A19 11:48AM

Neurogenèse involutive A18 9:21AM

Paraphysique de la dictature étatique A16 10:13AM

Book Review: "The New Bonapartists" A16 3:45AM

The West Must Take the First Steps to Russia A14 12:25PM

Théorie générale de la révolution ou hommage à feu Mikhaïl Bakounine A14 3:30AM

The Shortwave Report 04/13/18 Listen Globally! A12 3:50PM

"Lost in a Dream" Singing Competition Winner to Be Chosen on April 15 for ,000 Prize! A12 3:48PM

The World Dependent on Central Banks A12 4:43AM

Ohio Governor Race: Dennis Kucinich & Richard Cordray Run Against Mike DeWine A11 9:40PM

March 2018 Honduras Coup Again Update A10 10:52PM

Apologie du zadisme insurrectionnel A10 3:33PM

ICE contract with license plate reader company A10 1:14PM

Palimpseste sisyphéen A09 11:23PM

Black Portraiture(S) IV: The Color of Silence...Cuba No...Cambridge Yes A09 5:32AM

Prohibiting Micro-Second Betting on the Exchanges A09 4:18AM

Prosecutors treat Muslims harsher than non-Muslims for the same crimes A08 10:33PM

Amy Goodman interview on cell phone safety A08 10:29PM

Mesa, Arizona police officer kills unarmed white man A08 9:50PM

Israeli leaders should be prosecuted for war crimes A08 9:48PM

Paraphysique de l'autorité A08 12:11AM
More Breaking News...