Features
•
latest news
•
best of news
•
syndication
•
commentary

Feature Categories



KILLRADIO
printable version - js reader version - view hidden posts - tags and related articles

by John Berlau, Shayla Bennett Tuesday, Nov. 11, 2003 at 11:40 PM
jberlau@insightmag.com
By means of their settlement with the States, the tobacco people have achieved something else that is absolutely invaluable to them -- complacent Americans think that the tobacco problem is solved.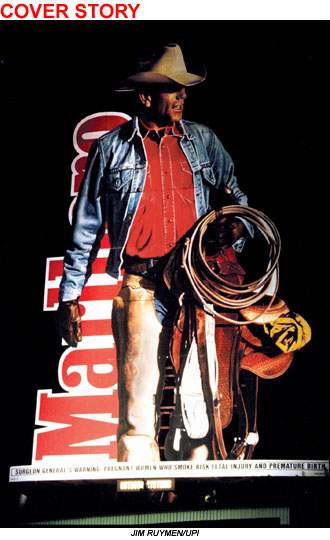 marlboro-monopoly-act.jpg, image/jpeg, 330x540
Smoking Out Big Tobacco

John Berlau, Insight on the News, November 10, 2003

Opponents of FDA regulation of the tobacco industry have taken to calling Sen. Gregg's bill the 'Marlboro monopoly act' because smaller manufacturers would have a much tougher time meeting all the restrictions.



In the late 1990s the Clinton administration and its Food and Drug Administration (FDA) commissioner, David Kessler, called for the FDA to regulate tobacco. Massive opposition rose like smoke from the tobacco companies and Republicans in Congress as well as conservative and libertarian activists. Tobacco is neither a food nor a drug, they argued, and FDA regulation of tobacco products would limit the freedom of consenting American adults. A few years later FDA regulation still is being proposed, but the advocates have changed. This time many Republicans, including a few conservatives, are on board and the push is being led by America's largest cigarette manufacturer, Philip Morris Co.

GRANTING POWER TO THE FDA

Judd Gregg (R-N.H.), chairman of the Senate Health, Education, Labor and Pensions Committee (known as the HELP Committee), is proposing legislation that, in the words of a committee summary, "grants FDA authority to regulate the production, distribution, labeling and marketing of tobacco products to protect the public health."

In a press release, Gregg says, "The bill ... gives the FDA the authority to regulate the tobacco industry and, in doing so, will ultimately save lives." A fellow Republican senator on the committee, Mike DeWine of Ohio, adds in the same press release: "We are taking a step toward limiting the kinds of advertisements directed at our children. And we are taking a step toward finally giving the FDA the authority to fix the problem of youth smoking."

In the House, Reps. Tom Davis (R-Va.) and Mike McIntyre (D-N.C) are cosponsoring a bill that would let the FDA regulate tobacco and give a "buyout" to tobacco farmers and end government support. Bills for FDA regulation of tobacco also were backed by Rep. Ernie Fletcher (R-Ky.), who was just elected governor of that state. House Majority Whip Roy Blunt (R-Mo.) also has supported FDA regulation of tobacco.

These sudden conversions could be explained by the new support for FDA oversight by Philip Morris. In Blunt's case, as reported in June by Jim VandeHei of the Washington Post, Philip Morris was a big donor, and both his son and the girlfriend who now is the congressman's wife worked as lobbyists for the company. Only quick action by his fellow top Republicans stopped Blunt last November from inserting a last-minute provision into the homeland-security bill that would have benefited Philip Morris by cracking down on sales of tobacco products on the Internet.

Philip Morris is telling Insight and others it has seen the light and now supports "responsible" regulation. "We have a lot of reasons," says Mark Berlind, an associate general counsel to Altria Group Inc., the new name for what used to be called Philip Morris Companies and which also owns Kraft Foods and Miller beer. (The cigarette division still is called Philip Morris USA.) Berlind explains: "We believe that all of our businesses should do what they can to align their business practices with society's expectations. Clearly, the American public wants FDA regulation. There's a big perception out there that there's not enough oversight of the industry. We agree with that, and we think that the whole industry would benefit from having much clearer rules across a range of issues for how to conduct its business."

There remain plenty of sticking points between Philip Morris and antitobacco activists. The company still opposes allowing the FDA to regulate tobacco as a "drug-delivery device," as Kessler had planned to do, and it wants a separate category for tobacco. Gregg's bill currently is stalled in the HELP Committee because Sen. Edward Kennedy (D-Mass.) and the National Center for Tobacco-Free Kids believe it does not give the FDA enough power.

CORPORATIONS, CONSERVATIVES, AND LIBERTARIANS - OH MY

Meanwhile, opposition slowly is arising both from Philip Morris rivals and from conservative groups that believe big government is bad no matter which companies or legislators are pushing it. "Big business likes big government as long as big government can be used to serve their economic ends and interests, so that's nothing new," says Richard Lessner, executive director of the American Conservative Union (ACU). "We don't think government should be used to give any company a competitive advantage over another company. The free market ought to determine these things."

What Lessner is referring to as "competitive advantage" reflects a long history of tobacco companies using government regulation as a weapon to bludgeon their competition or potential new upstarts. Critics on the right suspect that in this effort the real motive of Philip Morris, which controls about 50 percent of the U.S. cigarette market with brands including Marlboro, Benson & Hedges and Virginia Slims, is not public health but sticking it to the company's competitors. Opponents like to refer to Gregg's bill as the "Marlboro monopoly act."

"They want to put their competitors at a disadvantage," Jacob Sullum, libertarian critic of the antismoking movement and a senior editor of Reason magazine, tells Insight. "They feel that they, as the leading company and the biggest company, are best able to bear the burden of regulation. Certainly, regulation is going to put small upstart companies at more of a disadvantage, as well as R.J. Reynolds. For the manufacturers that are smaller than Philip Morris, it's going to be harder in general to meet the requirements of the regulations. So that too will help Philip Morris. If there are additional advertising and promotion restrictions - there already are a bunch of them as a result of the [medical-costs] settlement with the states - that also helps the company with the biggest market share. To the extent that you restrict advertising and promotion, you tend to freeze market share."

Philip Morris, say Sullum and others, is not the only cigarette company to try to use government to disadvantage their competitors. In recent years the shoe has been on the other foot as some of the rivals fighting Philip Morris on the Gregg bill, including Lorillard and Brown & Williamson, wanted to use the government to block competition from Philip Morris. They were lobbying states and filing lawsuits to negate Philip Morris' agreement with stores through its "retail-leaders" program to have its products be displayed according to market share. "It's anti-free market," says Duane Parde, executive director of the conservative American Legislative Exchange Council, which opposed the state bills. "That's a decision - shelf space - that should be left to the owner of the store. They want to move product, and that's their call, not the state government's."

RETAILERS CAUGHT IN THE MIDDLE

Yet Gregg's new proposal backed by Philip Morris also has plenty of micromanaging of retailers. Convenience-store owners worry that the restrictions will be impossible to comply with. There already are strict rules that cigarettes must be out of the reach of children. But Gregg's legislation mandates nine different warnings to be placed on various packages of cigarettes and requires stores to display them equally. Gregg's office did not return phone calls asking to discuss the proposal.

"Retailers would have to ensure that all nine warnings were displayed on different packages in as equal a number as possible," says a description of the bill by the National Association of Convenience Stores (NACS). "Retailers, especially small convenience-store owners, will have no practical way to control the warning labels on the packages they receive and will have difficulty displaying all of the labels at once - let alone displaying them in equal numbers." As an example, NACS government-affairs director Allison Shulman tells Insight, "A little bodega in New York would have no room to display all nine packages." The NACS summary also points out that "a larger display would draw more attention to the cigarettes and possibly induce sales."

That's not the only way the regulatory legislation backed by Philip Morris might have bad health effects, say Sullum and other critics. "It gives FDA the authority to nix safer tobacco products and claims about safer tobacco products if the FDA decides that it's on balance bad for public health," Sullum says. "You could have a product that is safer and better for the individual smoker, so for any given smoker it would be an improvement for them, but the argument is that smokers who might have quit will switch to the safer products, and there might be new smokers who think it's safer, and on balance you're going to have more morbidity and mortality. The bill seems to empower FDA, rather than the consumer, to make that determination."

A recent draft of Gregg's legislation appears directly to benefit cigarette companies by banning ads with comparisons of the alleged safety of cigarettes with smokeless tobacco. Longtime anticigarette crusader Elizabeth Whelan, president of the American Council on Science and Health, tells Insight, "We have hard and convincing data that smokeless tobacco is much, much much safer. We are very in favor here of harm reduction. I'll do anything to help smokers reduce their risk, even if that risk is not zero. ... The proposed language on the label of smokeless does not adequately reflect the reduction of risk associated with smokeless compared with cigarettes."

When asked about this provision banning comparisons, Altria's Berlind says he actually was against it. But he says FDA approval of health claims is essential to public trust. "There's no effective regulation of terms, there's no effective regulation of ingredients disclosure, there's no regulation about the claims that some companies are starting to make about new product technologies, and all of this is not good for consumers and puts the company in an awkward situation," Berlind says. "No matter what we do, we get criticized. If we disclose ingredients in a particular way, the tobacco-control groups say we're not disclosing enough. If we disclose too much, they say we're lying about it and the government hasn't verified it. If we use terms like 'lite' and 'ultralite' in a particular way, they say that we're being deceptive. If we don't use them or if we don't make claims about the new products, they say we're withholding information from consumers. No matter what we do we come under intense criticism, fair or unfair. We believe strongly that we need regulation to address a lot of these issues."

Berlind dismisses the competitive-advantage argument. "This is a product that is addictive and causes disease in people, and there should be minimum standards of responsibility," he says. The company's competitors "don't want any change in the status quo," he charges.

PHILIP MORRIS SEEKS A 'SEAL OF APPROVAL'

But Whelan argues that what Philip Morris really is seeking through regulation is a government seal of approval for a dangerous product. "Philip Morris wants FDA regulation because they want to get the blessing from the FDA when they come up with what they're saying is a safer cigarette," she says. Sullum agrees, saying, "They want the FDA to certify their safer versions of cigarettes as safer so they don't have to worry about action by the FTC [Federal Trade Commission] claiming that it's misleading. They can explicitly say, 'This is safer,' and presumably there will be some kind of protection against litigation. They see some promise in being able to sell safer cigarettes and they think that federal regulation is the best way to go about that, and they want to cement their current market share and beat back the competition."

There is nothing new about cigarette companies asking the government for particular regulation [see "Fighting the Tobacco Wars," June 16, 1997]. Whelan points out that Philip Morris and others quietly lobbied for the requirement that cigarette packages list the surgeon-general's warning, believing it would give them immunity from lawsuits. They also backed the 1970s law that banned TV ads because broadcasters were required to carry antismoking public-service announcements to counter them. And when research about the bad health effects of cigarettes first came out in the 1950s, unrestricted "fear advertising" of filtered cigarettes from upstarts such as Philip Morris resulted in a two-year, 9 percent decline in cigarette consumption, the largest drop to this day. The advertising "remind[ed] consumers constantly of the worrisome symptoms associated with smoking," wrote economist John Calfee, now at the American Enterprise Institute, in his important 1986 article, "The Ghost of Cigarette Advertising Past," in Regulation magazine. However, cigarette consumption went right back up after R.J. Reynolds and other then-dominant firms convinced the FTC to ban such comparative advertising.

And the tobacco settlement of the late 1990s has given state governments a stake in Big Tobacco's survival. In addition to the payments from the settlement that mostly are going to general-revenue funds rather than antismoking education, cigarette taxes have been raised in 29 states and the District of Columbia since 2002, according to the National Taxpayers Union. Some 60 percent of the price of cigarettes goes for taxes. So while cities and states still are passing ordinances excluding smokers from ever more public places, governments are leery of huge jury awards, such as the recent Madison County, Ill., verdict of more than billion against Philip Morris, that put their cash cow at risk.

STATES PROTECTING BIG TOBACCO FOR THEIR SETTLEMENTS

"Tobacco litigation is still going on, but it's just that now states have an interest in discouraging it," Sullum remarks. "Any really big settlement threatens their revenue stream, so you have states passing legislation capping appeal bonds, for example, basically to save the tobacco companies. The states are really the ones in the tobacco business now. They make more money from it than do tobacco companies. They don't want to see them bankrupted by big judgments, and they don't really want to see people stop smoking. They're counting on all that money, mostly for programs that are supposed to continue indefinitely. They're treating it like general-fund money, and if everybody stops smoking, they're going to either have to raise taxes or cut those programs."

In fact, in South Carolina, the tobacco-settlement money was used by Democratic former governor Jim Hodges to bail out tobacco farmers. The buyout provisions of the McIntyre-Davis bill in the House would pay billion to tobacco farmers, after which government support supposedly would end. But the bill still explicitly leaves them eligible for federal crop insurance. Although the billion is a user fee from tobacco producers, including cigar and smokeless-tobacco makers, the ACU's Lessner says the tax will be passed on to consumers. "Over the 60-some years since this program was instituted under the New Deal, these people have received hundreds of millions of dollars in taxpayer money," Lessner says. "I think they've been amply compensated, and the notion that we have to pony up another billion to buy out people who have been on the government gravy train for 60 years, I think is outrageous. ... I'm outraged that guys who had signed an antitax pledge were willing to slap a billion tax hike on tobacco companies. This is a matter of principle for us." Lessner says the ACU is not receiving money from Philip Morris or its rivals.

In the meantime, imports and discount brands not subject to the settlement rules have rocketed. Also, black-market and counterfeit cigarettes are becoming commonplace.

Meanwhile, having extracted their ton of flesh from cigarette companies, many trial lawyers are moving on to other targets, such as handguns and fatty food, just as critics of the state tobacco lawsuits had predicted [see "Big Food Fight," July 15, 2002]. Whelan notes the number of adults smoking barely has budged from 25 percent in recent years. As a sign that cigarette companies are considered passé as villains, she points to the recent movie adaptation of John Grisham's best-selling thriller, The Runaway Jury. In the book, the defendants are greedy tobacco companies. But in the new movie, it's gun manufacturers who are on trial. "The reason they did that, or so it said, is because people are bored and they feel the cigarette industry is passé, and let's try something else," she says.

"By means of the settlement, the tobacco people have achieved something else that is absolutely invaluable to them," Whelan remarks. "This is that Americans have become more complacent about cigarettes. They think the problem is solved, that it's an old issue, that no one wants to hear about it anymore, because the settlement was done."

John Berlau is a writer for Insight magazine. Associate reporter Shayla Bennett also contributed to this article.
www.insightmag.com/news/552374.html
Report this post as:
Local News

Change Links September 2018 posted S02 10:22PM

More Scandals Rock Southern California Nuke Plant San Onofre A30 11:09PM

Site Outage Friday A30 3:49PM

Change Links August 2018 A14 1:56AM

Setback for Developer of SC Farm Land A12 11:09PM

More problems at Shutdown San Onofre Nuke J29 10:40PM

Change Links 2018 July posted J09 8:27PM

More Pix: "Families Belong Together," Pasadena J02 7:16PM

"Families Belong Together" March, Pasadena J02 7:08PM

Short Report on the Families Belong Together Protest in Los Angeles J30 11:26PM

Summer 2018 National Immigrant Solidarity Network News Alert! J11 6:58AM

Watch the Debate: Excluded Candidates for Governor of California M31 5:20AM

Change Links June 2018 posted M28 7:41AM

The Montrose Peace Vigil at 12 Years M22 8:01PM

Unity Archive Project M21 9:42AM

Dianne Feinstein's Promotion of War, Secret Animal Abuse, Military Profiteering, Censorshi M17 10:22PM

CA Senate Bill 1303 would require an independent coroner rather than being part of police M10 9:08PM

Three years after OC snitch scandal, no charges filed against sheriffs deputies M10 8:57PM

California police agencies violate Brown Act (open meetings) M02 8:31PM

Insane Company Wants To Send Nuke Plant Waste To New Mexico A29 11:47PM

Change Links May 2018 A27 8:40AM

Worker-Owned Car Wash on Vermont Closed A27 5:37AM

GUIDE TO REBEL CITY LOS ANGELES AVAILABLE A13 12:39AM

lausd whistle blower A11 6:58AM

Website Upgrade A10 10:02AM

Help KCET and UCLA identify 60s-70s Chicano images A04 8:02PM

UCLA Luskin: Casting Youth Justice in a Different Light A02 6:58PM

Change Links April 2018 A01 6:27PM
More Local News...
Other/Breaking News

Paraphysique de psychosomatique S22 6:58AM

Chuck Grassley: Women Abusing, Animal Murdering, Illegal War Supporting Criminal S22 2:58AM

Finance Capitalism and the Digital Economy S21 4:45PM

Muselières syndicales, muselières patronales S21 7:19AM

Jeff Bezos, Amazon, The Washington Post, Whole Foods, Etc S21 2:50AM

Why Choose Nut Milk Over Cows' Milk S21 1:01AM

Antrhopocène, le grand effondrement S19 9:53AM

Creative Destruction Hack Diamonds Windows/iOS/Android - Creative Destruction Generator S19 12:51AM

Abolir l'économie S18 11:18AM

The Dictatorship of Corporations S17 5:26PM

18 Lethal Consequences Of Hunting S17 3:13PM

Paraphysique de l'outplacement déontologue S15 6:51AM

Creative Destruction Hack Mod Generator S15 3:49AM

Shopping du bashing S14 8:42AM

After Lehman Brothers, Experts Say Global Financial Crisis Can Happen Again S13 8:28PM

"Animaniacs in Concert!" Starring Voice Legend Rob Paulsen S12 9:30PM

Probabilités de fin d'humanité S12 6:49AM

Florida Area of Migrant Farmworkers Denied Right to Construct Health Clinic near NaplesCIW S11 2:57AM

Propagande de virus, virus de propagande S10 7:34AM

Steer clear of work morality! S09 12:10PM

Sweatshop Lodge Ceremony Continues in US Fed Prisons Led by Inmates S08 6:17PM

Paraphysique de l'origami S08 7:11AM

The Shortwave Report 09/07/18 Listen Globally! S06 11:23PM

August 2018 Honduras Coup update S06 12:28PM

Du réussissement putréfié S06 10:55AM

Brett Kavanaugh Filled The 5th Circuit With Execution Judges S06 6:14AM

Log S06 4:25AM

Augusta Georgia Woman Gets 5 Year Prison Sentence for Writing About Russians Crime Acts S05 8:29AM
More Breaking News...