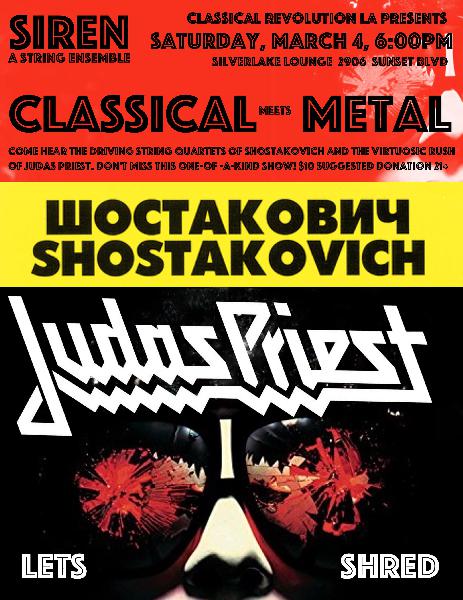 siren_march4_6pm-min.jpg, image/jpeg, 2550x3300 Classical meets Metal in this exciting and energetic performance of selections from Shostakovich String Quartets and Judas Priest! They may have more in common than you think.

Siren Performs Saturday, March 4th 6:00pm at Silverlake Lounge. 10$ suggested donation at the door. This event is 21 and over. Siren is a classical string ensemble in LA performing inventive programs that often include various musical genres. For this program they use the traditional string quartet personnel including Kimberly Hain and Isabella Mija Reyes on violin, Ben Bartelt on viola, and Mark Bassett on cello. Selections from Shostakovich are taken from his 2nd, 3rd, 8th, 9th, and 10th String Quartets. Judas Priest arrangements include "A Touch of Evil," "Redeemer of Souls," "Beyond the Realms of Death," songs from the album "Nostradamus," and more.
The music of both artists showcases a high level of virtuosity on the part of the performers, exploring complex rhythms, extremely fast passages, and using wide ranges on the instruments. Rob Halford, lead singer for Judas Priest, is known for his powerful operatic voice and wide range, from shrieking falsetto to throaty growls. Glenn Tipton, lead guitar of the band has been praised for his complex and classically influenced solos. The selections from Shostakovich string quartets are equally as impressive in their use of mixed meter, high ranges, fast tempos and big leaps. It takes a lot of physical stamina for the performers to sustain the intensity of these movements.

In addition to virtuosity, both groups have their dark side. Shostakovich (1906-1975) is noted for his powerful and occasional grotesque music that was composed during a time of war and death in the communist Soviet Union. It is said that his famous String Quartet No. 8 is dedicated to "victims of fascism and the war" and that it was his epitaph. Heavy metal and its performance style is sometimes characterized by aggression and can be described as "the sensory equivalent of war". Judas Priest's famous song "Beyond the Realms of Death," describes a man who becomes locked in a state of depression that results in his death. Don't miss this one-of-a-kind show!