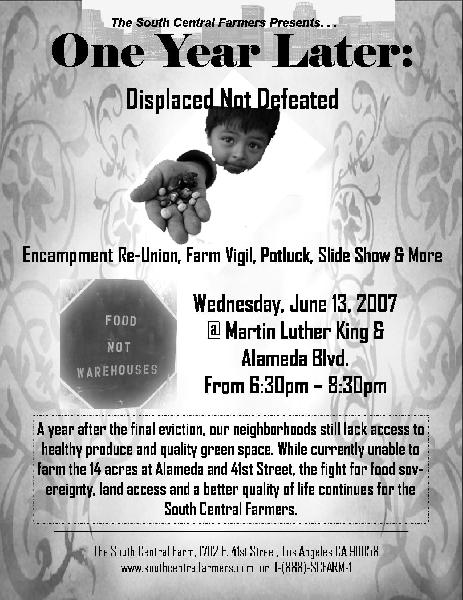 june_13_07_vigil_jpeg.jpg, image/jpeg, 1275x1650 South Central Farmers Health and Education

1702 E. 41st St. Los Angeles, CA 90058

southcentralfarmers@hotmail.com



For Immediate Release: June 8, 2007

Contact: Tezozomoc -- 818-371-0612



South Central Farmers'
Encampment Re-Union

Displaced, but not Defeated!

**Reflections One Year Later**


WHAT:
1) Vigil and Procession around land

2) Traditional Music and Danza Azteca

3) Potluck

4) Screening of the trailer for Tierra y Libertad: a film recording the last 4 years of the South Central Farmers fight by Scott Hamilton


WHEN:
Date -- Wednesday, June 13, 2007

Time – 6:30pm to 9:30 pm



WHERE:

Located on the East corners of MLK Jr. Blvd and Alameda Blvd., LA 90058

(Metro: Exit Blue Line Vernon Station and walk five blocks North)



WHY: Reflecting upon the past, present, and future of the South Central Farmers. A year after the final eviction, our neighborhoods still lack access to healthy produce and quality green space. While unable to farm the 14 acres at Alameda and 41st street, the fight for food sovereignty, land access, and a better quality of life continues for the South Central Farmers. Displaced, but not defeated, the farmers continue their work to bring change to their communities.


As part of their commitment to keep Bringing Food to the 'Hood, the SCFHEF hosts a monthly Tianguis marketplace in collaboration with various community-based organizations, artisans, and local merchants. Every first Sunday of the month, the Tianguis transforms public space surrounding the original 14-acre farm into a site for healthy eating, healthy economics, and healthy relationships.