Media: 1 next page | single feature archives | weekly archives
---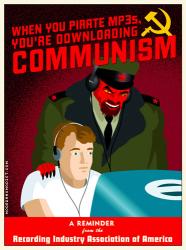 File Sharing Bill Can Threaten Indymedia
Senator Orrin Hatch announced a bill on June 24th that's seeking to curb the invention of music file sharing software, but could also be used to sue a wide range of other software, and discourages sharing of data in general. It's called INDUCE, because it targets anyone who induces someone to copy a copyrighted file. Click the headline to read the introduction to the biil, annotated heavily with commentary.
In theory, this bill (if passed) could be used by news companies to sue the Indymedia software developers for advocating "open publishing" that doesn't restrict people from re-posting news articles, and to sue the Indymedia network for allowing stories to go up before being approved by an editor.
05/26/2004
The Dogs of Now
is a site by some people involved in the Free Pacifica movement and who were critical of KPFK during the previous management. It contains archival information primarily from the time after the changeover of management and the end of the KPFK lawsuit.
Ominous Valve is another site with similar information and a different tone.
KPFK Chat is a message forum about KPFK (but not sponsored by kpfk). The KPFK Listener's Forum is another.
In addition to these sites, there are factions within KPFK that are not necessarily progressive. Be critical at all times.
| | |
| --- | --- |
| | A little online sleuthing turned up the fact that an anti-Moore site is operated by a big PR agency that did the Recall Davis campaign. What a surprise. |
04/30/2004
The OC Weekly, a progressive free weekly in Orange County, published a cover featuring a cartoon of a stereotypical "Mexican bandito" from an old Hollywood western.
See image.
Paul Lopez is calling for a protest.
Call for a protest.
| | |
| --- | --- |
| | Citing a need to kowtow to the draconian FCC election year media circus following Janet Jackson's tit, relatively wealthy NPR affiliate KsCReW fired Sandra Tsing Loh, clever audio confectionist and writer, for saying the word "fuck" on the air. A flurry of discussion at the weblog LA Observed ensued. |
---
Media: 1 next page | single feature archives | weekly archives