production: 1 next page | single feature archives | weekly archives
---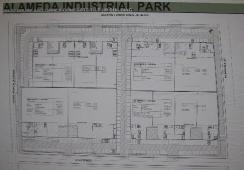 The South Central Farm: A New Battle Begins...
A year ago, developer Ralph Horowitz sold the land at 41st and Alameda. The new owner has been working with PIMA, a partnership of garment companies (i.e., Miss Me, Poetry, Active, and Impact USA), which would build four industrial facilities there. This would bring in at least 2,000 additional Diesel trucks per day. PIMA has emphasized that perhaps as many 400 jobs (maybe as much as 650) would be created.
On June 5, a hearing was held at City Hall, on very short notice, over the required subdivision. Nevertheless, the room was packed with South Central Farm supporters (organizer Leslie Radford estimated 75, and indeed, with all 52 seats filled, a sizable crowd was standing in the back of the room). Many strong and cogent statements were made both by South Central residents and supporters of the South Central Farm.
Zoning Administrator Fernando Tovar said that he would take the matter under advisement. Public comments may be submitted until June 26 at the end of the business day. He noted that the various environmental concerns need to be substantiated. (Tezozomoc of the South Central Farm said he was already in the process of resubmitting the documents.) Tovar also underscored the limitations of his authority pertaining to land use and employment by the proposed facility.
Organizers for the South Central Farm indicated that a new battle is beginning.
Full report: The South Central Farm: A New Battle Begins... by RP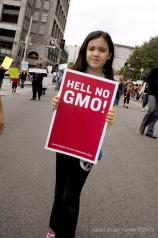 Testing, Testing Can You Hear Us?
Saturday May 25 saw a spirited protest march occur in downtown Los Angeles. The protesters went from Pershing Square to City Hall. Well over a thousand people participated. This was part of a Worldwide Day of Protest against The Monsanto Corporation and those companies like Syngen, Dow, Bayer and others who are coming to dominate the world food supply. The worldwide protest numbers were reported to be over two million.
One of the reasons for the American marches was a rider that was attached to the 2013 Spending Bill that was signed by President Barack Obama. The rider was drafted by Republican Roy Blount who represents Missouri which is the home state of the Monsanto Corporation. The GOP representative states that he worked closely with Monsanto on the drafting. Senator Barbara Mikulski's Appropriations Committee was where the rider was injected.
The provision is being called "The Monsanto Protection Act." It's actual name is the Farm Assurance Provision.
The day progressed well and the ethnically and income varied crowd mingled. Some folks had access to Whole Foods and some folks shopped at Pay For Less. Some folks were homeless with a can of beans and the and some lived in houses with full fridges on the West side. But people spoke together and laughed and shouted and testified. Sacred Aztec maize dances were performed. There were citations of Monsanto's lurid chemical history, the GMO insider appointments the FDA and the USDA made, the unfair monopolistic competition that Monsanto practices against small farmers worldwide and the insanity of absolutely no real public safety tests for genetically modified foods. It was brought up that "RoundUp" resistant organisms are now becoming an issue and pesticide stocks are rising. Signs demanding the labeling of GMO's was a constant theme as well as the testimonials of those those that had had possible negative encounters with processed foods, GMO's and the like.
Full story and photos: Testing, Testing Can You Hear Us? by Robert Stuart Lowden | Photos Set 2 | Photos Set 3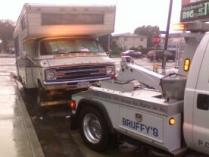 VENICE OPDs ARE BACK! BUT WHY?
The California Coastal Commission denied Overnight Parking Districts (OPDs) two years in a row and what has changed since are all the new Coastal Commissioners and the real reason behind the Venice OPDs has been virtually eliminated. We hope the new Commissioners will study the OPD denials from both June 2009 and again in June 2010 and maybe even listen to our story to see why so many of us have fought all this time to keep Venice Beach Free and keep our Coastal Zone open to All.
. . . The main reason for OPDs is to remove homeless people living in vehicles from Venice and to help make Venice a more exclusive community. The OPD law is a Los Angeles Municipal Code (an ordinance) brought to life by Councilman Bill Rosendahl after he was first elected and seated in 2005. The intent of this parking permit system is and has always been to make it illegal for homeless people (or other alternative people) to park a vehicle between 2-6am in Venice, because the rules make it so they cannot get a permit.
. . . Even though the Coastal Commission Staff and Attorneys along with the City of LA and Mark Ryavec all reached a tentative settlement agreement to put in the Venice OPDs prior to the June 2010 Coastal Commission meeting, the Commission denied the OPDs for the second year in a row.
Full story: VENICE OPDs ARE BACK! BUT WHY? by Peggy Lee Kennedy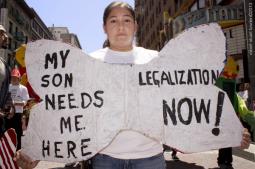 Los Angeles May Day 2013
. . . One saw family after nuclear family marching for the peace of mind that a world without ice raids would bring.
Brown men and women in suits went by waving old glory......mechanics, in their dirty work clothes, jumped into the march, sign in hand while old farmers and field folks marched in the hot sun. ..... again.
Grandmothers, toddlers, Korean families, middle aged managers, old artisans, women wearing their hajibs and of course those good capitalist's earning money off the selling of flags and their co-products all strode down Broadway displaying strong arguments for fair treatment, human empathy and neighborliness.
Themes such as citizenship and inclusion, the sanctity of the nuclear family, and the inhumane effect of deportation on a family permeated the rally as well as a call to stop the needless deaths that can occur at difficult or long border crossings.
Report and photos: Los Angeles May Day 2013 by Robert Stuart Lowden | Photos Set 2 | Photos Set 3 | Photos Set 4 | Photos Set 5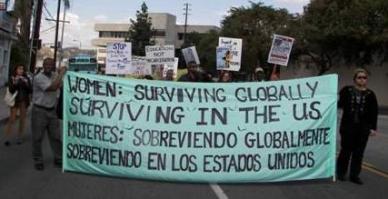 14TH ANNUAL INT'L WOMEN'S DAY EVENT Women Surviving Globally, Surviving in SoCal
Saturday, March 9, 2013: The daylong event began with a rally at the Downtown Jail, close to where several inmate families were waiting for visitation. "We were able to speak with some of them, and they were happy to see us out there rallying for justice, for themselves, their loved ones and for all women around the world," reports Wanda Miller. "Lots of people signed our sign-in sheets [and] wanted to join us in future events. Passersby were honking horns and waving in support.
"Even though we were across the street from the jail, some of those inside could [likely] see us through the tiny windows and were perhaps encouraged that we were outside protesting, that we were in solidarity with them."
The rally was followed by a "lively" March for Survival, with the message Invest in Life and Welfare, Not War and Prisons. At about 1:30, there was a teach-in at The Last Bookstore, about a mile away. Panels included Women Surviving Globally, which featured "video presentations from or about Haiti, Tanzania, Guyana, and IJAN (International Jewish Anti-Zionist Network). The last clip was of President Hugo Chavez of Venezuela talking about how important women were to what he was trying to do in Venezuela. . . ." The next panel was Women Surviving Locally with speakers Diana Zuniga of Californians United for a Responsible Budget (CURB); Tanisha Denard Youth Justice Coalition; Rachel West, US Prostitutes Collective; Alexa Rishton, Military Families Speak Out; Rosamaria Segura CHIRLA Household Workers Campaign; Lydia Ponce, an Indigenous from Idle No More/LA; and Wanda Miller, DCFS Give Us Back Our Children.
Full report and photos: 14TH ANNUAL INT'L WOMEN'S DAY EVENT Women Surviving Globally, Surviving in SoCal by Wanda Miller, DCFS Give Us Back Our Children
---
production: 1 next page | single feature archives | weekly archives