production: 1 next page | single feature archives | weekly archives
---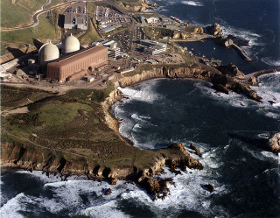 Feds Allow Lawsuit to Shut Down Diablo Canyon to Proceed
On February 20 a Federal Court of Appeals in Washington DC rejected an attempt by Pacific Gas & Electric and the Nuclear Regulatory Commission to quash a lawsuit filed by environmental group Friends Of the Earth (FOE). According to Friends Of the Earth, the suit alleges that the "NRC illegally allowed PG&E to alter Diablo Canyon's nuclear plant license.
"FOE contends the NRC acted in secret and collusion with PG&E to hide Diablo Canyon's vulnerability to earthquakes stronger than it was built to withstand. A decision in favor of Friends of the Earth could result in PG&E having to shut down its reactors, pending a public hearing to examine the new risks at the plant."
Diablo Canyon has been controversial since the beginning. Located on California's Central coast near San Luis Obispo, and in an earthquake and tsunami zone, 1900 no nukes protesters associated with the Abalone Alliance were arrested in 1981 over a period of two weeks in an attempt to stop its construction.
Several years before that, The China Syndrome, a movie starring Jane Fonda and Michael Douglas, appeared on silver screens across the nation, at least partially inspired by the struggle at Diablo Canyon. This was 1979, the year the Three Mile Island nuclear disaster melted down into American consciousness.
And in fact Friends of the Earth itself was founded all the way back in 1969 by environmentalist David Brower because of concerns about the possible construction of Diablo Canyon.
Full story FEDS ALLOW LAWSUIT TO SHUT DOWN DIABLO CANYON TO PROCEED by Michael Steinberg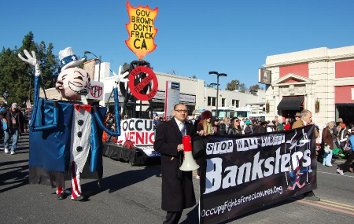 Occupy the Rose Parade: People's Parade Follows Pasadena's Tournament of Roses Parade
Once again, multiple groups engaged in activism at the Rose Parade--despite this year's cold temperature. (Last year, animal rights activists protested a Sea World float while Occupy Wall St. preceded the parade with an unofficial float).
On New Year's Eve, local activists visited the parade route carrying signs conveying the number of U.S. troops killed in America's military ventures in the Middle East. (Each casualty was represented by a "rose"--needless to say, there were a lot of "roses" on the signs.)
On New Year's Day, one group (organized by Stop Mass Incarceration Network, So Cal) protested the police murders of people of color. Before the parade, they stood at several locations, including parts of Old Town, dressed in black, holding signs, and chanting, "I can't breath." (Some parade spectators responded with, "I can breath." Other bystanders reportedly joined the demonstrations.) Police were especially strict with this group, forbidding them from even walking on Colorado Boulevard, which tends to be pretty accessible before the parade--even by activists, usually--and being rather particular about where they could stand on sidewalks.
Meanwhile, Occupy Wall St. followed the Rose Parade with a "people's parade." Despite being held up for a time by police and Homeland Security, Occupy made their way up the route and received a lot of notice. One float with the message "Gov Brown: Don't Frack CA" prompted spectators to ask what fracking is. Reportedly, "thousands of spectators remained in the grandstands to watch the unsanctioned post-parade."
Report, photos, and links to videos: Occupy the Rose Parade: People's Parade Follows Pasadena's Tournament of Roses Parade by Jessica Lux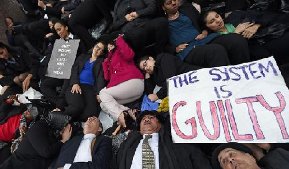 #BlackLivesMatter Massive Lawyer Die-In at Los Angeles Courthouse
A coalition of lawyers, law students, and others acting in solidarity protested police killings of unarmed people by staging a die-in outside Stanley Mosk Courthouse on the raining morning of Tuesday, December 16, 2014. The call to action encouraged others "to protest these police killings, the failure to hold police accountable for these deaths, and the system that perpetuates these racist practices. We act in solidarity with others taking action to show that Black Lives Matter."
Article, photos, and links: #BlackLivesMatter Massive Lawyer Die-In at Los Angeles Courthouse by Occupy Los Angeles OWS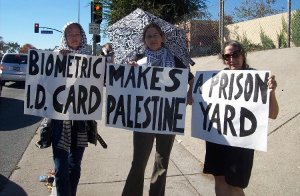 Protesting Hewlett-Packard on Black Friday
On Black Friday, three demonstrations against Hewlett-Packard occurred in front of large stores in Greater Los Angeles.
Besides its involvement with Israel, HP is involved in government surveillance of citizens around the world, including in the U.S. About a dozen people turned out for each of the two-hour demonstrations.
Report and photos: Protesting Hewlett-Packard on Black Friday by RP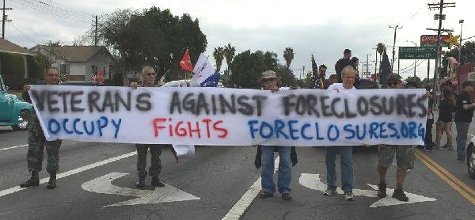 Veterans Against Foreclosures Marches in San Fernando Veterans Day Parade
SAN FERNANDO, CA – On Tuesday, November 11, veterans fighting foreclosure and homeless vets joined Occupy Fights Foreclosures marching in the San Fernando Valley Veterans Day Parade. One out of three unhoused people are veterans. Veteran homeowners and homeless are marching to bring awareness to the ongoing foreclosure crisis. Many veterans continue to fight to stay in their homes while some less fortunate already have joined the countless other homeless people and families on the streets without a roof over their heads. During the foreclosure crisis, banks have taken full advantage of our veterans, who not only have to fight to keep and find jobs, but have to deal with long term illnesses, the high cost of medications, and a bureaucratic system moves slowly, putting them at high risk to lose their homes.
Full story and pictures: Veterans Against Foreclosures Marches in San Fernando Veterans Day Parade by Occupy Fights Foreclosures
---
production: 1 next page | single feature archives | weekly archives