printable version - js reader version - view hidden posts - tags and related articles

by Jessica Lux idVer:c2c5ab7cae8270f1f3617641608 Sunday, Apr. 26, 2015 at 10:37 AM

Families feeling the abusive foreclosure practices of Wells Fargo occupied bank branches in both Whittier and Studio City on Saturday, April 25, 2015. Members of Occupy Fights Foreclosures (OFF) and the Alliance of Californians for Community Empowerment (ACCE) asked local branch managers to forward letters describing violations of the California Homeowner Bill of Rights to Wells Fargo headquarters.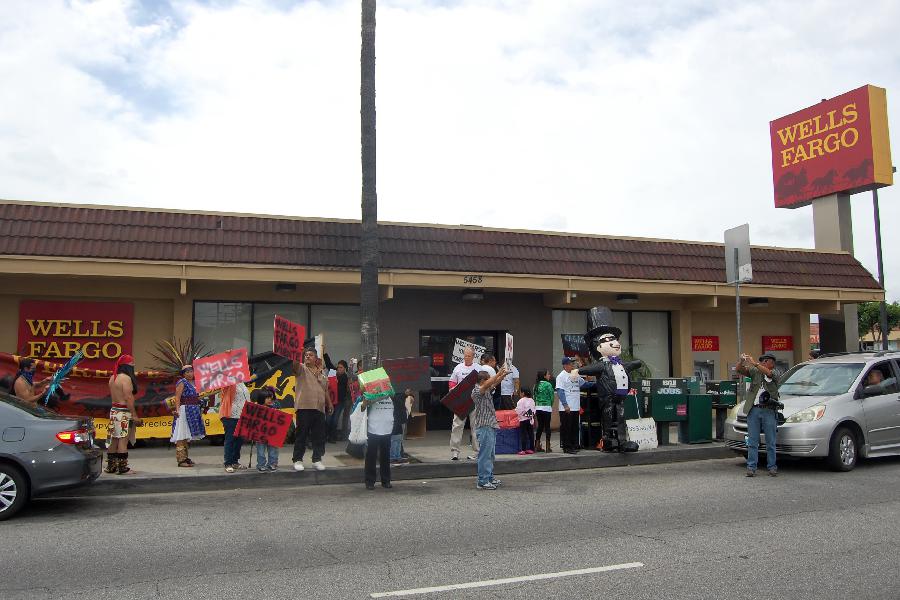 1_wellsfargowhitteroccupyfightsforeclosures.jpg, image/jpeg, 2841x1894

Report this post as:


by Jessica Lux idVer:c2c5ab7cae8270f1f3617641608 Sunday, Apr. 26, 2015 at 10:37 AM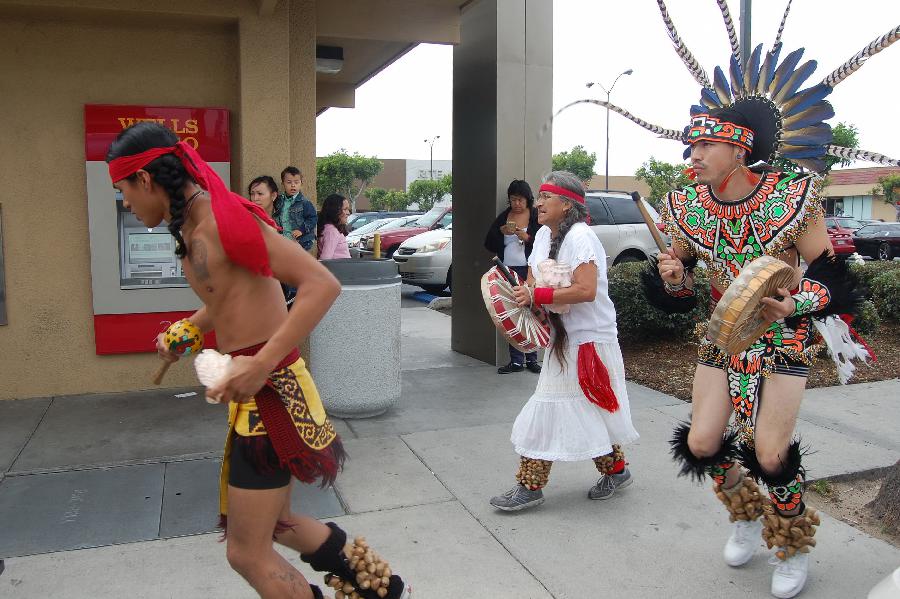 2_danzaaztecawellsfargo.jpg, image/jpeg, 2848x1898

Report this post as:


by Jessica Lux idVer:c2c5ab7cae8270f1f3617641608 Sunday, Apr. 26, 2015 at 10:37 AM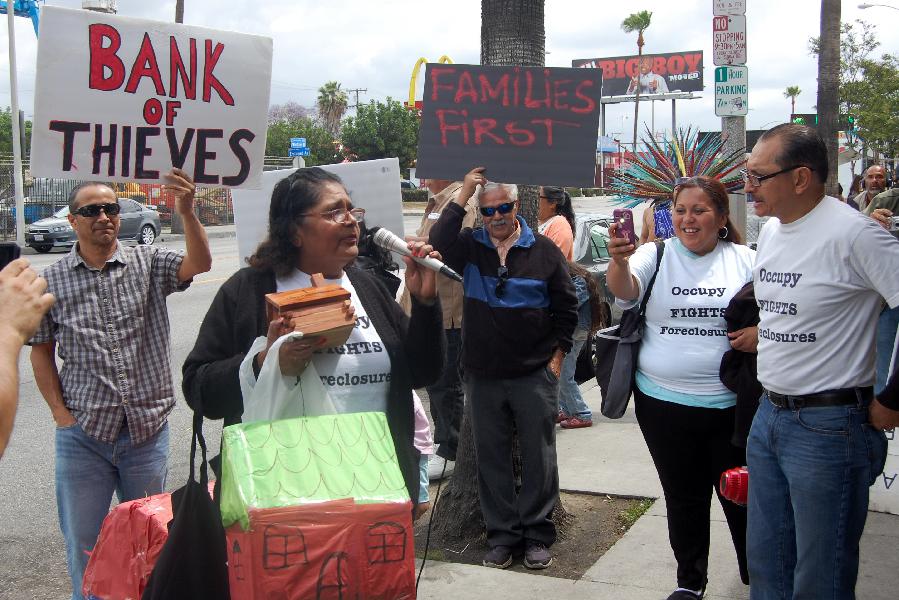 3_occupyfightsforeclosuresoccupywellsfargo.jpg, image/jpeg, 2881x1921

Report this post as:


by Jessica Lux idVer:c2c5ab7cae8270f1f3617641608 Sunday, Apr. 26, 2015 at 10:37 AM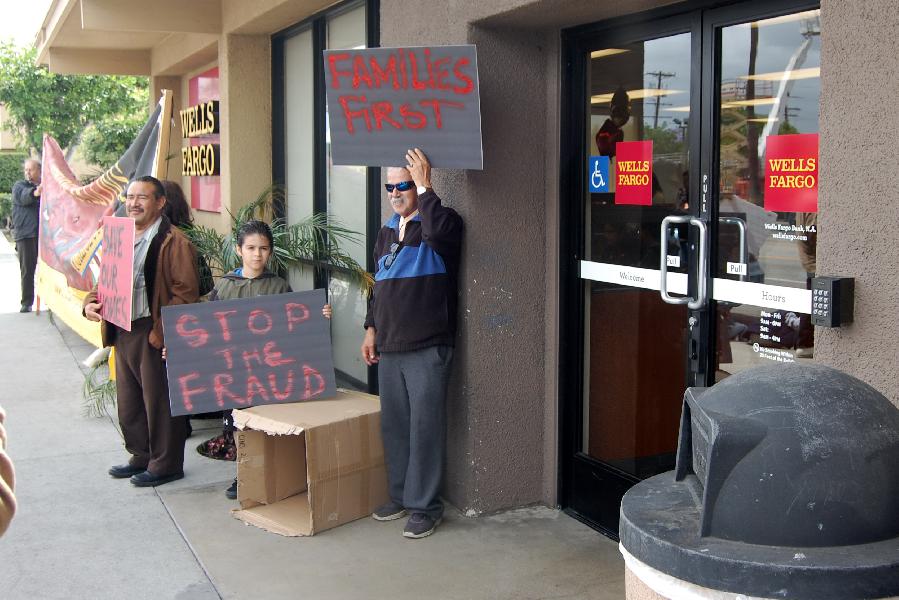 4_wellsfargostopthefraud.jpg, image/jpeg, 2494x1663

Report this post as:


by Jessica Lux idVer:c2c5ab7cae8270f1f3617641608 Sunday, Apr. 26, 2015 at 10:37 AM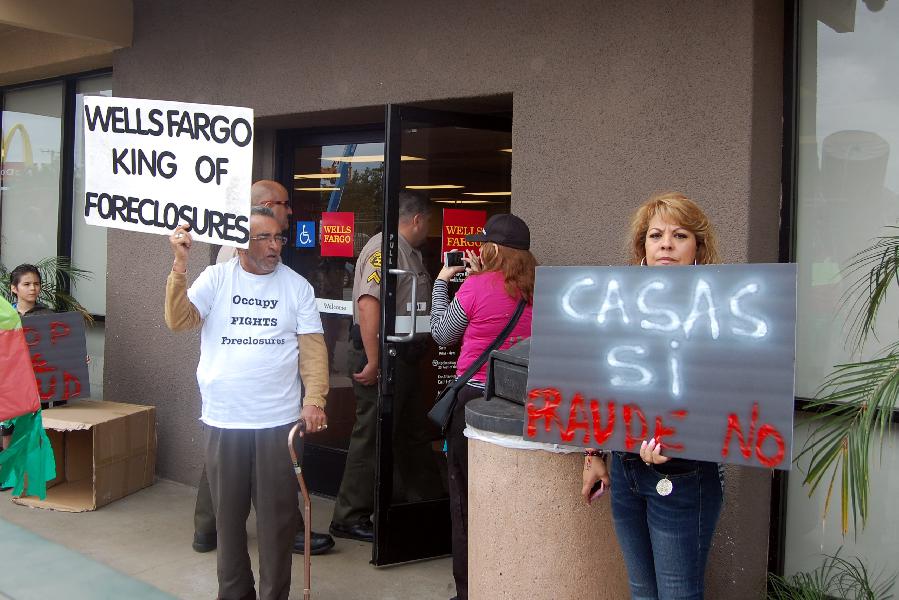 5_lasd_enters_wells_fargo.jpg, image/jpeg, 2559x1706

Twenty minutes elapsed between the start of the lobby protest and the arrival of three Los Angeles Sheriff Deputies. Parking two squad cars on the side of the branch, three Los Angeles County Sheriff Department (LASD) deputies entered the Wells Fargo lobby. Upon exiting, they briefly set up a perimeter in front of the doors. One deputy asked a man carrying a "Wells Fargo: King of Foreclosures" a question and received such a passionate response that the deputy nodded and stepped back in deference to the man's right to express his grievances against Wells Fargo.

Report this post as:


by Jessica Lux idVer:c2c5ab7cae8270f1f3617641608 Sunday, Apr. 26, 2015 at 10:37 AM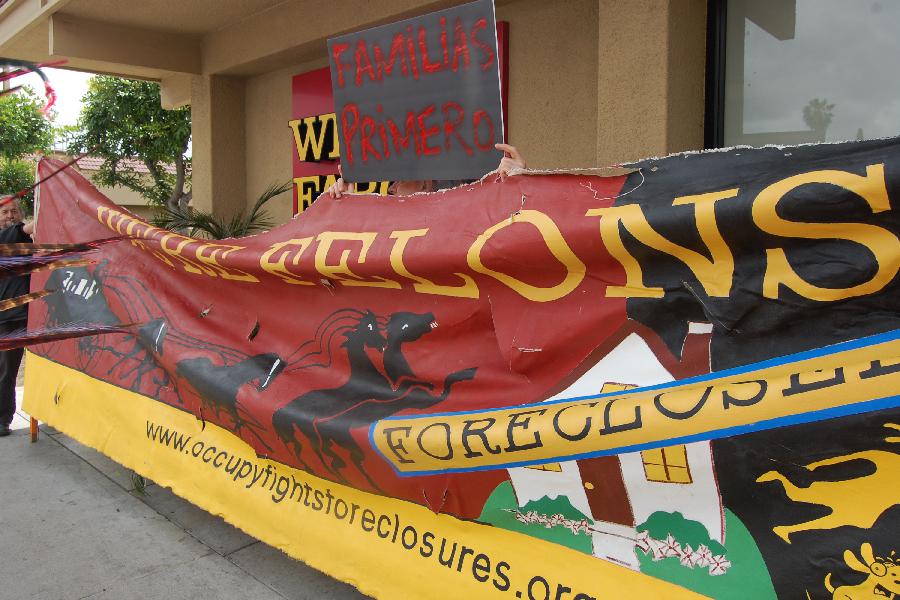 6_wellsfargowerefelons.jpg, image/jpeg, 3000x2000

A gigantic banner satirized the red, black, and yellow Wells Fargo logo with the message "We're Felons" at the Saturday, April 25, 2015 protest of the abusive foreclosures Wells Fargo continues against families of Los Angeles and the rest of the nation.

Report this post as:


by Jessica Lux idVer:c2c5ab7cae8270f1f3617641608 Sunday, Apr. 26, 2015 at 10:37 AM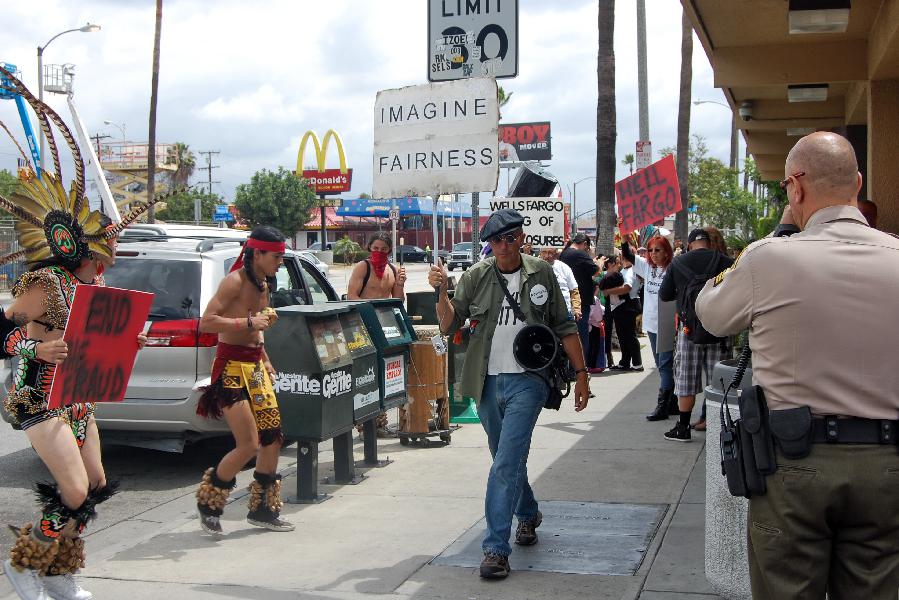 7_occupywellsfargoeastla.jpg, image/jpeg, 2944x1963

Outside the Whittier Wells Fargo, Danza Azteca energized the crowd with their rhythmic music and dance. Nowhere Man, stalwart supporter of Occupy Wall Street, Occupy Los Angeles, and Occupy Fights Foreclosures, silently encouraged the crowd to "Imagine Fairness" as he walked the sidewalk along Whittier Blvd.

Report this post as:


by Jessica Lux idVer:c2c5ab7cae8270f1f3617641608 Sunday, Apr. 26, 2015 at 10:37 AM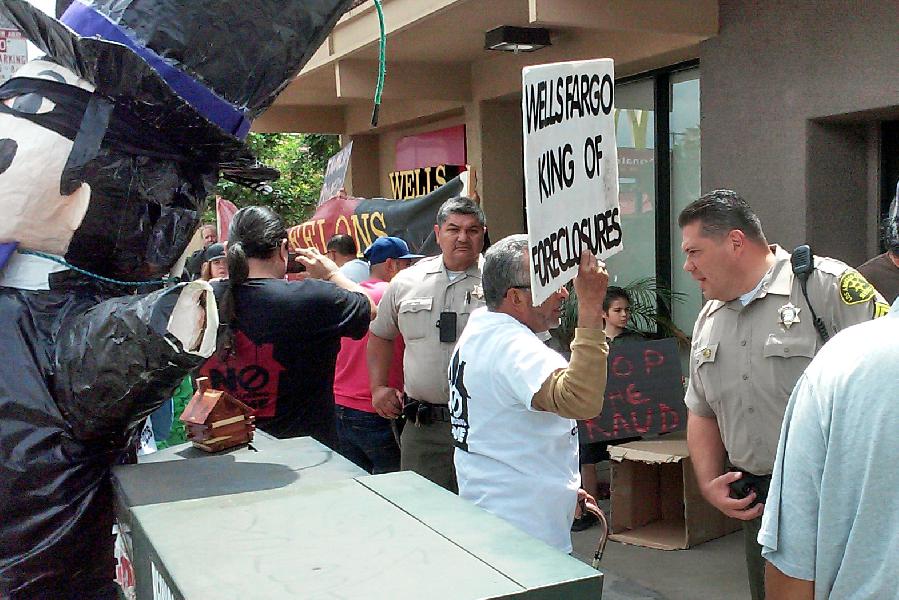 8_wellsfargolasd.jpg, image/jpeg, 1572x1048

Report this post as:


by Jessica Lux idVer:c2c5ab7cae8270f1f3617641608 Sunday, Apr. 26, 2015 at 10:37 AM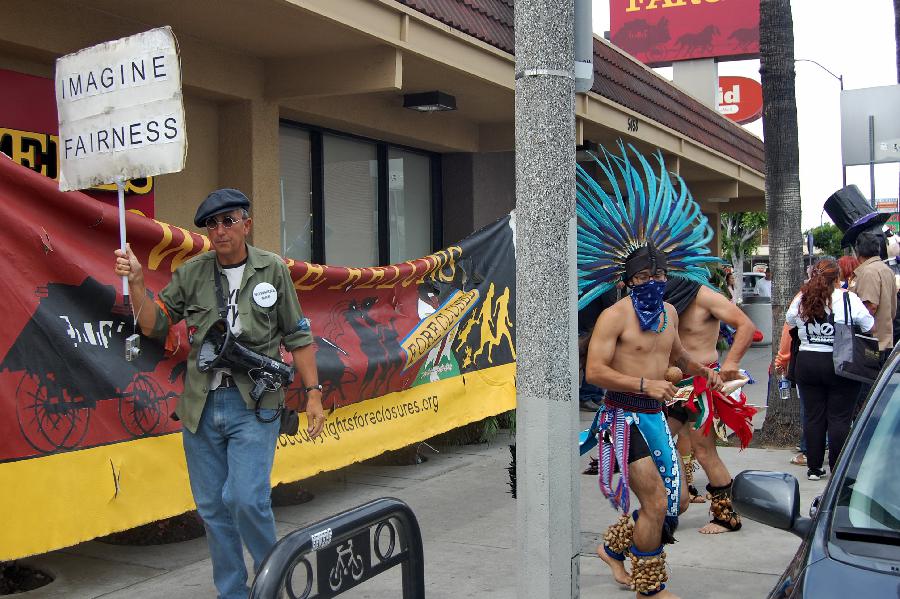 9_occupywellsfargo.jpg, image/jpeg, 2914x1942

Report this post as:


by Jessica Lux idVer:c2c5ab7cae8270f1f3617641608 Sunday, Apr. 26, 2015 at 10:37 AM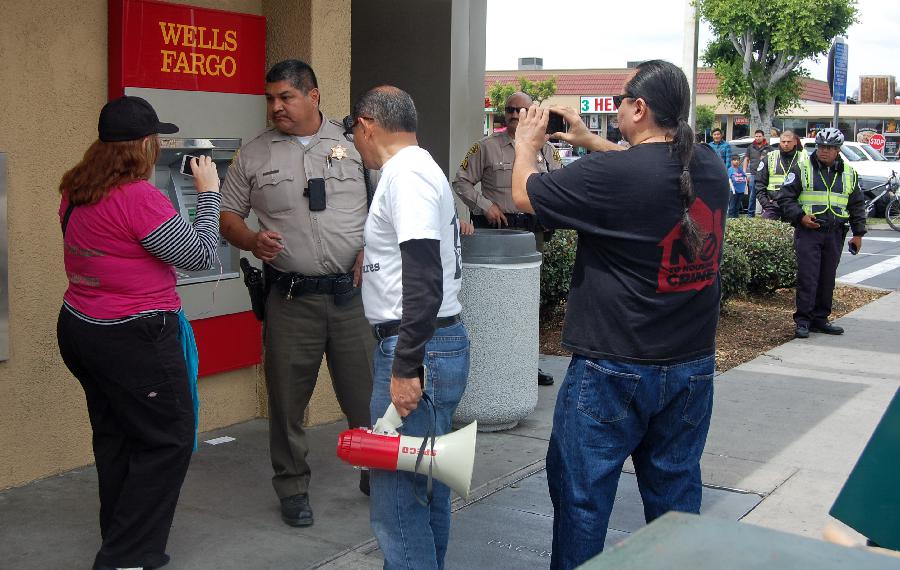 10_aggressivelasdconfrontslivestreamer.jpg, image/jpeg, 2895x1835

Report this post as:


by Jessica Lux idVer:c2c5ab7cae8270f1f3617641608 Sunday, Apr. 26, 2015 at 10:37 AM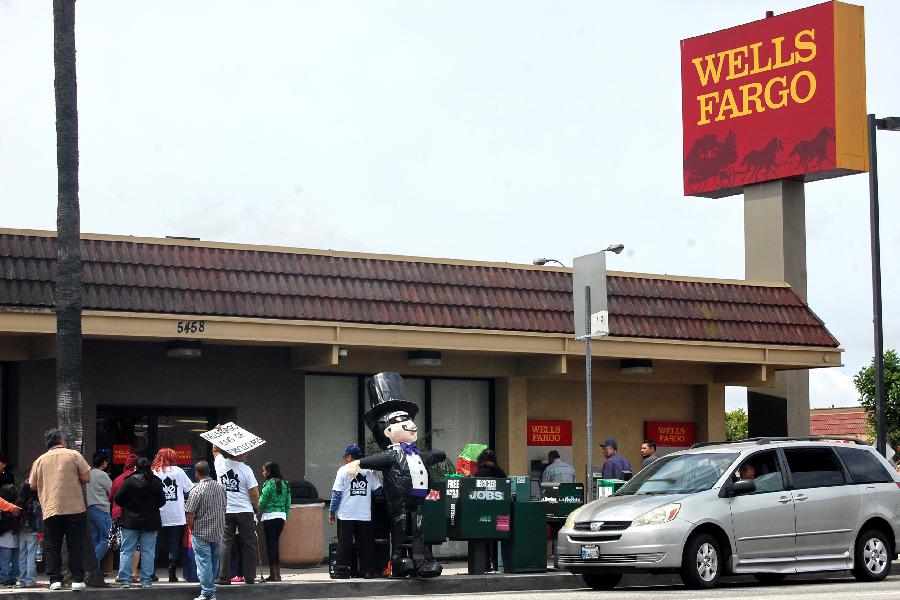 11_wellsfargokingofforeclosures.jpg, image/jpeg, 2916x1944

Report this post as:


by Jessica Lux idVer:c2c5ab7cae8270f1f3617641608 Sunday, Apr. 26, 2015 at 10:37 AM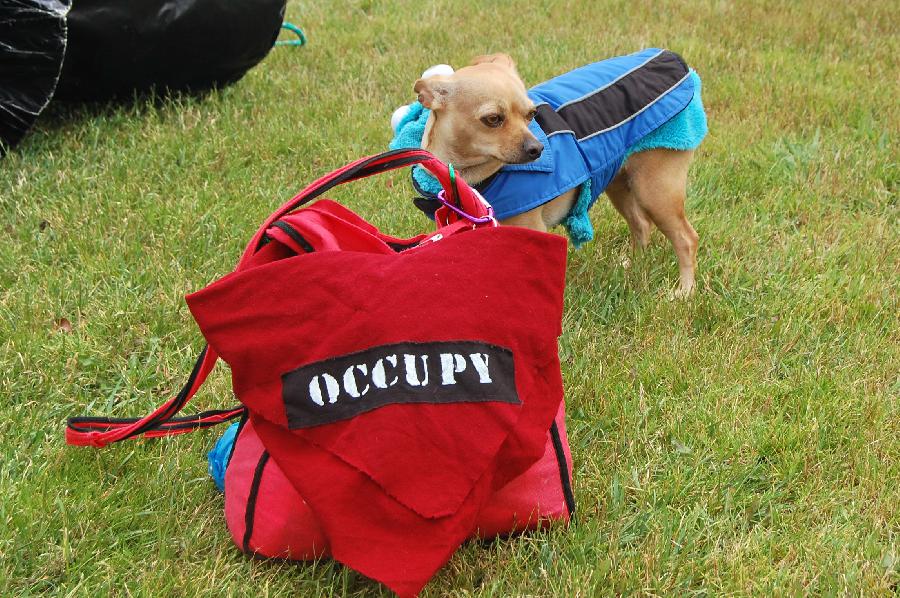 12_occupyfiesta.jpg, image/jpeg, 2296x1527

Report this post as:


by Jessica Lux idVer:c2c5ab7cae8270f1f3617641608 Sunday, Apr. 26, 2015 at 10:37 AM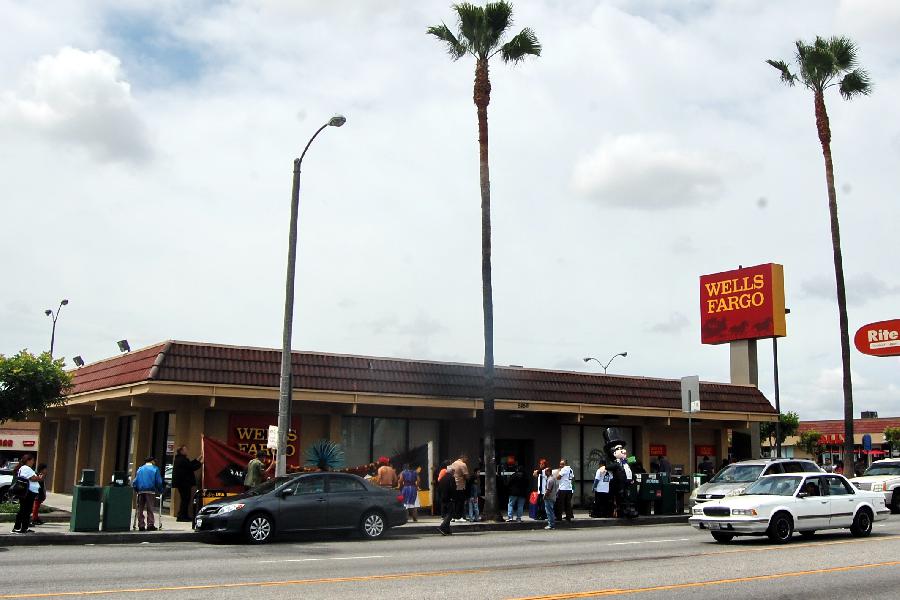 13_wellsfargowhitterbranch.jpg, image/jpeg, 2130x1420

"We have a homeowner here. She's facing eviction because Wells Fargo led her to believe that they were going to give her a loan modification. When she found out Wells Fargo was going to sell her home, she gathered all the money, she borrowed money, she did whatever she could, to be able to satisfy the late penalties and the payments that Wells Fargo had instructed her to do. Wells Fargo refused to take the money from the homeowner and went ahead and foreclosed on her. That is a great violation of the Homeowners Bill of Rights because she was under the loan modification process. Now she's facing eviction."

Report this post as:


by Jessica Lux idVer:c2c5ab7cae8270f1f3617641608 Sunday, Apr. 26, 2015 at 10:37 AM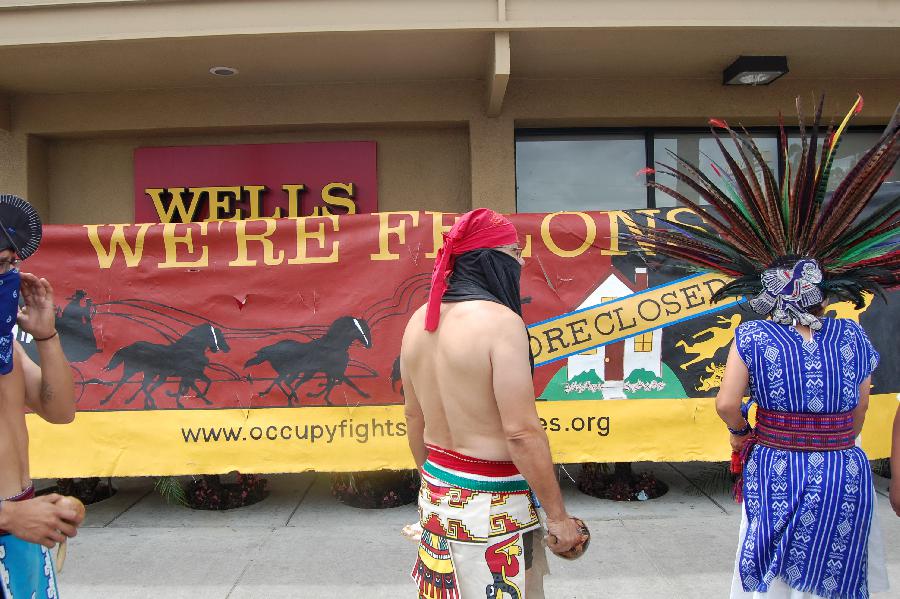 14_wellsfargowerefelons.jpg, image/jpeg, 2986x1990

A gigantic banner satirized the red, black, and yellow Wells Fargo logo with the message "We're Felons" at the Saturday, April 25, 2015 protest of the abusive foreclosures Wells Fargo continues against families of Los Angeles and the rest of the nation.

Report this post as:


by Jessica Lux idVer:c2c5ab7cae8270f1f3617641608 Sunday, Apr. 26, 2015 at 10:37 AM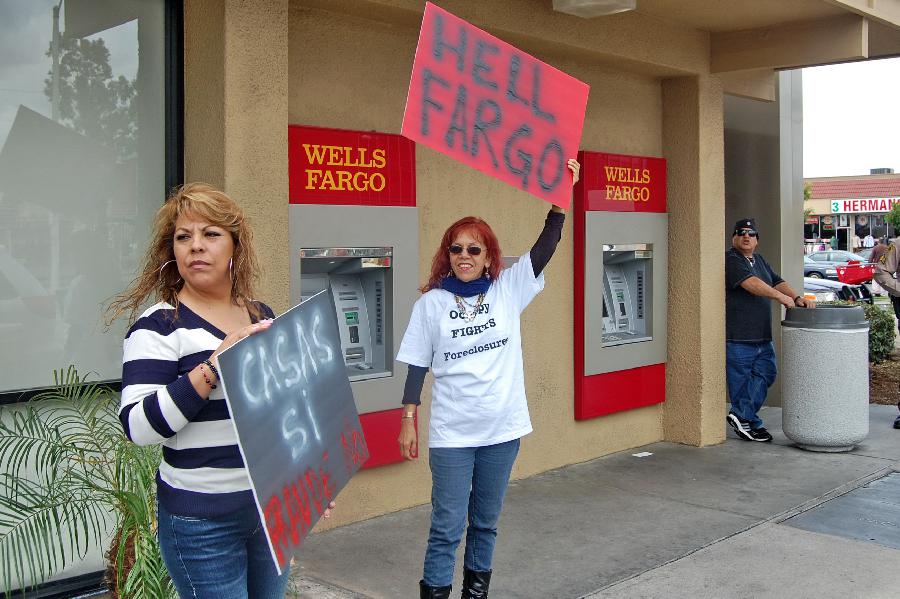 15_hells_fargo_casas_si_fraude_no.jpg, image/jpeg, 2618x1745

Report this post as:


by Jessica Lux idVer:c2c5ab7cae8270f1f3617641608 Sunday, Apr. 26, 2015 at 10:37 AM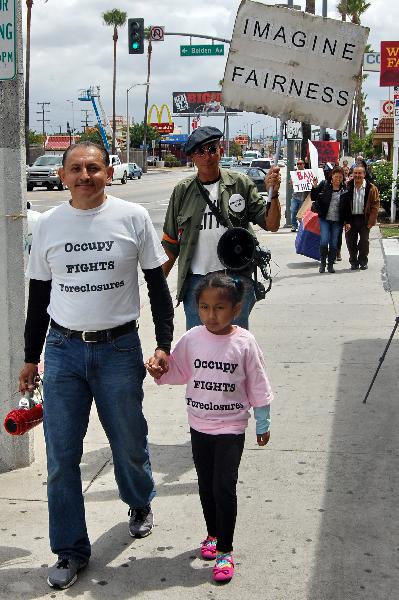 16_protesttravelingtocorner.jpg, image/jpeg, 1690x2536

Report this post as:


by Jessica Lux idVer:c2c5ab7cae8270f1f3617641608 Sunday, Apr. 26, 2015 at 10:37 AM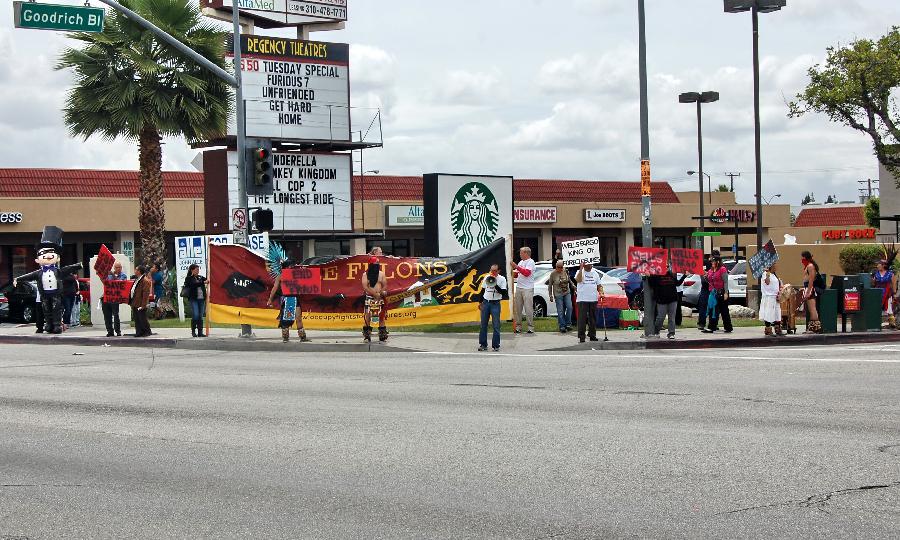 17_wellsfargoprotest25april2015.jpg, image/jpeg, 2783x1670

After several homeowners pleaded with the bank over the public address system, the crowd of protestors marched down the sidewalk to the corner of Whittier & Goodrich, chanting, "Hey Wells Fargo, what do you say? How many homes did you steal today?" Appearing to consider their job protecting the bank to be finished, sheriff deputies left the scene.

Report this post as:


by Jessica Lux idVer:c2c5ab7cae8270f1f3617641608 Sunday, Apr. 26, 2015 at 10:37 AM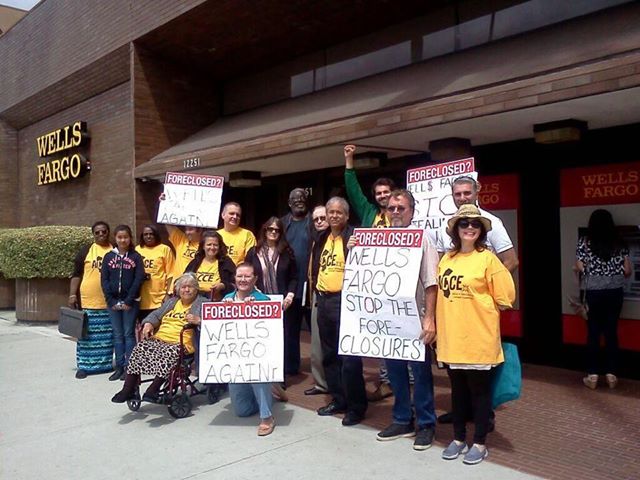 18_accewellsfargostudiocity.jpg, image/jpeg, 640x480

Simultaneous to the action in East Los Angeles, members of the Alliance of Californians for Community Empowerment (ACCE) occupied a Wells Fargo branch in Studio City, CA to bring attention to the plight of an 80-year-old woman who has lived in her home for five decades. Wells Fargo would rather evict her than work out a loan modification.

Report this post as:


by Jessica Lux idVer:c2c5ab7cae8270f1f3617641608 Sunday, Apr. 26, 2015 at 10:37 AM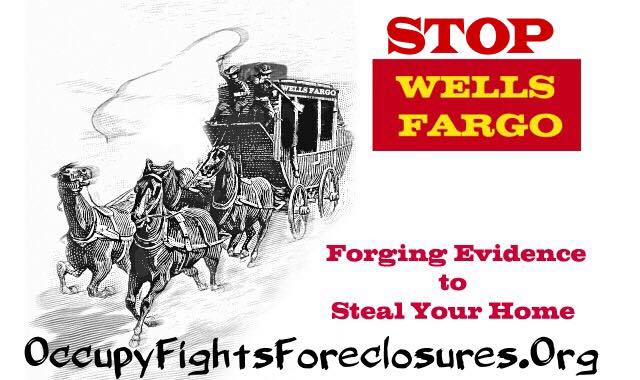 19_stopwellsfargoforgingevidencetostealyourhome.jpg, image/jpeg, 640x380

Report this post as:


by Jessica Lux idVer:c2c5ab7cae8270f1f3617641608 Sunday, Apr. 26, 2015 at 10:37 AM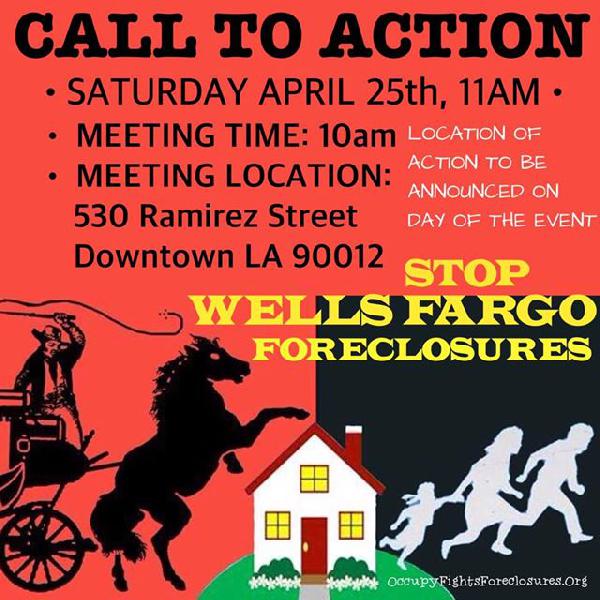 20_offeventflyer.jpg, image/jpeg, 640x640
Report this post as: