printable version - js reader version - view hidden posts - tags and related articles


View article without comments by LA-IMC Tuesday, Nov. 29, 2011 at 12:18 AM

Protest has again spilled into First Street. No police or DOT response as of yet. Some conflicts with motorists reported. Some occupiers chanting for people to move out of the street and focus on holding the park space.
No word from City or police as deadline now passed 20 minutes ago.
Chants of "back to park" continue.

Report this post as:


by LA-IMC Tuesday, Nov. 29, 2011 at 12:29 AM


LA-IMC at the scene reports:

Police appear to forming a line and may be preparing to clear 1st Street.
200+ people still in the street.
Some people are setting off fireworks.
Some people still chanting: "go back to the park"



Report this post as:


by LA-IMC Tuesday, Nov. 29, 2011 at 12:40 AM


Cars still trying to get through on 1st Street. No DOT in sight.
Additional 150 people now holding 1st & Main.
Some protesters are working to direct motorists through crowd.

Report this post as:


by LA-IMC Tuesday, Nov. 29, 2011 at 12:58 AM


LA-IMC reporter on the scene reports:

Police starting to block off streets.
Arrest vans spotted in area.
Numbers of police around the park has increased.


Report this post as:


by LA-IMC Tuesday, Nov. 29, 2011 at 1:27 AM


Caller estimates about half of tents are gone from the South lawn.

People still holding intersection of 1st & Spring.

Police have a line on Spring to the South at 2nd Street.
Also the is a line on First to the East.

About 10 people sitting in the street on First St. between Spring & Main.

Report this post as:


by LA-IMC Tuesday, Nov. 29, 2011 at 1:36 AM


LAPD now on tactical alert due to OLA

Report this post as:


by LA-IMC Tuesday, Nov. 29, 2011 at 1:54 AM


Also another group is linking hands to form a human chain around park, chain as started on First Street and growing West toward Spring.

People still in street on 1st between Spring & Main.



Report this post as:


by LA-IMC Tuesday, Nov. 29, 2011 at 2:12 AM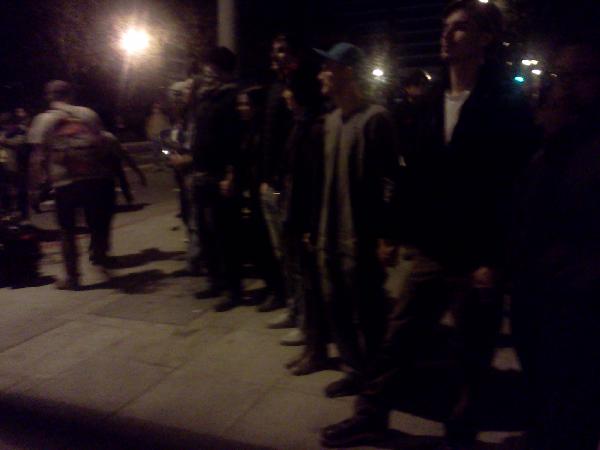 img_20111128_020356.jpg, image/jpeg, 2048x1536

Cell phone photo just received shows:

Human chain around park on 1st Street. Chain still growing.

Report this post as:


by LA-IMC Tuesday, Nov. 29, 2011 at 2:21 AM


Occupiers have locked arms and formed circles on courtyard of South steps.

Occupiers not taking any chances with police claims of no raid tonight.

Occupiers are in raid alert mode and taking up positions to hold the space.



Report this post as:


by LA-IMC Tuesday, Nov. 29, 2011 at 2:41 AM


Occupiers have set up a tent in the middle of 1st and Spring.

Police still holding back

Report this post as: