by Echo Park Community Coalition (EPCC) Tuesday, Aug. 03, 2010 at 3:37 PM
epccla02@yahoo.com 818-749-0272 337 Glendale Bvld. Los Angeles, CA 90026
The EPCC NEWS based in Los Angeles learned through media sources in Manila that the United States has allocated $67 million (about P3.1 billion) for all eligible Filipino veterans of World War II whose claims for compensation were turned down and successfully appealed, it was learned Monday. House Resolution 4899, or the Supplemental Appropriations Act, included a provision for the Filipino Veterans Equity Compensation Program. On July 29, 2010, US President Barack Obama signed HR 4899 into law. Most veterans' claims have been decided and continue to be paid with the $198 million in original funding.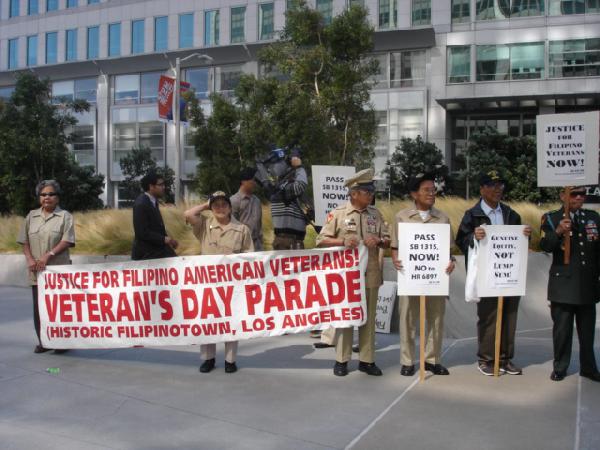 1-2.jpg, image/jpeg, 640x480
EPCC NEWS
Aug. 2, 2010

P3.1B ( $ 67 M) more for Filipino war vets

Los Angeles—The EPCC NEWS based in Los Angeles learned through media sources in Manila that the United States has allocated $67 million (about P3.1 billion) for all eligible Filipino veterans of World War II whose claims for compensation were turned down and successfully appealed, it was learned Monday.

House Resolution 4899, or the Supplemental Appropriations Act, included a provision for the Filipino Veterans Equity Compensation Program. On July 29, 2010, US President Barack Obama signed HR 4899 into law.

Most veterans' claims have been decided and continue to be paid with the $198 million in original funding.

US Embassy Reports on Added Funds

"The supplement will ensure speedy compensation to all eligible Filipino WWII veterans, including those whose denied claims are successfully appealed," the US embassy said in its news release.

"Ensuring that the sacrifices of brave Filipino WWII veterans are compensated under the terms of the law further underscores our respect for the Filipino people and our commitment to honoring their service," said US Ambassador Harry K. Thomas Jr.

Since February 2009, the Manila office of the US Department of Veterans Affairs has processed nearly 37,000 claims and paid out over P9 billion.

Millions of pesos in payments for other benefits continue to be paid each year to Filipino veterans separate from the funding under the Equity Compensation Program.

JFAV Disclaimer

But the Justice for Filipino veterans (JFAV) said in a formal statement that the additional money for FCEC is not enough. More than 42,000 veterans have filed for claims and the DVA has denied 17,000 veterans or 42% of those who filed their claims.

JFAV also denounced the fact the widows of departed veterans were not included in the lump sum and are fighting for a new law that can give them benefits in the future. There are thrice the number of widows who were not compensated under the law.

*******