printable version - js reader version - view hidden posts - tags and related articles


View article without comments by Repost of Assata Shakur forums Sunday, Dec. 09, 2007 at 1:41 PM

The state's cases against T. A. C. O., Aryana and Stress, which T. A. C. O. described as "b. s." to defense attorney Guillermo Suarez, are based on the testimony of an undercover cop who alleges that he approached the Black Riders, pretending to be Lebanese and connected to freedom fighters in the Middle East. He claims that the three defendants were involved in a plot to take possession of weapons and protective vests that he claimed to be able to provide them. No weapons were ever involved. These charges are essentially for a "Thought crime" – allegedly conspiring to attempt to possess weapons.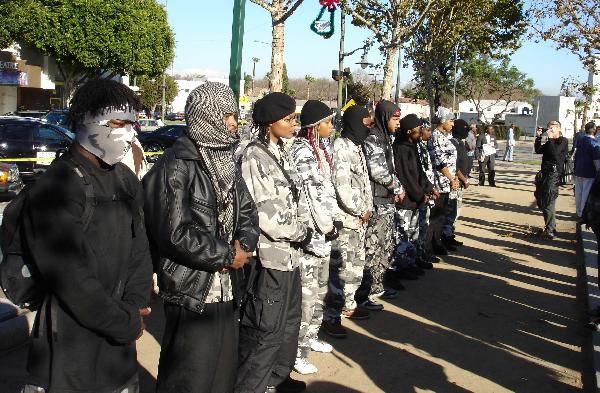 theblackriders2.jpgmid.jpg, image/jpeg, 600x393

Special District Attorney Goudy told defense attorney Guillermo
Suarez, "You're lucky I wasn't here when you asked for reduced bail
for (Black Rider Liberation Party member) Aryana Gladney (a motion
which was denied by the judge, who left bail at half a million
dollars). I was planning to ask for an increase." Goudy went on to
get bails of $1 million each on two other leading members of the
Black Riders, General T.A.C.O. (Taking All Capitalists Out) and
comrade Stress. The three appeared briefly on Monday Dec. 3 in two
different courtrooms of LA. County Criminal Courts, on weapons
conspiracy charges. Aryana and Stress were in Div. 38 for a
preliminary hearing, where the judge agreed to a postponement until
Wednesday (the D.A. had asked for an additional week). T.A.C.O. was
brought separately and individually into Div. 30 for an arraignment,
where a deputy "alternate public defender" read him the charges
against him, and he pleaded not guilty. T.A.C.O. was manacled at the
waist and his wrists were shackled to the waist chain, and was
guarded by two armed deputies on his right and left.

He is under a "keep away" order, isolated from all other general
population prisoners, even while being brought into court. He is
being held under conditions of solitary confinement in a security
housing unit near the Twin Towers jail in downtown L.A. The LA
Sheriff's Department "accidentally" recorded his name wrong on his
booking so that friends and supporters could not find him in the
system for nearly a week until he was brought into court for the
arraignment. Aryana was moved around and ended up in the sheriff's
Lynwood jail, and Stress is being held up in Santa Clarita. The three
co-defendants have yet to be able to meet together. Stress was told
by his public defender that he might not be brought down for
Wednesday's court appearance, but only be shown the proceedings over
closed circuit TV. The preliminary hearing will probably result in
another postponement (just what the D.A. wanted), because T.A.C.O.'s
attorney will not have had any time to prepare.

Despite the seriousness of the felony conspiracy charges, which also
include a "gang enhancement," (even though the Black Riders are not a
gang but work with "gang" youth to defuse internecine violence), and
the extraordinarily high bails, neither the D.A.'s office nor the Los
Angeles Police Dept. have made the case or the charges public. They
are attempting, under the cover of a media white-out and the
separation and the isolation of the defendants, to carry out a
railroad and disrupt the efforts of the Black Riders to build gang
truces, Black-Brown unity, and a campaign to free political prisoners
like the San Francisco Eight (for Black Panther Party members and
associates). Separately, another leading member of the BRLP, sister
Nadia Shakur, is being held in San Bernardino County on weapons
charges that were filed and once dropped stemming from a raid of a
house in Highland, CA last summer. Nadia and T.A.C.O. had been
arrested in Pinole, CA, near Oakland in northern California on the
same day that Stress and Aryana were picked up on the streets of Los
Angeles. Nadia is not due to appear in court until Monday, December
10. A number of other members of the BRLP are also doing time or
facing less serious charges due to the constant criminalization and
harassment of the Black Riders as revolutionary community organizers
and street activists.

The state's case against T.A.C.O., Aryana and Stress, which T.A.C.O.
described as "b.s." to defense attorney Guillermo Suarez, are based
on the testimony of an undercover cop who alleges he approached the
Riders pretended to be Lebanese and connected to freedom fighters in
the Middle East. He claims that the three were involved in a plot to
take possession of weapons and protective vests he claimed to be able
to provide them. The charges are so specious that the D.A. filed an
amended complaint on Monday claiming only "attempted possession" of
automatic weapons (since there were absolutely no grounds presented
for the original charge of 'possession' -- no weapons were ever
involved). So, like the warrant on the San Bernardino raid (an event
which is wrapped into the narrative of the criminal complaint here),
these charges are essentially for a "thought crime" -- allegedly
conspiring to attempt to possess weapons. The actual crime of the
Black Riders are their actual thoughts -- revolutionary minded
advocacy of Black liberation and anti-capitalism. As the LAPD says in
the summary of their "investigation," "The BRLP, self-described as a
revolutionary communist organization out of South Central Los Angeles
... is known to be anti-government, anti-police and pro-Black unity.
BRLP members believe that the Black community would be better served
if they governed their own people. They also believe that the system
of capitalism is oppressive and dehumanizing to the Black community."
Of General T.A.C.O., the LAPD says: "He believes that instead of
rival gang members fighting each other, they should turn their anger
and rage at the real enemy, the oppressive state and the police." A
fairly accurate summary of the Black Riders' believe, and damning
admission of the true reason the state and the police are trying to
lock them up.

It's no accident or coincidence that the arrests took place while
several of the Black Riders were up in northern California building
support for the SF8 political prisoners, or that they were scheduled
to appear in court on December 3, the same day as a hearing was
scheduled in San Francisco on the SF Eight. The state is threatened
by the revolutionary example of the elders and the revolutionary
energy and commitment of the youth in the Black liberation struggle,
and seeks to disrupt their unity and the efforts of the BRLP to
develop struggle to free all political prisoners in the Black
community. It is also not coincidental that this attack takes place
after the BRLP helped lead a successful and widely publicized
Black-Brown mobilization against the white supremacist Minuteman
organization in Leimert Park. The L.A. Sentinel had just run a
feature-length article and interview with the Black Riders in the
wake of that demonstration. The attack on the Riders is an attack on
the Black community as a whole, on conscious activists seeking to
defuse Black-on-black violence and Black-Brown tensions, and on all
committed to liberation for oppressed people or freedom for political
prisoners.

The Black Riders Liberation Party can be contacted, and donations can
be sent to: Black Riders, P.O. Box 8297, Los Angeles, CA 90008.

Jericho Amnesty Coalition to Free All Political Prisoners is planning
a meeting on Sunday at 1:00 in the downtown area to map out a
campaign around this case. If you are interested in getting involved,
call 310-495-0299. We will have an update on what occurs in court on
Wednesday, and hopefully perspectives and participation from the BRLP.

www.assatashakur.org/forum/showthread.php?t=25949

Report this post as:


by Thank you Sunday, Dec. 09, 2007 at 7:51 PM


Thank you .

Report this post as:


by Xicano Sunday, Dec. 09, 2007 at 8:32 PM


This fits the pattern of the Liberty City 7 case (see below), and it also fits in with the so called "Violent Radicalization and Homegrown Terrorism Prevention Act just passed by the House by an overwhelming margin. The Act came from the urging of local law enforcement people, including LA

chief Bratton, who wanted a bigger role in fighting "terrorism"

The bill was sponsored by Venice congresswoman Jane Harman. Draw your own conclusions.

see (

http://www.huffingtonpost.com/philip-giraldi/the-violent-radicalizatio_b_74091.html

LIBERTY CITY 7 CASE

http://www.latimes.com/news/nationworld/nation/la-na-liberty30nov30

,1,4371816,print.story?ctrack=5&cset=true

Liberty City 7: A case of conspiracy or entrapment?

The verdicts in an alleged terrorist plot on Sears Tower may center on whether the defendants sought out government agents or vice versa.

By Carol J. Williams

Los Angeles Times Staff Writer

November 30, 2007

MIAMI — A federal prosecutor urged a jury Thursday to convict seven Miami men on terrorism conspiracy charges for an alleged plot to bomb Chicago's Sears Tower, saying they offered themselves as a ready-made cell to a man they believed was an emissary from Al Qaeda.

But defense attorneys for two of the men on trial called the case an outrageous example of government entrapment, in which the men pledged allegiance to Al Qaeda and promised to commit criminal acts in hopes of getting $50,000. The men had neither the will nor the means to carry out the crimes, the lawyers said.

"Like we don't have enough people who want to do harm to the United States that we have to fabricate a crime!" Ana Jhones, attorney for alleged ringleader Narseal Batiste, said in her closing argument to the jury hearing the so-called Liberty City 7 case.

Batiste and six other members of the Moorish Science Temple sect that Batiste ran out of a windowless warehouse in the impoverished Liberty City neighborhood were arrested in June 2006. Each is charged with four counts of conspiracy to commit terrorism. If convicted, they face up to 70 years in prison.

The government's case rests heavily on the testimony of two Middle Eastern men the FBI set up as undercover informants. Both had track records of paid government service in spotting terrorist threats and posing as foreign extremists to gather evidence against their marks.

Assistant U.S. Atty. Jacqueline M. Arango opened the government's two-hour summation by replaying a video showing the seven defendants being sworn to uphold "the secrecy of oaths and directives of Al Qaeda." The pledge was administered by confidential informant Elie Assad, who identified himself as "a representative of Sheik Osama bin Laden."

The allegiance ritual was conducted on March 16, 2006, shortly after the informants had bankrolled a move by Batiste's band of carpenters and martial arts enthusiasts to a modest, sparsely furnished office outfitted with hidden cameras and microphones.

"Ladies and gentlemen, that is material support" for terrorism, Arango told the jurors, pointing to the screen where the defendants were shown pledging their loyalty. "It doesn't matter whether the defendants did so for philosophical reasons or for money. That's irrelevant," she said.

She noted the seven couldn't carry out "these grandiose plans alone," which was why they sought "an unholy alliance" with Al Qaeda.

Arango urged the jury to return a guilty verdict affirming that "the government need not wait until buildings come down or people get shot to prove people are terrorists."

During the trial, Batiste spent eight days on the stand insisting he had only played along with Assad and fellow undercover operative Abbas al Saidi in an effort to scam them of money he intended to use to start a construction business.

Other prosecution exhibits included four wish lists Batiste gave to Assad detailing what he needed to raise an army to bomb the 110-story Sears Tower and the FBI building in Miami, and to sow chaos across the country with the goal of toppling the U.S. government.

The first list, scribbled on a Radisson hotel notepad, mentioned only boots, uniforms and vehicles. Weapons, bulletproof vests and the sum of $50,000 were added later.

Among the charges against the seven is conspiracy to levy war against the U.S. government. In the course of the nine-month operation, the men got only a pair of boots each and a camera for casing the FBI building, which Jhones said Batiste pawned for $56 to feed his children.

Batiste was usually the only one of the seven talking in the hundreds of phone calls and meetings taped during the investigation.

Roderick Vereen, attorney for defendant Stanley Grant Phanor, challenged the jurors to find one comment in the volumes of evidence to suggest his client planned to take part in any criminal acts. He said Batiste never spoke for the other defendants, and that the terrorism schemes were "jive talking."

Vereen described undercover operative Al Saidi as "a clumsy liar" who had traded in illegal weapons before his latest undercover gig, and Assad as a dubious character denied entry in Mexico, Syria and Yemen.

Al Saidi, a Liberty City shopkeeper, raised the terror-plot allegations only because he needed a fresh undercover assignment, said Jhones.

The two men earned more than $130,000 plus hotel lodging and expenses for their services in the case, she told the jurors.

Some legal analysts attributed the June 2006 indictment of the seven men, who have remained in jail since their arrest, to the Bush administration's interest in demonstrating success in its proclaimed war on terrorism during an election year.

In her instructions to the jury, U.S. District Judge Joan Lenard said they must follow federal anti-terrorism laws even if they disagreed with them. She also noted that the government didn't have to prove that any crimes were actually committed or that the illegal acts discussed by the defendants were feasible. Prosecutors need only prove that at least two of the defendants entered into a conspiracy.

Attorneys for the five other defendants were expected to make closing statements today, with jury deliberations to begin early next week.

carol.williams@latimes.com

Report this post as:


by Hard Left Wednesday, Dec. 12, 2007 at 6:43 AM


We support the BRLP! We encourage you to do the same.

Do they have a website?

Report this post as:


by Xicano Saturday, Dec. 15, 2007 at 1:21 AM


http://www.latimes.com/news/printedition/asection/la-na-liberty14dec14

,1,4186597.story?coll=la-news-a_section

Jury deadlocks on 6 of 7 terrorism suspects

template_bas

template_bas

The seventh is acquitted. The case, in which the group is accused of plotting to blow up the Sears Tower and other buildings, has been criticized as entrapment.

By Carol J. Williams, Los Angeles Times Staff Writer

December 14, 2007

MIAMI -- A federal jury Thursday acquitted one member of a group accused of plotting to blow up Chicago's Sears Tower and declared themselves deadlocked in deciding the fate of the six other defendants in the case of the so-called Liberty City Seven.

The case has divided legal experts over how far the government should go in building a case against terrorism suspects. Paid government informants who provided evidence for prosecutors had proposed acts of violence to suspects under surveillance, leading critics to question whether the case was entrapment rather than, as officials said, a preemptive strike against a genuine terrorism plot.

The entire case was "a script written, produced and directed by the government," Ana Jhones, attorney for alleged ringleader Narseal Batiste, argued before the court in her closing statement two weeks ago.

Batiste, 33, the local spiritual leader of an obscure religious sect known as the Moorish Science Temple, testified during the trial that he agreed to draft terrorism plots with an FBI undercover informant he thought was from Al Qaeda only because he hoped to get $50,000 from the man. The money, Batiste said, was to be used to sustain his religious chapter and start a construction business.

Batiste also told the jurors that the other six defendants -- with whom he worked odd jobs and studied an array of religions, including Christianity, Judaism and Islam -- knew little if anything about his discussions with Elie Assad, the key FBI informant. Assad pretended to be an emissary of Osama bin Laden, whom he called Brother Mohammed.

Prosecutors conceded from the beginning that the defendants' group was more "aspirational than operational," but warned that they were a home-grown terrorist cell conspiring to commit violent acts against Americans.

The federal government charged that the group discussed attacking the Sears Tower and cased federal buildings in the Miami area, including FBI headquarters, with an eye toward additional violence.

U.S. District Judge Joan Lenard, who presided over the trial, refused to lift a gag order on the attorneys involved in the case or to let the acquitted defendant, Lyglenson Lemorin, talk to reporters.

All seven defendants remained in custody, as they have been for the last 18 months, with Lemorin, a legal U.S. resident of Haitian origin, detained on an immigration hold.

Six of the defendants were arrested last year at the Liberty City warehouse where they met and sometimes slept. Lemorin, 32, was picked up in Atlanta, where he had moved from Miami.

Jury foreman Jeff Agron, a 46-year-old attorney, told reporters outside the federal courthouse that the 12 jurors were split evenly in the four votes they took since they began deliberations Dec. 3.

"People have different takes on what they saw, on what was said and what was meant," Agron said, referring to the clandestinely taped videos and intercepted phone calls presented to the jury.

The most controversial piece of evidence involved a video showing Assad conducting a ceremony in which Batiste's six followers swore an oath of allegiance to Al Qaeda. The ringleader already had pledged himself to the terrorist group in an earlier conversation wiretapped by the government.

The office of U.S. Atty. R. Alexander Acosta announced that a new trial would be sought next month, and Lenard agreed to start seating another jury Jan. 7.

Charges were brought against the men, all of Haitian or Dominican origin, amid last year's congressional election battles, leading to accusations that the Bush administration was moving against a hapless band of indigents to demonstrate progress in its declared global war on terrorism.

One critic of the prosecution, retired FBI agent James Wedick Jr. of Gold River, Calif., said the government had overreached in its quest to ward off terrorist threats by using an informant known to be unreliable. Defense lawyers sought to use Wedick as an expert witness, but prosecutors prevailed in preventing his testimony, contending it was irrelevant to the case.

Some legal observers, however, defended the prosecutors, saying they may have felt compelled to act to prevent a potential terrorist attack.

"The government portrayed the Liberty City Seven as homegrown terrorists, which concerns many in the United States," said Carl Tobias, a law professor specializing in terrorism issues at the University of Richmond. "The government may also have intervened too early in the plot to secure the requisite evidence to prove the case.

"The government has a dilemma in this kind of situation, because if it waits too long, people could be injured or killed."

carol.williams@latimes.com

Report this post as: