Features
•
latest news
•
best of news
•
syndication
•
commentary

Feature Categories



KILLRADIO
printable version - js reader version - view hidden posts - tags and related articles

by Charles Amsellem and Heidi Werntz Wednesday, Aug. 13, 2003 at 3:48 AM
blackreb@earthlink.net
graphic © 2003 by charles amsellem. all rights reserved. activists may reproduce for non profit use only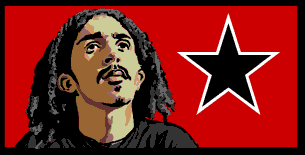 sherman_editorl.gif, image/png, 305x155
KAFKA PAYS A VISIT TO LOS ANGELES ACTIVIST
Based On an Interview with Sherman Martin Austin and Jennifer Martin, by the Los Angeles Independent Media Center.
Article and Interview by Heidi Werntz and Charles Amsellem.
Enjoying the hospitality of Jennifer Martin's cozy Sherman Oaks apartment, and the playful affections of her spotted dog, with its radiantly pleasant disposition, was a warm beginning for this somber occasion. Martin's twenty year old son, Sherman Martin Austin was recently unjustly convicted for posting bomb making information on his website, with intent to further an act of violence. We were there to get their side of the story; conspicuously absent from the mainstream media's reports on the case. With us that afternoon, were Sherman's longtime friend, Chantel, and his girlfriend, Lupe.

It all began on the May 1, 2001 (May Day) demonstration in Long Beach, California, which was a turning point for the activist. The police were reportedly out of control, brutalizing the crowd, arresting Austin and several others after shooting his calf with 'non-lethal' pellets that sometimes lodge deeply within the skin, cause bleeding sores, and always smart. He was approached from behind while videotaping the event when he was shot at close range, with the plastic ammunition. The incident marked Austin's first arrest and galvanized his resolve to continue his activism in the community and on behalf of his website, www.raisethefist.com. RTF, along with reporting on news items not adequately covered by conventional media sources, if at all, also was a good source of info on anarchism, police brutality, race relations, activism, and global social justice issues. As the hits to the website and the postings on the newswire swelled with activity from web surfers all over the world, so too did the monitoring from the police, intelligence and other government agencies from those regions.

The website attracted thousands of non-authoritarians and others that filled the exchange with their youthful energy and annoyed those charged with keeping perceived subversives, and their unacceptable independent thinking, in line. Finally, shortly after the hits to the website from authorities around the globe spiked, a small army of federal agents and police personnel across departmental lines raided Austin and his mother's home on January 24, 2002. Austin's mother was not at home when the raid began. Austin, who was eighteen years old at the time, was awakened by his sister, who informed him that armed men had their home surrounded.

In charge of the heavily armed cadre, was Special Agent, John I. Pi, of the FBI. Sherman was questioned for over four hours, while his mother, who arrived approximately an hour later, was barred from entering her own home. Although when Ms. Martin arrived she requested a warrant, it took the FBI hours to produce a warrant and allow Ms. Martin back into her residence. After confiscating all of Austin's computer equipment, political literature, and a collection of common items, Austin and his mother were assured by Special Agent Pi that Austin had crossed the line and everything would be just fine in the end so long as he crossed right back, however; Austin was not taken into custody. Undaunted by this latest outrage by the Thought Police, Austin attended the demonstrations in protest of the World Economic Forum in New York. What followed over the past year and a half was described by the LA Weekly as a series of Kafka-esque twists. The authorities were shaking Austin up with a series of arrests, interrogations, and then releasing him only to arrest him again. After being extradited to California on the charge of "distribution of information related to explosives over the internet," he was released without charge. Six months transpired, and the aforementioned collection of common items was transformed by Special Agent Pi's reports into menacing terrorist devices. A closed bag of potting soil was categorized as fertilizer. A Snapple bottle became a Molotov cocktail. A $19.95 disassembled toy car was described as a remote controlled detonator.

Ms Martin's life was turned upside down by what happened to her son: "...I had this idealistic attitude that the justice system would work. But I found out slowly, that it just eats away at your freedom and at your rights by pressuring you from all sides. If you don't agree to what they want you to agree to, they find other alleged crimes or violations to threaten you [with], such as... [the] terrorism enhancement." The terrorism enhancement clauses, when applied to any charge, impose very harsh penalties. If convicted, Austin could have faced twenty years in prison. After agonizing over these affairs, Austin finally submitted to a 'binding' plea agreement of one month in jail and five months in a halfway house for breaking a law sponsored by Diane Feinstein (D-Calif.), that prohibits the "distribution of information relating to explosives, destructive devices, and weapons of mass destruction with intent that such information be used in furtherance of a federal crime of violence." (Editor's note-Austin's case number under this provision is [18 U.S.C. & 842 (p) (2) (A)]). During plea negotiations, Austin was assured that the terrorism enhancement would not apply if he signed the plea. However, the government reversed their decision when Austin resolved to challenge the plea agreement. Austin, who did not author the website with the bomb making info, was hosting it on his server and linked to it from raisethefist.com. The author of the website was interrogated by Agent Pi, but was not charged with a crime.

On September 30, 2002 U.S. District Judge Stephen Wilson rejected the 'binding' plea agreement which entailed one month in custody, and made statements that he wished to give Austin at least twelve months in custody (see transcripts posted on www.la.indymedia.org ) . According to Sherman's Federal Public Defender Ronald Kaye, "The judge's demeanor was unequivocally hostile toward Sherman and he stated that the offense was very serious," so the defense received permission from the Court for the probation office to create a pre-plea report to determine what sentence Austin would be facing. The pre-plea report included four character references and a psychological evaluation from a Senior Psychologist of the California State Prison System, LAC. In the plea report the Psychologist stated that "Mr. Austin is quiet and personally non aggressive," and that Austin "is likely to become a victim by virtue of his youth…and more likely to become brutalized by the experience of prison than to learn from it." In addition, the Psychologist recommended that Austin would benefit from performing extensive community service. While the pre-plea report was being prepared, the defense continued to negotiate with the government and agreed on a second 'binding' plea that presented the judge with a sentencing range of 6 to 12 months, however the prosecution, Justice Dept, and FBI recommended that Austin be sentenced to 4 months in prison and 4 months in a community corrections facility. The second 'binding' plea with attached recommendations was presented to the judge on June 30, 2003. However, the recommendations were not enough for U.S. District Judge Stephen Wilson, who ordered the prosecutor to contact the head of the FBI and Justice Department to get their opinion. The final hearing was scheduled for July 28, 2003, but on the day of the hearing Austin and his family were told by the defense, while waiting in the court room, that the Court failed to calendar the hearing. The final proceedings were rescheduled to August 4, 2003.

On August 4, 2003 the judge sentenced Austin to twelve months in custody even though the head of the FBI and the Justice Department agreed to a four month sentence. The recommendations, and favorable psychological evaluation were ignored in Wilson's courtroom, and he hammered Austin with a sentence that the Electronic Frontier Foundation condemned as being poorly matched to the crime: one full year in federal prison, and three years of restrictive probation that places virtually all of Austin's computer activity, telephone privacy, and interactions with activists of like mind under the thumb of post-corrections officials. A $2000 fine was imposed along with other outrageous measures like unannounced seizure of his computer equipment during the probationary period.

"I think the criminal justice system is more like a system of organized crime for injustice, to basically benefit the people at the top," said Sherman during the interview. Indeed, it's RTF that has survived numerous hacking attempts that Austin believes are from people working with the FBI. "They've also hacked into my other accounts and commandeered some of my [Instant Messenger (IM) Service and] email accounts. They were sending messages like, "'You're next' and 'Your ass is going to jail!' "Austin's friends and online acquaintances received messages disguised in his language tone and nuance attempting to extract information. What about these crimes of harassment and civil rights/privacy violations? Are there going to be any investigations, reprimands, or arrests? Of course not, that's only for anarchists and activists.

Eyebrows were raised when it was discovered that Attorney General John Ashcroft released a memo the same day that Austin's sentencing was rescheduled due to an alleged clerical error in the filing of his sentencing hearing. Ashcroft's memo asks prosecutors to monitor which judges impose lenient sentences and is assailed by advocates of judicial fairness and prison reform for limiting judicial independence in sentencing by putting merciful judges on a watch list. Justice Wilson, who ignored the Justice Dept's recommendation by imposing an even harsher sentence may not have had anything to fear in this particular case but the implications for judicial restraint in general are foreboding nonetheless.

Since we are living in an uncommon era of political repression, and the scaling back of our rights and civil liberties, it may be best to conclude with recommendations and lessons that Austin has learned and experienced from the injustices that he has endured:
If the authorities really want to harass or jail you, they will find common objects or minor offenses and turn them into major crimes. Furthermore, some are not above inventing evidence outright to make their case. Therefore, "...don't let it get to a point where it gets you paranoid and gets you in a state of fear. Because that's what they want..."
On the other hand, don't fall into their hands by giving them the ammunition they're looking for either, "...Anything you do online is never 100% secure. You can never assume you are anonymous online." Austin explained that there are even ways to monitor a computer that isn't connected to the net.
It's not illegal to post or publish bomb making information; it's illegal to do so with the INTENT to further an act of violence, which is difficult to prove in most cases.
Learn from Austin's tragic example that a 'binding' agreement from a prosecutor can be thrown out by the judge and a one month sentence today can turn into a year and more come sentencing time if you plead out.
These terrifying proceedings would weigh heavily on anybody as they must on Austin. Yet he remained outwardly calm during sentencing and in the course of this interview by preparing his mind to expect the harshness of the sentencing and jail time.
If you are a committed activist, in these times, it's a wise policy to squirrel away whatever you can into a defense fund: "It's just obvious that if you don't have a lot of money, you can't buy your way out of things. People are convicted and they cop pleas because they feel like they can't fight the system."
If you would like to contribute to Sherman Austin's defense fund, please send contributions to:

Ms. Martin
12115 Magnolia Blvd. #155
North Hollywood, CA 91607
Jmi4678@netscape.net
Report this post as:
LATEST COMMENTS ABOUT THIS ARTICLE
Listed below are the 10 latest comments of 119 posted about this article.
These comments are anonymously submitted by the website visitors.

| | | |
| --- | --- | --- |
| TITLE | AUTHOR | DATE |
| German Translation | de.indy | Saturday, Aug. 16, 2003 at 2:16 AM |
| Good news | ChiChi | Saturday, Aug. 16, 2003 at 8:04 AM |
| response to ChiChi | an informed citizen | Saturday, Aug. 16, 2003 at 2:29 PM |
| pressured/smeshured | yorick | Sunday, Aug. 17, 2003 at 5:17 AM |
| responseto:pressured/smeshured | AWARE | Sunday, Aug. 17, 2003 at 6:13 AM |
| MESSAGE FROM MOM | Message From A Former PO | Sunday, Aug. 17, 2003 at 7:20 AM |
| A Lawyer | Legal Advice | Sunday, Aug. 17, 2003 at 7:23 AM |
| last time i checked... | yorick | Sunday, Aug. 17, 2003 at 3:32 PM |
| wilson | yorick | Sunday, Aug. 17, 2003 at 3:40 PM |
| liberty in protective custody | terrist | Monday, Aug. 18, 2003 at 4:23 PM |
| Excerpts taken from the FBI affadavit | The OTHER forums | Monday, Aug. 18, 2003 at 5:44 PM |
| A Friend | Chris | Monday, Aug. 18, 2003 at 9:55 PM |
| This is Another Country | I thought I was an American | Monday, Aug. 18, 2003 at 9:57 PM |
| can't wait? | yorick | Tuesday, Aug. 19, 2003 at 2:23 AM |
| Guns guns guns Guns Guns Guns | billder | Tuesday, Aug. 19, 2003 at 3:33 AM |
| note on billder | Bob | Tuesday, Aug. 19, 2003 at 6:04 AM |
| *sigh* | Praxis | Tuesday, Aug. 19, 2003 at 6:20 AM |
| Another thing | Praxis | Tuesday, Aug. 19, 2003 at 6:24 AM |
| please delete the violent postings | MOM | Tuesday, Aug. 19, 2003 at 6:53 AM |
| Some Links To Share With Everyone | Bobby | Tuesday, Aug. 19, 2003 at 8:14 AM |
| Mr Wilson | Eric O | Tuesday, Aug. 19, 2003 at 8:24 AM |
| No excuses. | ne | Tuesday, Aug. 19, 2003 at 8:34 AM |
| wrong | Ernest | Tuesday, Aug. 19, 2003 at 12:59 PM |
| Hey Praxis | Bob | Tuesday, Aug. 19, 2003 at 6:15 PM |
| OK, so bust the New York Times then! | newshound | Wednesday, Aug. 20, 2003 at 12:48 AM |
| so wha tabout europe then? | Alex | Wednesday, Aug. 20, 2003 at 1:05 AM |
| Eric O | th eposter formerly known as mr wilson | Wednesday, Aug. 20, 2003 at 1:15 AM |
| break it down | systemfailure | Wednesday, Aug. 20, 2003 at 1:25 AM |
| mr. wilson | answers | Wednesday, Aug. 20, 2003 at 2:46 AM |
| anarchy? what is it about? | Ernest | Wednesday, Aug. 20, 2003 at 3:34 AM |
| Earnie | Emma | Wednesday, Aug. 20, 2003 at 3:50 AM |
| what about religion | Bob | Wednesday, Aug. 20, 2003 at 5:15 AM |
| i dont think you know much about anarchy if you are making comments like that | Ernest | Wednesday, Aug. 20, 2003 at 6:29 AM |
| Earnie | Emma | Wednesday, Aug. 20, 2003 at 6:45 AM |
| Anarchy is subjective... | Alex | Wednesday, Aug. 20, 2003 at 8:50 AM |
| All I have to say... | Praxis | Wednesday, Aug. 20, 2003 at 8:54 AM |
| a couple more questions | Bob | Wednesday, Aug. 20, 2003 at 10:00 AM |
| is that the problem? | Ernest | Wednesday, Aug. 20, 2003 at 10:40 AM |
| Anarchy is so stupid | Josef | Wednesday, Aug. 20, 2003 at 2:36 PM |
| oh really.. | -divib- | Wednesday, Aug. 20, 2003 at 2:49 PM |
| Interesting discussion | tpfkamw | Wednesday, Aug. 20, 2003 at 3:05 PM |
| is that it? | hahahaha | Wednesday, Aug. 20, 2003 at 3:09 PM |
| Then perhaps you can answer some questions. | tpfkamw | Wednesday, Aug. 20, 2003 at 3:29 PM |
| Then perhaps you can answer some questions. | tpfkamw | Wednesday, Aug. 20, 2003 at 3:29 PM |
| Then maybe you can answer some questions. | tpfkamw | Wednesday, Aug. 20, 2003 at 3:30 PM |
| Sorry... | tpfkamw | Wednesday, Aug. 20, 2003 at 3:46 PM |
| stop crying now | geez relax officer | Wednesday, Aug. 20, 2003 at 3:47 PM |
| If you don't answer my questions, | tpfkamw | Wednesday, Aug. 20, 2003 at 3:51 PM |
| hahaha.... | you're crackin me up | Wednesday, Aug. 20, 2003 at 3:59 PM |
| The only thing you're playing with... | tpfkamw | Wednesday, Aug. 20, 2003 at 4:11 PM |
| Divide And Conquer | timeless | Wednesday, Aug. 20, 2003 at 6:13 PM |
| why can't you answer our questions | Bob | Wednesday, Aug. 20, 2003 at 6:22 PM |
| My quick thoughts ... | Russ | Wednesday, Aug. 20, 2003 at 6:32 PM |
| 4ahau | 6Men | Wednesday, Aug. 20, 2003 at 7:33 PM |
| Interesting | Dannyboy | Thursday, Aug. 21, 2003 at 12:24 AM |
| Russ and Dannyboy | tpfkamw | Thursday, Aug. 21, 2003 at 1:00 AM |
| wow | alright... | Thursday, Aug. 21, 2003 at 8:35 AM |
| Trappings | Dannyboy | Thursday, Aug. 21, 2003 at 9:30 AM |
| holy shit | whoah | Thursday, Aug. 21, 2003 at 9:43 AM |
| Sorry for the delay... | Dannyboy | Thursday, Aug. 21, 2003 at 9:47 AM |
| what about rewards | Bob | Thursday, Aug. 21, 2003 at 10:05 AM |
| SHerman did not author the Reclaim Guide | AWARE | Thursday, Aug. 21, 2003 at 9:19 PM |
| Way to go!!! | Rational Normal Person | Thursday, Aug. 21, 2003 at 9:35 PM |
| what about the division of labour? | Ernest | Friday, Aug. 22, 2003 at 7:35 AM |
| Earnie | . | Friday, Aug. 22, 2003 at 7:57 AM |
| additional comments for Earnie | Bob | Friday, Aug. 22, 2003 at 10:13 AM |
| corruption | md | Friday, Aug. 22, 2003 at 2:09 PM |
| corruption | md | Friday, Aug. 22, 2003 at 2:44 PM |
| Class War | nonrepublican | Friday, Aug. 22, 2003 at 3:26 PM |
| Class war? | tpfkamw | Friday, Aug. 22, 2003 at 3:39 PM |
| class war? | activist | Friday, Aug. 22, 2003 at 3:56 PM |
| Better world? | Ted Thompson | Friday, Aug. 22, 2003 at 4:25 PM |
| The problem with Anarchy | Josef | Friday, Aug. 22, 2003 at 4:47 PM |
| actual | stupidity | Friday, Aug. 22, 2003 at 6:19 PM |
| you idiot! | Ernest | Saturday, Aug. 23, 2003 at 12:43 AM |
| Basic math | tpfkamw | Saturday, Aug. 23, 2003 at 1:01 AM |
| odviously you havnt seen some of the poles | someone | Saturday, Aug. 23, 2003 at 3:11 AM |
| Well, then, that's different. | tpfkamw | Saturday, Aug. 23, 2003 at 3:14 AM |
| Earnie | . | Saturday, Aug. 23, 2003 at 3:37 AM |
| Sir | Khun | Saturday, Aug. 23, 2003 at 4:25 AM |
| not just barter | Albert | Saturday, Aug. 23, 2003 at 4:54 AM |
| Khun and others | pointer | Saturday, Aug. 23, 2003 at 5:10 AM |
| what is money? | observer | Sunday, Aug. 24, 2003 at 9:46 AM |
| Oh BoB | Colin | Monday, Aug. 25, 2003 at 8:07 PM |
| colin, stay away from law | Bob | Tuesday, Aug. 26, 2003 at 11:24 AM |
| Bob | Scottie | Wednesday, Aug. 27, 2003 at 2:40 AM |
| Answer BOB: | An Insider | Wednesday, Aug. 27, 2003 at 10:19 AM |
| Oh get a clue. | nobody believes you're an attorney | Wednesday, Aug. 27, 2003 at 11:08 AM |
| ^ | Scottie | Wednesday, Aug. 27, 2003 at 11:24 AM |
| hmmm | Scottie | Wednesday, Aug. 27, 2003 at 1:08 PM |
| Bogus post above | Scottie | Wednesday, Aug. 27, 2003 at 1:09 PM |
| Yes I did. | Scottie | Wednesday, Aug. 27, 2003 at 1:10 PM |
| We know, Scottie. | tpfkamw | Wednesday, Aug. 27, 2003 at 1:11 PM |
| tpfkamw | Rational Normal Person | Wednesday, Aug. 27, 2003 at 1:14 PM |
| Trolling anti-black bigots | Mad Ax | Saturday, Oct. 18, 2003 at 8:51 AM |
| SOJA/ Revolution | Meleena | Thursday, Apr. 01, 2004 at 11:14 AM |
| Senator Dianne Feinstein Reactionary Bitch, Get Her OUTTA THERE | Kurt Brown, alter-ego Saint Ram Bone | Friday, Jul. 30, 2004 at 6:03 PM |
| amerikkka | jose | Saturday, Jan. 22, 2005 at 1:19 PM |