Features
•
latest news
•
best of news
•
syndication
•
commentary

Feature Categories



KILLRADIO
printable version - js reader version - view hidden posts - tags and related articles


View article without comments by Carolina Saturday, Mar. 08, 2003 at 5:30 PM
pinedaart@hotmail.com
Transgenders: Queen Mary Show Lounge, Studio City, closed February 23, without notice to patrons or employees after more than 40 years of hosting the TG community.
Imagine the reaction of the African American community if the "Apollo" theater in Harlem were to shutter without notice after decades as a cultural center for blacks? Or the " la communidad Latino" if Spanish radio & TV suddenly went English only?

That's about how numbing and angering the unannounced closure of Queen Mary Show Lounge on February 23 was to transgender patrons, and employee's, many whom have patronized and worked at the Studio City club for decades.

Saturday night February 22 seemed typical enough as the large crowd of trannies drank, conversed & danced at the back bar or commingled with straight "tourists" in the front show lounge. Female impersonators, such as Dani Kane, Simonne, Dolly, Maximilliana, Monica, Butch and Ricco, many who had worked for over a decade, entertained on stage. Bartenders like Laurie and Julia knew many patrons so well that they could serve their favorite drink without asking, in contrast to the owners, whom usually remained aloof.

This weekend 'spot' had long ago become much more than just a nightclub. It served for the transgender community as a social epicenter, in much the same way that churches or barber and beauty salons serve black and other communities of color. Regulars kept current on "t" [gossip]. New people could become familiar with and integrated into the scene comfortably and quickly. Out-of-towners could meet the locals easily, and prodigal sisters who had been away for a while could re-unite and belong. Celebrities and media often watched the show and commingled in the back bar.

[In fact, the LA Times ran a review of the club, published on February 27, unaware it was by that time closed forever.]

Few, if any, of the die hard customers and loyal employees left at the Saturday night 2 am closing suspected, as they headed to their cars in the cold night air, that this would be their last time there. So there were no hugs or tears. Everyone expected they'd see each other again next weekend.

After all, Queen Mary was the rock on which a constantly growing and changing Southern California community of trans folk, estimated as one of the world's largest, anchored itself. Other, more wild and street-wise Hollywood clubs might be intermittently closed. [Rival Club 7969 in West Hollywood had been shut down twice since 2000, once because of fire, and last year due to a code violation dispute with the city].

"The Queen", on the other hand, like one's own mother, was considered always there. Maybe not as exciting or trendy, but always open to trannys and their friends, even most weeknights. Trannys thought of it as a place to celebrate triumphs, start new relationships, or to find comfort in hard times.

Located on the upscale "strip" of stores and restaurants along the San Fernando Valley's famed Ventura Boulevard, it provided a more sedate and elegant setting than the fast life of Hollywood. After more than 40 years as the venerable nightspot for the community, it had attracted trans friendly shops and restaurants nearby. These satellites businesses are now left adrift by the sudden demise of the mother ship. "QM" was the establishment, a stable oasis for a tempestuous sub-culture.

Many had heard through the 'grapevine' that the club was up for sale. That was not too surprising since the long-term manager/owner Robert's stroke in 2000 had left son Bobby in charge. The latter never seemed quite comfortable or competent in running the family business that his grandmother had opened in 1958, and his father had run for as long as most patrons and staff could remember.

The transgender community could understand if the owners no longer wanted to run the club, even though it consistently drew a full house, at least on Saturdays.

Most customers would have thought, however, after decades of spending their money in this family business, that they would have merited at least a farewell, if not a "thank you", and a chance to bid adieu to the talent and staff.

Apparently, however, transgender patrons and servants, no matter how long term, once their money been collected and services rendered, are regarded as no better than the trash to be discarded at closing.

Patrons and staff were sent home Sunday night with no notice. The employees received calls Monday [when the club was usually closed] informing them to pick up their last checks. Apparently the building is to be remodeled for a restaurant.

Hopefully the management remembered to turn out the lights, and the door didn't hit their ass on the way out.






Report this post as:


by Alexander "The Great" Sunday, Mar. 09, 2003 at 4:37 PM
alextsuname@hotmail.com

Carolina, Dear One, Precious,

Did you happen to get a chance to speak with the owners or with anyone else who could speak conclusively about the true reasons for the abrupt close of the QM? I would much like to hear from them, to knit my brows and call them out if need be, true, but also to shed light on this baffling mystery, "The Case of the Disappearing Club." We in the trans community can only speculate, and I really would like to hear directly from them what happened, either so that they may take responsibility for it or so they may commiserate with us in our loss, thank you very much.

Also, Dear, and you know I love you, I would deeply appreciate it if you could, rather than use blanket terms such as "transgender," "transsexual," or "trannies" (none of which offend me per se) you could distinguish between trans MEN (also: FTMs, female-to-males, tranny boys) and trans WOMEN, UNLESS in reference to the trans community as a whole. You did not mention any trans male performers or whether the clientele also included trans guys. It had been a while since I last had a chance to visit, and now I never can, but to my recollection, the Queen Mary served primarily the MTF/transwomen community. Please don't misunderstand me. THANK GOD (or who or whatever you wish to substitute for a higher being) for the QM and what it represented, a safe, fun, non-exploitative (unless you count the prices - har!) atmosphere for transwomen and their friends to hang out and simply BE. But in journalism, literature, and the public perception, for too long and too often the word "transgender" and its abbreviations TG and TS automatically assumed MTF, a contributing factor, in my opinion, to the vast invisibility of transguys (although that has begun to change, thankfully).

So in future, I would like to respectfully request some sort of terminology that allows for the existence of not only female-identified trans people, but also the people on the male side of the spectrum, like myself. For example, in such an article, if I were writing exclusively about trans women, I might clarify my usage of the word "transgender" with the terms "MTF," "female transperson," or "transwomen" elsewhere in the article.

Thank you for the quality work you do, Carolina.

ATG


Report this post as:


by Allenina Sunday, Mar. 09, 2003 at 9:02 PM


althought i am not as attached to QM (or any club in general) as many others, but i still find QM to be quite a charming place. Just like you said Carolina, the location sets the club away from the busy, highly competitive, glamour crazed Hollywood and thus somehow affected the clientele. Its seclusion, I believe, served as as an advantage and an alternative spot to its rivalry!

Besides feeling sorry for the the transgender community, it is a lost to those who simply see QM as their neighborhood hangout and a place to go for a good old fashion, fun female-impersonation, cabaret-esque entertainment. And a lost to our city's multi-faceted culture! I like to consider it a landmark. A prominent one! A place with identity and charm.

its closing and remodeling means a change in the Ventura business skyline forever... I suggest that a piece of Public Art should be surrected in the memory of the Queen Mary!!!


Report this post as:


by Butch Ellis Sunday, Aug. 03, 2003 at 2:13 AM


I am the "Butch" referred to in the above article on The Queen Mary. I was employed there for 26 years, so I think I know quite a lot more than whomever wrote that article. It was not the "transies" who made The QM famous - it was world-class entertainters, many of whom I hired there, that made The Queen Mary a world-famous show lounge. Although they were welcomed, it was only the hard work of professional performers and a friendly atmosphere, that what so many took for granted was a haven for lonely transies. You have no idea of the real reasons The QM was closed, so don't take it for granted that the owners were there to fleece you - youth has a way of expecting things to go on forever, no matter what happens. I cannot tell you exactly why The QM closed, but just take my word for it that the owers gave it everything they had and overlooked many situations that would have caused other club owners to shutdown in defeat. The above article writes about several incidents they know little about. You make the owners sound like very cold business people: have you considered that some of it's longest-hired employees may have played a role in its closure? They didn't know they were in Heaven. I have worked everywhere - some of the largest clubs and shows the country has seen - yet, there has never been a place like The Queen Mary - there may never be another. By the way, the cast is seeking investors for another palace.....

Report this post as:


by tedthebear Sunday, Aug. 03, 2003 at 4:21 AM
tedthebear@earthlink.net

I have lived in the valley for 11 years now and I visited the Queen even before that when I lived in West Hollywood. I was completely shocked when I noticed that she was actually gone. I am glad I stumbled on this web page so I could get some kind of an idea what happened. I hope you ladies can open a new club that will be even better: the Queen Mary II.

I can't imagine what could be so awful that the owners had to close shop, unless it involved $. I am not transgender but I am gay, and as a "sister" in our struggle for human rights, I always felt safer knowing that the Queen was there---like a lighthouse in the storm, or like a haven for the lonely. We definitely need a new place to replace it and pronto. Good luck.



Report this post as:


by Lyz Monday, Sep. 22, 2003 at 7:08 AM
onefynbabe@aol.com

It is with shock that I discovered the Queen Mary gone. Every time I went, I had the most fun I have ever had. "Don't get out much, do you dearie?" I can hear you thinking, Butch. I'd like to know more about what the gals are planning, please let me know.

Lyz

Report this post as:


by paul s Saturday, Apr. 21, 2012 at 11:42 AM


I used to pop in a couple times a month. The regulars were a good bunch. Staff friendly. I moved away and found that when I returned to visit it was closed. I've seen half a dozen since but none were better than a whore house. The Queen is gone and has not been replaced. That is sad.

Report this post as:


by Annie Smith Thursday, Feb. 26, 2015 at 2:17 PM
huggannkiss@yahoo.com 818 259-2972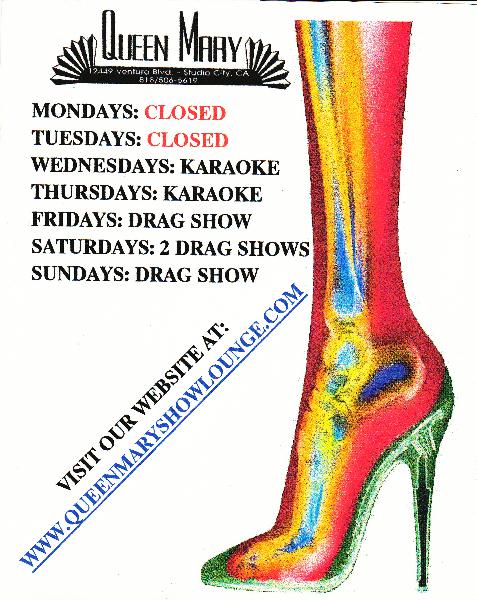 qm_poster.jpg, image/jpeg, 2368x2976
Here is a rare image of an authentic Queen Mary poster. I wish to contribute it to keep the Word-famous Queen Mary Show Lounge legacy alive...after all it was the golden age of "tranniehood"...
Report this post as: