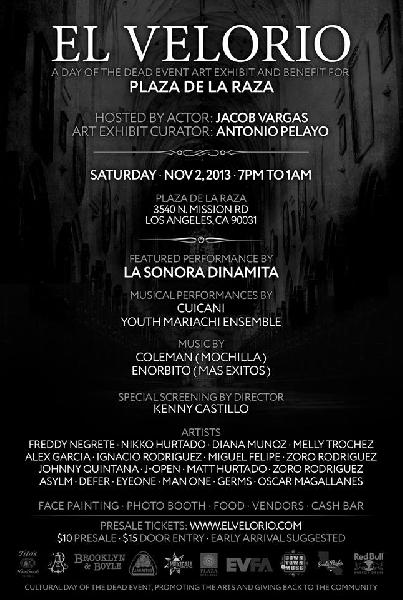 elvelorioflyerfront.jpg, image/jpeg, 646x960 The City of Los Angeles is invited to immerse themselves in Mexico?s Day of the Dead at this year?s El Velorio 2013, a celebratory community Day of the Dead event hosted by actor Jacob Vargas featuring an art exhibition with over 100 works for sale by local artists, live musical performances, special screening of Kenneth Castillo?s film ?La Guapa?, face painting, photo booth, food, cash bar and arts and craft vendors. El Velorio 2013 is open to the public and is presale or door entry (early arrival suggested) and proceeds will benefit LA?s only multidisciplinary community arts venue dedicated to serving the Eastside neighborhoods of Los Angeles, Plaza De la Raza. El Velorio will take place on November 2, 2013 from 7pm ? 1am at Plaza de la Raza?s beautiful cultural center for the arts located at 3540 N. Mission Rd., Los Angeles, CA 90031. To purchase tickets or for more info visit: www.elvelorio.com.

El Velorio is curated by Antonio Pelayo and will feature an impressive exhibition featuring works that will be on display and for sale by over 100 local Contemporary emerging and established artists who will be interpreting the Day of the Dead?s long renowned aesthetics and history using various mediums and styles. This years artist line up includes Freddy Negrete, Nikko Hurtado, Diana Munoz, Melly Trochez, Alex Garcia, Ignacio Rodriguez, Miguel Felipe, Zoro Rodriguez, Johnny Quintana, Matt Hurtado, Asylum, Defer, Eye One, Man One, Jaime ?Germs? Zacarias, Oscar Magallanes and many more as well as a special presentation of prints from the Modern Multiples Fine Art Premium Collection including prints by Shepard Fairey, Gajin Fujita, Richard Duardo, Carlos Almaraz, Chaz Bojorquez, Sage Vaughn and Sonia Romero. (www.modernmultiples.com)

A highlight to El Velorio, musical headliner performance by La Sonora Dinamita, a popular Colombian musical group that plays cumbia, performance by Cuicani, a musical trio whose sound mirrors the rich spirit of the music of some of the many cultures of the Andean regions of South America, and Plaza De la Raza?s Youth Mariachi Ensemble performing with youth musicians, ages 9-15 years. Additional music for the evening will also be provided by Coleman (Mochilla) and Enorbito (Mas Exitos). (http://www.sonoradinamita.com.mx/ , http://www.cuicani.com/ )

Special screening to take place at year?s El Velorio of Kenneth Castillo?s La Guapa. La Guapa is a respected and loved salon owner in the neighborhood who is forced to be a murder for hire by her ex-husband, reputed drug dealer Cesar Figueroa. Having had an affair with Cesar's right hand man, La Guapa's penance is to take out every connection to Cesar's drug empire. All the while Cesar keeps La Guapa at a distance away from their daughter. The stakes are raised when neighborhood Det. Pensiero starts to put the pieces together which will eventually lead him to La Guapa. Award winning filmmaker Kenneth Castillo brings us another emotional tale set in the urban Latino world where loyalties are challenged and everything and everyone are connected. " It's not a small world, just a small neighborhood." (www. KennethCastilloFilm.com)

El Velorio 2013 Participating Artists:

Adelbert Leynes, Alex Garcia, Alfie Numeric, Ameneh Zahedi, Antonio Pelayo, Asylm, Brandon Blain Schwebs, Carol Friend, Celerina Pelayo, Chavez Marie, David Flury, Defer, Delsy Sandoval, Denovo Dee, dfrnt, Diana Munoz, Dulce Lola, Edward De La Torre, Erica Cisne, Erica Friend, Eyeone, Freddy Negrete, Gennaro Garcia, Jaime ?Germs? Zacarias, Gino Espinosa, Gladis Alejandre, Gregg Stone, Ignacio Rodriguez, Isaac Pelayo, J-Open, Javier Martinez, Jennifer Korsen, Jeo Villegas, Jesse Hinostroza, jessica pons, Joe Torres, John Anthony Tuason, John Paul Thorton, Johnnie Dominguez, Johnny Quintana, Johnny Quintanilla, Jose Zuniga , Julian Mendoza, Lauren Terese , Lekit, Lily Aanchez, Lisa Love Mendoza, Man One, Marcos Dorado, Matt Hurtado, Matteo Saucedo, Melisa Fairweather, Melissa Victoria Nebrida, Melly Trochez, Michael Ulrich, Miguel Felipe, Monica Russo, Nikko Hurtado, Noemi Duran, Oscar Magallanes, Oscar Ortiz, Pablo Damas, Paul Martinez, Paul Torres, Ralph Silerio, Ron Antonio, Sal Coria, Scott Kiche, Sergio "Doc" Rueda , Tania Zatikian, Uninanti, Walther Obando, Wendy Rivas, Zoro Rodriguez and more?