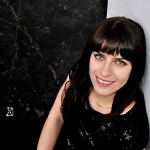 leahpaul.jpg, image/jpeg, 150x150 Classical Revolution: LA's monthly Happy Hour in July will feature the Indie-Classical group, the Leah Paul Ensemble. Paul, now a Silverlake resident, developed her style over 10 years in Brooklyn's independent classical, experimental and rock scenes. She performed as a member of the chamber ensemble / rock band hybrid, Blarvuster and recently recorded as a soloist on Anthony Braxton's opera Triilium E Orchestra. The show will feature the premiere of Paul's new sextet for flute, alto flute, clarinet, bassoon, viola and cello and music from her 2012 album Bike Lane.

The Leah Paul Ensemble:

Leah Paul (flute,) Christine Tavolacci (alto flute,) Eric Jacobs (clarinet,) Christin Phelps-Webb (bassoon,) Melinda Rice (viola,) and April Guthrie (cello.)



Classical Revolution: LA presents chamber music in relaxed, accessible venues throughout the greater Los Angeles area. The group makes "chamber music cozy comfy in bars, clubs, coffee shops" and more "unexpected hangouts." (LA Weekly) Mark Swed of the L.A. Times called it an "addictive new series," that can make chamber music "startlingly subversive." Classical Revolution was founded in 2006 at the Revolution Cafe in San Francisco. The Classical Revolution model has spread around the world, with over 30 active chapters in cities around the US, Canada and Europe.