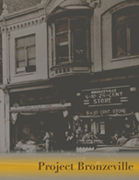 bronzeville_image.jpgtbykoh.jpg, image/jpeg, 139x180 JUNE 29 - JULY 21, 2013

Project Bronzeville is a combination of fine art, theater, a panel discussion and music coming together to commemorate the brief but vibrant part of LA history when Japanese Americans were forced out of their homes and businesses in Little Tokyo during WWII and African American families from the south moved into these vacant spaces and renamed the neighborhood "Bronzeville."

Enjoy an encore production of the play Bronzeville, produced by the Robey Theatre Company at LATC. Written by Tim Toyama and Aaron Woolfolk, Bronzeville tells the true story of a Black family who moved into the home of a Japanese family and discovered a member of the family hiding in the attic.

*Special student matinees will be performed for 700 Middle & High School Students at the Accelerated School Theater the week of May 20th, 2013.

For more information and details about the music, art, and symposium aspects of "Project Bronzeville," please visit www.projectbronzeville.com.