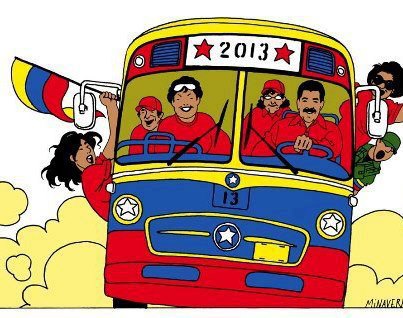 get-on-the-bus.jpg, image/jpeg, 403x318 10PM, Saturday, April 13 through Sunday, April 14,

Venezuela bus rally from LA to SF,

"?S?bete al autob?s!/Get on the bus!"

Join the Simon Bolivar Association of L.A & the ANSWER Coalition in a demonstration from Los Angeles to San Francisco's Venezuelan General Consulate on the anniversary of the popular uprising in Venezuela. Bus leaves from L.A. at 10PM. Meet at Immanuel Presbyterian Church, 3300 Wilshire Blvd., Los Angeles, California, Saturday night and arrive in San Francisco Sunday morning for the demo, returning to Los Angeles Sunday evening. Bus seating is limited, reserve your seat today, more info at AnswerLA.org

link to bus seating online form: http://www2.answercoalition.org/site/Survey?ACTION_REQUIRED=URI_ACTION_USER_REQUESTS&SURVEY_ID=10740

----------------

Como parte la jornada internacional de solidaridad con Venezuela, la Asociaci?n Sim?n Bol?var de Los ?ngeles y La Coalici?n ANSWER te invitan a participar en una manifestaci?n en el consulado venezolano en la ciudad de San Francisco.

El 13 de abril es el aniversario del triunfo popular ante un golpe fascista que intent? destruir la Revoluci?n Bolivariana.

Ayer como hoy, los imperialistas, sus voceros en los medios de comunicaci?n, y la derecha antidemocr?tica venezolana e internacional vuelven a equivocarse ingenuamente al pensar que con la partida de Ch?vez volver?n al poder.

Este domingo 14 de abril, el pueblo venezolano acudir? a las urnas electorales para demostrarle al mundo que el legado del presidente Ch?vez es irreversible, y que si se puede vencer cuando hay conciencia y organizaci?n.

Para concluir la jornada de solidaridad, te invitamos a participar en una manifestaci?n de apoyo en el consulado general de la Republica Bolivariana en San Francisco.

Domingo 14 de abril de 2013

Consulado General de la Republica Bolivariana de Venezuela

1161 Mission Street

Suite 300

San Francisco CA 94103

El autob?s parte el s?bado 13 de abril, a las 12 de la noche de la iglesia Presbiteriana Imanuel, ubicada en 3300 Wilshire Blvd. Los ?ngeles CA 90010 y retorna el domingo 14 aproximadamente a las 10:00pm.

Debes reservar tu asiento, se requiere una donaci?n para cubrir los gastos del autob?s.