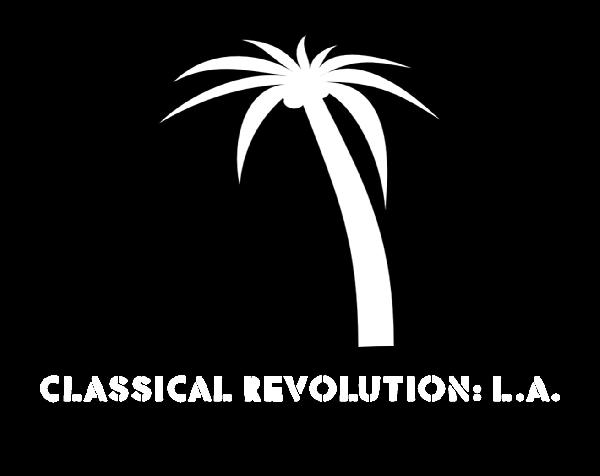 classrevlogo1.jpg, image/jpeg, 1310x1040 Classical Revolution: LA presents L.A. Indie:

Music of the people, by the people, for the people.



Each L.A. Indie event gives attendees the chance to kick back, relax and get to know some of the most interesting composers working in Los Angeles. Saturday, October 6th, we get intimate with composer Stephen Cohn.



Stephen won an Emmy for "Outstanding Achievement in Music" and has had his music recorded by prominent artists, including the Arditti Quartet, but he's down for having his music performed by young musicians in a bar. Why? Stephen says that emerging artists bring "magic" to his music. Between the pieces Stephen and the musicians will tell all the juicy details about what inspired this amazing music!

Video links:

Sea Change by Stephen Cohn: http://www.youtube.com/watch?v=7Hd-KI6ejKs

Interview with Stephen Cohn: http://www.youtube.com/watch?v=pLZPt9XjizY



Program - Music by Stephen Cohn

Excerpts: www.stephencohn.com/music.htm

Winter Soul for string quartet

Matin Sur Les Collines De Ceret for violin duet

Metaphors and Contrasts for woodwind quintet

Dance in the Dream Garden for guitar

Serenade for flute, viola and cello

Essay for guitar

American Spring for string trio and marimba



Performers:

Sarah Robinson, flute

Phil Popham, oboe

Andrew Leonard, clarinet

Lyndy McGrody, bassoon

Lisa McCormick, horn

Ely Karr, violin

Alex Russell, violin

Joshua Heaphey, violin

Thomas Lea, viola

Joo Lee, cello

Sidney Hopson, marimba

Tom Farrell, guitar

Classical Revolution: Los Angeles presents chamber music in relaxed, accessible venues throughout the greater Los Angeles area. Called an "addictive new series" by Mark Swed of the L.A. Times, concerts are performed at coffee shops, bars, clubs and even outdoors! Classical Revolution was founded in 2006 at the Revolution Cafe in San Francisco. The Classical Revolution model has spread around the world, with nearly 30 active chapters in cities around the US, Canada and Europe.