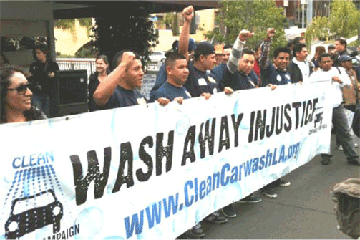 carwashvictory-small.gif, image/gif, 360x240 Get your car washed at Vermont Car Wash from Monday, August 27 to Thursday, August 30 — and make history!

You will be one of the only people in the nation to get your car washed by unionized workers.

Pick up a coupon from the Southern California Library (6210 S. Vermont, LA CA 90044) or print off the coupon at http://www.socallib.org to get off!

After years of struggle, workers (know as Car Washeros) have secured the only three union car wash contracts in the country.

This coming Thursday would have been the 105th birthday of labor and civil rights leader Luisa Moreno.

We think there is no better way to honor the legacy of Luisa Moreno than celebrating the historic victory of local Car Washeros by getting our cars washed at Vermont Car Wash during Luisa's birthday week.

We are asking everyone to get their car washed between Monday, August 27, and Thursday, August 30, at Vermont Car Wash.

Vermont Car Wash has become an example of the right way to do business and of the benefits of treating workers fairly. Unfortunately, the reality is that there are still too many owners out there who abuse workers to achieve profit. We need to make sure consumers in Los Angeles know exactly where to get their car washed.