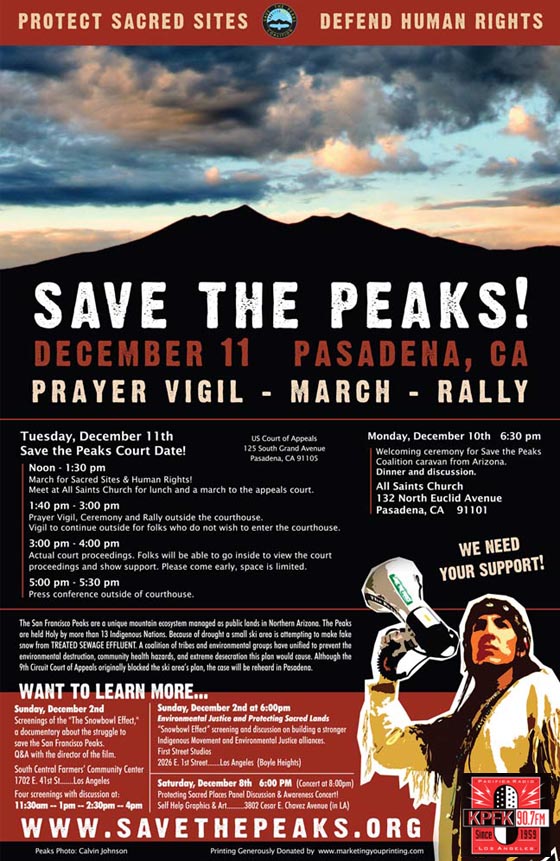 savethepeaksflyer.jpg, image/jpeg, 560x861 Saturday, December 8th

Panel Discussion & Awareness Concert!

"Defending the Land: Indigenous Cultural Survival, Environmental Justice & Protecting Sacred Places"

Panel Discussion from 6:00pm - 8:00pm with representatives from Environmental groups, Grassroots organizations, and Indigenous communities struggling to protect sacred places.

Protect Sacred Sites! Awareness Concert starting at 8:00pm

With Music by Aztlan Unearthed, In Lak Ech, PachaMama and more!

Where: Self Help Graphics & Art

3802 Cesar E. Chavez Avenue

Los Angeles, CA 90063

Tel. 323-881-6444



Monday, December 10th

Welcoming ceremony for Save the Peaks caravan from Northern Arizona, dinner and speakers.

When: 6:30pm

Where: The All Saints Church

132 North Euclid Avenue, Pasadena, CA 91101



Tuesday, December 11th - Save the Peaks Court Date

The case will be heard at the Pasadena Court of Appeals at 3:00pm. The court is located at 125 South Grand Avenue, Pasadena, CA. Parking is limited in the area so please carpool and use public transportation.



Noon - 1:30pm

March for Sacred Sites & Human Rights!

Meet at All Saints Church for lunch and march to the Appeals Court.



1:40pm - 3:00pm

Prayer Vigil, Ceremony & Rally outside the Courthouse.

Vigil to continue outside for folks who do not wish to enter the courthouse.



3:00pm - 4:00pm

Actual court proceedings. Folks will be able to go inside the courthouse to view the court proceedings and show support.



5:00pm - 5:30pm

Press Conference outside of courthouse.



Please visit www.savethepeaks.org for more information.