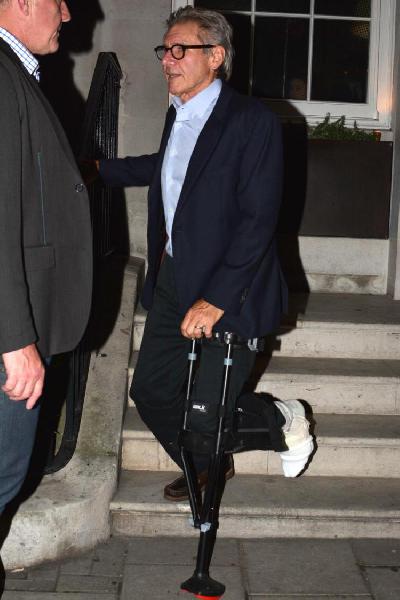 harrison2n-6-web.jpg, image/jpeg, 750x1124 LOS ANGELES, Calif. – (May 31, 2018) – If you are a business fortunate enough to have your product used by a celebrity or athlete, there is a good chance it will boost your bottom line. One of the quickest ways to take your business to the next level is to get an A-list endorsement. However, not everyone knows how to go about getting their product in the hands of a celebrity or athlete, and better yet, how to get them to actually be seen using it. The good news is that with some persistence and patience, you can reap the rewards of having celebrities use your product.

"We knew the power that having celebrities use our product would have, so we set out on a mission to make it happen," explains Brad Hunter, the innovator of iWALK2.0 and the chief executive officer of the company, iWALKFree, Inc. "We sought out celebrities and pro-athletes who could benefit from our product, and then offered it to them. It was a mutually beneficial arrangement."

The iWALK2.0 is a hands-free crutch that is used instead of conventional crutches or knee scooters. Resembling a high-tech pirate leg, it recruits the user's leg instead of their hands and arms. In addition, to the hands-free benefit, the iWALK2.0 allows for easier and more comfortable movement. Where crutches can be irritating and limit mobility this novel product frees up users to resume normal day-to-day activities.

Underscoring these benefits was crucial to celebrities taking notice of the iWALK2.0. Among the A-listers who have used the product are Kelly Slater (World Championship surfer), Nick Bonino (NHL Stanley Cup champion), Harrison Ford (Actor), Tyron Woodley (UFC World Champion), Ronald Forbes (Olympic hurdler), Tanner Pearson (NHL player), Romeo Pullum (NFL player), Marcus Mariota (NFL player) and Mike Waufle (NFL coach.) In addition to individual players, there are numerous professional teams that keep the iWALK2.0 in their training rooms, including 28 teams in the NFL alone.

For the average business, it may seem daunting to get their products into the hands of celebrities and pro-athletes, and for them to actually use it. But there are many businesses benefiting from such exposure, giving hope to those who would like to get in on the action. Here are 6 tips to help get your product into the hands of celebrities and athletes, helping to take your business to the next level:

· Target your market. Not every celebrity is going to be a good fit for your product. Narrow down which ones you think will be. By narrowing it down to those it makes sense to reach out to, your chances of success will likely increase.

· Get their contact information. You could look online to search for their PR agent, manager or lawyer send your product to them.

· Make it stand out. Once you know where to send or take the product to, do something to make it stand out. Send it via FedEx, wrap it nicely and always include a handwritten note.

· Highlight the results or benefits. Be sure to include something that lets them know what the benefits of using the product are, if it's something that will help them. If it's a fashion product or one that doesn't necessarily have benefits, but is just for fun, highlight the fun aspects of it and what's unique about it. Let them know the inspiration behind the product, that you support a particular charity or cause, or any other fun or interesting detail. Most of all, you must genuinely believe that using your product will significantly benefit the celebrity as much or more than the publicity will benefit you.

· Be polite, yet persistent. The last thing you want to do is become annoying, because that will likely get your product booted quickly. Be persistent, but always remain nice especially to the gatekeeper (e.g., receptionist, secretary, personal assistant.) as their influence can be crucial.

· Be ready for the influx of business. If you are successful with your quest, you will likely get a big boost in business. Be ready for it, so that you don't miss out on those sales by not being able to fulfill the orders.

"A lot of positive can come from getting that celebrity endorsement, making it worth the effort to get the product in their hands," adds Hunter. "It's well worth the effort when you consider what the return on investment can be, and has been for many businesses."

The iWALK2.0 is hands-free, pain-free alternative to using crutches and leg scooters. It's easy to learn to use, intuitive, and safe. From the knee up, the leg is doing the same walking motion that comes naturally to it. The device is essentially a temporary lower leg, which gives people their independence and mobility back as they recover from an injury. The device is pain-free, and makes it possible for people to engage in many of their normal routine activities, such as walking the dog, grocery shopping, and walking up or downstairs.

Clinical research, the results of which are on the company website, shows that patients using the iWALK2.0 heal faster, and have a higher sense of satisfaction and a higher rate of compliance. The iWALK2.0 sells for 9 and is available online and through select retailers. Some insurance companies may cover the cost of the device. The device can be used with a cast or boot, and comes with a limited warranty. For more information on the iWALK2.0, visit the site at: http://iwalk-free.com. To see a video of the iWALK2.0 in action, visit: iWalkFree.

About iWALKFree

The iWALK2.0 is a hands-free knee crutch, made by iWALKFree, Inc. It's a mobility device used instead of traditional crutches and knee scooters. It offers more comfort and independence, with the hands and arms remaining free. The device offers people a functional and independent lifestyle as they are recovering from many common lower leg injuries. For more information on the iWALK2.0, visit the site at http://iwalk-free.com.