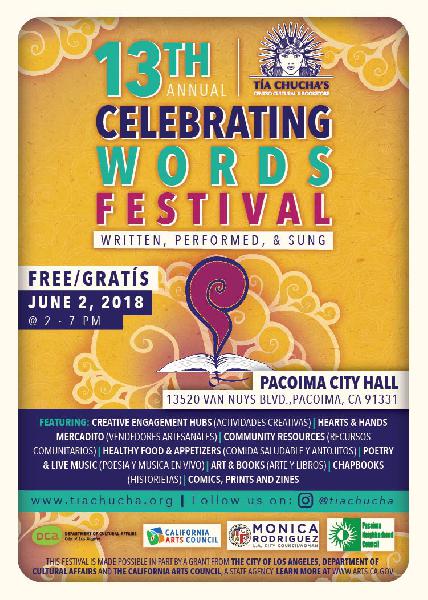 2018cwfpostcard_final_front.jpg, image/jpeg, 751x1051 Tía Chucha's Centro Cultural & Bookstore is proud to present the 13th Annual Celebrating Words Festival: Written, Performed, and Sung, the longest running community-based literacy and arts festival in the San Fernando Valley. We are excited to continue this celebration in Pacoima and provide a brave space that encourages creativity and imagination, where artistic expression can thrive, and where we can come together to support intellectual growth and emotional healing in the vital and unique ways that arts and literacy can.

This year Tia Chucha's is collaborating closely with various non-profit organizations to host creative engagement booths at the festival. Participating this year is DIY Girls, Pacoima Beautiful, and Self Help Graphics and Art. Kristy Sandoval, local Pacoima muralist, will host a mini muralito for kids and we will also have a local face painter onsite, and professional portraits will be offered to families and attendees. Tía Chucha's resident mexihca dance group, Danza Temachtia Quetzalcoatl, will offer an opening Danza Ceremony.

Entertainment will be headlined by feminist collective, Chingona Fire and musical fusion from EL Santo Golpe. Youth music groups that arose from Tía Chuchas' popular music programs, The Chuchas and Los Little Jaraneros, will kick off the performances for this free family event.

Hearts & Hands Mercadito, Tia Chuchas' resident artisan market, will offer an array of handmade products, and festival goers can enjoy vegan and non-vegan food options and refreshments from Vegatinos, Guayaba Kitchen, and La Comida es Medicina. Books will be available for sale by Tia Chucha's Bookstore, PM Press and Skylight Books.

The arts and literacy are vital to the imagination, intellectual growth and healing of a community. Through its bookstore, art and cultural space, Tía Chucha's makes the arts, dance, music, writing, theater, indigenous cosmology and literacy the centerpiece of an ongoing economic/cultural/creative revival for the largely neglected Northeast Valley communities.