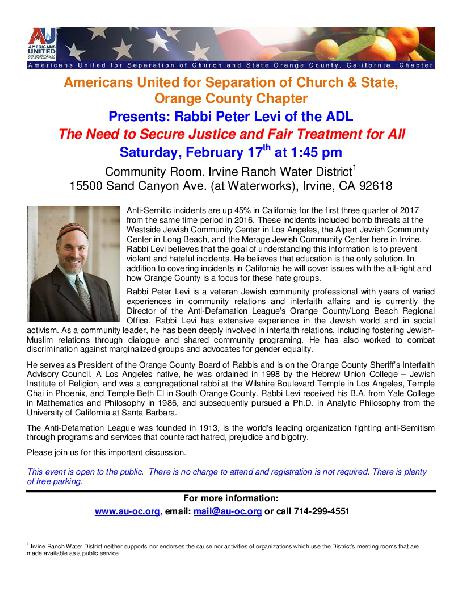 peter_levi__feb_2018_.jpg, image/jpeg, 816x1056 Anti-Semitic incidents are up 45% in California for the first three quarter of 2017 from the same time period in 2016. These incidents included bomb threats at the Westside Jewish Community Center in Los Angeles, the Alpert Jewish Community Center in Long Beach, and the Merage Jewish Community Center here in Irvine. Rabbi Levi believes that the goal of understanding this information is to prevent violent and hateful incidents. He believes that education is the only solution. In addition to covering incidents in California he will cover issues with the alt-right and how Orange County is a focus for these hate groups.

Rabbi Peter Levi is a veteran Jewish community professional with years of varied experiences in community relations and interfaith affairs and is currently the Director of the Anti-Defamation League's Orange County/Long Beach Regional Office. Rabbi Levi has extensive experience in the Jewish world and in social activism. As a community leader, he has been deeply involved in interfaith relations, including fostering Jewish-Muslim relations through dialogue and shared community programming. He has also worked to combat discrimination against marginalized groups and advocates for gender equality.

He serves as President of the Orange County Board of Rabbis and is on the Orange County Sheriff's Interfaith Advisory Council. A Los Angeles native, he was ordained in 1998 by the Hebrew Union College – Jewish Institute of Religion, and was a congregational rabbi at the Wilshire Boulevard Temple in Los Angeles, Temple Chai in Phoenix, and Temple Beth El in South Orange County. Rabbi Levi received his B.A. from Yale College in Mathematics and Philosophy in 1986, and subsequently pursued a Ph.D. in Analytic Philosophy from the University of California at Santa Barbara.

The Anti-Defamation League was founded in 1913, is the world's leading organization fighting anti-Semitism through programs and services that counteract hatred, prejudice and bigotry.

Please join us for this important discussion.

This event is open to the public. There is no charge to attend and registration is not required. There is plenty of free parking.