Indigenous Rights and Issues: 1 next page | single feature archives | weekly archives
---
04/23/2004
The Eco Maya Festival at Barnsdall Park this weekend melds the sometimes divergent social movements for cultural preservation, ecological respect, and indigenous heritage. The Eco Maya project is working on a cohousing community called the Eco Maya village that combines the idea of the Eco Village with indigenous cultural preservation, for the living indigenous among us. (A community action statement from one of the organizers.)
As the summer approaches, numerous free festivals take over the parks of Los Angeles. Among the highlights are the Corn Festival in Highland Park, the Lotus festival at Echo Park, the Sol Festival. Below is a mural by Frank Romero titled Festival of Masks, depicting the annual Festival of Masks on Wilshire (which, unfortunately, is not happening this year). From the USC Metro Art Archives.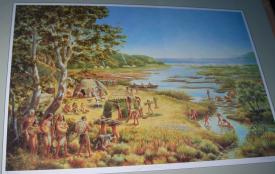 The Last Tongva Cemetary In LA County Is Being Destroyed By Corporate Condos
The last remaining Tongva/Gabrielino cemetary in LA County is being excavated and moved to make room for a creek, that, in turn, is being diverted to allow the development of Playa Vista, the infamous housing development on the Ballona Wetlands near Playa del Rey.
The archeologists and a crew of 70 people are removing human remains and putting them into boxes, and shipping them to UCSB for later "study." The grave goods and funerary objects are put in other boxes to be "studied" in other places. Separating these remains from funerary objects is illegal. Over 120 graves have been found, and the number keeps increasing.
The State Historic Preservation Officer has the power to stop the excavation and development, but has thus far remained silent. Weekly vigils at the site are held from 12:00 noon to 5:00 p.m. at the Loyola Marymount University entrance, at Lincoln and 83rd St. Another vigil is held from 7:00 to 9:00 p.m. at the corner of Bienvenida and Mountain Shadow.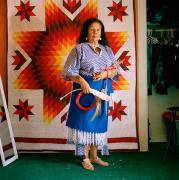 Isabel Avila's "Parallel Worlds" at the Vincent Price Art Museum
In her first solo exhibit, photographer (and contributor to LA IndyMedia) Isabel Avila explores the dual identities of Native American and Mexican American cultures, emphasizing people active in their communities. Avila's photographs, taken over the last few years, are complimented by video discussions with the photo subjects and other people, including Gloria Arellanes, one of the early Brown Berets and member of the Tongva community. (Excerpts of these talks are included in the article below.) The free exhibit is currently at the Vincent Price Museum through December 8. It will then then relocate to Rancho Cucamonga's Wignall Museum of Contemporary Art and run from January 22 to March 16, 2013. (Location details within the article.)
"Through video dialogue and portraiture, the museum goers are not just given facts to go away with but are also left to make their own connections with this subject matter in their own lives," Avila explained.
Article: Isabel Avila's "Parallel Worlds" at the Vincent Price Art Museum by Ross Plesset, photos by Isabel Avila

San Pedro: Science Center Endangered and Tongva Village Site Needs Restoration
Jacob Gutierrez, a Tongva, has a lot on his plate right now. The last science center in the LA Unified School District is "on the chopping block" due to budget cuts in education. (LAUSD originally had six.) This facility has been a resource for everyone in the community, especially children. It contains several gardens, consisting of over 80 native plants and fruit trees. Native wildlife is drawn there, including blue butterflies. There are also over 150 animals that children can visit, all rescues. Oftentimes they have been confiscated by the U.S. Government at the southern border and would have been killed were it not for the Center.
Just up the street is the site of Shwaanga (Ken Malloy Regional Park), one of the largest Tongva villages in pre-Spanish times, a site which has been suffering from pollution in recent centuries. In pre-European times, people would travel by boat from islands including Pimu (Catalina Island) and numerous inland communities via canoelike boats plying rivers, as well as different parts of the California coast. Among other things, Shwaanga was known for its fresh water. Now the water is heavily polluted and needs to be cleaned up.
Story and photos: San Pedro: Science Center Endangered/Tongva Village Site Revitalization by R. Plesset, Science Center photos by Isabel Avila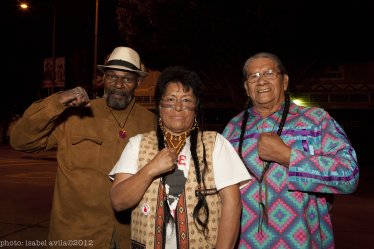 International Day of Solidarity with Leonard Peltier: Clemency Now!
Saturday February 4, 2012 was an international day of solidarity for political prisoner Leonard Peltier. A call was put out for demonstrations in front of federal buildings world-wide. Such an event occurred here in Los Angeles in the proximity of the downtown Federal Building and was well-attended. Leonard Peltier, who has been wrongfully imprisoned for 35 years, has received little exposure in the mainstream media. (Although, good documentaries have been made about him.)
"He's been in prison for over 30 years for a crime that he did not commit; his health is extremely bad," said Corine Fairbanks of AIM (American Indian Movement) Southern Cal, who was involved in two of the three events on February 4. "It was wonderful to see people going out of their way to participate in these events. I believe we definitely need to continue to educate people, especially young people, as to who Leonard Peltier is. I think there's a concentrated effort made by various governments for us to forget who he is. When I say educate, I'm saying that people need to be aware of not only who he is and the sacrifice he and his family have made being that he's a prisoner of war, but people also need to put more pressure on President Obama, put more pressure on the U.S. government for his release."
Peltier's trial has been deemed illegitimate by Nelson Mandela, Mother Teresa, the Dalai Lama, and many others. Peltier has received six Nobel Peace Prize nominations. His activism includes selling his paintings, proceeds of which have benefited the Lakota people.
Story and photos: International Day of Solidarity with Leonard Peltier: Clemency Now! by RP, photos by Isabel Avila
---
Indigenous Rights and Issues: 1 next page | single feature archives | weekly archives