production: 1 next page | single feature archives | weekly archives
---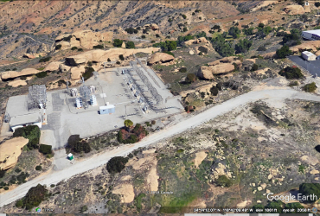 Massive Woolsey Fire Began On Contaminated Santa Susana Field Laboratory, Close to Site of Partial Meltdown
The tremendously destructive Woolsey Fire has been widely reported as beginning "near" the Santa Susana Field Laboratory (SSFL or Rocketdyne), but it appears that the fire began on the Rocketdyne property itself.  Cal Fire identifies the fire location as E Street and Alfa Road, a location that is in fact on SSFL. It was recently reported that the "Chatsworth electric substation" experienced a disturbance 2 minutes before the fire was reported, but that substation is in fact on SSFL, near that location.  A photograph posted on Twitter from KCAL9's Stu Mundel shows the fire starting Thursday afternoon near the same location, which is only about 1,000 yards away from the site of the 1959 partial nuclear meltdown of the Sodium Reactor Experiment (SRE) reactor.
Full story: Massive Woolsey Fire Began On Contaminated Santa Susana Field Laboratory, Close to Site of Partial Meltdown by Physicians for Social Responsibility - Los Angeles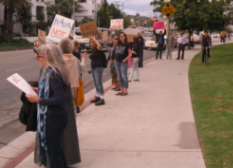 "Kava-no!!!"
As the senate vote on Brett Kavanaugh loomed, vigils took place all over the country (including Alaska and Hawaii). Several occurred in Southern California, including Santa Monica, Burbank, Sierra Madre, Claremont, Corona, Riverside, Whittier, downtown LA, Larchmont Village, and Echo Park.
At Echo Park Lake, 58 people were counted by nightfall. They stood on the corner of Glendale Boulevard and Park Avenue facing rush-hour traffic.
Story and pictures: "Kava-no!!!" by RP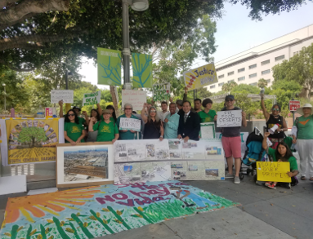 Setback for Developer of SC Farm Land
The land of the South Central Farm, at 41st and Alameda, is currently owned by PIMA an apparel company that wants to build warehouses. However, on August 9, a judge agreed with the South Central Farm that an adequate Environmental Impact Report was never done. Quite a few trucks would enter and leave the warehouses every day in an already dense neighborhood. Thus, the project will be reviewed by City Council again, giving the Farmers another chance to present their case for restoring the urban farm.
Story and photos: Setback for Developer of SC Farm Land by RP
Update: November 13: The Judge ruled the City of LA and P.I.M.A need to redo and re circulate the Environmental Impact Report and the community will be able to comment on it once its published. In the coming months, the City Council and PLUM Committee will vote on whether to proceed with the project in light of its environmental impacts. Another victory for our community. Join us as we continue to fight for the restoration of the #southcentralfarm. It's time for community investment and equity #bringbackthefarm . (Facebook announcement)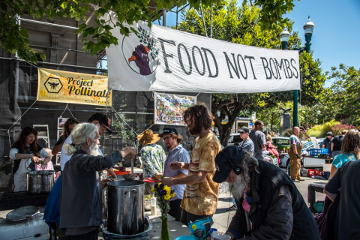 California Bill Threatens to Restrict Sharing Free Food with the Poor
The California Assembly and Senate have passed AB-2178, which would impose new restrictions on individuals and community groups like Food Not Bombs that share free meals. If the bill becomes law, these groups would have to pay to register with local authorities in order to continue to provide mutual aid by sharing free food that would otherwise be discarded. In general, Food Not Bombs and similar groups are entirely volunteer with little to no budgets.
Volunteer groups feeding the poor and homeless pose little food safety risk. These grassroots groups have operated for decades and follow strong private food safety practices. They fill a critical gap that the state itself struggles to address.
More: California Bill Threatens to Restrict Sharing Free Food with the Poor from Indybay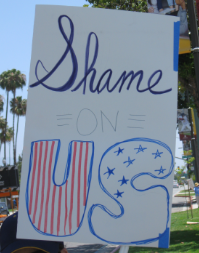 Families Belong Together March
---
production: 1 next page | single feature archives | weekly archives