by Cameron H. Friday, Jul. 30, 2010 at 9:11 PM

75-100 people rally outside of Pomona city hall to demand the removal of Arizona's SB1070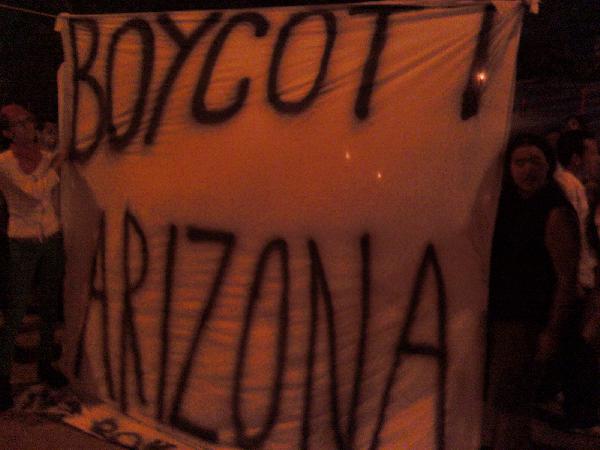 0729002039.jpg, image/jpeg, 1600x1200
At around 7 p.m. 25-30 people mass outside of the city hall in Pomona, California for a candle light vigil protesting Arizona's SB1070 and 287g.

7:30 p.m. - Within 30 minutes the group swells to over 75 people, many with signs and banners.

7:45 p.m. - Several speakers address the crowd, including Professor José Calderón.

8:00 p.m. - Rally turns into a march down Mission Ave. March passes Pomona Police Department with no confrontation.

8:05 p.m. - A banner reading "BOYCOTT ARIZONA, NO BORDERS (A) (E)" is suspended using rope, between two traffic signals on the corner of Mission ave. and Garey ave.

8:15 p.m. - March returns to corner of Garey and Mission Ave., rallies around banner. Chants of "¡Zapata vive, vive! ¡La lucha sigue, sigue!, "¡El pueblo unido, jamás será vencido!", "Whose streets? Our streets!", "Undocumented and unafraid!" and many more are shouted by the crowd. Many cars and trucks honk and raise fists out of windows in a show of solidarity and support.

8:45 p.m. - Crowd begins to disperse.