by Karen Fish Tuesday, Dec. 31, 2013 at 3:34 AM

Pope Francis Fukushima Anti Nuclear Pro Environment Tirade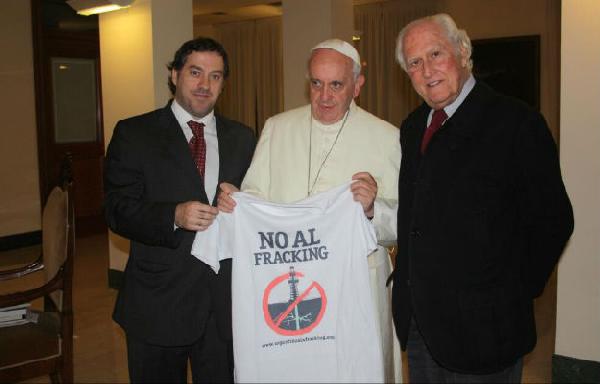 popeantifracking.jpg, image/jpeg, 625x400
On June 5, 2013 Pope Francis on UN World Environment Day launched into an anti Fukushima anti nuclear energy anti nuclear weapon pro environment tirade that made the bells of Heaven ring out in all their glory.

On March 11, 2011 a magnitude 9 earthquake struck off the coast of Japan sending a 30 foot tsunami crashing into the six Fukushima nuclear reactors knocking out the cooling systems and causing 3 nuclear reactors to explode their deadly radioactive poison into the Earth's one sky. The 3 melted down nuclear cores did a China Syndrome and went thru the floor into the ground nobody knows where.

The three tons of water used to cool the reactors and the river underground of the Fukushima reactors has been pouring tons of cesium, strontium and countless deadly radioactive poisons into the Earth's one ocean every day for the past 2 ½ years and there is no way to stop it, ever. Further the 11,000 radioactive spent fuel rods are now threatening to blow up life on Earth forever.

On Wednesday June 5, 2013 in St. Peter's Square in Vatican City Pope Francis spoke to thousands of pilgrims and visitors commemorating UN World Environment Day. Pope Francis' Fukushima anti nuclear energy anti nuclear pro Environment words are here: "Dear brothers and sisters, good morning! Today I want to focus on the issue of the environment, which I have already spoken of on several occasions… When we talk about the environment, about creation, my thoughts turn to the first pages of the Bible, the Book of Genesis, which states that God placed man and woman on earth to cultivate and care for it (cf. 2:15). And the question comes to my mind: What does cultivating and caring for the earth mean? Are we truly cultivating and caring for creation? Or are we exploiting and neglecting it? The verb "to cultivate" reminds me of the care that the farmer has for his land so that it bears fruit, and it is shared: how much attention, passion and dedication! Cultivating and caring for creation is God's indication given to each one of us not only at the beginning of history; it is part of His project; it means nurturing the world with responsibility and transforming it into a garden, a habitable place for everyone."

Pope Francis' Fukushima anti nuclear energy anti nuclear power pro environment words continued: "We are living in a time of crisis: we see this in the environment, but above all we see this in mankind… The human person is in danger: this is certain, the human person is in danger today; here is the urgency of human ecology! And it is a serious danger because the cause of the problem is not superficial but profound: it is not just a matter of economics, but of ethics and anthropology. The Church has stressed this several times, and many say, yes, that's right, it's true ... but the system continues as before, because it is dominated by the dynamics of an economy and finance that lack ethics. Man is not in charge today; money is in charge, money rules. God our Father did not give the task of caring for the earth to money, but to us, to men and women: we have this task! Instead, men and women are sacrificed to the idols of profit and consumption: it is the "culture of waste."

Pope Francis Fukushima pro environment words continue: "If you break a computer it is a tragedy, but poverty, the needs, the dramas of so many people end up becoming the norm. If on a winter's night, here nearby in Via Ottaviano, for example, a person dies, that is not news. If in so many parts of the world there are children who have nothing to eat, that's not news, it seems normal. It cannot be this way! Yet these things become the norm: that some homeless people die of cold on the streets is not news. In contrast, a ten point drop on the stock markets of some cities, is a tragedy. A person dying is not news, but if the stock markets drop ten points it is a tragedy! Thus people are disposed of, as if they were trash."

Pope Francis on Fukushima: "We should all remember, that throwing food away is like stealing from the tables of the the poor, the hungry! I encourage everyone to reflect on the problem of thrown away and wasted food to identify ways and means that, by seriously addressing this issue, are a vehicle of solidarity and sharing with the needy… when food is shared in a fair way, with solidarity, when no one is deprived, every community can meet the needs of the poorest. Human ecology and environmental ecology walk together."

Nuclear energy, Fukushima is now permanently poisoning the Earth's one ocean every day with tons of lethal radioactive water. Go look at your child's globe. Soon all the fish in the Ocean will be dead. Pacific salmon and Bluefin tuna and every fish in the sea now radioactively poisoned off the coast of California will cause all of us to die horrifying deaths from cancer.

3,200 years ago the Lord God the Father aka Jesus Christ aka The Holy Spirit carved 10 commandments in stone Himself on Mount Sinai. Accurately translated the 6th commandment is 'Don't Murder.' "Don't radioactively poison to death people or the pieces people are made of water, earth and air." If we follow our God and "Don't Murder" then we will stop building nuclear power plants like Fukushima and the 15 nuclear plants on the Great Lakes, nuclear weapons, and we will end war and pollution, poisoning the environment. If we fail to follow our God then we will murder all life on Earth forever. It's up to us all.