by Rockero Friday, May. 21, 2010 at 7:13 PM
rockero420@yahoo.com
Thursday, May 20, 2010
REDLANDS, California - In a youthful and spirited demonstration, a group of about 75 protested the racist Arizona law SB 1070, which requires police to check the immigration status of anyone suspected of being paperless and prohibits looking for work or workers in public, effectively banning day labor. The protesters marched through the busy farmer's market and street fair on State Street, braving some ugly opposition before returning to their initial rally point of the corner of Orange Street and Redlands Boulevard for a final demonstration of conscience at the end of the blocked-off street.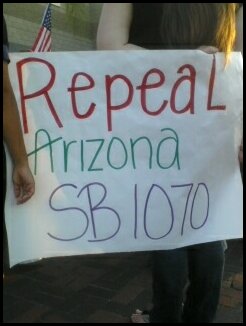 4.jpg, image/jpeg, 246x326
The rally was organized primarily by freshmen from the University of Redlands, and the young and diverse crowd, many of whom wore white tee-shirts stenciled with the message "Do I look 'American'?" reflected that. For many, it marked the beginning of political involvement in the world they are inheriting, and afforded hands-on training for social justice work.

The students were joined by the more established organizations, such as the Rapid Response Network, the Pomona Economic Opportunity Center, Reform Immigration For America, and the Latino/Latina Roundtable of the Pomona and San Gabriel Valleys, but the students set the agenda.

After a round of speeches, the crowd marched down Redlands Boulevard to the corner of State, where they caused quite a stir among the vendors, street musicians, information tables, and shoppers. Many people expressed their support and encouragement for the human rights movement now backing the migrants in Arizona and elsewhere. Others, however, were not as supportive. Some shouted, followed the march harassing protesters, and yelled unfavorable slogans. But the youth's positive spirit did not subside.